Simple Summer Session 17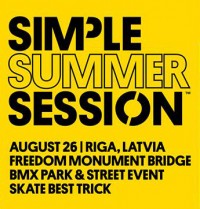 From 26 August 2017 until 26 August 2017
---
This summer the world's most anticipated BMX events Simple Session will for the first time ever travel south! At the peak of the Nordic summer it heads to the very heart of Latvia's capital, the spectacular city of Riga. The best BMX park and street riders from around the world will go head to head on a massive Wessel designed outdoor course on the city's legendary Freedom Monument bridge.

This will be the summer to remember.
Date to mark on your calendars – August 26!

www.session.ee/summer

With 17-years of history under it's belt the Simple Session has grown into one of the most prestigious and international action sports contests in the world. Besides the notorious winter-season event series, Simple Session has hosted its comps during the summer in the very heart of Estonia's capital Tallinn and Finland's capital Helsinki. Now it's time for Riga!