season heads back to the Kotaix Bike Park in Chile at the foot of the breathtaking Osorno volcano, making South America first in line for some off the rails pump track action on 24 February. The Championship continues to unite BMX and MTB riders and created a new pump track format to ensure that both bikes compete in an equal competition format. The goal was to level the field for BMX and MTB, but since it doesn't make much sense to level a pump tr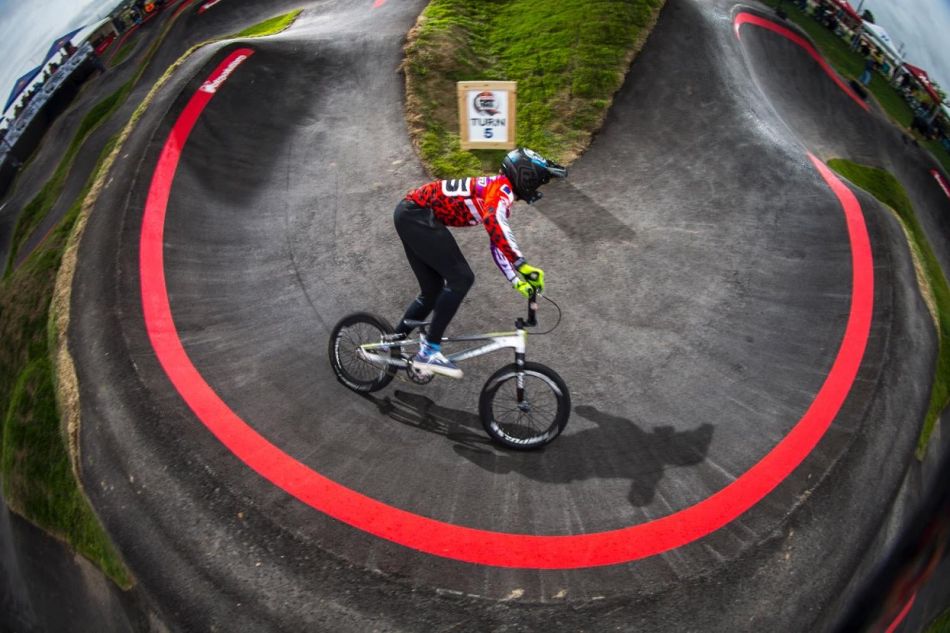 ack, the organisers adapted the format instead.

The Chile qualifier was one of the biggest events in the race calendar in 2018 with over 80 participants, more than 600 spectators and is already shaping up to smash last year's rider's participation and attendance records. Renata Urrutia is the current Chilean National BMX champion that took the overall win in the women's category. In the men's field, MTB rider Bruno Lavagnino challenged local BMX stars to take the win. These two 2018 winners will set out to compete once again in what is sure to be a hotly contested day of racing in the hopes of securing a ticket to the World Final.


China - an exciting addition to the 2019 race calendar
New races in more countries are being added for 2019 and China is just the first exciting announcement!
Shenzhen will host this first qualifier on 9 March and a future Red Bull Pump Track World Champion is surely
only a few races away.

"Entering China with Velosolutions and the Red Bull Pump Track World Championship is a big deal for us! Think of 1.4
billion people, think of a whole different world, think of a whole different mentality, and think of the new level of riding
that is going to come from the world's largest population when they get on the stoke of pump track riding! We've set
the spark, now let's see what happens!"
Claudio Caluori (CEO Velosolutions)

Shengda Sports Park - a multi-sports park offering a variety of indoor and outdoor facilities - now includes a
brand new Velosolutions Pump Track which is sure to set the stage for an action-packed qualifier. Situated on
the roof of an office building with a surface area of 1500m2 this track was built from lightweight materials. The
construction although difficult produced a result that is the first of its kind in the world proving again that
Velosolutions never steps back from a challenge.

A return to Lesotho and South Africa comes in strong with the introduction of a national series concept
The 30th of March sees the series travel to Africa, visiting the majestic mountain country of Lesotho and the
home of the Velosolutions #pumpforpeace initiative. #pumpforpeace is a global movement for athletes in
developing countries that facilitates access to pump tracks - not only to engage cycling - but to create an
improved environment for health, well being, tolerance and a better world.
Now almost two years since its completion, the pump track at Roma Trading Post has become the base for a
successful self-sustaining community, boasting a locally run bike shop and multiple events in the area. Hosting
its second qualifier this year, the development of local riders has been inspiring and we are sure to see a
thrilling finish in the Kingdom in the Sky.
Still in Africa, presenting the very first National series, South Africa steps up to the plate with multiple events.
Chesterville in Durban will host a pre-qualifier on 14 July. Eduplex BIke Park in Pretoria will follow suit on 20 July
with a second pre-qualifier and the National Final on the same day, culminating in a showdown between the
best pump track riders the country has to offer.

INFO BOX
A unique series taking pump track racing to the next level all around the world. From New Zealand to the USA, Chile to India and
France to Japan. Velosolutions, globally recognised for their leading pump track and bike park construction, teamed up with Red Bull
to bring you this exhilarating series that sees amateurs compete against pros and BMX against MTB on a level playing field.
The Red Bull Pump Track World Championship is accessible for anyone who would like to enter and compete for the World
Championship title. For your chance to represent your country in the final, register today for the races! For more information and to
register for the event, visit: redbullpumptrackworldchampionship.com

Preliminary Race Calendar - more races and countries to be announced soon

February 24th Kotaix Bike Park - Ensenada / Chile
March 9th Shenzhen / China
March 23rd Manila / Philippines
March 30th Roma / Lesotho
April 7th Lainate / Italy
April 28th Wellington / New Zealand
May 11th Mittersill / Austria
May 18th Leavenworth / USA
May 18th Gempen / Switzerland
June 16th Eersel / Netherlands
June 22nd Füssen / Germany
June 29th Riga / Latvia
July 14th Chesterville - Durban / South Africa (1st pre-qualifier)
July 20th Pretoria / South Africa (2nd pre-qualifier and Super Final)
July 20th Kerobokan Bali / Indonesia
August 4th Hokkaido / Japan
August 17th Kivioli / Estonia
August 24th Nanaimo / Canada
September 8th Hyderabad / India
TBC WORLD FINAL