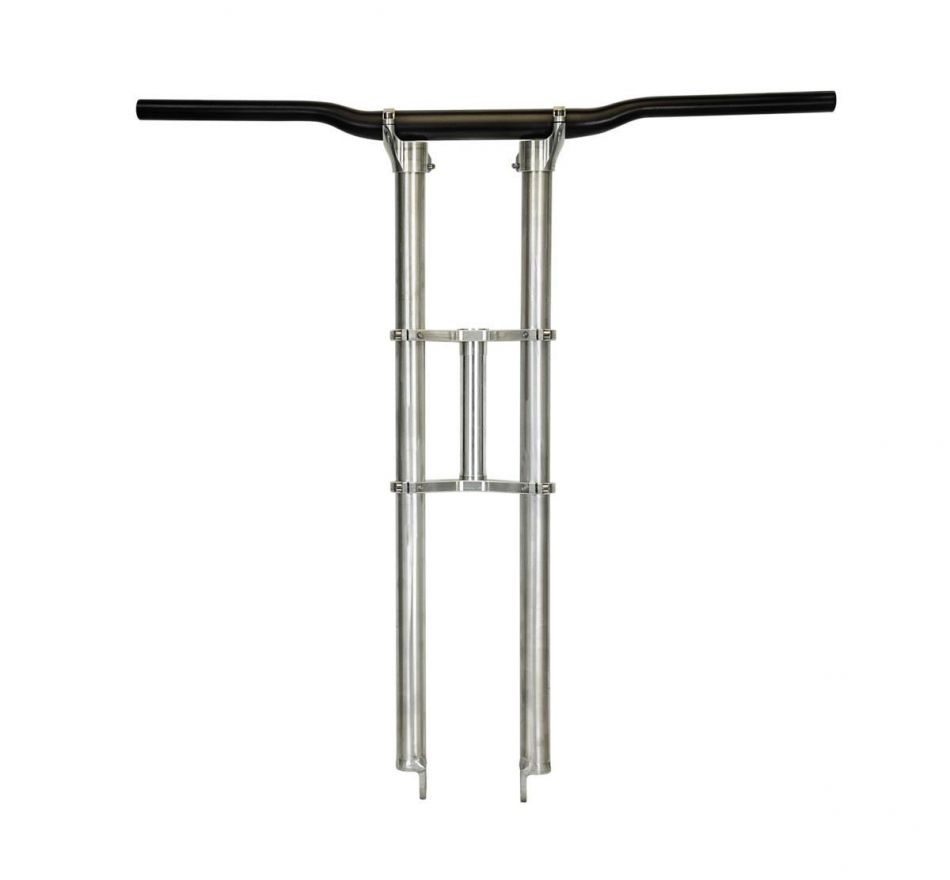 confused with the mid-school double-crown triple-clamp forks, but they are actually quite different! The big difference is in the handle bar area. By extending the fork legs to create the necessary height, the traditional bar is replaced by a low- rise bar, and mounted on a pair of lighter weight stems instead of a single heavy-duty stem. The traditional pro-size bar weighs close to 800g, the Tioga bar is 215g! As a whole, the traditional (carbon) fork, stem and bar weigh about 1,660g, the current Tioga system is
1,310g—that's 350g/12.3oz lighter! And then there's the stiffness.
The benefits of lighter weight components are well understood, but the importance of structural rigidity in the steering system is something we believe is underserved. Without getting too technical, flexible components have a proportionally higher amount of energy loss because it takes energy to flex something. Stiffer parts are always more efficient at transferring power—which is why a flexible wrench is a crappy wrench. Let's take pumping for example,
where momentum is created via pull and push movements. Now with each push and pull, some flex is happening from the fork, bar and other parts—undetectable by most—but like a flexible wrench, any amount of flex is essentially "stealing" the energy meant for generating momentum.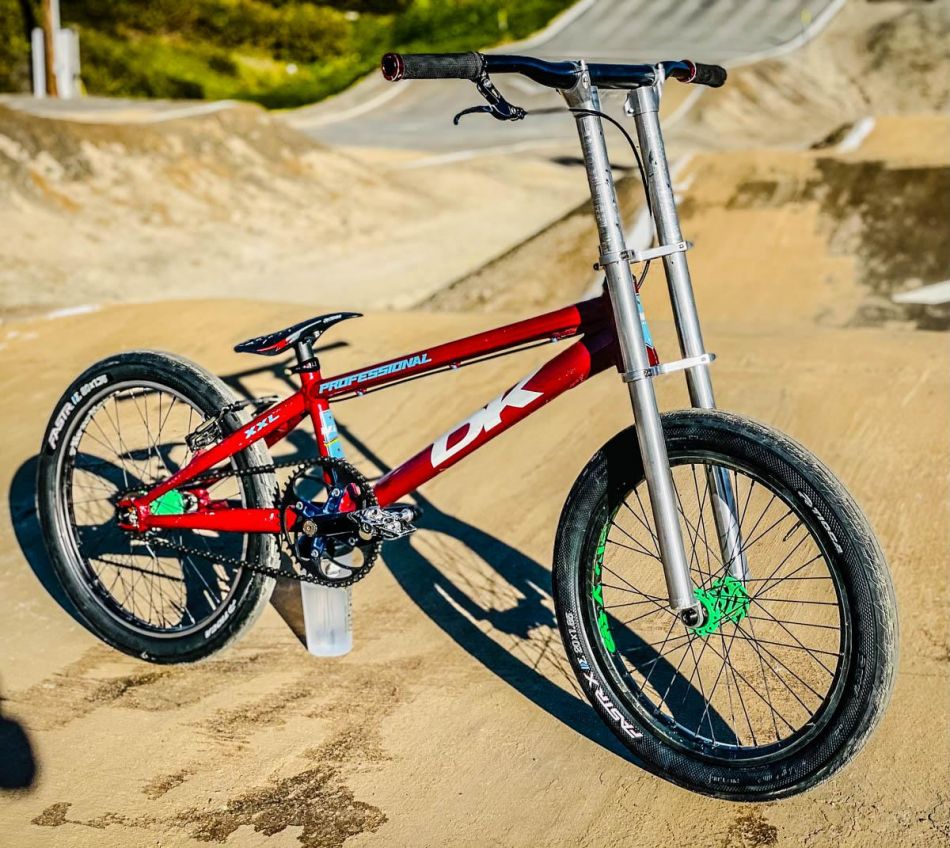 A race where a fraction of a second is the difference, less flex is best. BMX is for sure moving towards this ideal, just in smaller steps—20mm axles, oversize bars, oversize head tube, etc. are all in the same pursuit for greater stiffness. The Tioga system amps up the stiffness with dual crowns, oversize fork legs and low-rise bar. Depending on the rider's riding style, the strength and power they're putting down, this system could be a real difference maker for them.

What are some things that need some further development at the moment?
Tioga: We have gone through many variations on the system over the last few years and it continues to evolve. Some offset angles, bar heights and bends, material optimization are all on-going.

Do you believe BMX is ready for this different look?
Tioga: There are those that want to retain the legacy look above all else, and that's cool. The positive reactions we're gathering are clear indications that many are interested in a progressive system. We believe the substantial weight savings and the efficiency of the design will ultimately be hard
to ignore.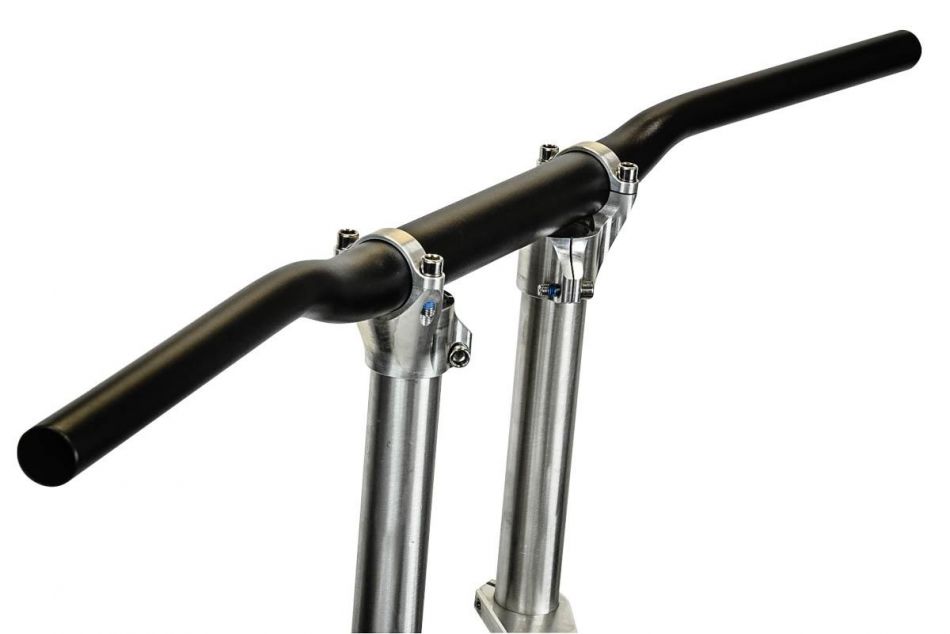 Adjusting bar height, how can this be done?
Tioga: The fork legs may be trimmed to size. The specially designed stems provide up to 10mm of bar height adjustment. Additionally, different bar rises and stem lengths will be available to further fine-tune the overall fit.

Who has been testing the prototype so far?
Tioga: We're working with riders of various levels, from Vet Pros to an Olympian. Due to their contractual obligations, we're respecting their terms and not mentioning their names, for now.

What is the feedback that you got from the riders?
Tioga: It's light and very stiff, as designed! The weight savings is straightforward, but some may question if extra stiffness is even needed. We'll quote one test rider's report, an Olympian: "Lap after lap, I really couldn't understand how this added stiffness would actually be a noticeably beneficial thing. So, after a dozen or so laps/efforts, I switched to my normal bike to get some full laps in. During the first 10 minutes on my regular setup, I kept looking down to see if my tires were flat - they weren't - but I used the same front wheel on your fork as I did on my SX - it was very weird. So, THAT told/showed me just how much stiffer the Tioga system is. My bar/fork setup on my SX felt like I was riding with a flat tire. I became a believer, yesterday. Now, because it's so much stiffer, how/where will that benefit us? Well, perhaps less side-to-side flex/movement as we pedal, and/or more efficient "pump" we can carry through lips and down landings. Any benefit will no doubt be miniscule, but over two dozen jumps, across a hundred cranks, it could end up being some distance."

Will you work on different versions of the set-up? If so, how many?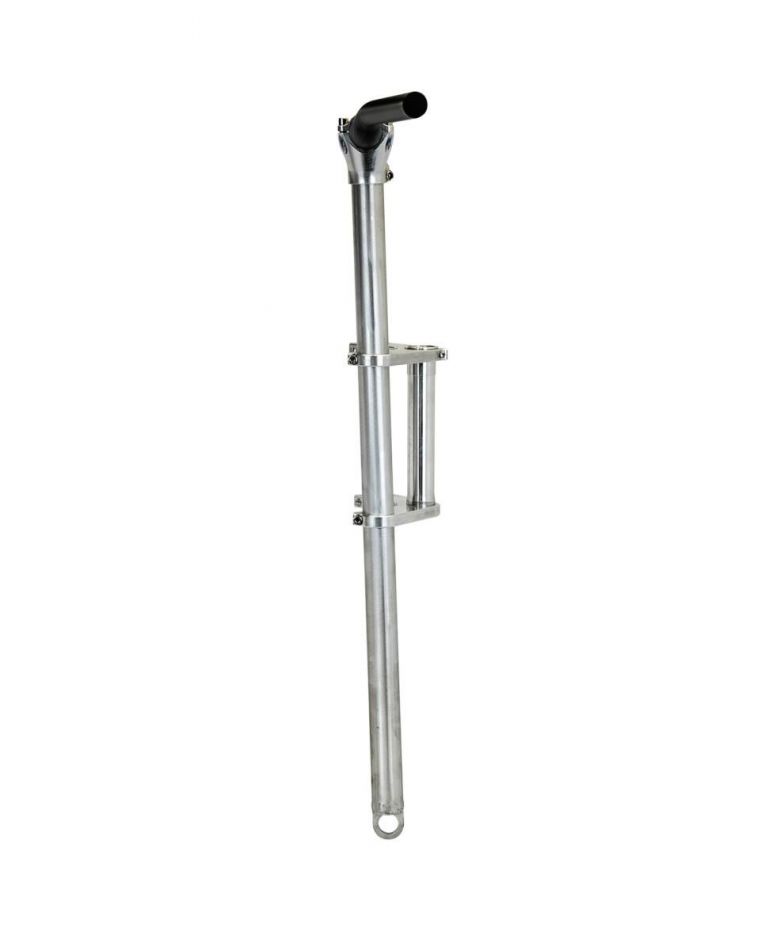 Tioga: A system with full stiffness and weight benefits will have limited adjustability, while a set-up with more adjustability—shorter legs matched with higher rise bar—will look closer to the legacy design but with reduced stiffness and weight advantages. Material options also play a part in the performance vs price equation, so it's quite likely there will be various levels of the system.
Would it be possible to fit this system on any bike? Or what kind of head tube is needed in order to use this particular front end?
The fork has a 1-1/8" steer tube. Appropriate adapter will be necessary for frames with tapered head tubes.
Do you have an indication of cost?
Tioga: Sorry, not yet.

Will the set up be introduced on the BMX circuit later this year?
Tioga: While our internal testing is still ongoing, we're not ruling it out.

Will Tioga dealers have access to the forks when they become available?
Tioga: Absolutely!

Who can people who have an interest contact for more information?
Tioga: We'll be updating the progress through our social media feeds (@tiogabmx) and we're always available by email This email address is being protected from spambots. You need JavaScript enabled to view it. or by phone +1 (949) 208-0460.

P.S. The system's appearance is in raw prototype state, the crowns, stems, bolts, etc. will be further refined.