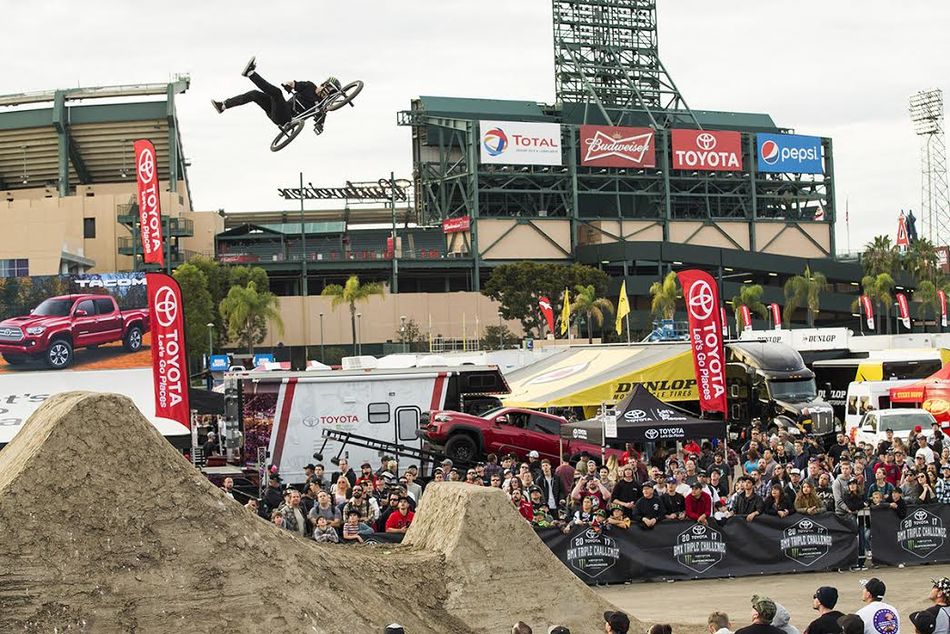 The open qualifier on Friday, January 6th, was a melee of riders going hard to get one of the 13 spots into finals. The level of riding proved to be too much for most, but relative unknown Ben Voyles managed to make his way into finals with absolutely insane no-handed 360 flips. And Polish rider Dawid Godziek also made it into the finals, even while riding a borrowed bike due to the airlines misplacing his bags.
On Saturday, with five pre-qualified (past various BMX event winners) thrown into the finals, the group of 18 riders set to kick off the Monster Energy Supercross season with a bang. A last minute format change had the 18 riders lay down three runs, with a single best run counting towards a nine-rider super final.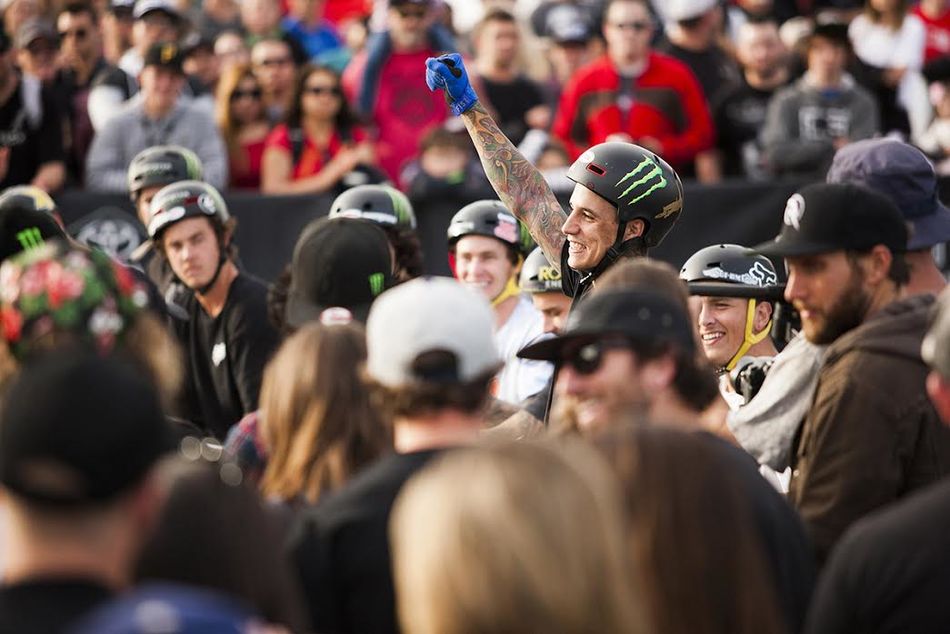 Baldock qualified first into the super final, but had a slew of his Australian pals at his heals with up-and-comer Brandon Loupos in second, Logan Martin in third, and Monster Energy's Andy Buckworth in fourth. With a packed crowd and the sun getting low, the Super Final did not disappoint. The first to come firing out was Logan Martin, who landed a backflip barspin-to-whip and a frontflip barspin-to-no hander on his very first run.
With the bar set high, the rest of the event was a barrage of progressive riding that isn't seen anywhere else in the world. Loupos landed a backflip double whip followed by a cash roll. Nick Bruce laced a no-handed 360 flip followed by a barrel roll double whip. The level was absolutely unreal. But, it was Baldock who upped his game with a trick he has rarely done, the 720 double tailwhip, preceded by a backflip barspin-to-no-hander, which was enough for him to clinch the win. Casey's 360 triple whip into a cash roll and Walker's 720 downwhip followed by a triple whip helped them secure second and third place.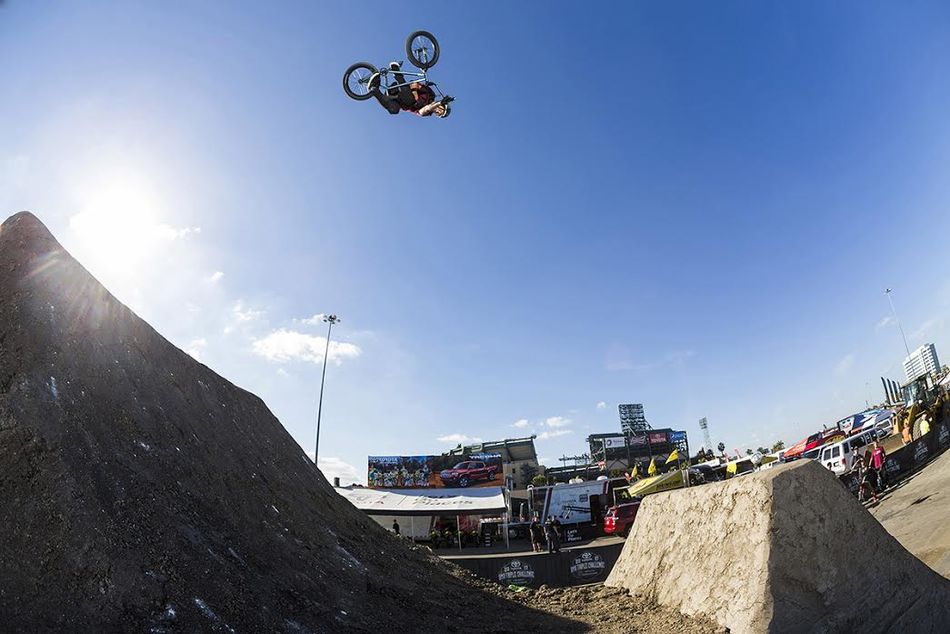 After the Super Final, every rider was given the opportunity to ride the 30-minute Best Trick jam - one trick takes all. Continuing the level of progression, multiple riders were going for the elusive "never been done" tricks. Casey attempted what looked like a 360 barspin to late decade, but took a hard fall and had to call it. Another hard slam came from Walker who attempted what seemed to be a barspin tailwhip, spinning both the bars and the bike at the same time. But, Walker went backup the roll in and fired out the first ever barspin double tailwhip, which was absolutely mind blowing. With still several minutes remaining in the jam, both Loupos and Godziek were battling to pull a 720 front flip. Several rough attempts from both of them had Loupos throwing in the towel and Godziek looking worse for wear. With just a single attempt left in him, Godziek stomped the first ever 720 front flip on dirt to take the Best Trick win in dramatic fashion.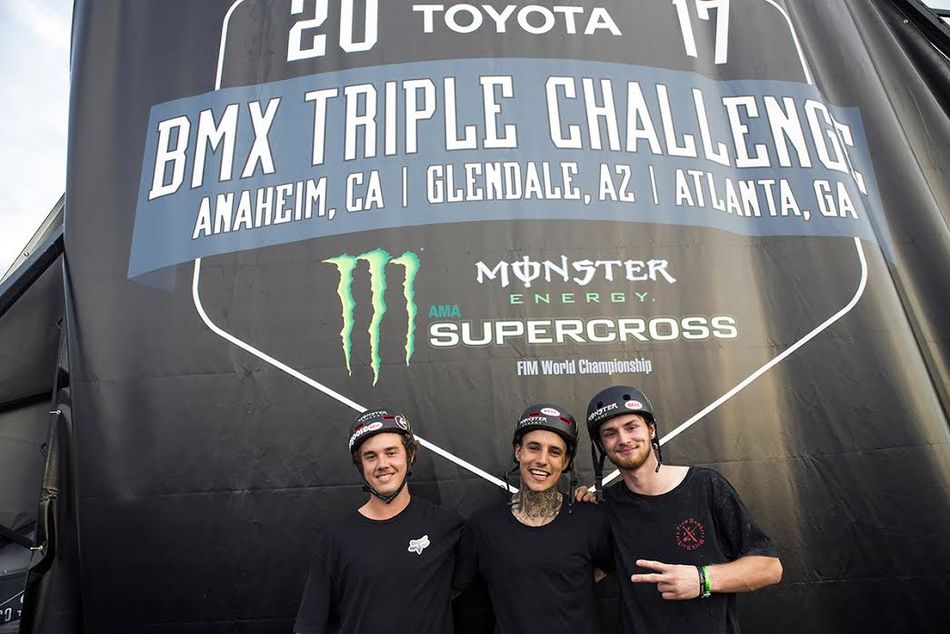 After the event, Baldock was blown away by the level of riding. "There's stuff that's getting done now that we never thought would happen, and it's happening mid-run in a contest," said Baldock. He went on to explain his motivation for continuing to be on the forefront of progression, "It's not about the prize money. It's about love for the sport and getting people to want to ride and be us, and then beat us in the future. That's why I ride to uplift people, so they can one day do exactly what I'm doing."
With Baldock now the point's leader, expect him to be fully charged and ready to win heading into the two remaining Toyota BMX Triple Challenges in Glendale, Arizona on January 27-28, and Atlanta, Georgia at Motofest on February 24-25.