BMX video: Anything with Dan Lacey in when I was growing up and Nathan Williams because he's the absolute goat! But I'll go with Brighton ain't ready 1, that was about the time I started riding and I'd just power watch that!
Website: Any one that keeps everyone updated and looks after people, Dig, Ourbmx and you guys!
Web video: Definitely Dan Lacey's web video from like 2013, the one with Mumford and sons' winter winds track. Absolute belter!
Food: Well being vegan and still a poor diet, probably Pringles haha!
Person on Instagram: no doubt about it, has to be Taylor Swift, though I wish she made her profile less business and more about her, I miss her old Instagram.
Travel destination: Malaga! I've been so many times and it's just so fun!

Riders to ride with: List is endless, my main man Stu Williams, he's like one of my closest friends who got me into riding in the first place! Also the whole OTG crew, I mean we are all horrible to each other, but we all have each other's backs! I just love it when all the boys are vibing, doesn't matter who you're with, if you're all having a sick time. But also my local homies! Neil, Jason, Mason, Bendle, Ellis and how can I forget my brother Perry!!
Car: Haha my Renault Clio bro! Cost me so much money!
Shoes: Vans all day, usually half cabs and mid pros
Bike company: I mean they're all so sick like how they are all a massive family, their riders, their team managers and the actual owners, either BSD because those guys seem to be so tight, but also Federal because I have watched every single one of their videos since I was starting!
Bike shop: I mean I don't really have any around me! I know Scott at Crucial and he's super sound, always accommodating whenever I'm up in Bristol! Also The boarding house have been real cool when I've gone in there! Glad they're still keeping it going, tough business!

Restaurant chain: Has to be Hubbox, a burger chain down this neck of the woods, all star plant, if you know, you know!
Movie: Stepbrothers, that film cracks me up!
Favourite colour: Pink, like baby pastel pink!
Clothing company: Vans definitely, they literally have their feet in BMX right now, looking after people who deserve it!
Phone: Got an iPhone XR, pretty battered!
Music: Hahahaha I knew this was coming, Taylor Swift is and will always be the best artist that walked this planet!
Ramp rider: Other than obviously Dennis Enarson and Boyd Hilder, I follow Mile Hullock and that guy fucking rips!
Street rider: Dan Lacey, Nathan Williams, Sean Ricany. But people who have inspired me that I've watched first hand, has to be Tom Baker, literally does nothing except film other people then sends the most stupid grinds and ledge rides. But also met him once in Cardiff, but Lewis Griffiths, came back from Chile not long ago and he's been filming with uncle Tony Crew in Wales, and he's got some fire being cooked from what I can see!
Old school rider: Haha I could say Jamie Skinner because he's getting on a bit ahahaha, Butcher tho, he's real OG.
Dirt rider: Can I still say Dennis Enarson? I don't watch a lot of it, tho Clint Reynolds Instagram is lit!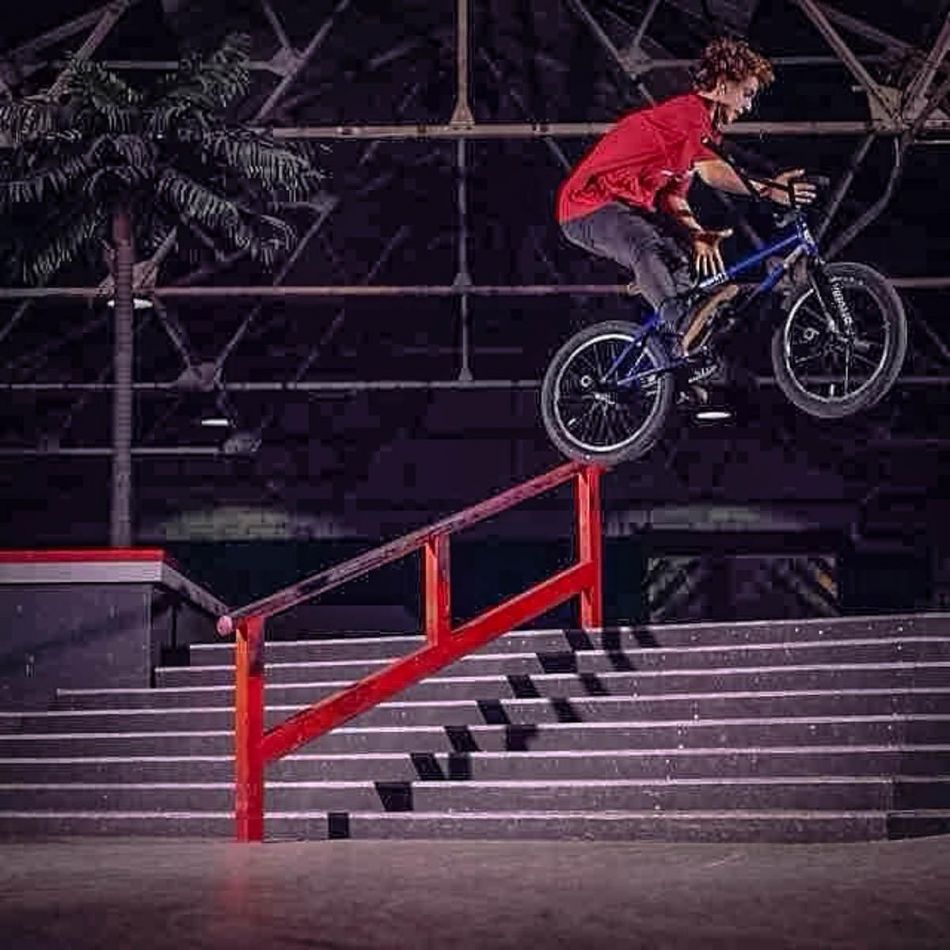 Flatland rider: Matthias Dandois, he incorporates Street and flatland!
Drink: Caramel vanilla latte with oat milk, thanks Stu and Neil!
Trick: Now I may look like a Barspin, but people who do turndowns right, it's a turndown!
BMX magazine: Ride UK and Dig!
BMX MC: Has to be the homie Seb! He's always super supportive of every rider, he's a great guy!
Video game: Old School Runescape I play on my phone!
BMX Photographer: Fooman or Adam Lievesley!
BMX filmer: Ben Norris, his style is unreal!
Sports beside BMX: I love swimming and football! But only have time for one and that's BMX.
Party: Hahaha I'm a one beer wonder!
Thanks to: Sam Kirk at AmpedCycleworx for being the best there is!
Girl: My mother who sadly passed away past November, she had my back with everything! Other than her Taylor Swift of course.