to Barcelona, Spain. I think it's a cool way to combine my thirst for adventure and my past as a BMX-rider with my present day documentary filmmaking.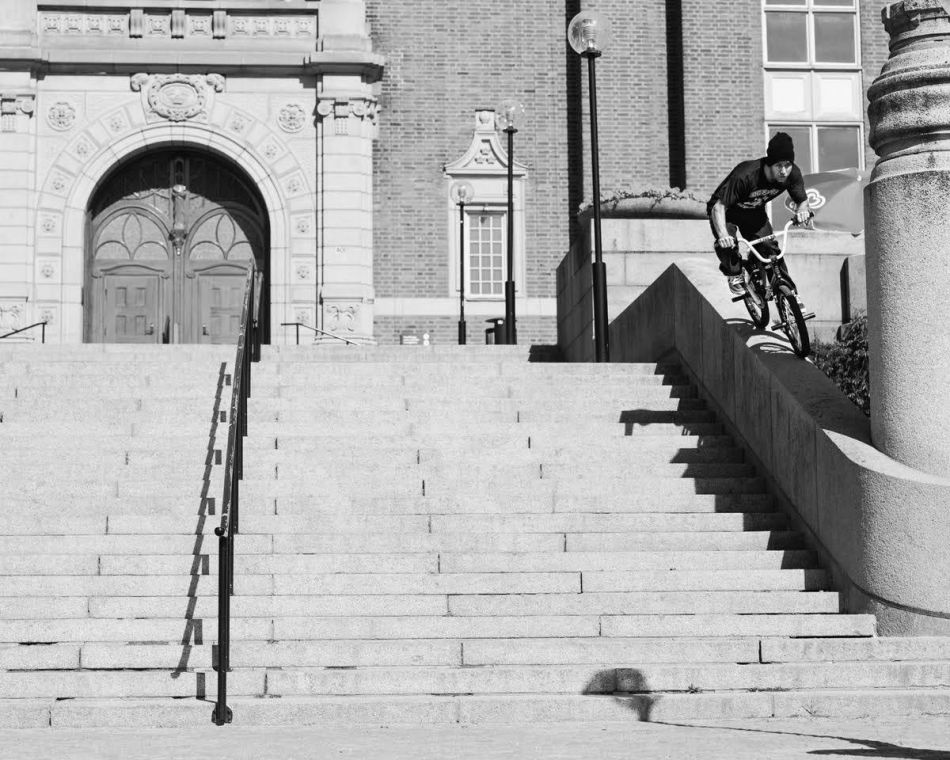 You are also a diabetic. How will that affect you during the trip?
Emil Filmby: Having diabetes will of course make this trip more difficult, but will also be an interesting aspect to feature in the film I'll be making. To feel well as a diabetic, I have to measure my glucose levels many times every day. In order to do that, I use this product called Eversense from Ascensia Diabetes Care, the projects main sponsor. Having a sponsor that provides me with a product that actually makes my life easier every single day is pretty amazing, and I'm really stoked to have their support during this journey.

What kind of bike set-up do you have for the trip? Long seatpost and a soft seat, or standing up all the way?
Emil Filmby: The only modification I've done to my bike is raising the seatpost to be able to sit down and pedal. Other than that it will be the same setup I would prefer to do tricks on.


How many kilometers is the trip in total, and how many kilometers a day do you plan on riding?
Emil Filmby: The distance will be around 3000 kilometers but to me, it's not about the length of the trip or to break any records. My main focus will be to create an adventure documentary film and basically just explore Europe in a different way and tell my story as a rider and as a diabetic.

Will you stop at BMX spots to get a session in along the way, or is it basically riding from point A to point B?
Emil Filmby: My first idea was to stop at every famous spot along the way, film great tricks and make a video part that would be part of the trip. Then I realized that I'm 10 kilos heavier now than when I was active and that my tricks will probably be a bit rusty. That and the fact that I could probably get hurt made me change my mind and decided to focus on getting to my desination. If I reach Barcelona I'll probably lower my seatpost and get some tricks done, haha.


Who did you ride with in the time you were an active BMX-er and where did you ride most of the time?
Emil Filmby: For many years I spent the winters in Spain to avoid the rough Swedish weather just to be able to ride. Back home during the warmer months I always rode with my hometown friends. I was always obsessed about getting clips at famous spots though, so I travelled a ton all over the world to get footage for my videos, often joined by my friend and filmer Markus. Needless to say I have so many great memories and stories from those days. Good times!
Once a BMX-er, always a BMX-er?
Emil Filmby: Absolutely! I think what I'm doing now is a great way to live up to that quote. It's been years but I still always think of ways to include BMX in my life in one way or another.

Do you plan on staying with some of the BMX-ers along the way or what sort of plan do you have to spend the night in the upcoming weeks?
Emil Filmby: I'm going to stay with some friends I've made over the years along the way, but thanks to the projects generous sponsor I'll have the opportunity to stay at hotels too. I don't know yet, but I expect my back and knees will hurt a lot from time to time so I'm sure my body will thank
me for choosing a really comfortable bed every now and then, haha.

Where can people reach out to you and how can you be tracked in case BMX-ers want to offer some support along the way?
Emil Filmby: Always happy to hear from fellow BMX-ers out there! I'm Emil Filmby on Facebook, add me as a friend! Or @emilfilmby on Instagram.

Good luck with the trip. Keep us posted.
Emil Filmby: Sure will! Thank's a lot and have a good one!