and the standards, in an emerging market that immediately attracted the attention of the established BMX Racing brands, including GT, Hutch, and Redline.
With the recruitment of fourteen-year-old skate park prodigy Mike Dominguez, Bob Haro found the most talented and exciting rider of the early era. Dominguez not only became the first Freestyle rider to sign a pro entry form at a contest, but he was also the recipient of the first Freestyle signature model - The Haro Sport. On March 18th, 1984, Dominguez rolled into the halfpipe at the Del Mar Skate Ranch riding a white frame with a single top tube. The frame, known to enthusiasts as the "Single-top-tube Haro Sport," was never seen again, and replaced by a production model complete with a standing platform around the seat mast. Mike rode the Haro Sport through the summer while on tour with the Vans BMX Freestyle Team, and in the AFA King of the Skate Parks series held at the Pipeline, in Upland, and the Del Mar Skate Ranch.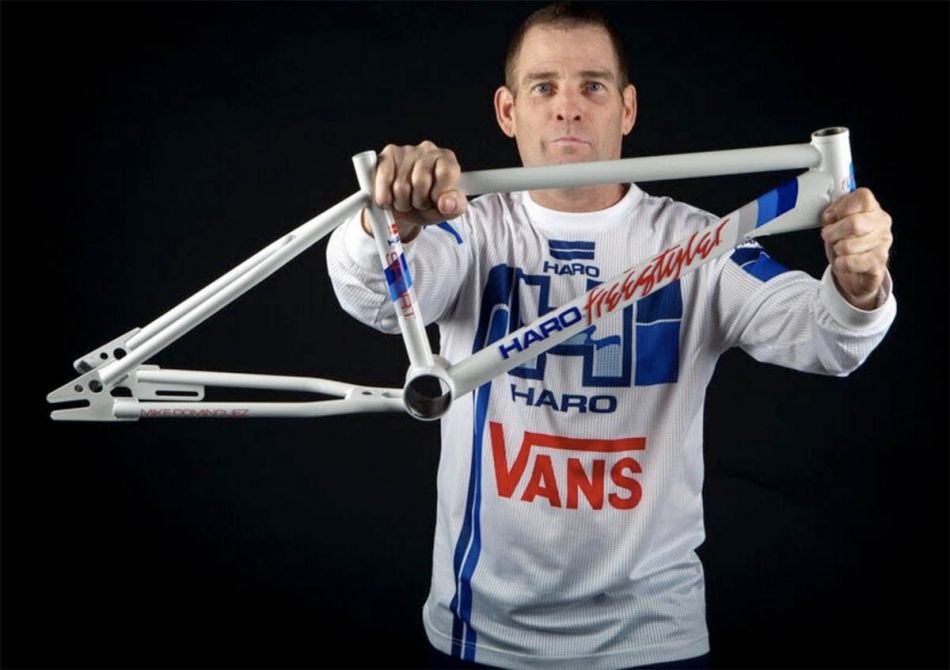 The legendary First Generation Haro Sport and Master were produced in southern California by Torker BMX in 1984. Thirty-six-years later, with a keen eye for detail and authenticity, Haro Bikes is producing limited edition, USA Made replicas of these two iconic models, available as frame and fork packages. Referencing original flat drawings, and built with era correct materials and processes, these sets are nestled in dedicated foam-lined collectors boxes, with replica Haro jerseys, and "First Generation" pad sets included.
Each package is personally signed by Bob (Master) or Mike (Sport) and numbered 001 - 150.
The only question remains... Do you build it? And if so, how would you build yours...?
Click through to learn more about the project, access the frame and fork galleries, and choose your personal serial number. Available worldwide. Don't miss out.