Early Racer: Andy Patterson

Whether it was his early years riding for the original GT squad or dominating the older Am ranks on his Skyway T/A equipped with graphite Tuff Wheels, Andy Patterson was always a threat to whomever lined up in the gate with him.

Nicknamed "Bigfoot" - due to the size 13 Vans shoes he wore, Patterson was constantly a title-contender and took his first A-pro win at the Jag World Champs. Sent to Europe by his sponsor, Andy was one of the first Americans to race the European series in the mid-80's - and became Open European Champion in 1982 in Beek en Donk, Netherlands.
Patterson's product influence includes inventing the layback seatpost for GT to having his own JMC signature series frameset.
Racer: Randy Stumpfhauser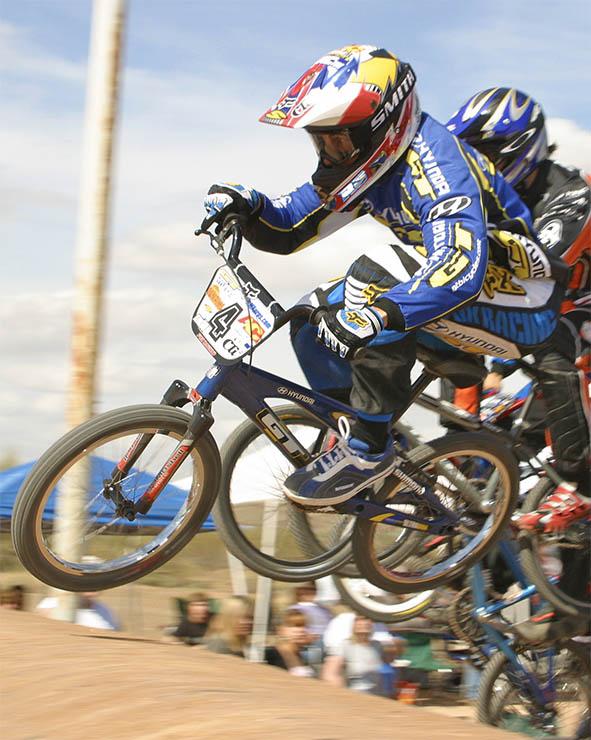 As the oldest Pro to ever win an ABA No.1 Pro title (as age 32), Fresno's Randy Stumpfhauser will long be remembered for his amazing feats in BMX racing. As an amateur, he won a No.1 Cruiser championship.

As a Rookie pro, he won the Golden Crank for Rookie of the year. As a factory Pro for Huffy, Powerlite and GT, Stumpy was always in the main and usually up for the win. With a backyard training track, he hosted his annual Pro showdown.
A two-time NBL No.1 Pro, Randy continued to race while attending college and upon retiring from BMX, began work as a school teacher.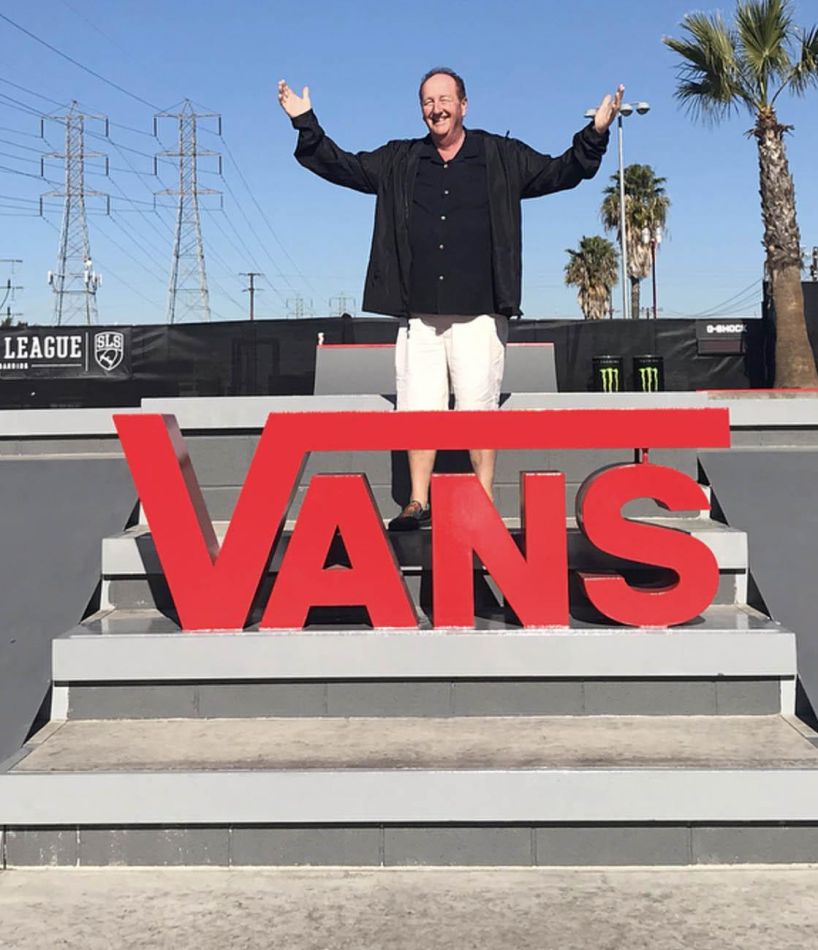 Industry: Steve Van Doren

When brothers Paul and Jim Van Doren opened The Van Doren Rubber Company on March 16th, 1966 - they uniquely manufactured shoes at their store and sold them direct to the public.

Since child labor laws weren't yet invented, 11 year old Steve worked in the backroom for his father and Uncle, helping make some of those 12 shoes that were sold on that first day. The waffle sole on Vans shoes quickly became popular for BMXers as much as it did for skaters, making it the go-to shoe in extreme sports, before the term was ever coined.

Steve VanDoren has retained his family's legacy - working just about every job there is at the shoe company, up to his current position as Vans' Veep of Events and Promotions. As the main face of the VanDoren family, Steve is a familiar figure with his trademark Hawaiian shirt and contagious excitement for all-things Vans.
Early Freestyle: Kevin Jones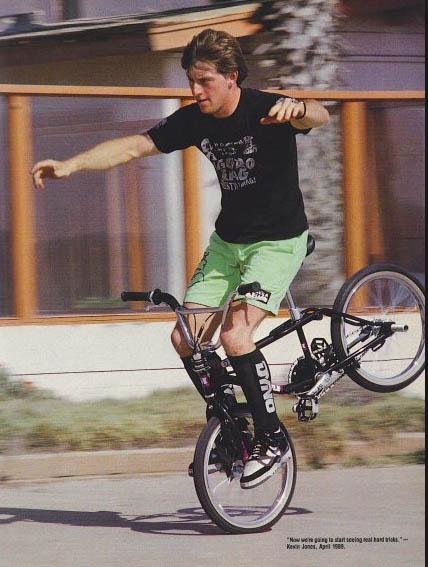 From the small Harley-building Pennsylvanian town of York came the Plywood Hoods - a group of young up and coming freestylers who would all make a name for themselves in BMX. Among the Hoods who would create the Legendary VHS video titled Dorkin' in York, was the innovative Kevin Jones.

Jones was a quiet, humble rider who practiced his butt off late into the night to perfect his ground-breaking flatland repertoire, creating unthinkable maneuvers that would blow the minds of all riders - and then linking them all together in a fluid motion. Jones is credited for bringing the BMX world the Locomotive, the Trolley, the standup Infinity Roll, the earth shattering Elephant Glide, the Dump Truck and the jaw-dropping Hitch Hiker - all tricks that no rider could've, or would have, ever imagined were possible. Kevin's flowing combinations, creative bike contortions and mind bending balance dawned the birth of modern-day flatland.

His limited time on the AFA contest circuit, and short stints of touring for Haro, Wilkerson Air Lines or Hoffman Bikes, further added to his Howard Hughes-esque reputation. The legend of Kevin Jones will forever live on.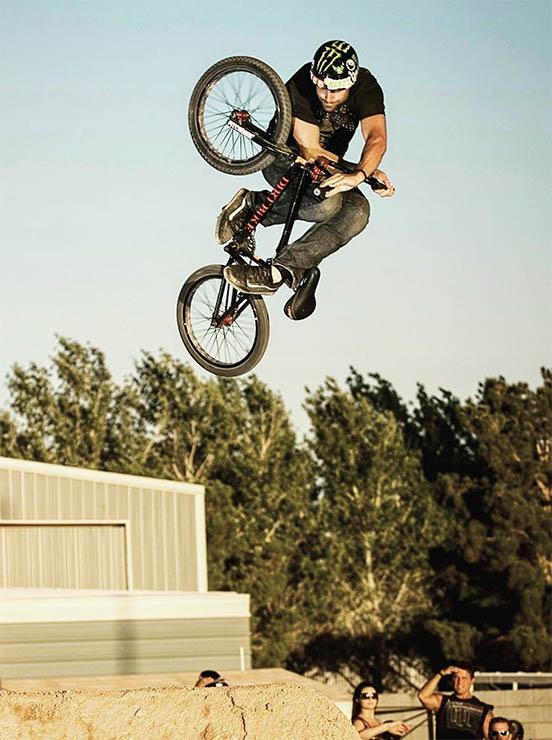 Freestyle: TJ Lavin

In the sandy deserts of Las Vegas, a young TJ Lavin was the fastest kid on a BMX bike in his neighborhood ...and he loved catchin' air. So when he spotted some rough dirt jumps in a fenced-in backyard, TJ couldn't resist hopping over the fence with his bike and began shredding the stranger's backyard. As it turned out, when the homeowner came home - rather than scold TJ for trespassing, he invited the neighbor kid back and handed him a shovel to build more jumps. Turns out that the homeowner was TV & appliance store owner Nick Herda - and soon, they'd form the Herda HotShots team.

With the support of Herda, TJ would get his first big shot at the 1995 ABA King of Dirt; which he'd go on to win. That first victory would kick off a streak of Gold medals won at X-Games, Dew Tour, DK Dirt Circuit, and CFB comps. In all, he has ten X-Games medals to his name - but this not what he is best known for. TJ's invention of a trampoline bike, to master multiple tail-whips, not only caught on with fellow freestylers but also with his throttle-twisting freestyle MX friends.

Lavin's appearance on an episode of M-TV Cribs was a foot in the door, and eventually led to hosting MTV's reality-competition show The Challenge (originally titled Real World/Road Rules Challenge) - which he still does today.

TJ has never forgotten his roots and that day in the desert - and is still as humble and stoked on the sport of BMX as he was when he jumped that fence to ride in some stranger's backyard.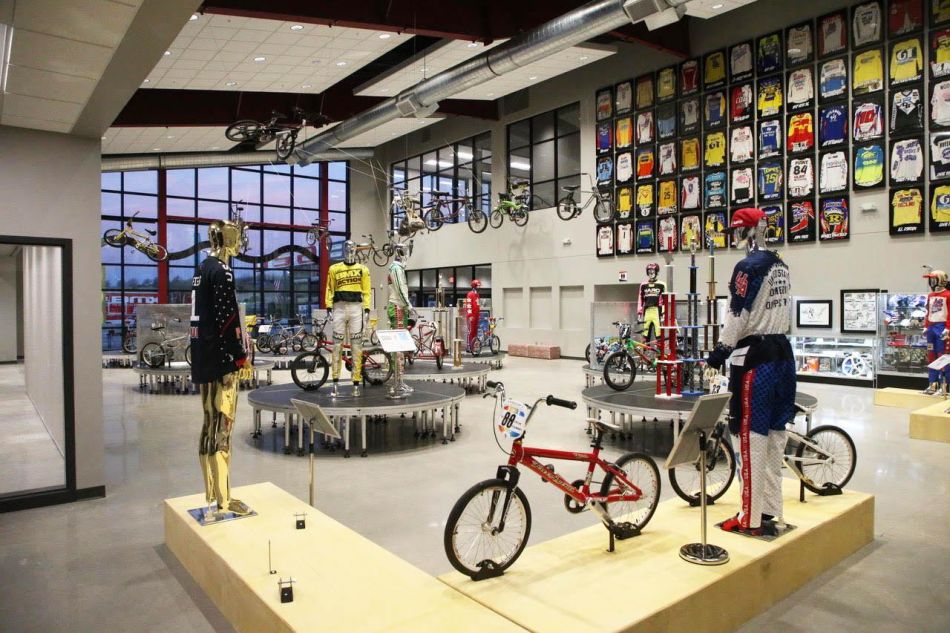 Official Home of the HoF. Tulsa's multi-million dollar venue will forever be the home to the BMX Hall of Fame. The 100 year BMX timeline will be added to as BMX history happens, and the HoF'er jersey wall, HoF Stairway plaques and Inductee Classes all have room to grow over the next 25 to 50 years. BMX displays will be rotated around every few months and new bikes and displays will be added as they come in.

We hope you can join us there, in welcoming the Class of 2022