mountain-biking and BMX will descend upon Switzerland and face each other for the privilege of being named the world's best Pump Track rider. It's official - the Swiss Bike Park in Köniz-Oberried near the capital of Bern will be hosting this momentous occasion where only one rider in each category can emerge victorious, crowned as the new Red Bull Pump Track World Champion.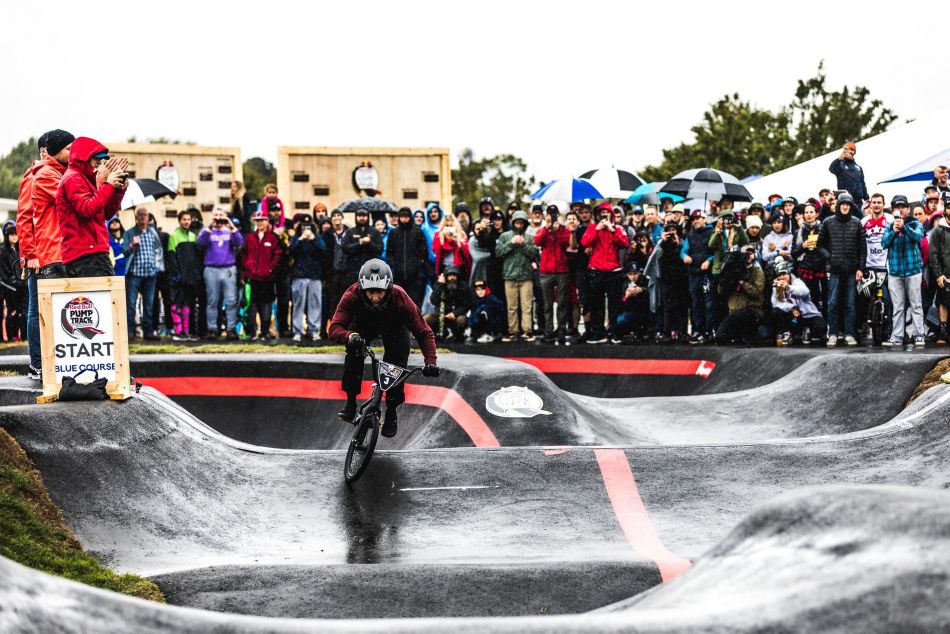 The Swiss Bike Park is set to be the premium cycling facility in Switzerland. The state-of-the-art facility, envisioned as a center where responsibility, courage, strength and sport comes together, the Red Bull Pump Track World Final is the perfect grand opening event to celebrate these values. This played a big part in the decision to bring the Championship back to Switzerland - home of Velosolutions - to showcase the best of the best. The Swiss Bike Park will offer visitors around 20 000m2 of jump lines, drops, stairs, steep-wall bends, training areas and mountain bike trails. Of course the brand new Velosolutions Pump Track - with a total track length of 300m, covering an area of 1600m2 - will set the stage for the ultimate showdown.


Back in 2018, Swiss riders David Graf and Christa von Niederhäusern came out on top in both the male and female categories. Any riders hoping to take the title this time around will need to beat these riders on their home stomping ground. 17 - 19 October is sure to be remembered as a highlight amongst the biking community with 150 athletes and 10 000 spectators expected over the three day period as the new World Champions will be crowned. Friday 18 October will feature the Last Chance Qualifier and 19 October the official Red Bull Pump Track World Championship World Final.

INFO BOX - A unique series taking pump track racing to the next level all around the world. From New Zealand to the USA, Chile to India and France to Africa. Velosolutions, globally recognised for their leading pump track and bike park construction, teamed up with Red Bull to bring you this exhilarating series that sees amateurs compete against pros and BMX against MTB on a level playing field.
The Red Bull Pump Track World Championship is accessible for anyone who would like to enter and compete for the World Championship title. For your chance to represent your country in the final, register today for the races! For more information and to register for the event, visit: redbullpumptrackworldchampionship.com

Preliminary Race Calendar - more races and countries to be announced soon
February 24th Kotaix Bike Park - Ensenada / Chile
March 9th Shenzhen / China
March 23rd Manila / Philippines
March 30th Roma / Lesotho
April 7th Lainate / Italy
May 11th Mittersill / Austria
May 18th Leavenworth / USA
May 18th Gempen / Switzerland
June 22nd Füssen / Germany
June 29th Riga / Latvia
July 14th Chesterville - Durban / 1st pre-qualifier South Africa
July 20th Pretoria / 2nd pre-qualifier and Super Final South Africa
July 20th Kerobokan Bali / Indonesia
August 17th Kivioli / Estonia
August 17th Wishawhill / United Kingdom
August 24th Roosendaal / Netherlands
August 24th Nanaimo / Canada
September 7th Izhevsk / Russia
September 8th Hyderabad / India
September 20th Fujairah, UAE
September 22nd Gaston County, USA
September 28th Carpentras / France
October 18th Last Chance Qualifier Oberried / Switzerland
October 19th World Final Oberried / Switzerland


Caption - Christa von Niederhäusern takes the win in 2018 / Photographer: Dan Griffiths
Caption - David Graf on track for the win in 2018 / Photographer: Dan Griffiths