"It is so cool to see the local community invest in such a great project and bring this event to the city, a Velosolutions Pump Track entertains riders and develops skills across all levels. I am really happy to take the win and make it to the world final" – Jill Kintner
In the Men's field riders travelled from all over the States to battle it out in Oklahoma City. Pro BMXers Tommy "backflip on the dancefloor" Zula and Alec Bob were odds on favourites at the beginning of the day, but NYC's Keagan Nelson proved to be the wild card in the final. The head to battle would go down to the wire with Zula and Nelson pushing hard, Tommy Zula would take the top spot on the podium after an intense day of racing.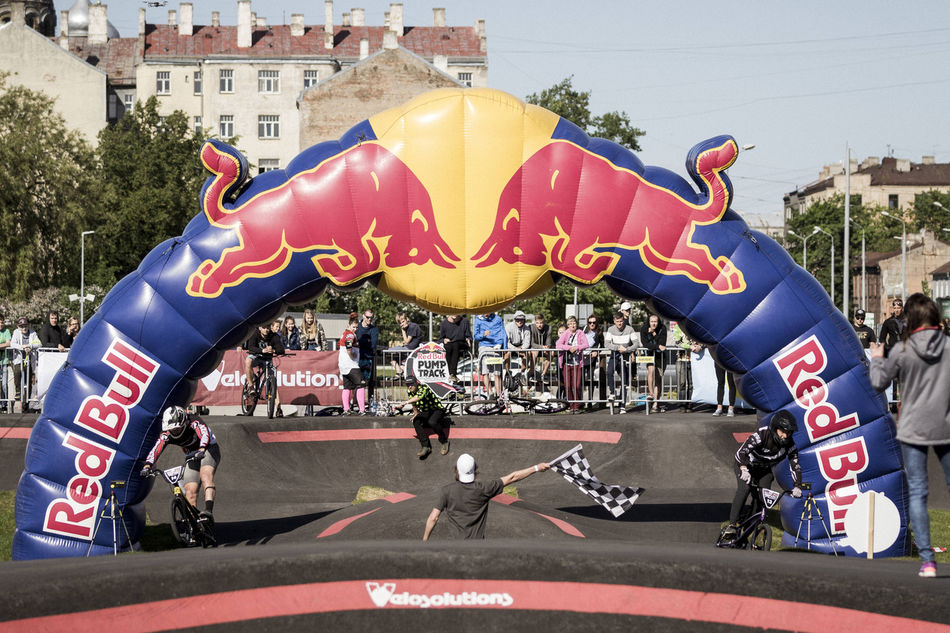 "I loved every minute of the race, the head to head racing is intense, as the day goes on you get tired but just have to push harder to get the fastest time. It was an amazing experience and am really happy to take the win" – Tommy Zula
Across the Atlantic Ocean the Red Bull Pump Track World Championship headed east to Latvia. The Velosolutions track in the countries capital, Riga, was also host to an incredible mix of BMX and MTB pro's from across the world. All were ready to challenge the best local talent on offer for a chance to be crowned World Champion later this year.
In a last minute change of plans the USA BMX racer, Shealan Reno, looked at home on the 3000 m2 symmetrical pump track. After winning a series of knock out heats she would win her ticket to the world final in a closely fought battle with Latvia's own Kitija Elste.
Latvia has a thriving BMX race community and this was evident from start to finish in the men's event. 2 x Olympian and European Silver medallist Edzus Treimanis is no stranger to racing and was on fire all day long. Having laid down the fastest qualifying time of the day he would progress through the knock out heats to take the overall win against fellow Latvian, Reinis Martins.
As qualifying events have taken place around the world, local heroes, under dogs and international pros have all secured their place at the world final. BMX and MTB have battled it out and with no clear advantage from either bike all is still to play for in the quest for the Red Bull Pump Track World Championship title.
As the dust settles in OKC and Riga, America gears up for its second qualifier event in Leavenworth where an incredible race is set to take place on the 26th of May.