Saturday Racing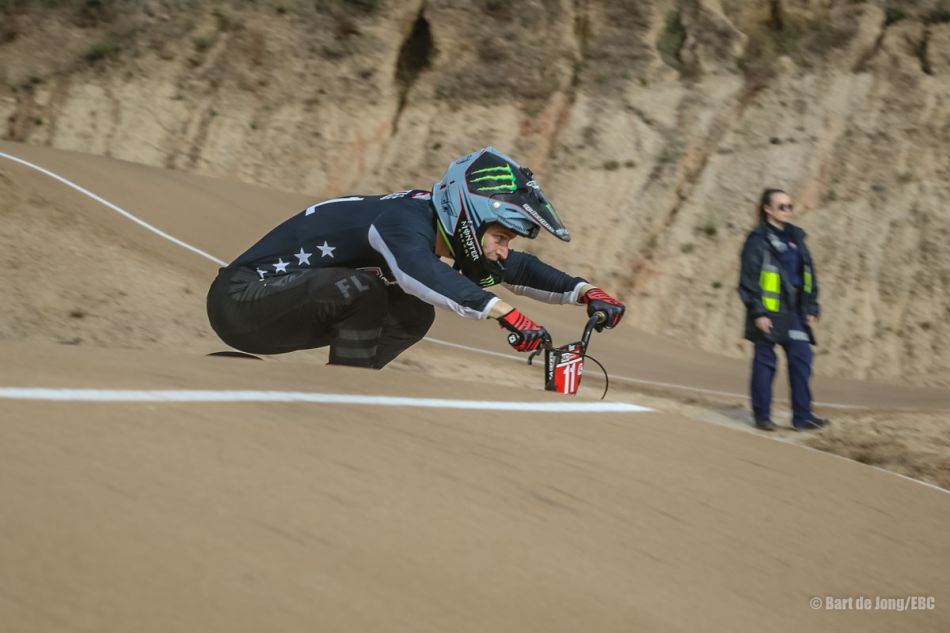 Unfortuntatly due to deteriating weather conditions which are not expected to improve racing for Saturday has now been cancelled and no further racing will occur today.
Results for Saturday:
Men Elite
Points wlll be awarded based on the results from Round 1 of racing.
Podium ceremony will be held on Sunday afternoon at the same time as the Sunday event Podium ceremony.
Women Elite
No points will be allocated for this stage of the World Cup Series.
Sunday Schedule
A decision on racing for Sunday will be reassessed later today and an update will be provided via communique to Teams.

UCI BMX WORLD CUP, Bathurst - Round 3
1. Connor FIELDS, USA
2. Kye WHYTE, GBR
3. Corben SHARRAH, USA
4. Carlos Alberto RAMIREZ YEPES, COL
5. Quillan ISIDORE, GBR
6. Joris HARMSEN, NED
7. Joshua MCLEAN, AUS
8. Anthony DEAN, AUS
9. Simon M. MARQUART, SUI
10. Jeremy RENCUREL, FRA
11. Diego Alejandro ARBOLEDA OSPINA, COL
12. Sylvain ANDRE, FRA
13. Yoshitaku NAGASAKO, JPN
14. Helvijs BABRIS, LAT
15. Vincent PELLUARD, COL
16. Alex CAMERON, AUS
17. Jimmi THERKELSEN, DEN
18. Gonzalo MOLINA, ARG
19. Asuma NAKAI, JPN
20. Kyle EVANS, GBR
21. James PALMER, CAN
22. Bodi TURNER, AUS
23. Federico VILLEGAS, ARG
24. Bradley GAME, AUS
25. Max CAIRNS, AUS
26. Renato REZENDE, BRA
27. David GRAF, SUI
28. Romain MAYET, FRA
29. Liam WEBSTER, GER
30. Philip SCHAUB, GER
31. Renaud BLANC, SUI
32. Izaac KENNEDY, AUS
33. Kay STINDL, GER
34. Evgeny KLESHCHENKO, RUS
35. Martti SCIORTINO, ITA
36. Shane ROSA, AUS
37. Andrew HUGHES, AUS
38. Mattia FURLAN, ITA
39. Matt KRASEVSKIS, AUS
40. Jay SCHIPPERS, NED
41. Alfredo CAMPO, ECU
42. Simba DARNAND, FRA
43. Aleksandr KATYSHEV, RUS
44. Giacomo FANTONI, ITA
45. Mathis RAGOT RICHARD, FRA
46. Wade TURNER, AUS
47. Jayce CUNNING, AUS
48. Nicholas LONG, USA
49. Kyle HILL, AUS
50. Federico DE VECCHI, ITA
51. Corey FRIESWYK, AUS
52. Zachary VANKAMMEN, USA
53. Niels BENSINK, NED
54. Joshua MCDERMOTT, AUS
55. Dave VAN DER BURG, NED
56. Corey TAYLOR, AUS
57. Nicolas TORRES, ARG
58. Jesse ASMUS, AUS
59. Thomas JOUVE, FRA
60. Arthur PILARD, FRA
61. Mauricio MOLINA VERGARA, CHI
62. Boris PONOMAREV, RUS
63. Cole TESAR, USA
64. Cristobal Andres PALOMINOS RODRIGUEZ, CHI
65. Stefan HEIL, GER
66. Giacomo GARGAGLIA, ITA
67. Jye HOMBSCH, AUS
68. Bruno CARDOSO, POR
69. Trent ASMUS, AUS
70. Joshua BOYTON, AUS
71. Dylan BENNETTS, AUS
72. Anthony BUCARDO, USA
73. Hayden FLETCHER, AUS
74. Michael BIAS, NZL
75. Kristens KRIGERS, LAT
76. Nathaniel RODWAY, AUS
77. Eddy CLERTE, FRA
78. Noah BRESCHAN, SUI
79. Joe CHENAF, FRA
80. Anderson Ezequiel DE SOUZA FILHO, BRA
81. Tatsumi MATSUSHITA, JPN
82. Rinke OEGEMA, NED
83. Matthijs VERHOEVEN, BEL
84. Taichi IKEGAMI, JPN
85. Julian SCHMIDT, GER
86. Soma HASHIMOTO, JPN
87. Marco JACKEL, GER
88. Wouter SEGERS, BEL
89. Toni SYARIFUDIN, INA
90. Rico D'ANVERS, NZL
91. Jukia YOSHIMURA, JPN
92. Leo GAROYAN, FRA
93. Adam CAREY, AUS
94. Michele TOMIZIOLI, ITA
95. Luey COTTON, NZL
96. Theo THOUIN, FRA
97. Kale WARNER, AUS
98. Matthew TIDSWELL, AUS
99. Hugo MARSZALEK, FRA
100. Romain RACINE, FRA
101. Patrick BOGNAR, AUS
102. Jack DAVIS, AUS
103. Jamie GILL, AUS
104. Harrison DAVIS, AUS
105. Aidan NEMET, AUS
106. Somkid HARATAWAN, THA
107. Jefferson Jordan MILANO DURAN, VEN
108. Niek KIMMANN, NED
109. Harrison CRAIG, AUS
110. Oliver MORAN, AUS
111. Elias VERBINNEN, BEL
112. Sytse OEGEMA, NED
113. Jayden KEOGH, AUS
114. Benjamin BULLEN-ASLIN, AUS
115. Amidou MIR, FRA
116. Cole MCONIE, NZL
117. Komet SUKPRASERT, THA
118. Jakob BERNHART, GER
119. Mikus STRAZDINS, LAT
120. Damon HOCKING, AUS
121. Kohei YOSHII, JPN
122. Ryo SHIMADA, JPN
123. Jeremy SMITH, USA
124. Tre WHYTE, GBR
125. Romain MAHIEU, FRA
126. Daichi YAMAGUCHI, JPN
127. Ynze OEGEMA, NED
128. Maxime BOYER, FRA
129. Aston WYPYCH-COLES, AUS
130. Morgan SEWARD, AUS
131. Diesel CONNOR, AUS
132. Rio AKBAR, INA
133. Nathan GLAB, AUS
134. Cedric BUTTI, SUI
135. Kai SAKAKIBARA, AUS
136. Corentin DUBOIS, FRA
137. Mitchel SCHOTMAN, NED

Pics by Bart de Jong/FATBMX