well as personal moments from the artist familial history. Skull, Almond Blossom, Sunflowers and Van Gogh's self-portrait are celebrated through an extensive Vans collection, showcasing some of Van Gogh's most revered artwork in a new way.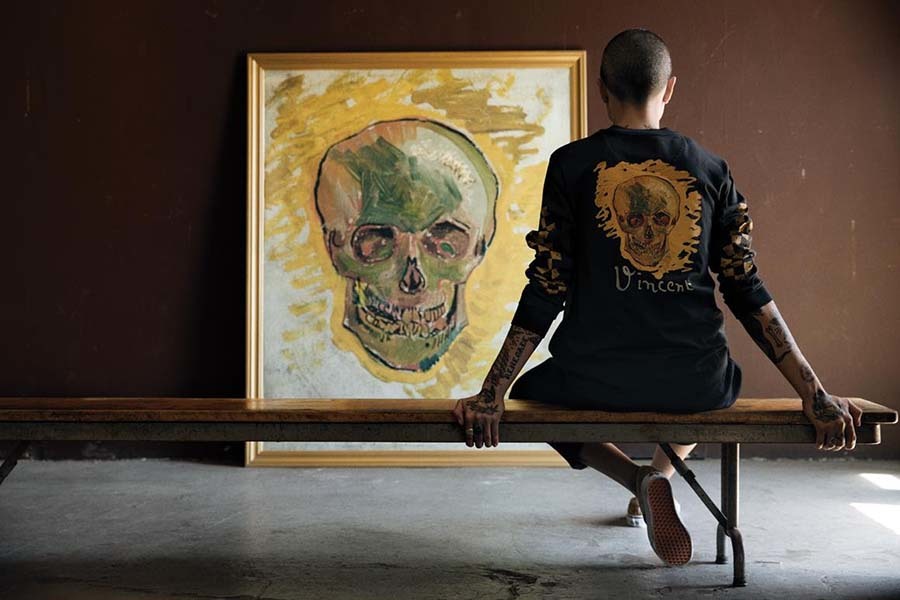 "We are delighted with the Vans x Van Gogh Museum collection, as it ties in with our mission to make the life and work of Vincent van Gogh accessible to as many people as possible in order to enrich and inspire them", said Adriaan Dönszelmann, Managing Director of the Van Gogh Museum. "By uniting Van Gogh's iconic artworks with iconic Vans styles, our partnership brings Vincent's art "Off The Wall" and into the world to a new audience outside the museum."

When Van Gogh began to formally study art, he centered his focus around color theory through a series of skeletons that captured shade and light in an irreverent and dark expression. These studies have come to life across the vamps of the Classic Slip-On, long sleeve tee, hoodie and hat with Van Gogh's human skull placed expertly across each silhouette with subtle details of the artist's handwriting and brush strokes hidden in a reimagined checkerboard print.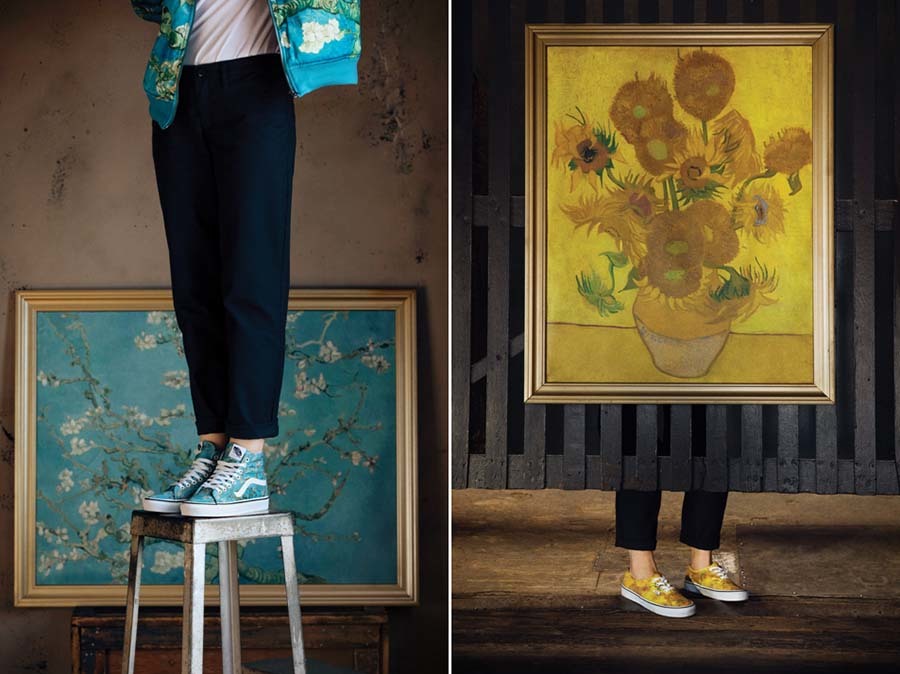 More colorful renditions come from two of Van Gogh's most recognized works, Sunflowers and Almond Blossom. Van Gogh created five large canvases that depicted sunflowers in a vase using three shades of yellow to help demonstrate the ability to create an image with varying degrees of color and texture all while using single color tones. The Sunflowers painting has been dissected to cover every panel of the Authentic and is carried through to the Sunflower Boyfriends Tee and the Sunflower Hoodie. Almond Blossom symbolizes new life and represents Van Gogh's search for serenity and to bring the print and its colors to life Vans designers digitally printed Van Gogh's painting atop a satin material to cover the Almond Blossom Bomber, hat and
backpack. The collection showcases the evolution of Van Gogh's painting style with his self-portrait where he captures himself using bright, unblended colors and a new technique of pairing complimentary colors to create depth and intensity. Van Gogh's self-portrait can be found wrapped atop the Authentic and a complimenting Van Gogh Oversized Tee.

The final round-up of designs includes an ode to Van Gogh's drawing titled Old Vineyard with Peasant Woman which is delicately printed across the Old Skool and a special Classic Slip-On that features excerpts from handwritten letters from Vincent to his brother, Theo. Vans designers pulled excerpts and illustrations from some of the 700 letters that were sent to Theo and have wrapped them across the Classic Slip-On model. Both the Old Skool and Classic Slip-On models will be sold at select Vans retail and wholesale accounts.

Each model from the Vans x Van Gogh Museum collection footwear collection is finished with custom footbed art that mimics Van Gogh's memorable brush strokes with the Van Gogh Museum and Vans logo lock-up. Each piece from the collection will also include a special hangtag that highlight historical facts behind each piece of Vincent Van Gogh's art.

The Vans x Van Gogh Museum Collection will be available to shop at Vans.com , Vans retail stores and select Vans wholesale accounts. The collection will also be available at vangoghmuseumshop.com and in the museum shop at the Van Gogh Museum in Amsterdam beginning this Friday.
#VansxVanGoghMuseum