For California's James Foster this meant the stage was set for his breakout performance at X Games.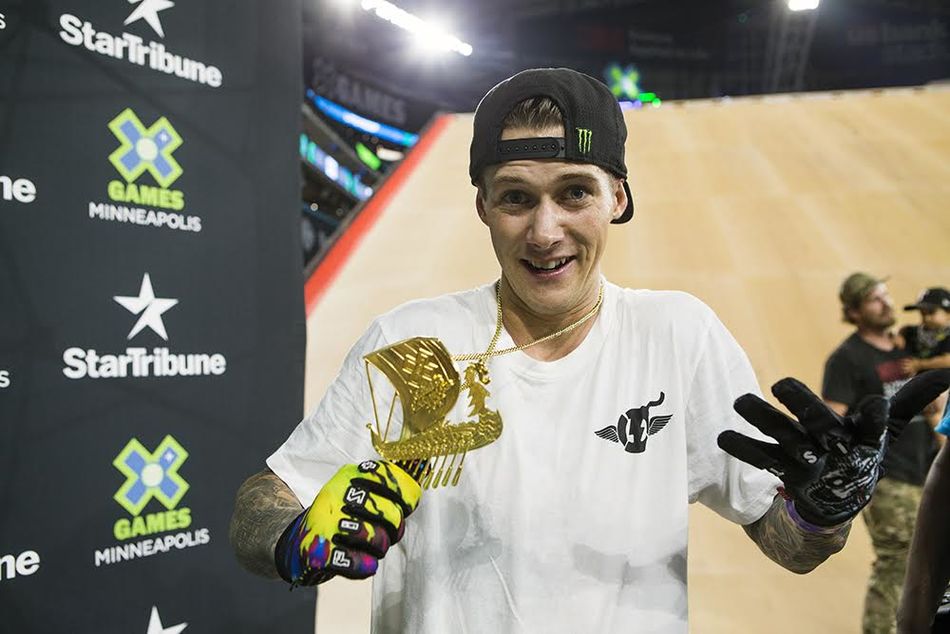 Following two tough falls early on Foster manned-up for his third attempt and threw down a run for the ages. Dropping down the monolithic ramp, the crowd gasped in anticipation before the 31-year-old busted out a backflip triple tailwhip, a trick he in fact pioneered. Landing clean, the spectators cheered him on as he sped into the massive 27-foot quarter pipe. Launching an incredible 17 feet 7 inches, Foster soared towards the upper levels of the stadium and appeared to hesitate a minute before reaching his apex. He then quickly gave the handlebars a spin and kicked his pedal down spinning a double downside tailwhip as gravity pulled him back to Earth. Riding away in disbelief he chucked his bike up the landing ramp and dropped to his knees as if he had just cheated death.
In an interview after the feat Foster said, "I gave myself about a 20 percent chance to pull that one off!"
Yet, this is the X Games and competition is fierce. On the next round newly crowned Vert champion Vince Byron gained the lead.
With one final attempt one wondered where Foster could go given his last run. The answer was up.
Matching his first trick with even more style, Foster rode away from the backflip triple whip towards the quarter pipe with even more speed blasting a remarkable 17 feet 10 inches, stalling out, spinning the bars and this time, down-whipping his bike three times scoring a 94.33. As he landed the crowd erupted. Everyone knew they were looking at the new Big Air gold medalist. Holding his bike overhead in victory he threw it this time and slid down the ramp.
"That was the craziest thing I've done on my bike," he said, continuing, "and definitely the scariest thing I have done on my bike! I can't believe I pulled that last run. I saw Vince do his run and I thought to myself I can't beat that, but I'm going to try! And I got lucky — bar spin to triple down-whip – that's the first time I have ever tried it too. Every BMX rider on this ramp is a Viking because we all send it on this thing regardless if we are going to walk away – we are all going to give it everything we got."
Foster can now add that trick as well as an X Games gold medal to his list of firsts — feats that include the world's first 360-windshield wiper and the first ever triple backflip.
ESPN and ABC will televise a combined 18.5 hours of live X Games Minneapolis 2017 coverage, which will also be accessible via the ESPN App to viewers who receive their video subscription from an affiliated provider.

By Monster Energy