transfer floating across the spine and topping it off with consistent airs and 540s. Smooth as ever, Canada's Corey Walsh placed third, showing off huge transfers and an ally-oop off the tear drop onto Red Bull sub box. Honorable mentions go out to seasoned competitors Jason Watts, earning the Red Bull Best Trick, and Dennis Enarson for Best Line.
The women's division offered a diverse showcase of the series' best women contenders to date, including US riders Angie Marino and Nina Buitrago, plus Australia's own Natalya Diehm. In the end, reigning women's world champion Teresa Azcoaga took the cake, demonstrating pure confidence as she landed powerful airs and a noteworthy toboggan over the extension. Azcoaga has been a consistent player in the Pro Cup series, securing several podiums last season to claim glory in the overall series. This win puts her in a prime position in the title race, as she looks to continue her streak into Germany.
Runner up Natalya Diehm also put on an impressive show, compiling a mixed bag of tricks from big transfers and no-handers over the spine to win the judges over. Diehm also earned the Red Bull Best Trick honors with a big ninja drop from the extension. Finally, in third, Angie Marino expressed her flawless style, transferring smooth lines and table top maneuvers.
Building excitement for the world title race, the top 20 rankings from each division will advance to the next stop of the 2019 Vans BMX Pro Cup Series, taking place in Stuttgart, Germany on June 16. The winners from the Sydney regional qualifier have also secured their invites to the World Championships, to be held in Huntington Beach, CA this September.
2019 Vans BMX Pro Cup: Sydney Results

Final results Men:
1st Sergio Layos 88.27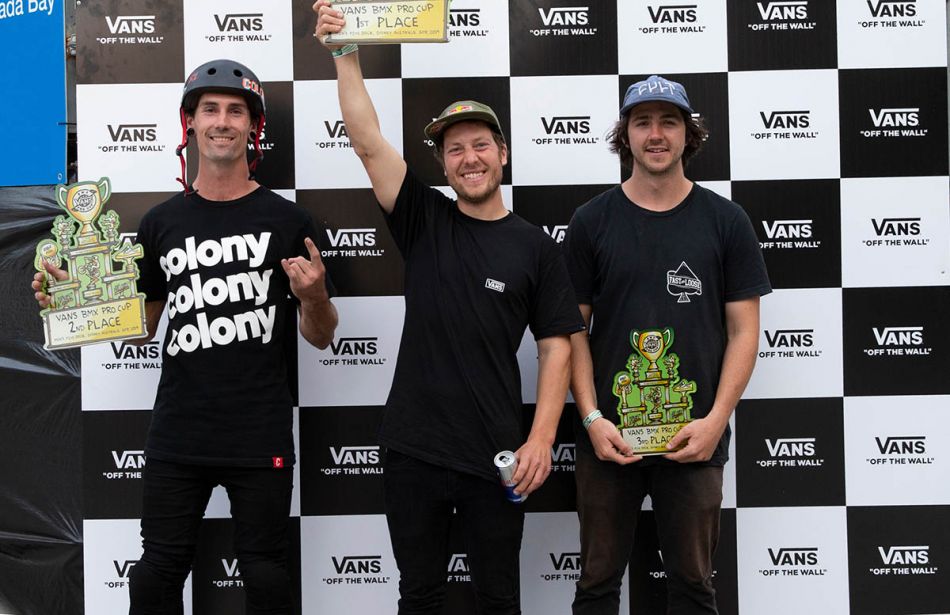 2nd Chris James 87.83
3rd Corey Walsh 87.20
4th Jason Watts 86.80
5th Gary Young 86.73
6th Larry Edgar 86.61
7th Dennis Enarson 86.31
8th Brandon Loupos 83.80
9th Boyd Hilder 83.35
10th Josh Dove 83.30
11th Paul Thoelen 81.72
12th Tom vd Bogaard 80.46
13th Alex Hiam 80.24
14th Kris Fox 80.16
15th Sem Kok 79.49
16th Kevin Peraza 78.66
17th Matty Ballis 78.55
18th Matty Cranmer 77.50
19th Matt Cordova 77.18
20th Cody Pollard 75.74
21st Ale Pitu Ibarra 72.02
RED BULL BEST TRICK: Jason Watts, Decade 540 Footjam
BEST LINE AWARD: Dennis Enarson, Ally-oop 450 from the spine to the Red Bull wall
Women:
1st Teresa Azcoaga 81.36
2nd Natalya Diehm 81.12
3rd Angie Marino 80.54
4th Nina Buitrago 78.92
5th Denise Cropper 60.49
RED BULL BEST TRICK: Natalya Diehm, Big Ninja Drop
Converging at the beloved Five Dock Skatepark in the heart of Sydney's Harbour, the first stop of the Vans BMX Pro Cup Tour presented a talented mix of regional BMX talent along with internationally-renowned athletes from USA, Europe, and Australia. For updates and more information on competition format, locations, athletes and more, please visit vansbmxprocup.com

Pics by Colin Mackay/Vans