BMX Park Best Trick disciplines.
Here's how Day 4 at X Games 2022 unfolded for team Monster Energy:
BMX Park
In Saturday's BMX Park competition, ten of the world's best BMXers took on the expansive concrete bowl course inside the California Training Facility (CA|TF). In a 36-minute session, winners were crowned based on trick difficulty, style, and coverage of the entire course. Countries represented included Australia, Argentina, Japan, Mexico, as well as the United States, and United Kingdom.
The world-class course challenged riders with a wide selection of banks, bowl corners, vertical extensions, and wallrides. The biggest tricks unfolded on the centerpiece jump as well as the tall vert sections, with plenty of room for creative lines in between.
At the end of an explosive final session, 22-year-old Monster Energy team rider Justin Dowell from Virginia Beach held his own in the elite field to claim the silver medal. Dowell's trick highlights included no-handed 360 over the centerpiece, 540 barspin-catch-barspin over the hip, triple truck driver over the center, tailwhip 360, massive lookback flair into the wallride, and tailwhip barspin for second place.
Saturday's silver marks Dowell's second X Games medal after already claiming BMX Park silver in his debut at X Games Chiba 2022. Keep an eye on this young ripper!
Dave Mirra BMX Park Best Trick
Progression was also the name of the game in Saturday's final event at the California Training Facility (CA|TF): The Dave Mirra BMX Park Best Trick allows riders to go big and technical on any feature of the expansive Park course.
Stepping to the challenge, eight riders from six countries (Australia, Canada, Japan, Mexico, and United States) took on the course with their most unique trick creations. Massive tricks went down on vert corners, wallrides and extensions. But at the end of the 20-minute jam session, Monster Energy riders shut down the podium by claiming every single medal in the event.
As a force to be reconned with, Monster Energy's Mike Varga stepped into the contest with a massive bag of tricks and the previous two BMX Park Best Trick gold medals to this name. Now the 25-year-old from Oshawa, Canada, was set on earning a threepeat: He found it on his very last attempt of the final with a huge 900 barspin-catch-barspin for the gold medal.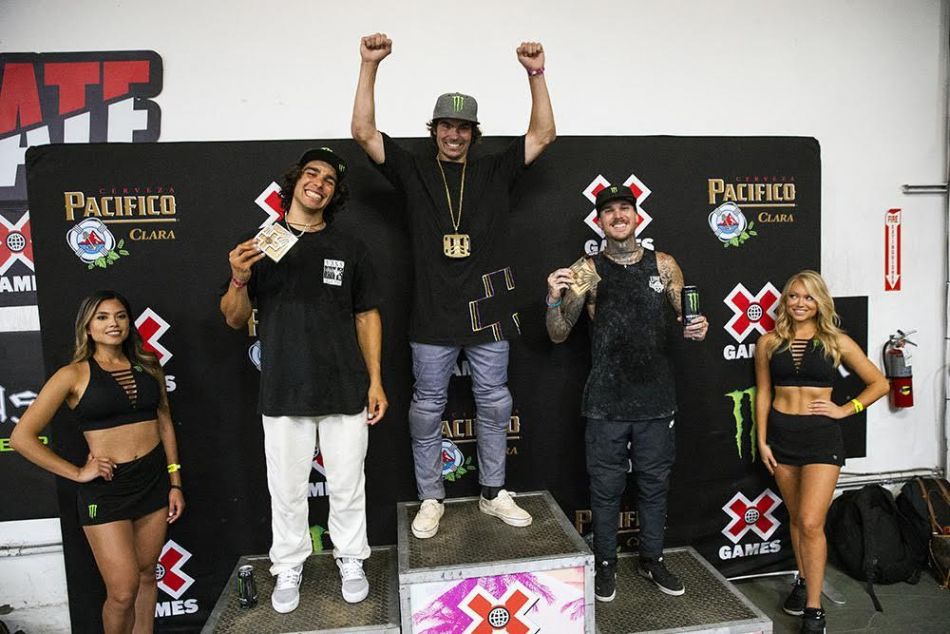 At X Games 2022, Varga made history as the first rider to claim three consecutive gold medals in BMX Park Best Trick. This marks the fourth X Games medal for Varga, who now owns three gold and one bronze.
Also rising to the podium, 27-year-old Kevin Peraza from Tucson, California, came to his eleventh X Games appearance with a massive trick up his sleeve: On his fourth attempt, a perfect backflip 180 tailwhip over the spine earned Peraza a strong second place finish. Peraza now owns five X Games medals (3 gold, 1 silver, 1 bronze).
Rounding out the podium sweep for team Monster Energy, 25-year-old Jeremy Malott from Lake Havasu, Arizona, came through to claim bronze with a technical 180 backflip onto the deck to backflip back into the bowl. Malott now owns two X Games medals after already claiming BMX Park bronze X Games 2021.