alongside 14ft jump ramps, bowl corners and hips, maximising the flow of the park and offering something for every kind of skater and BMXer who will be entering this year. From the return of 'Elvis' to the addition of some crazy new street obstacles, the park will offer the canvas for the world's best BMX'ers and Skaters to express their art.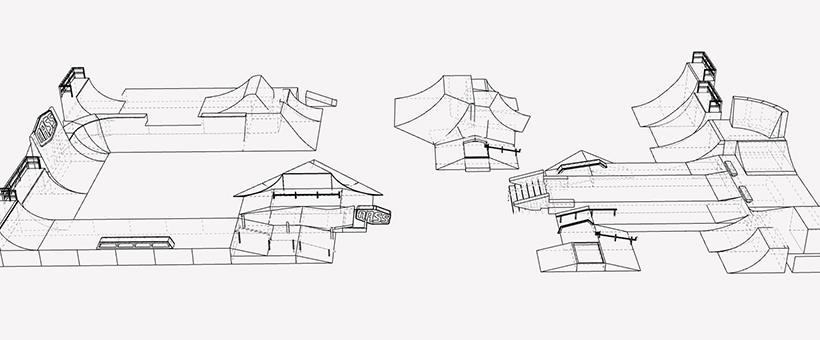 Created by the UK's leading park designers Shaun Scarfe and Trevor Johnson of Four One Four, the duo added:

"We can't wait to see the top international invitational riders hit up this year's NASS Pro Park setup. BMXare going to kill the big hip lines and this year Skate can get fully tech on the brand new street set up. Athletes will dropping more hammers than a B&Q trainee!"

Teaming up with the renowned charity, Skatepal, for the 2018 festival, NASS decided to work with the company after seeing the incredible work their projects help create.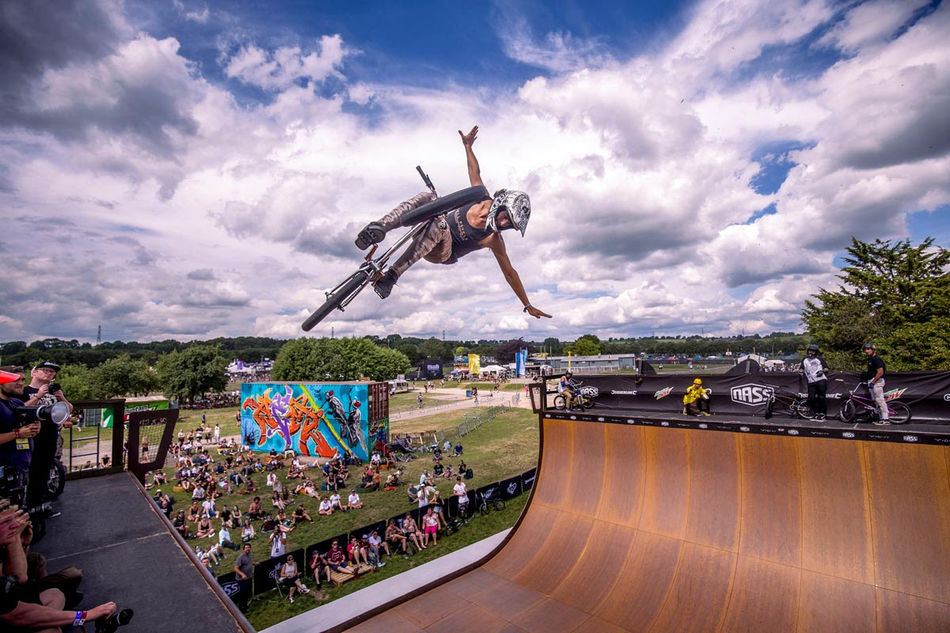 Alongside some of the world's finest skaters, every year some of the best BMXers from around the globe embark on Shepton Mallet to compete in the international competitions on the pro park, vert ramp and dirt course. They are notorious for going very big and are not to be missed, with Mark Webb, one of the most influential BMX riders of the last decade in attendance, despite some career-threatening injuries, which have included broken back, arm, leg, and dislocated shoulder. Mark will be up against the likes of James Jones, Tom Justice, Nick Bruce, and street specialist Alex Donnachie, who has spent the past year travelling the world with legendary producer Richard Forne.

The full list of the invitational riders for NASS 2018 includes: Alex Landeros, Ash Finlay, Doug Oliveira, Isaac Lesser, Jack Clark, Jack Mould, Jack Watts, Justin Dowell, Kaine Mitchell, Mike Curley, Nick Bruce, Sam Cunningham, Shaun Gornall, Tom Milham, and Zach Newman.
The Vert ramp at NASS is not only currently the biggest in Europe, but it's also designed to the exact specifications of vert legend Tony Hawk's needs as well as having the seal of approval from BMX legend Mat Hoffman. The vert competitions always draw huge crowds so be sure to get down early to grab a spot!
For the first time ever, NASS have introduced their very own app which includes sport scheduling, announcements and releases plus much more, be sure to download the app to stay in the know:

https://www.nassfestival.com/app.

NASS is the #1 music and action sports festival in the UK - join us from the 5th to the 8th July 2018. Festival address: Royal Bath & West Showground, Shepton Mallet BA4 6QN


FULL ATHLETE LINE-UP 2018

2018 BMX PARK INVITATIONAL: AARON HAYWOOD, ASH DOUGLAS, ASH FINLAY, BRADLEY MULHOLAND, CALLUM BIBBY, DAN ALLINGTON, DEL SHEPHERD, DYLAN HESSEY, GEORGE STAFFORD, HARRY BOUCHER, ISAAC LESSER, JACK CLARK, JACK MOULD, JACK WATTS, JAMES JONES, JOSH WEBBER, JUDE JONES, JUSTIN DOWELL, KAINE MITCHELL, KIERAN REILLY, MARK WEBB, NICK BRUCE, OAKLEY WAY, RYAN CUNLIFFE, SETH MURRAY, SHAUN GORNALL, TOM JUSTICE, TOM MILHAM, ZACH NEWMAN
2018 BMX PARK OPEN | WOMEN'S: CARLY HEAD, HARRIET RUSS, HEATHER RUSCOE, IZZY BURRELL, JAY LEWIS, KAYLEIGH ASHWORTH, MEADOW POLAND-SHAW, MOZ CHUDLEY, SASHA PARDOE, VAL WARD, VIKTORIJA GALAKVOSCIUTE
2018 BMX STREET INVITATIONAL: ALEX DONNACHIE, BRAD MULHOLLAND, BRANDON STEELE, FRASIER HILL, HARRY BARRETT, HARRY MILLS WAKLEY, JACK DUMPER, JACK LANNIE, JOE JARVIS, JORDAN ALEPPO, JOSH WEBBER, LEE FLETCHER, MAX PRICE, MICHAEL SUTTLE, MIKE CURLEY, OSCAR DAECHE, SAM BURDITT, SAM CUNNINGHAM, SAM JONES, TARIQ HAOUCHE
2018 BMX VERT INVITATIONAL: AARON HAYWOOD, ALEX LANDEROS, ASH FINLAY, BEN SNELL, DENNIS WINGHAM, DOUG OLIVERIA, GEORGE STAFFORD, JON KEARNS, KAINE MITCHELL, MATE HAJAS, MIKE MULLAN, OAKLEY WAY, PAUL MEACHER, ROB SIDLOW, RONNIE SURRIDGE, SEAN TOMPSON, VINCE BYRON, ZACH NEWMAN
2018 BMX DIRT OPEN: AARON STADDON, ALFIE HEMING, ALLISTER LOUGHRAN, ANTONY BARBER, BILLY PURCELL, BILLY REEVES, BRAD MULHOLAND, CALLUM WOODLAND, CASSON DOWNING, DAN BUTLER, GREG ILLINGWORTH, JACK CLARCK, JACK MOULD, JAKE DOMANSKI, JAMES JONES, JOE BOWERS, JOE PARRY, JORDAN CUTTS, KAINE MITCHELL, MARK DUCAT, MATT HARRIS, MICHAEL JORDAN, MIKE HUGHES, MIKE HULLOCK, NICK BRUCE, OAKLEY WAY, RICHARD PERRY, SHAUN GORNALL, THOMAS RUSSELL, TOM JUSTICE, TOM MILHAM