Pro Larry Edgar will fight to uphold his title against seasoned podium winners including back-to-back Huntington Beach event winner Dennis Enarson, two-time Mexico event winner Jason Watts, and Pro Cup veterans Kevin Peraza and Gary Young. With Sergio Layos out of the World Championship title race, rising stars from Australia, Alex Hiam and Boyd Hilder have climbed up the series scoreboard, emerging as a major threat to the leading tour contenders.
In the women's division, series points leader and Spanish rider Teresa Azcoaga will compete against USA's Angie Marino, women's BMX pioneer Nina Buitrago and Chile's star talent Macarena Perez for the women's first-ever Vans BMX Pro Cup World Champion title. See below for a full list of competitors.
Leading into the Pro Cup's World Championships, the last Vans BMX Pro Cup regional qualifier will take place on Friday, September 21. Open to eligible men and women pro BMX riders, the top three podium winners from Friday's regional qualifier will advance to the World Championship semi-finals on Saturday, September 22.
VANS BMX PRO CUP LEADING TOUR PROS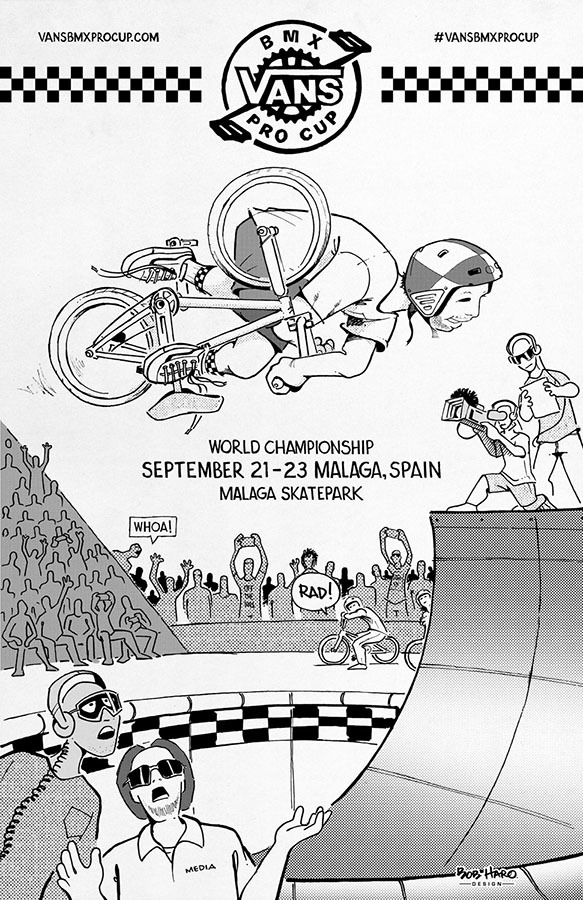 Pre-seeded to World Championship Finals
Larry Edgar USA
Alex Hiam AUS
Dennis Enarson USA
Boyd Hilder AUS
Jason Watts AUS
Kevin Peraza USA
Gary Young USA
Matty Cranmer USA
Kris Fox USA
Corey Walsh CAN
Vans BMX Pro Cup World Championship Qualifiers & Wildcards:
Matt Cordova USA
Pat Casey USA
Chase Hawk USA
Douglas Oliveira BRA
Parker Heath USA
Kevin Kalkoff FRA
Ryan Saville AUS
Shane Ellis AUS
Cody Pollard AUS
Chris James AUS
Alex Leibrock USA
Rim Nakamura JPN
Paul Thoelen DEU
Maxime Charveron FRA
Corey Bohan AUS
Tom Van Den Bogaard NLD
Jamie Cooper-Ellis USA
Jose Torres MEX
Jairo Espinoza MEX
Cauan Madona BRA
Andres Gatica CHL
Netzer Parada MEX
Pabel Marquez MEX
Tyler Fernengel USA
Tom Dugan USA
Brandon Loupos AUS
Greg Illingworth ZAF
VANS BMX PRO CUP WOMEN'S LEADING TOUR PROS
Pre-seeded to World Championship Finals
Teresa Azcoaga ESP
Angie Marino USA
Nina Buitrago USA
Macarena Perez CHL
Perris Benegas USA
Jesse Gregory USA
Vans BMX Pro Cup Women's World Championship Qualifiers & Wildcards:
Hannah Roberts USA
Nikita Ducarroz CHE
Minato Oike JPN
Margarita Valenzuela Meraz MEX
Dayana Lopez MEX
Anahi Valentina Arevalo ECU


Vans BMX Pro Cup Series Spain Schedule
Athlete Registration: vansbmxprocup.com
Friday, September 21
Vans BMX Pro Cup Regional Qualifier
OPEN TO MEN & WOMEN REGISTRANTS


Saturday, September 22
Vans BMX Pro Cup World Championship – Men's and Women's
SEMI-FINALS


Sunday, September 23
Vans BMX Pro Cup World Championship - Men's and Women's
FINALS (LIVE WEBCAST)