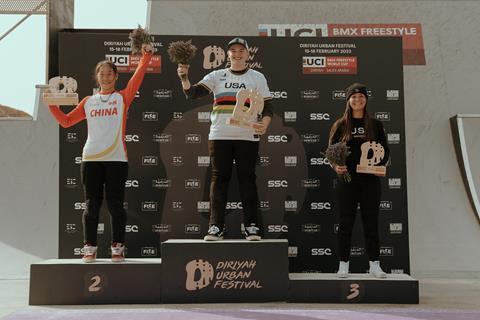 Finally, Hannah Roberts showed her impressive skills landing a double tailwhip, tuck no-hander on the hip and a huge flair transfer.
Women's Podium - UCI BMX Freestyle World Cup Diriyah:

1 Hannah ROBERTS (USA)
2 Jiaqi SUN (CHINA)
3 Perris BENEGAS (USA)
Style, flow and incredible tricks were on offer during the Men's final. Daniel SANDOVAL and his massive cashroll transfer opened the competition. Brian FOX imposed himself and took third place with his huge double backflip transfer and his 1080. The first heat was marked by Kevin PERAZA who mesmerized the public once again dropping with a big tailwhip and his signature hand plant on top of the wall. Marcus CHRISTOPHER was so impressive in the final as he landed a World first in a competition run 360 quadruple downside whip.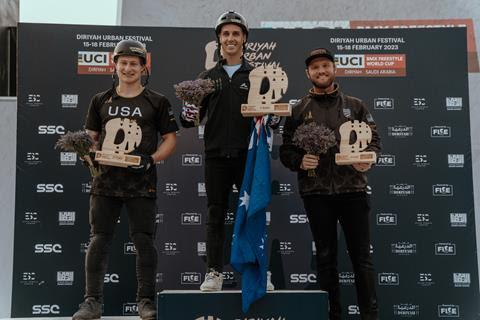 Finally, Logan MARTIN led the final landing among other impressive tricks, 720 double barspin and huge triple tailwhip opposite.
Men Podium - UCI BMX Freestyle World Cup Diriyah:
1) Logan MARTIN (AUSTRALIA)
2) Marcus CHRISTOPHER (USA)
3) Brian FOX (USA)