bike it was the coolest thing ever. During my time as a photographer in 1984-1985 I met Bob Haro several times and usually took a picture. In every photo Bob appears confident and looks like the hip leader of a burgeoning industry that he was.

Photo 2
-Who: Brian Blyther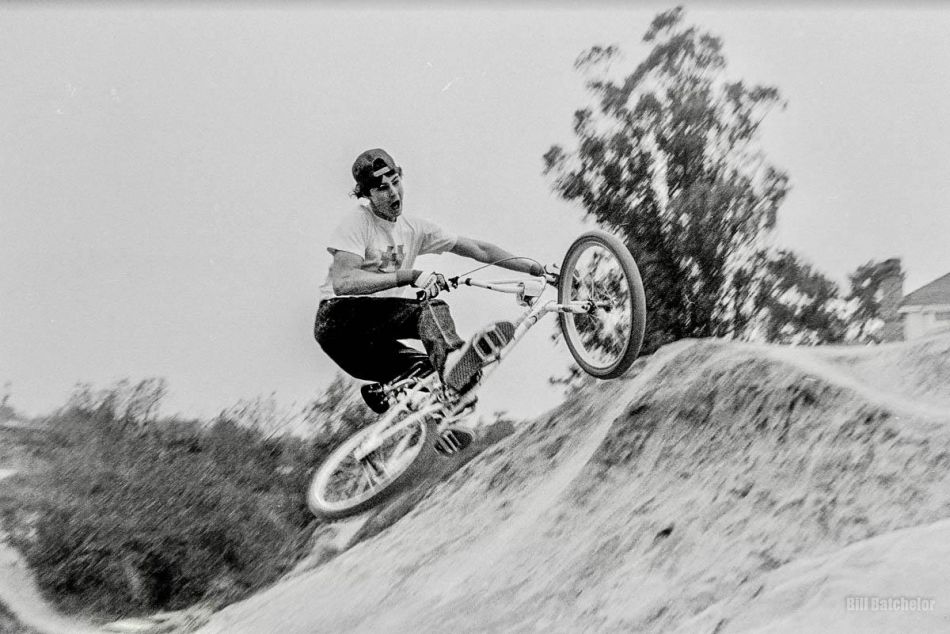 -Where: Colossus dirt jumps, Southern California
-When: January 1985
-What Happened: Brian, Mike Dominguez, Woody Itson and Martin Aparijo met up at a local dirt jumping
spot named Colossus. They spent the afternoon goofing off and riding dirt instead of concrete and
asphalt. A group of local kids watched in awe and rode with them.
-Why this photo: It captures why everyone gets into BMX—the love of riding a bike for fun. It wasn't
about the competition, the sponsors, the magazines. It was about getting spend the afternoon riding
with your friends.

Photo 3


-Who: Dave Vanderspek
-Where: Pipeline, Upland California
-When: Summer 1985

-What Happened: Dave was a friend and would sometimes stay at my parent's house in Upland when visiting the Pipeline, so of course I was there with a camera.

-Why this photo: Dave Vanderspek was very much an individual, fearless, and didn't care what others thought of his riding. He brought a lot of ideas from skateboarding and attempted many tricks knowing he'd fail. The bright colors represent his personality, and the incredibly dangerous curb endo over the edge of the deep combi pool was basically how he approached life.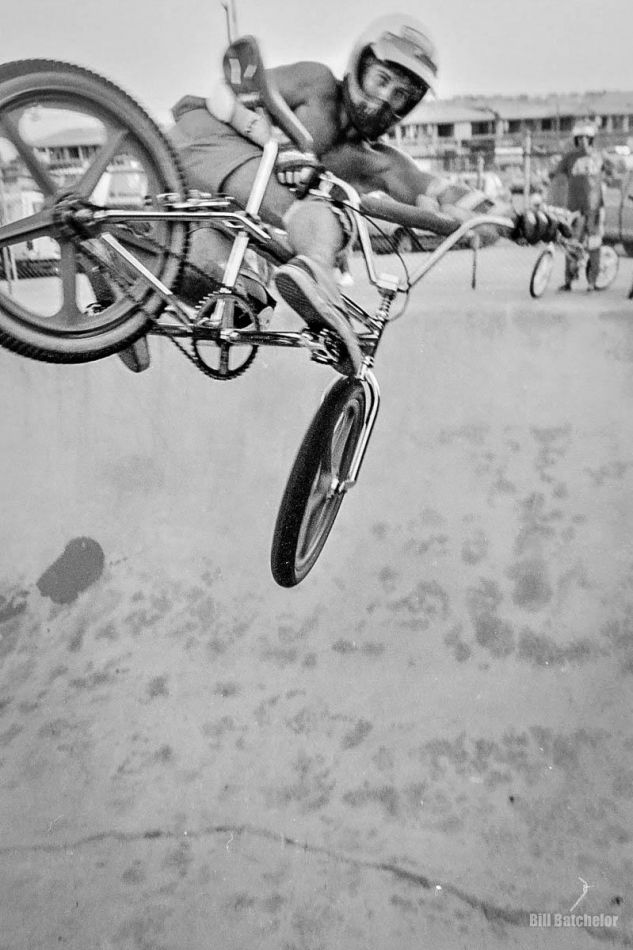 Photo 4

-Who: Donovan Frost (aka Ritter)

-Where: Pipeline skatepark, Upland California.

-When: August 1984

-What Happened: Although Donovan was a pro rider, he lived a few hours away near San Diego. He also spent a lot of time trying to master the Pipeline, so he was a frequest subject of my photos.

-Why this photo: Most photos of the Pipeline were taken during contests with large crowds, sponsors and the pros trying to win. This captures Donovan doing his thing, just riding hard for himself.



Photo 5 – AFA King of the Skateparks
-Who: Hugo Gonzales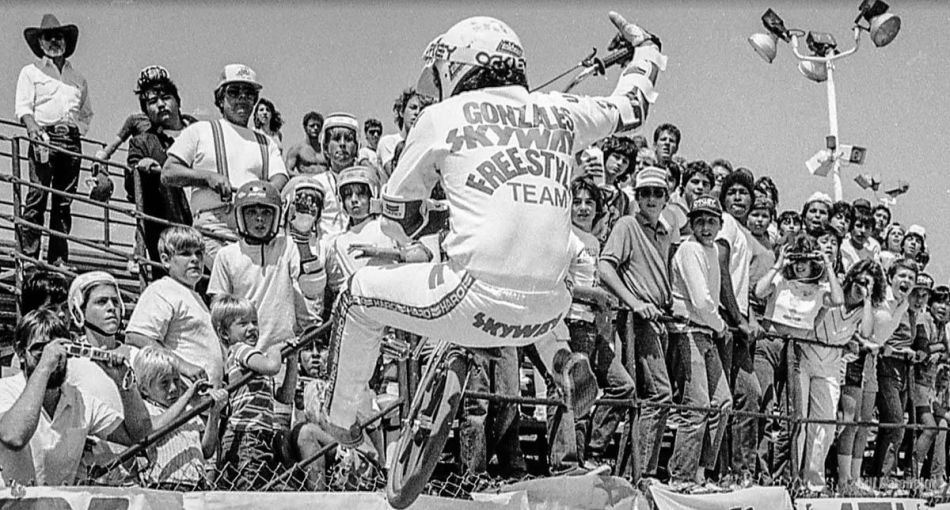 -Where: Upland, California
-When: Summer 1985
-What Happened: Hugo was competing in the AFA King of the Skateparks and flying out of the corner of the combi bowl.
-Why this photo: This is a cropped version of a photo, just showing the crowd and Hugo flying into them. I find the expression of the crowd endlessly fascinating. Fear, wonder, excitement. This is what made BMX freestyle great in the mid-1980s!


Photo 6 – Steve McCloud / John Ker
-Who: Steve McCoud (Redline) and John Ker (BMX Plus! Magazine editor)

-Where: Pipeline, Upland, California
-When: March 1985
-What Happened: Steve was a new signing to Redline and John was there shooting photos for the April magazine.
-Why this photo: It captures a lot. Steve was an amazing rider, very smooth, who came out of nowhere to dominate the Pipeline contests. John was someone I admired, who later became a photography mentor. It also captures the mood of the place where I grew up, with the concrete bowls of the Pipeline and the beautiful mountains in the distance.



Photo 7 - Backyard ramps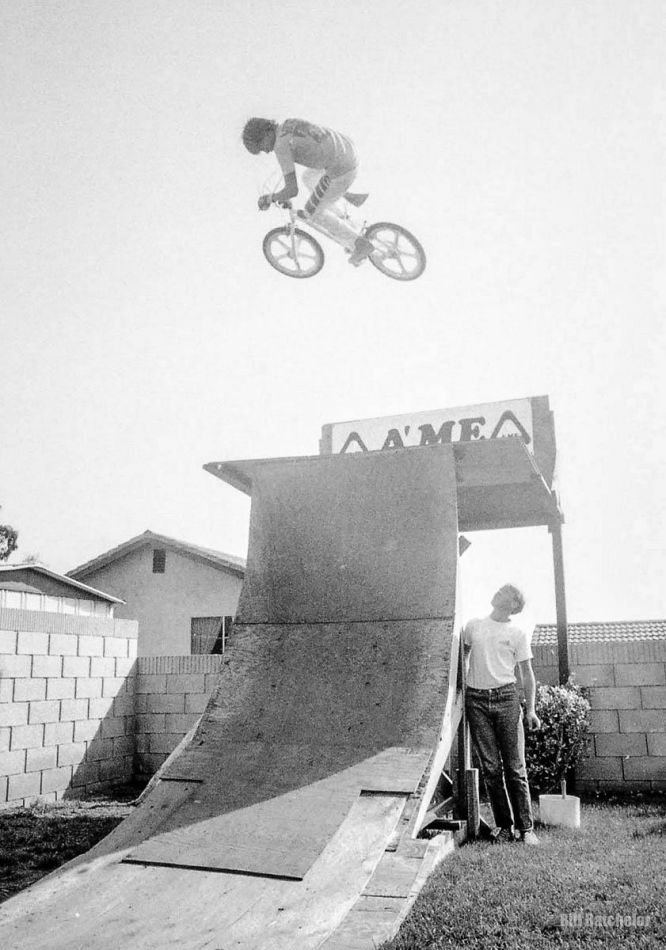 -Who: Rob McCrary
-Where: Upland, California
-When: 1984

-What Happened: We met for a home ramp jam, with brothers Robby and Randy McCrary, Jeff Carroll and a couple other local kids.

-Why this photo: To compete in contests you had to practice, so many riders had their own backyard ramps. Robby wasn't bothered by his narrow (1.5 meter) ramp. These locals learned to air at the Pipeline where you were forced to air straight up, then straight back down to keep it tight.


Contact info: Instagram @bill_batchelorBMX
Web (in progress) billbatchelorbmx.com
Photos by Bill Batchelor