Did you ever meet a pro and then rebuild his bike years later?
Ashley Little: No, although I've met a bunch of the UK pro riders it's the early SE pro's from the States that have always inspired my builds. Although saying that I'm now thinking about possibly building a tribute to Darren Wood's gold PK RIPPER he raced.

Do you believe Scot Breithaupt was instrumental as far as BMX development and product development goes?
Ashley Little: Absolutely. Not only was he there from day 1 but his creative genius will live on in the BMX world forever. Yes he had his well documented flaws but he was doing something others weren't, he was a character and sadly that's one thing global sport is missing today. I never had the chance to meet Scot but built up a good friendship over the last 15years or so, 2 years before he passed we started work on a series of kids books about a boy and his BMX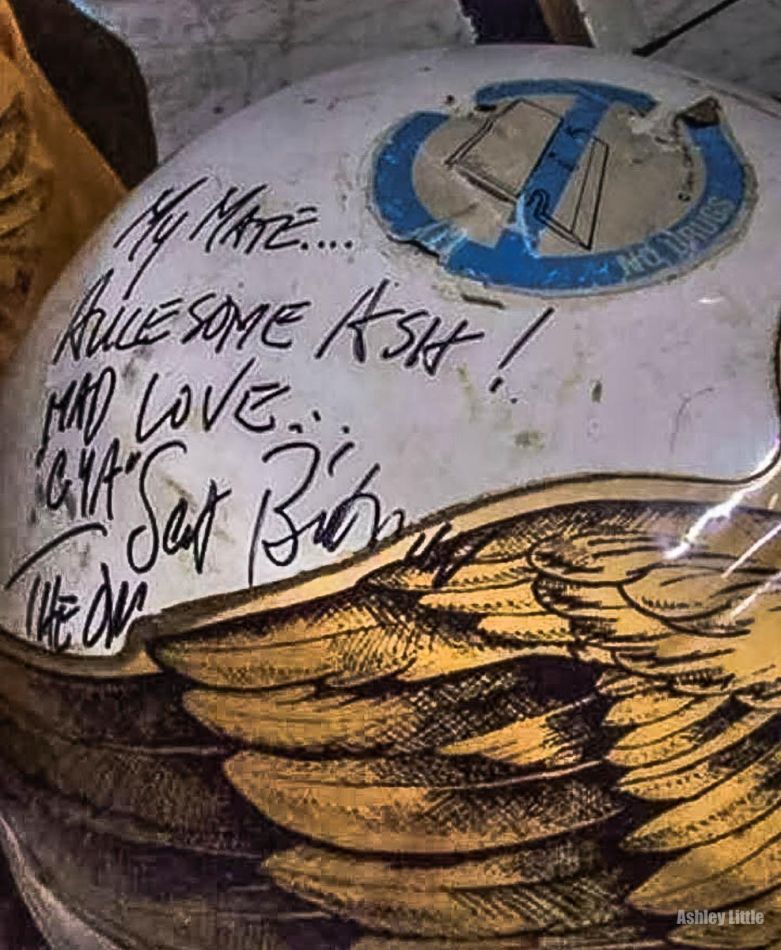 adventures, I'd love to get those finished. He's missed by a lot of people.

Could you name 6 pro riders who have raced for SE without looking it up?
Ashley Little: Yes no problem, it's easy to go with the pro/sponsored riders who had bikes named after them for a start. Stu Thomsen, Jeff Utterback, Derek Brown, Perry Kramer, Rod Beckering, Toby Henderson. The list is long and packed full of big hitters. SE had some amazing racers over the years.

When you started riding what bike was the dream bike for you?
Ashley Little: PK RIPPER and Quadangle, my first bike was a 2nd hand '81 Burnished PK I couldn't believe how light it was compared to a lot of other bikes my friends had. As a kid I used to stare at pictures of the Quadangle in magazines and I couldn't quite figure out how that crazy frame was created, it looked amazing back then and still does today.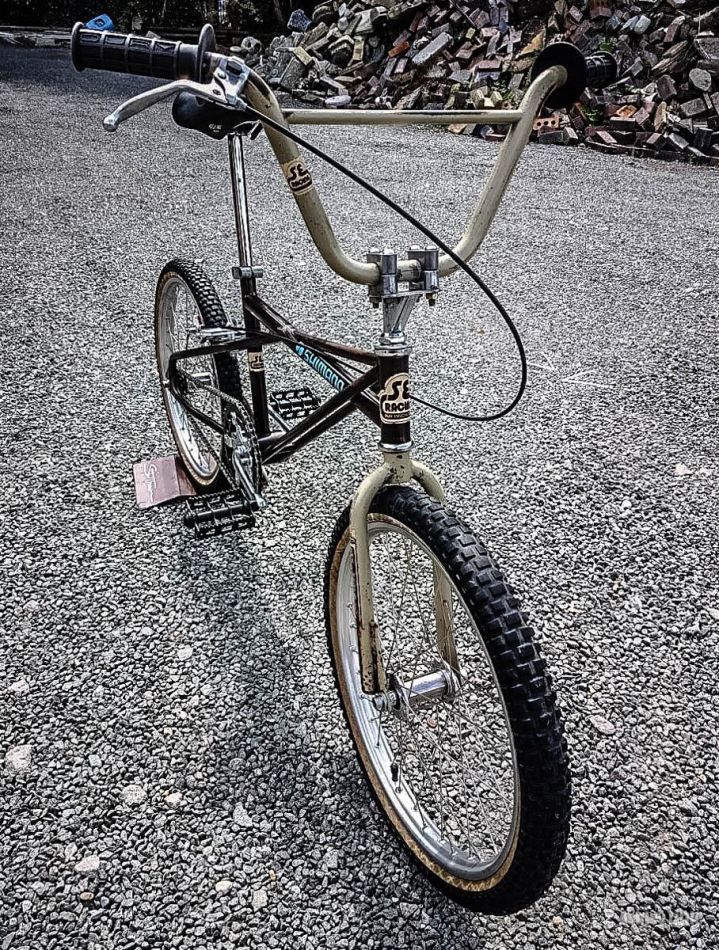 Do you still have that bike in your collection today?
Ashley Little: I sure do. It's beat up, has cracks, scars and heaps of dents that tell a thousand stories of care free riding and it's awesome. SE had pretty much the best race outfit in BMX.

Next to bike parts, do you also have some of the SE racing gear?
Ashley Little: Yes I have several race jerseys, race pants, gloves, helmets, team jackets. I also love collecting memorabilia as much as the bikes and I'm also very fortunate to own Scot's race helmet he wore in his last race.

Do you get creative with your builds or do you stick to the correct spec?
Ashley Little: My builds are era correct as much as they can be, the exception being the GPV I built, that had to have a few fabricated parts to mount the fairing and newer foot pegs and tyres, other than that the rest is based around 81 parts. My tribute builds are my passion, I enjoy trying to capture a moment
in time such as my Portland Bike Gallery BD-III and Rod's 79 PK, my recent blue PK was a nod to Perry and his style of bikes he raced.


Name three BMX collectors that you respect?
1) Brian Hays. Passionate about SE racing? Just a bit! That man has forgotten more about SE than a lot of new collectors know.
2) Sean "Stidds" Stiddard. One of the nicest guys in the UK BMX scene, builds amazing bikes and has incredible knowledge.
3) Craig Fisher. Mr Skyway Australia, another great guy that has been around since day one and still rides like a demon today.

What products are a great help when you find an old rusty historical piece of shit bike that needs to shine again?
Ashley Little: I'm fortunate as PK's don't rust so a light polish with Mothers sorts them out. But if you do try to polish aluminium get some rags…plenty of rags.

How often do you look on eBay/Craigslist/BMX Museum to shop for old BMX stuff?
Ashley Little: Rarely these days, I've spent over 22 years networking and building up friendship/relationships and I'll always go to those guys for anything I need.

Do you have a man-cave where your bikes are displayed?
Ashley Little: Not right now as I've sold the unit but did have a nice set up.


What's a bike (part) you have been looking for but haven't been able to locate?
Ashley Little: There are 2 specific frames/bikes I've searched for, I now know where they are so fingers crossed.

Where can people reach you when they have that part available?
Ashley Little: RAD-BMX and BMX Museum under (KUNGFUNKY), facebook or This email address is being protected from spambots. You need JavaScript enabled to view it.

Thanks to?
Ashley Little: Thanks for the opportunity Bart and keep the amazing interviews coming. Also everyone who has helped me along the way however big or small, If I put names down I'd probably forget someone.


Episode 1: Christophe Detandt (BEL)
Episode 2: James White (GBR)
Episode 3: JT Freestyle (USA)
Episode 4: Ben Murphy (IRL)
Episode 5: Rainer Schadowski (GER)
Episode 6: GAry Sansom (USA)
Episode 7: Michael Gamstetter (USA)
Episode 8: Grant Stone (GBR)
Episode 9: Steve Blackey (USA)
Episode 10: Shannon Gillette (USA)
Episode 11: Woody Itson (USA)
Episode 12: Oliver Kienzle (GER)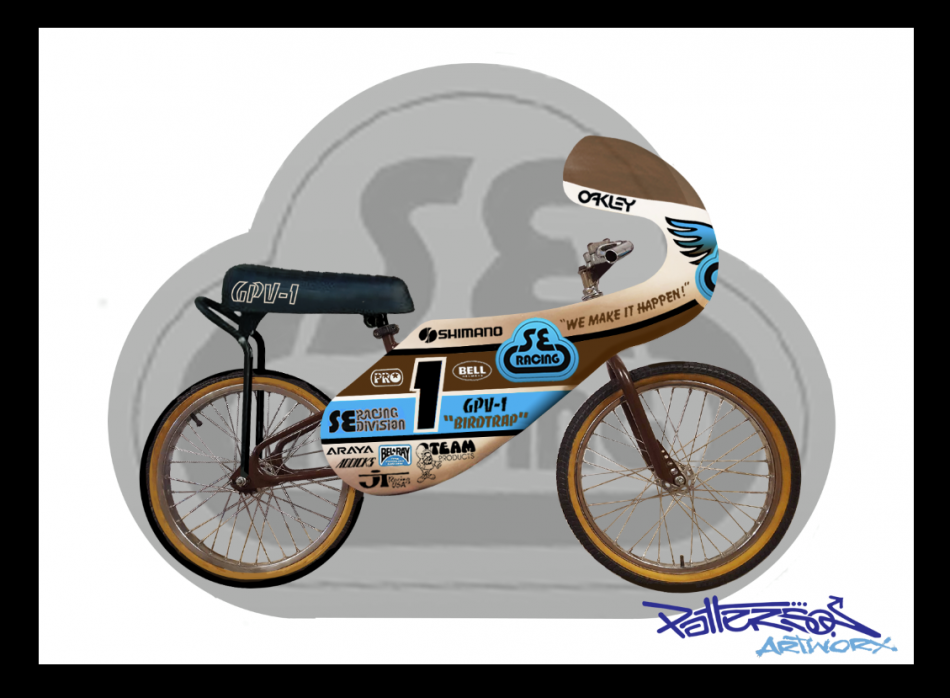 Episode 13: Kelly Swanson (USA)
Episode 14: Pat A Lar (GBR)
Episode 15: Billy Mills (GBR)
Episode 16: Steve Brothers (USA)
Episode 17: Aykut Hilmi (GBR)
Episode 18: Alex Leech (GBR)
Episode 19: Mike Janssen (NED)
Episode 20: Brian Gutierrez (USA)
Episode 21: Chad Powers (USA)
Episode 22: Alessandro Barbero (ITA)
Episode 23: Chris Daly (GBR)
Episode 24: Ian MacArthur (GBR)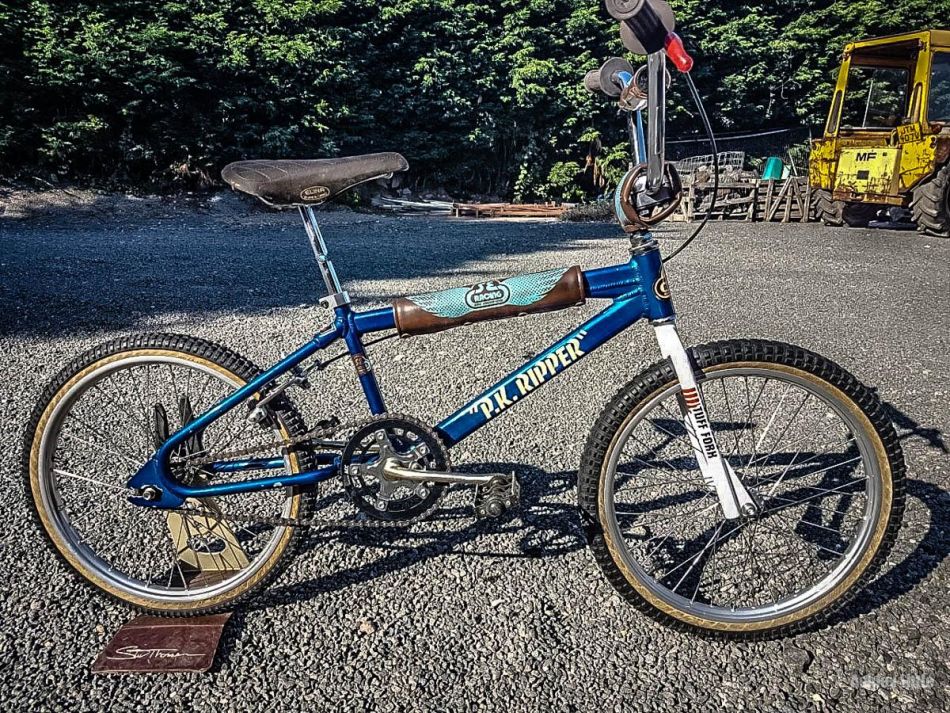 Episode 25: Steve Strong (GBR)
Episode 26: Stephen Joseph (GBR)
Episode 27: Paul de Jong (NED)
Episode 28: Jon Western (GBR)
Episode 29: William "LaRock" LaRoque (USA)
Episode 30: Johan Janssens (BEL)
Episode 31: Darren Chan (USA)
Episode 32: Frank Lukas (GER)
Episode 33: Jason Teraoka (USA)
Episode 34: Shad Johnson (USA)
Episode 35: PJ McKenna (USA)
Episode 36: Henry Sarria (USA)
Episode 37: Jonathan Sherwood (SAF)
Episode 38: Trevor Henry (GBR)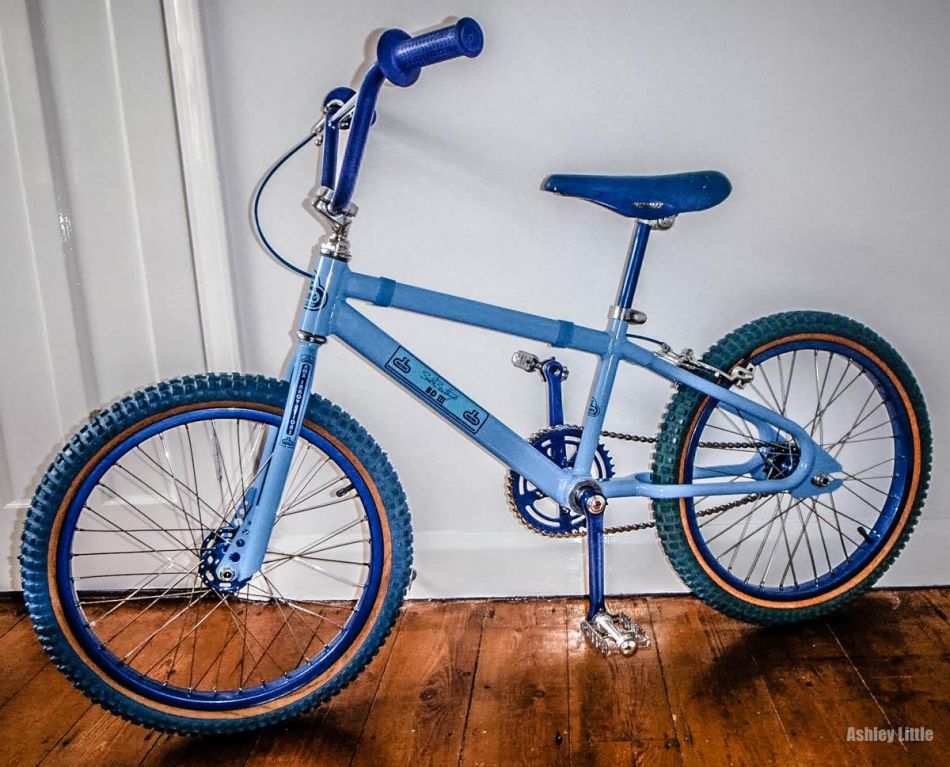 Episode 39: Daniel Purcell (GBR)
Episode 40: Mark McCorkle (USA)
Episode 41: Tom Sustarich (USA)
Episode 42: Adam Cox (USA)
Episode 43: Perry Wills (USA)
Episode 44: John Buultjens (SCO)
Episode 45: Jay Eley (GBR)
Episode 46: Alvin Mullins (USA)
Episode 47: Scott Barrette (USA)