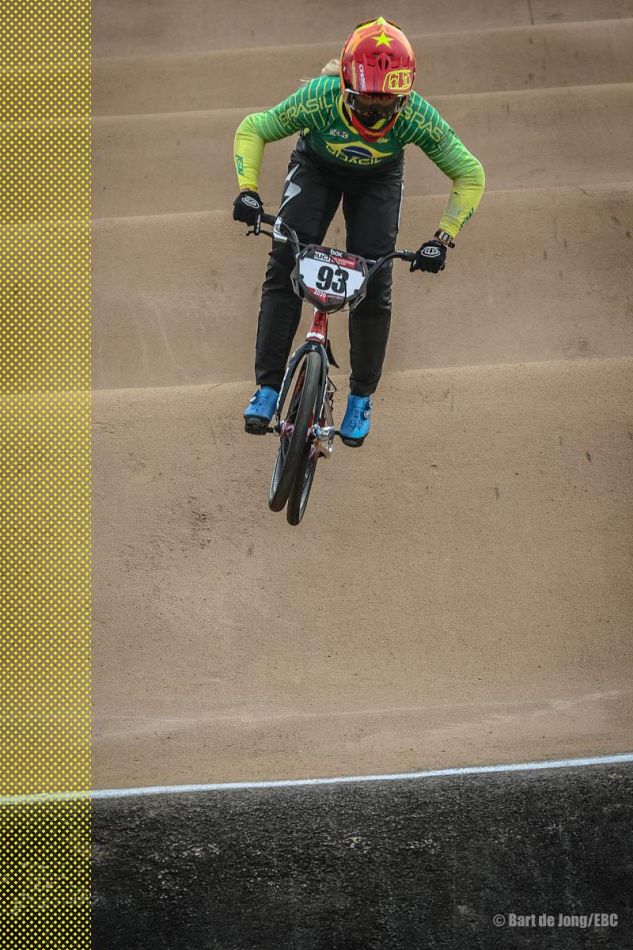 Priscilla Steveaux: Yes unfortunatelly we still don't have much access to all the bmx parts in Brazil, so we have to import and sometimes we have big fees to receive it from post-office, it always get way more expensive and delays longtime to get the parts. I use to bring the parts I need most of time from International races ,Its easier to get them.
What is the geometry and length of your race frame?
Priscilla Steveaux: I race a carbon frame Chase Bicycles ACT 1.0 also my spare bike Chase Bicycles aluminium RSP3.0 both sized PRO+.
Do you ride with flat pedals when you're just messing about or are you always clipped in?
Priscilla Steveaux: I ride flat pedals sometimes, I like to be challenging myself technic on basics flat pedals. I use to ride it on off season or on trails.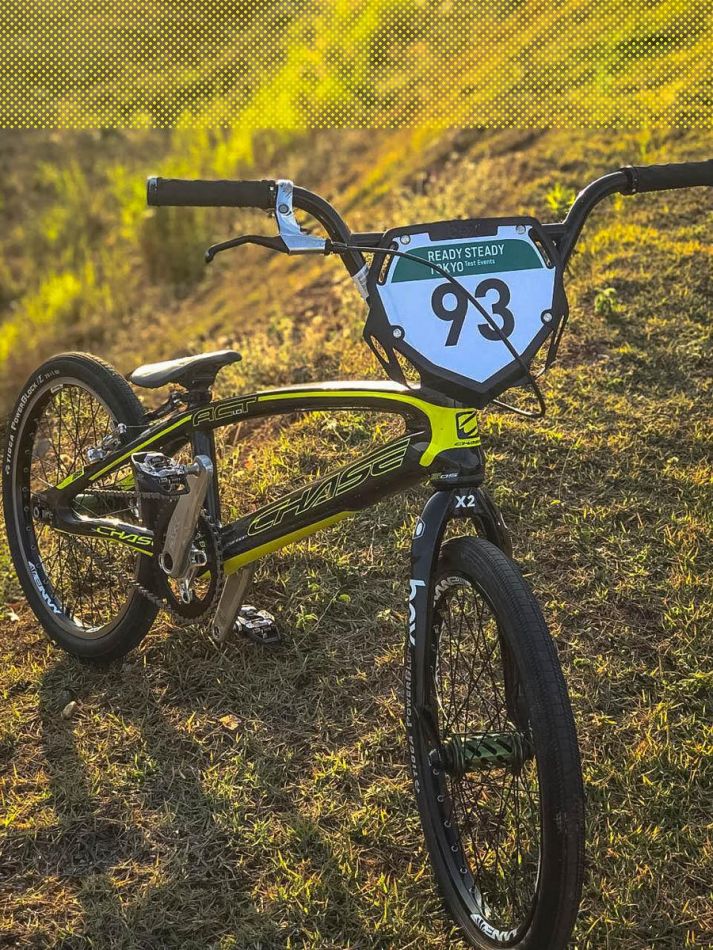 Are you picky about how much your bike weighs?
Priscilla Steveaux: Not much, I try to get my both bikes (Chase ACT 1.0 Carbon and Chase Aluminium RSP4.0) with similar weight as I take both to races so I can't feel much difference about weight but I don't complain about weight.
Do you like bike maintenance including the cleaning?
Priscilla Steveaux: Yes, a clean bike with good maintenance means it's ready to ride it without any unexpected surprise. A prepared athlete needs to get all set for every training or competition with everything you need and that includes bike too since it's your most important tool.
Can a BMX bike ever be too light?
Priscilla Steveaux: Maybe, I think it's personal depends on how you can deal with weight without lose control of it.
What's a bike part you change on the regular?
Priscilla Steveaux: Tires and Chain.


Please take us through your parts list: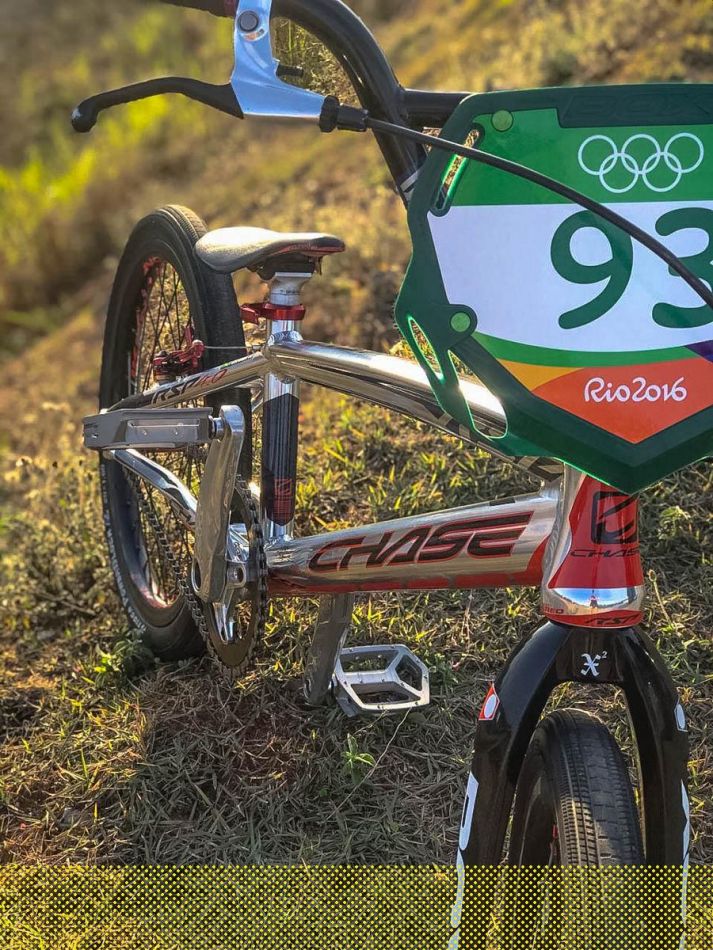 Frame - Chase Bicycles ACT 1.0 Carbon / Chase Bicycles RSP4.0 aluminuim
Fork - BOX -x2
Bars - Elevn Chromoly 7.5
Grips - ODI Ruffian
Stem - Profile
Headset -Elevn
Brake lever - Shimano DX-R
Brake - Shimano DX-R
Cranks - Shimano DX-R
Pedals - Shimano DX-R
Sprocket - Shimano
BB - Shimano BB86
Chain - Shimano
Seat - Elevn
Seatpost - Elevn
Seatpost clamp - Insight
Front hub - Onyx PRO Thru Bolt Helix 20mm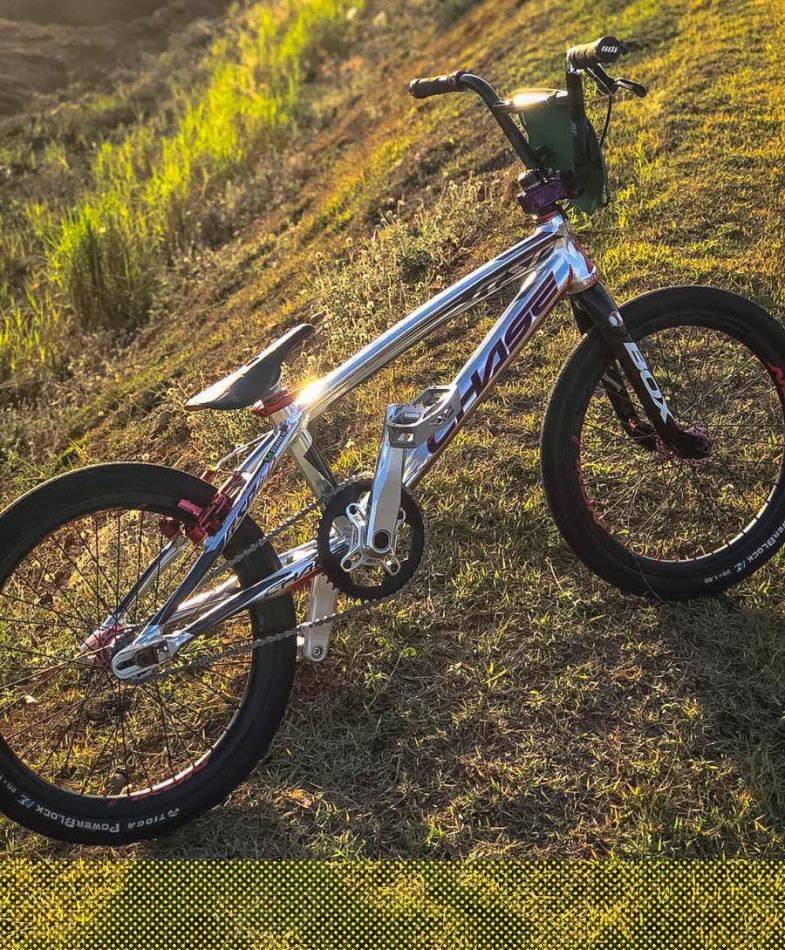 Rear hub - Onyx PRO 20mm
Front rim - Sun Ringlé (Carbon Frame), Ikon Carbon Rims ( Aluminium Frame)
Rear rim - Sun Ringlé (Carbon Frame), Ikon Carbon Rims ( Aluminium Frame)
Spokes - Stainless
Tires - Tioga Powerblock 1.60
Tubes - any
Chain tensioners - Chase Bicycles.
Number plate - #93
Weight - Carbon 7.7kg / Aluminium 8.2
Thanks to: Chase Bicycles , Shimano Brasil, Fast Signatures,Bmx Racing Group, Time Brasil , CBC, Dougtraining, NikNak Engeneering,Lead Racewear.