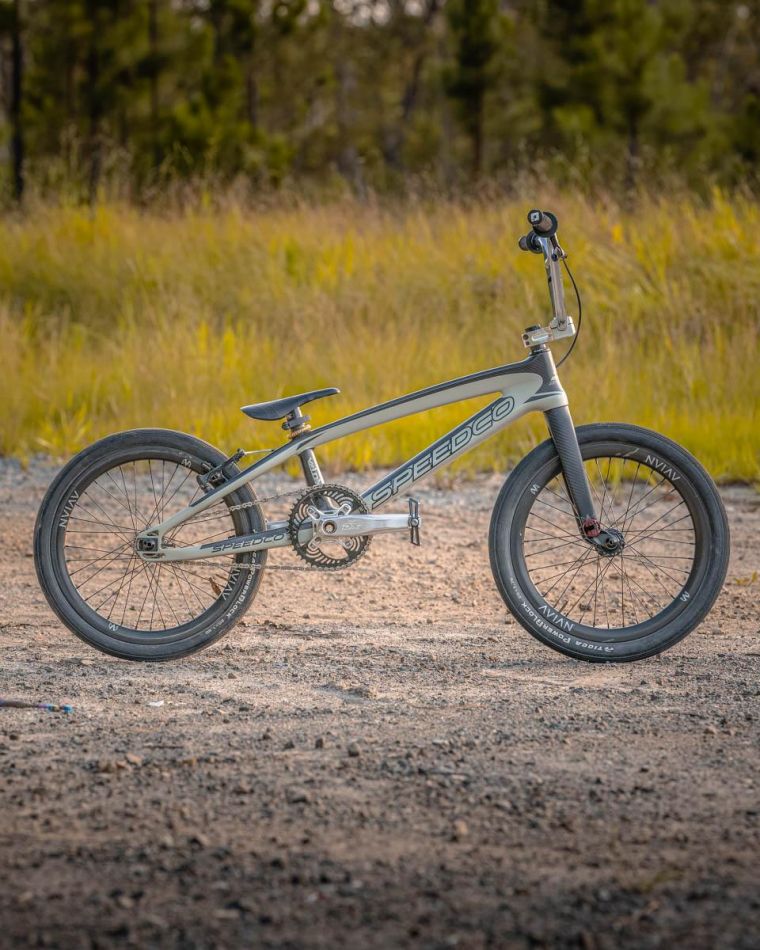 How often do you normally take your bike apart to re-grease everything?
Jayce Cunning: Honestly, I probably only do it a couple times a year. Majority of our tracks are sealed and have really good surfacing now so my bike barely gets dirty or needs work.
Something's loose on your bike. Does that bug you so much that you have to fix it right away?
Jayce Cunning: Absolutely, as soon as something is not right on my bike I can't ride. I'm quite picky about my bike, how it is set up and if it is running good so if something is loose you definitely won't catch me on the track until I fix it.
What is the geometry and length of your race frame. Do you know without looking it up?
Jayce Cunning: I know the top tube is 21.00" but other than that I would have to look it up. I run a pretty small frame with a longer stem as I like to ride towards the front of my bike. I will go out on a limb and guess my back end is 15.2" but don't hold that against me haha.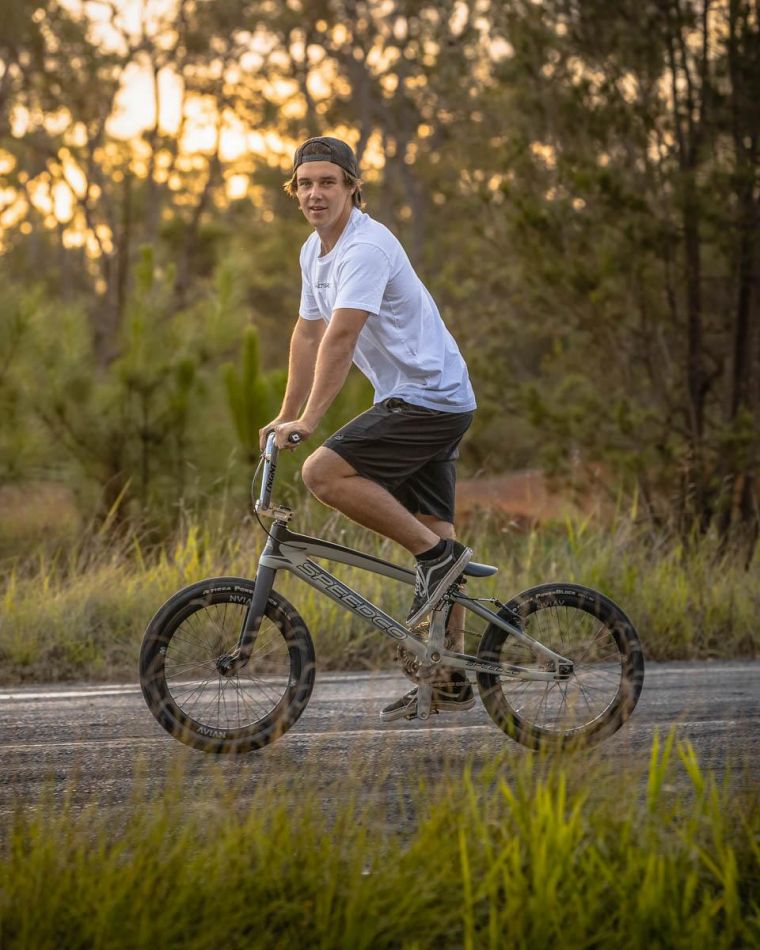 Do you ride with flat pedals a lot?
Jayce Cunning: All the time. At the moment I have way more fun on flat pedals. I've also been using this time to learn tricks, ride skateparks, and ramps so pretty much all of my riding recently has been on flat pedals. PS. how nice are those new Avian ones…
Are you picky about how much your bike weighs?
Jayce Cunning: Not at all! I prefer my bike to have a bit of weight to it. I feel like a super light and stiff bike is just awkward to ride and I don't enjoy it. I like to think I am a flowy kind of rider and I feel like to flow you have to be comfortable with what you are on and for me that is a bike with weight in it. I don't run a very race style set up.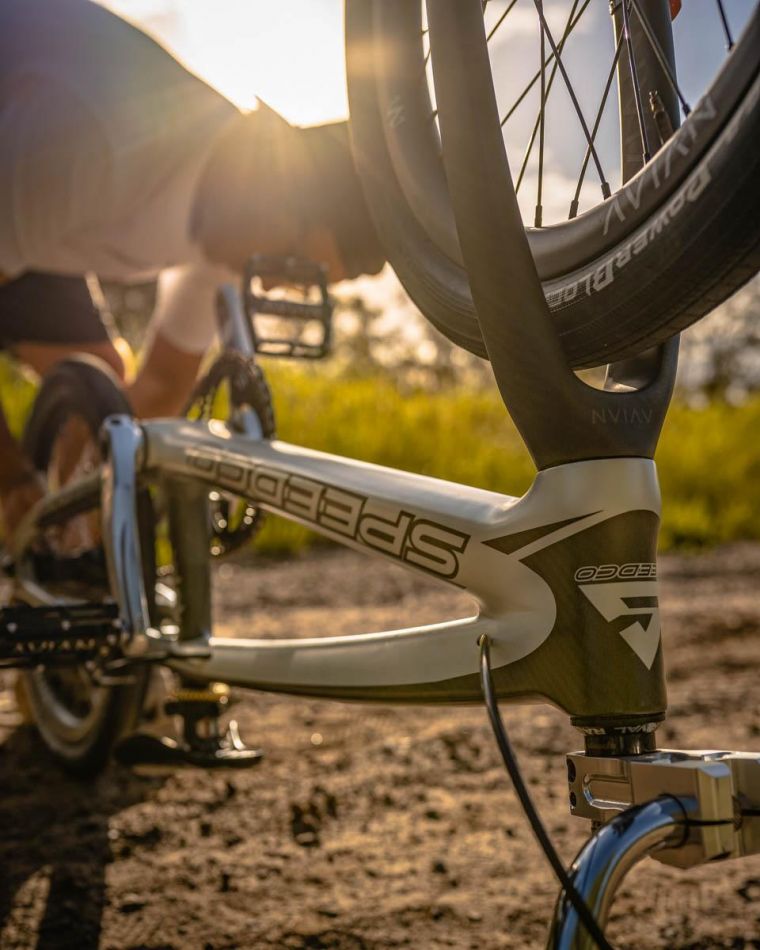 Do you like bike maintenance including the cleaning?
Jayce Cunning: I don't mind working on my bikes… changing gears, bar heights, pedals etc. But I definitely don't enjoy cleaning. I don't like cleaning anything whether it's my bike, my bedroom or the dishes haha.
What's a bike part you change on the regular?
Jayce Cunning: During Covid I haven't been changing anything. My new bike is identical to the day that I built it but when I am training properly I will often change gears, back wheel and pedals.
Are you stoked on the new Frame colour?
Jayce Cunning: SO STOKED! I just love the fact that it is different. A million people have a red, blue or black bike but there is not many that have "matte concrete." It looks so sick as well and the colour is even nicer when you get to look at it up close. The day I got it out of the box it was nicer than I expected. Derek and Speedco killed it on this one!
Please take us through your parts list: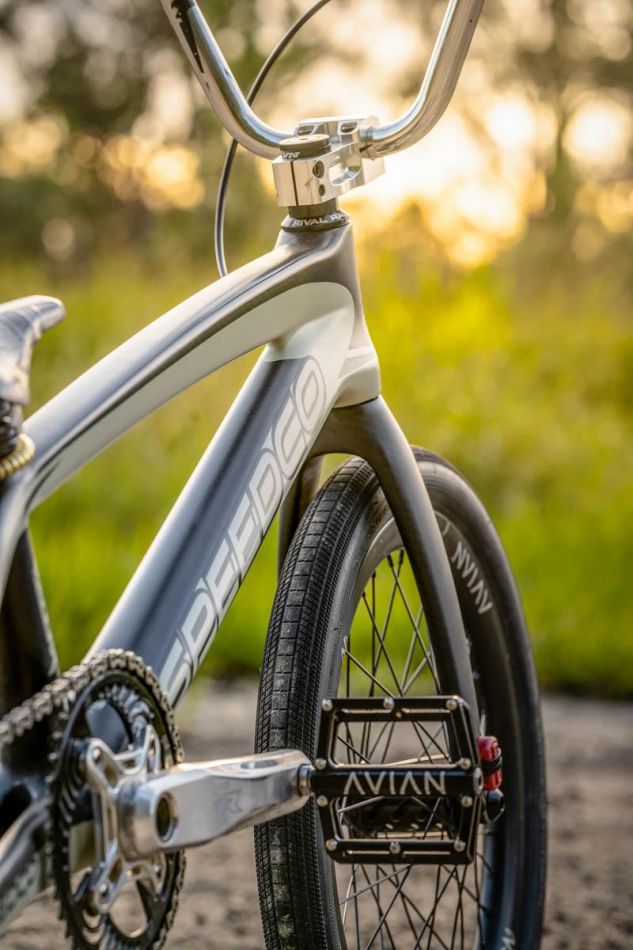 Frame - Speedco Velox Carbon (Pro XL) - Matte Concrete
Fork - Avian Versus Pro Tapered (20mm)
Bars - Tangent TID (8" Rise)
Grips - S&M ODI
Stem - Avian Scorcher
Headset - Sinz
Brake lever - DXR
Brake - Black ones haha, I think they are Shimano.
Cranks - Avian Cadence 175mm. DXR are on my bike at the moment as I was trying a different size a while back.
Pedals - Avian
Sprocket - Michram Industries (44T)
BB - Avian
Chain - KMC (I think)
Seat - BOX Components
Seatpost - BOX Components
Seatpost clamp - Random one I took off of an old bike but it's never broken so I still run it. Don't fix what's not broken right?
Front hub - Onyx
Rear hub - SD Components
Front rim - Avian Venatic Carbon Rim

Rear rim - Avian Venatic Carbon Rim
Spokes - That's a good question…
Tires - Powerblock (1.75 front, 1.60 rear)
Tubes - Local bike shop… I think they are Maxxis.
Chain tensioners - Speedco Velox have inbuilt tensioners.
Number plate - Tangent Products
Weight - All the parts above added together = Complete Bike Weight hahahaha. I have no idea as I have never weighed my bikes.
Thanks to: Thank you to all my sponsors for giving me the best equipment in the business and supporting me through races and also years like 2020. I'd also like to thank my parents and all my family and friends that have supported me the past 15 years of racing BMX and helping me get to where I want to go. Thank you to FATBMX for this Bike check interview. PEACE!

Pics by JXN Visuals