close to home, because the closest one used to be about 17 km from my house and I could only go there once a month. That was until I remembered that my uncle had a warehouse he didn't use. After talking to him, he ended up giving me permission to do whatever I wanted with the whole space! I then talked to a group of friends, the Ratos BMX, who had some abandoned and damaged ramps they weren't using anymore. I went to get all the ramps, restored them and gave them a new life! That's when the idea of building a skatepark came up!
How far is it from your home?
Luís Boal: Very close. Approximately 5 minutes by bike.
How often did you ride there this week?
Luís Boal: This week, every single day (hahaha)! And it's been the same since the quarantine started. On hotter days I used to go around the country and visit outdoor skateparks, but with the pandemic, and to not be at risk, all I do is go to my skatepark and then come back home!
What is the Covid-19 situation like in Portugal at the moment?
Luís Boal: Compared to other countries, I think we could say that the government acted well in some aspects from the beginning. Although, since Portugal is one of the last countries to have been contaminated, it will probably be one of the last to return to normality. But overall, I really think we've seen worse days.
How does it make you feel that you are one of the only ones that has a private park to ride now?
Luís Boal: I feel undoubtedly privileged, not only because I can still ride during the pandemic, but also because I created one of the only indoor skateparks in Portugal.
Have you got requests from other riders for a session at the park?
Luís Boal: Of course, during summer not as much, since the warehouse gets really hot, but during winter I receive messages almost every weekend from riders across the country who want to visit my skatepark. Many of them travel more than 200 km just to be able to ride in a indoor place! Not to mention the athletes from the country next door, Spain, who also came looking for the same: a indoor place!
What ramps do you have at your place?
Luís Boal: The space is not very big, so I had to limit myself to the size of the warehouse and always keep in mind that it had to be a skatepark with flow. The distance between the ramps does not allow to pedal, which is a good thing because there are many new athletes who know how to do numerous tricks like backflips, tailwhips, etc., but then do not know how to fly the quarter. So the skatepark also helps to learn how to fly. I tried to make the ramps like the one all of us riders look for in a skatepark, a box, a spine, a resi, high quarters, a wallride and, finally, bet on a sponge box.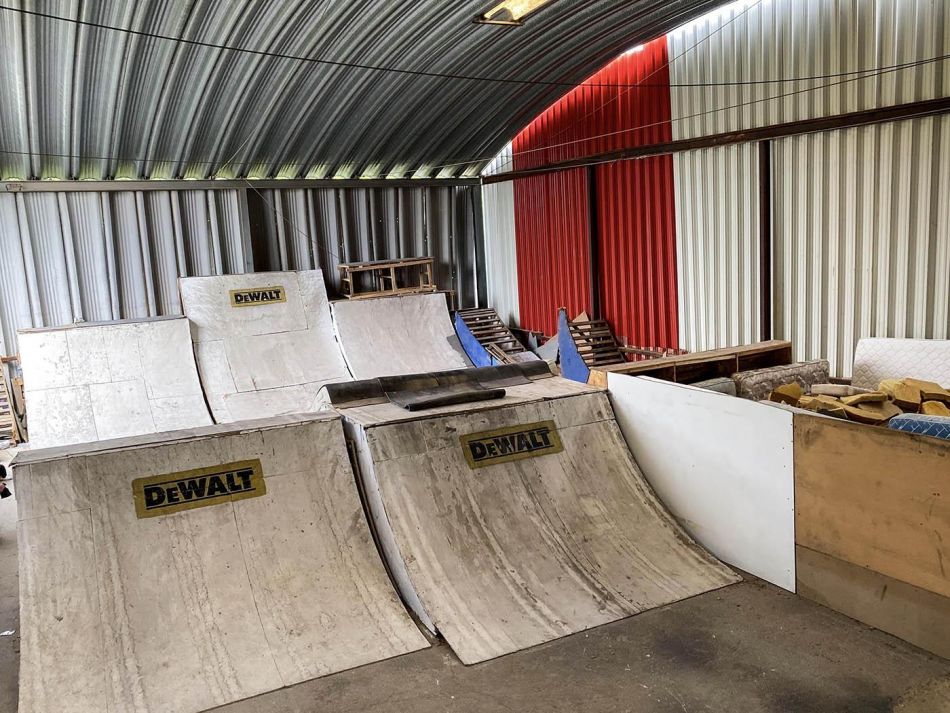 Do you normally charge an entry fee for people to ride?
Luís Boal: There's no entrance fee, nor do I ask for money. Usually I tell the riders that if they want to help to keep the skatepark in condition I appreciate it, but I don't ask for any amount. Each rider helps the way he can. In Portugal people don't think the same as in other countries. Of course during jams and events I will charge the participants, but I don't if they just come to ride. If I did, I'm afraid no one would show up. Many riders come and provide sponges, materials, etc. All help is welcome.
Who built the park?
Luís Boal: The only thing I can call "mine" is the space, because the skatepark itself is not only mine but the whole BMX community's too. It's a space to gather everyone and spend a great day. There's no doubt that I wouldn't have made it on my own. My friends, the Ratos BMX, people from Leiria…without them the skatepark would never be the same.
It looks like you have the right tools to build the ramps and do the maintenance?
Luís Boal: Yes, of course I have a great support from Dewalt. There are no words to express how grateful I am for their help. They're always willing to help in all my projects and this one was no exception. It's a brand linked to sports, with great interest in new challenges. Not to mention that I have the privilege of building and maintaining the ramps with the best tools on the market! I can't thank them enough for all this, so thank you again very much!
Do you have plans to extend the park?
Luís Boal: I can't do anything else inside the warehouse (hahaha), but outside I still have about 10 000 m2 of land to use so I am indeed currently designing new things to build!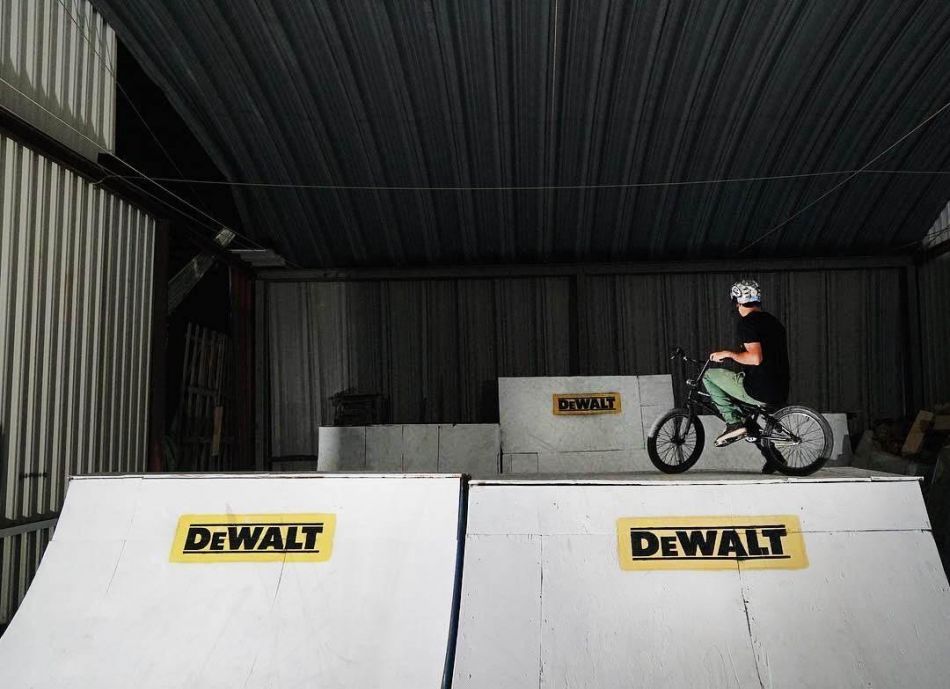 What's on the list to build next?
Luís Boal: On the outside I will very soon start building a dirt jumping line, with the help from my new sponsorship, Case, and besides that I will also do something innovative that I can't talk about yet... One of my future goals is to bring the foam pit outside, because the space inside is small so it ruins the skatepark lines a bit. Once it's done, I will build a step up inside in order to gain even more transfers in the skatepark! Originally the foam pit was only built because during the construction I kept receiving messages from kids asking if the skatepark would have one (Hahahha we've all been through this), so I decided to keep it inside for a while.
Where can people contact you for a session when times are better?
Luís Boal: On social media, Facebook or Instagram, @rissa_rissol. For those who don't know me, all you have to do is send a message and I'll always answer!
Thanks to?
Luís Boal: Thank you to all my sponsors, DewaltTough, WD-40 Bike, Etnies, Leatt Protectives, LusoMotos, G-code, Palm3, Basilio.PT, Monkey Bike & Reativa for their support! My friends and my family & others that have helped clean the place, build some ramps, it's really appreciated and off course, thank you Bart for this interview!