How many trees did you have to cut in order to fit the ramp in?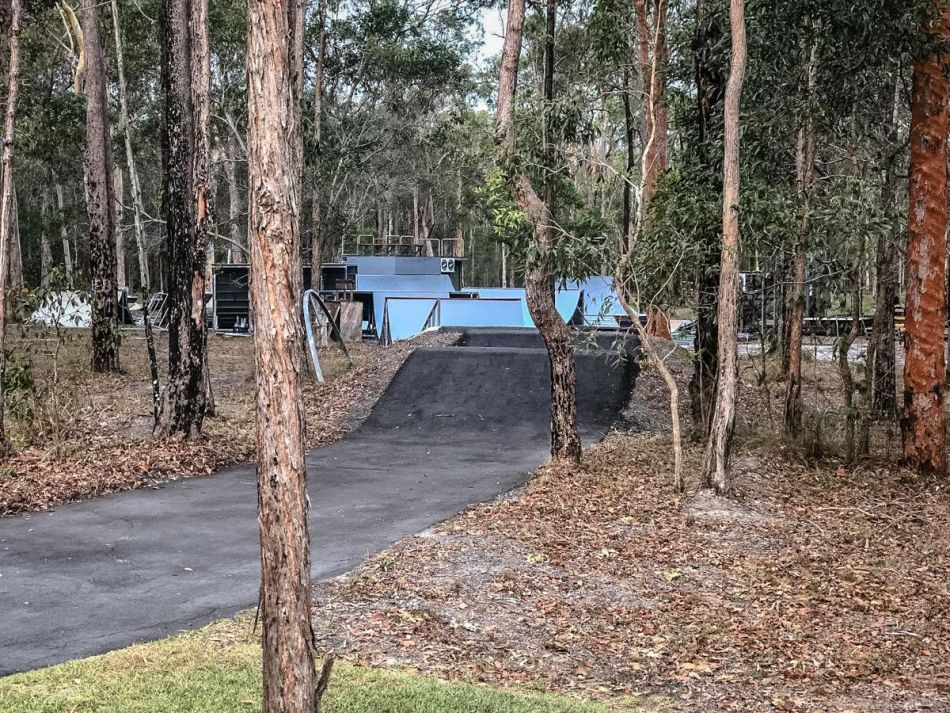 Clint Millar: I was very conscious of this and chose a spot that meant no trees needed to go. I love the trees on our block! It really creates the serenity.
Looks like you have plenty of space around the ramp. Any plans for extending it in the future?
Clint Millar: Yeah we have more in the plans for sure. I'm sure it will constantly grow over the years. But next on the agenda is a 9ft quarter that's 24ft wide. Moving the infamous Beenleigh street spine to be more central to the main ramp. Finishing off what we have dubbed the spine resi. But it's not a resi at all. It's a ramp to learn over spine tricks on. I can't wait! One of my favourite things is the hand rails I built. I always start every session with sliding the rail from the car park through to the pump track. Keeps me feeling young!

How good does it feel to be able to stay sane now that parks are closed because of the pandemic?
Clint Millar: Yeah it's amazing. Even on days when I'm not having the best ride, I gotta remind myself how lucky we are to be riding right now. To be totally honest, not much has changed for me through all this. I generally only ride my backyard these days anyway. It's my own personal paradise.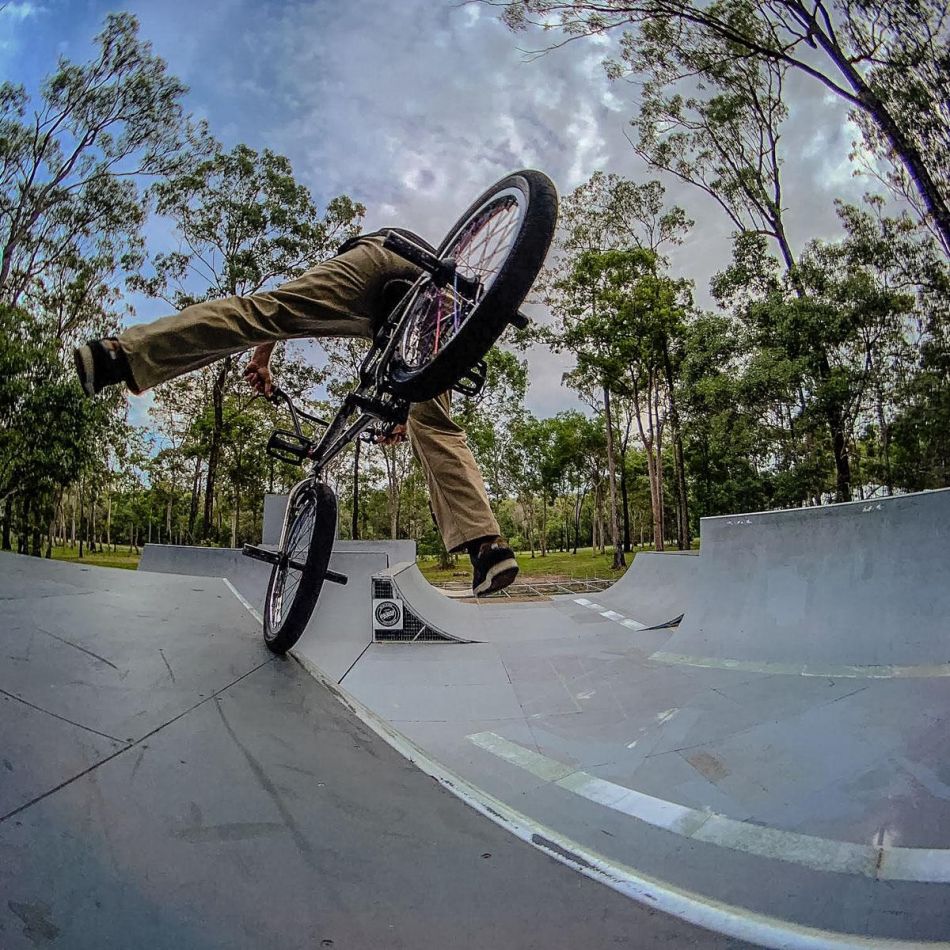 How many times have you ridden the last 6 weeks?
Clint Millar: Heaps actually. I'm in the middle and now final stages of filming for a new @colonybmxbrand video project. "Take A Ticket" is a full length video featuring all the park riders from Colony. It will show a different style of modern park riding that is surely to get some attention.
When you have smaller sessions on the ramp, who are some of the riders that come over to join the session?
Clint Millar: The regulars would be Paterico Fallico @patericof & Jayden Fuller @jdoogg plus there is a longer list of many others. I'm always down to ride with others.
Do you consider it a Colony exclusive training facility?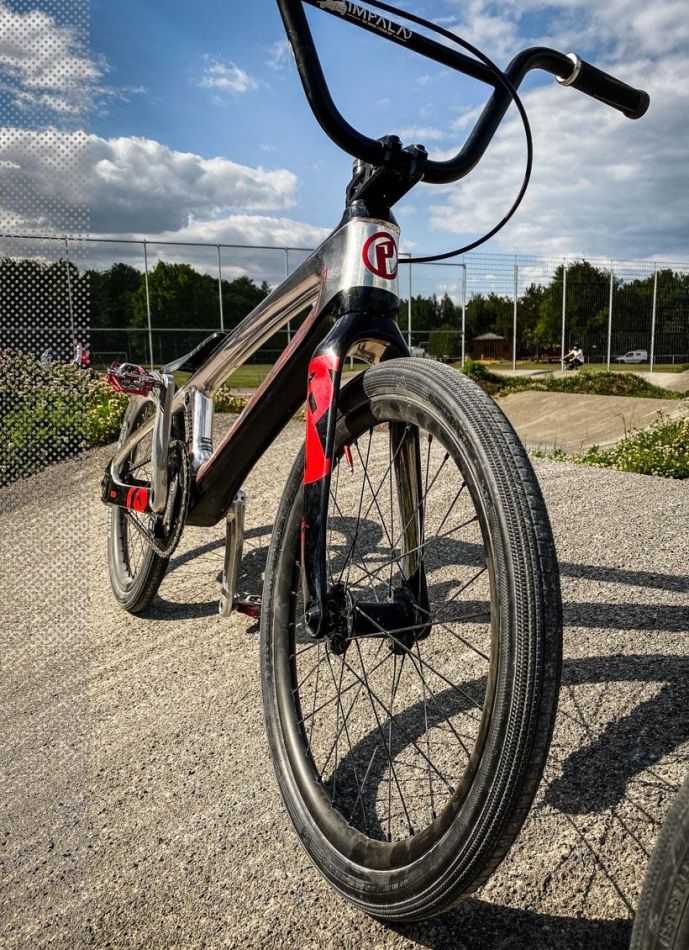 Clint Millar: Not really, but it is strictly invite only. I always remember something along the lines that the great Dave Mirra once said years ago.
"HAVING A PRIVATE RAMP IS LIKE YOUR HOME DINING ROOM. YOU DON'T INVITE EVERYONE OVER FOR DINNER, ONLY THOSE SPECIAL TO YOU."
Well I feel the same for my backyard ramp.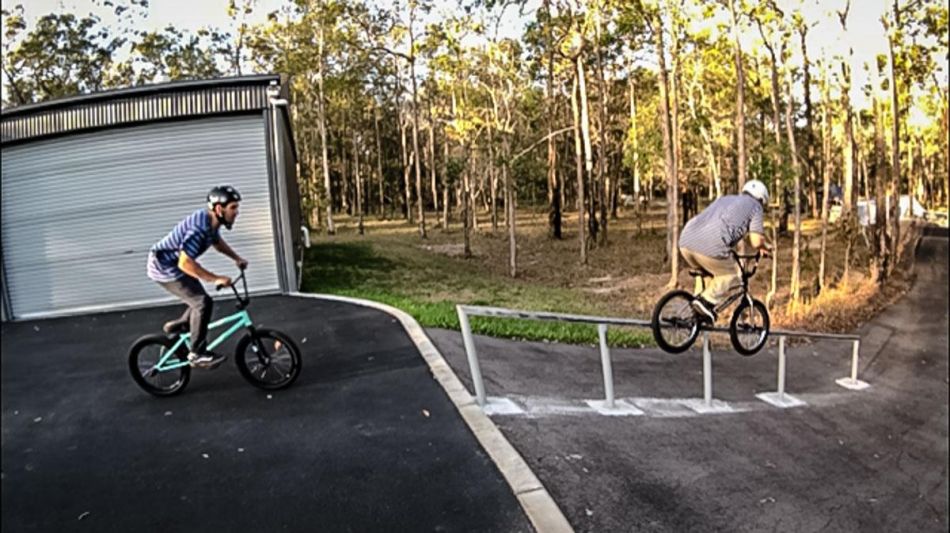 How cool is it to be able to produce content now that events are not happening and other parks are closed?
Clint Millar: Yeah it's pretty awesome. I feel very privileged and grateful to be able to do so.
Does BMX Freestyle need more miniramp contests?
Clint Millar: Heck yes it does! I was so stoked to go to FISE Montpellier in 2017 and ride the pro spine mini Comp there. To make the finals was a dream come true. It felt surreal to be riding with such an amazing crowd. The atmosphere was incredible. Not to mention I was easily double the age of the other great riders! Haha.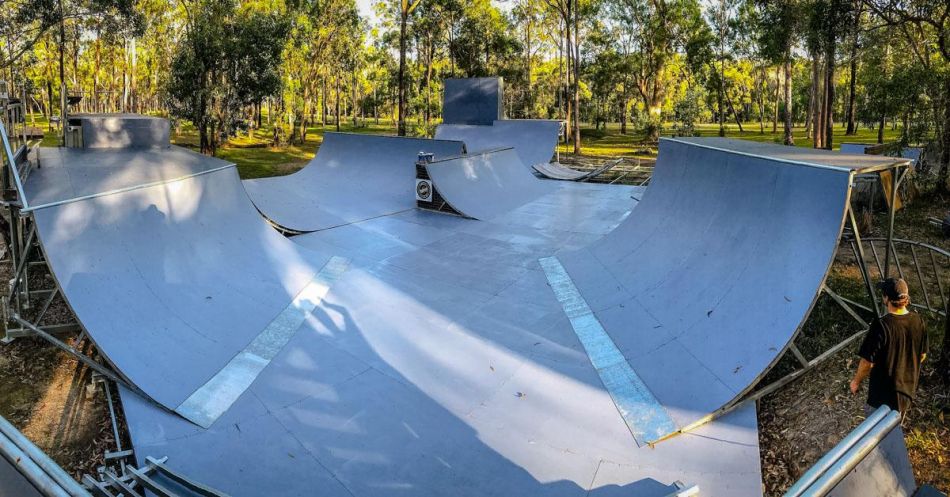 Can you throw events on yours?
Clint Millar: I could but not sure I want to. I'm very particular about my address and private life. I have been talking about a private invite only event for years now. I was going to make it happen late this year but that will have to be on hold for a while now. The idea was to get the likes of all the legendary front brake riders here for a week and ride and film for a special video. It will happen!
Is it a public place for everyone to enjoy?
Clint Millar: Nah, very much private invite only.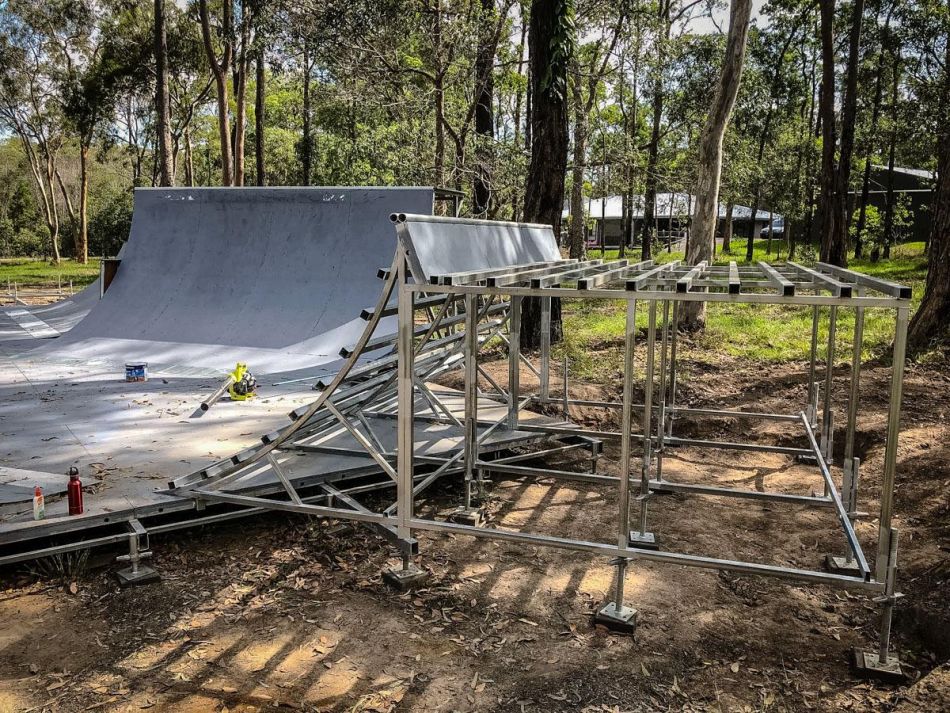 What top material (sheets) did you use and why?
Clint Millar: When this ramp was set up in my old place I had to constantly repair and replace the plywood. This time around I wanted nothing to do with that. Hence I went with 2.5mm thick steel sheet. Coupled with a steel frame it will last for years.
It's perfect. So fast, so smooth. Will last for 20+ years with minimal maintenance. Plus I paint it with a grip additive, it's never slippery. It only has one joint in the centre of the flat bottom. It's the perfect riding surface. Much harder to work with to start with but will give me years of enjoyment. I want to be 60+ years old and still doing nosepicks! Haha!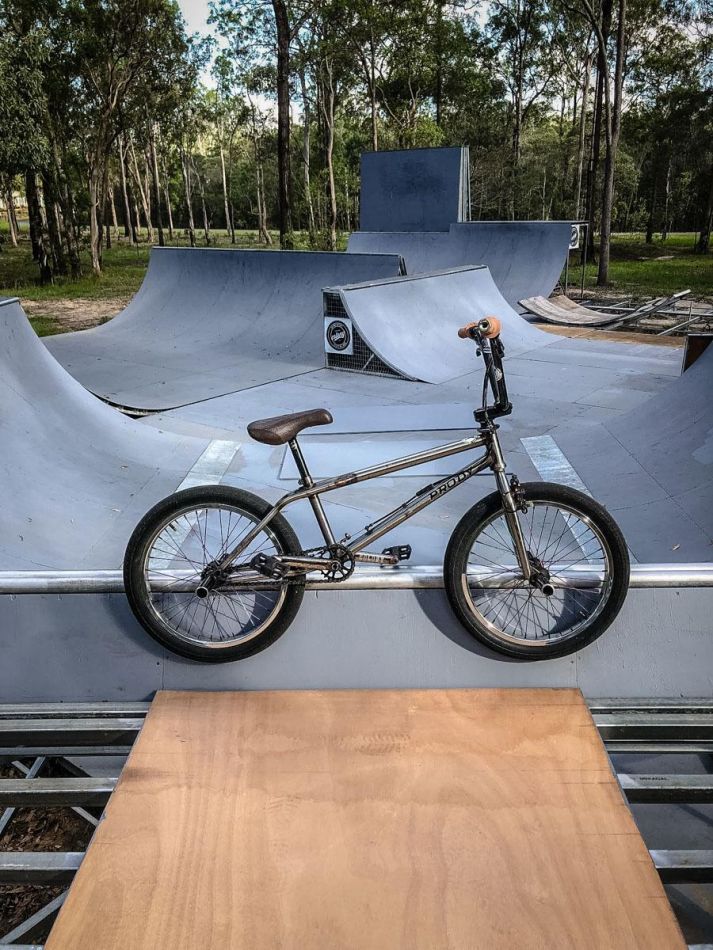 Who helped out building the ramp?
Clint Millar: Vert legend Tim Wood @tankride was instrumental. As was and still is Pierre @rostig_restos_and _customs for the main steel work.
On the general labour side both Jayden Fuller and Paterico Fallico have been instrumental. Bloody legends. Kenny Raggett @bmxston and Seaton Spratt @seatonbmx are also legends and flew up when it was first built in its current spot to do a weekend of 5,000+ screws!
Is their reward free sessions on the ramp?
Clint Millar: Yes of course! These guys are welcome anytime they want. Even when I'm not home!
Do you have lights or music installed?
Clint Millar: Nah. No music or lights. Although I do have a drinking fountain set up. It's so good to be able to have a drink mid session. Beautiful rain water on tap!
When's the jacuzzi making an appearance?
Clint Millar: Haha! Nah, got the pool for after session dips! Well it's great for before session dips too. Love it.

Who's bringing the Eski usually?
Clint Millar: That's one thing that needs to be installed next. We got the VW Kombi fridge in the shed that always has cold beers at the ready.
Enjoy the good times event during Covid-19.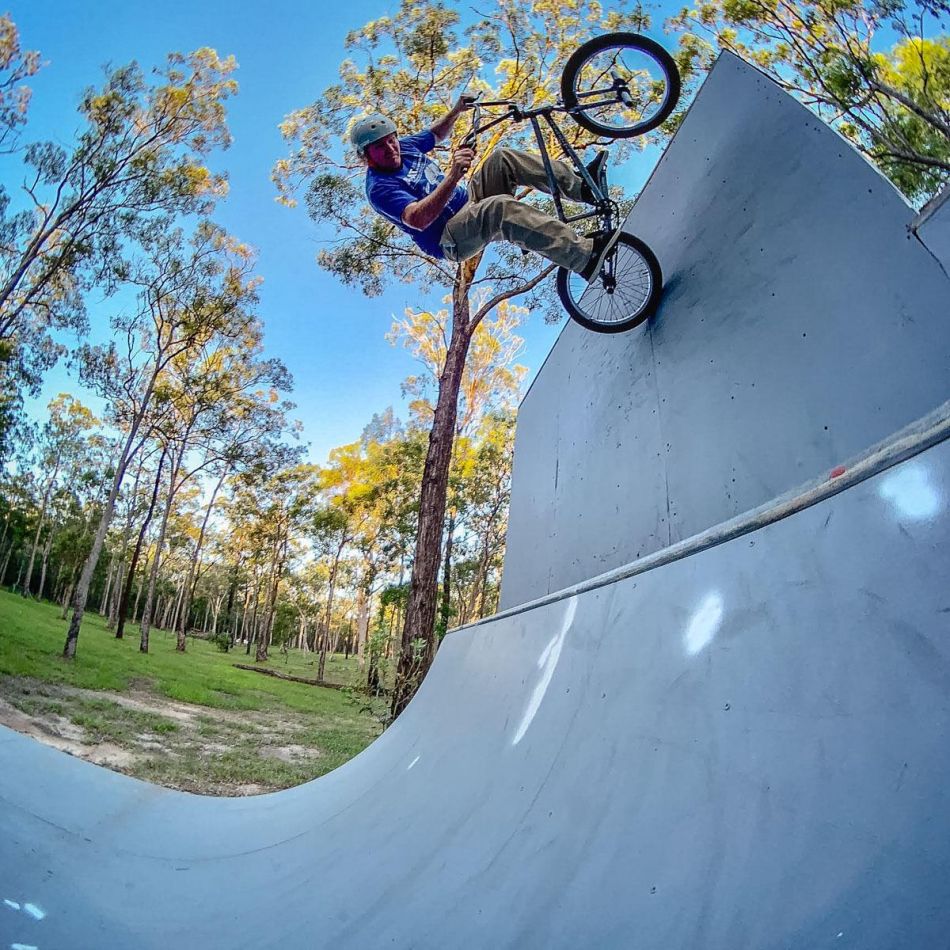 Anybody you'd like to thank?
Clint Millar: Yeah I'd like to thank anyone and everyone that has ever supported Colony BMX @colonybmxbrand , Division Brand @divisionbrand , Academy BMX @academybmx and more recently Family Distribution @family.distribution over the years. Thank you.
Thanks to my lovely wife, all my family, team riders and friends. You all rule.
Thanks to Tim, Pierre, Jayden, Pat, Kenny and Seaton for all their help on the ramp.
Thanks to FAT BMX for the interview!
Yo yo!