Pesek in second and America's Jay Dalton in third. All three winners secured invites to the World Championships in Huntington Beach, California later this year.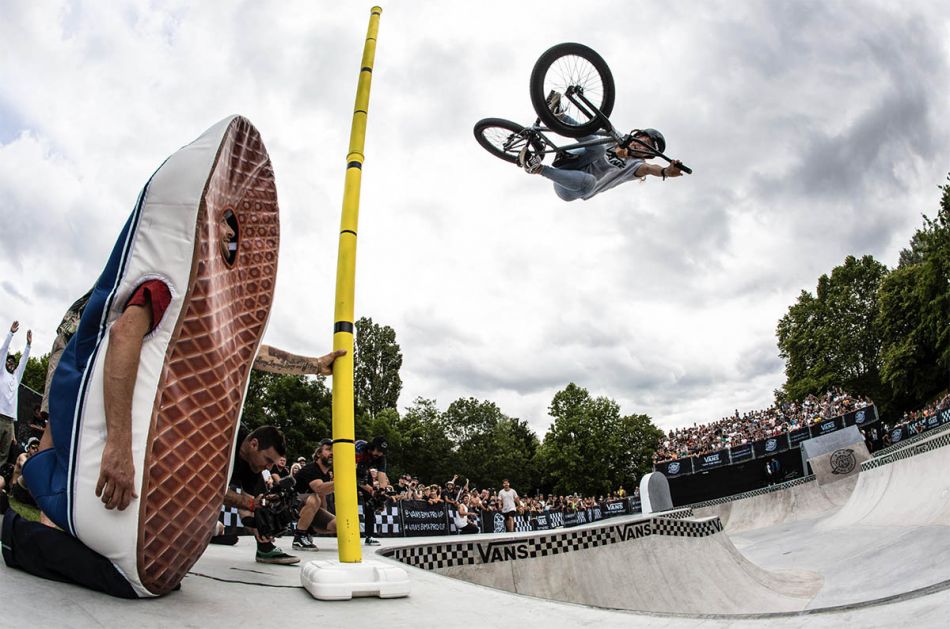 There was a strong turnout of supporters for the Women's Division of the 2019 Vans BMX Pro Cup Finals, which produced some very exciting and creative riding much to the delight of the energized fans who lined every inch of the bowl and grandstand. It was America's Perris Benegas who finished in first place maintaining her speed and flow through the course, blasting tricks two feet higher than the rest of the field. Despite showcasing a deep bag of tricks including huge no handers and tailwhips, Chile's Macarena Perez took the runner-up spot, with Spain's Teresa Azcoaga taking home third and the coveted High Air title. The judges commented on the incredible progression they are seeing from the Women's Division, with competitors riding faster and going higher at each stop.
With a 5,000 strong crowd the Semi-Finals of the Vans BMX Pro Cup Germany Men's Division ensued, the crowd was pumped and eagerly awaiting a BMX masterclass, the riders didn't disappoint. Sergio Layos, winner of the first stage of the Vans BMX Pro Cup in Sydney, put on an amazing show, riding fast and landing massive ally-oops both ways, taking him through to the finals in third place. Canada's Corey Walsh advances to the finals in second place after a brave display of riding, hitting transfers that weren't touched by the other riders. America's Larry Edgar quickly established himself as a firm crowd favorite, amazing them with the highest airs of the competition thus far and landing a huge alley-oop 360 to fakie. An honorable mention goes out to Alejandro Velo for winning the High Air title, well exceeding the three meter mark. Following the men's Semi-Finals, the party headed to local BMX shop, Kunstform for a cash-for-tricks jam in the store's basement.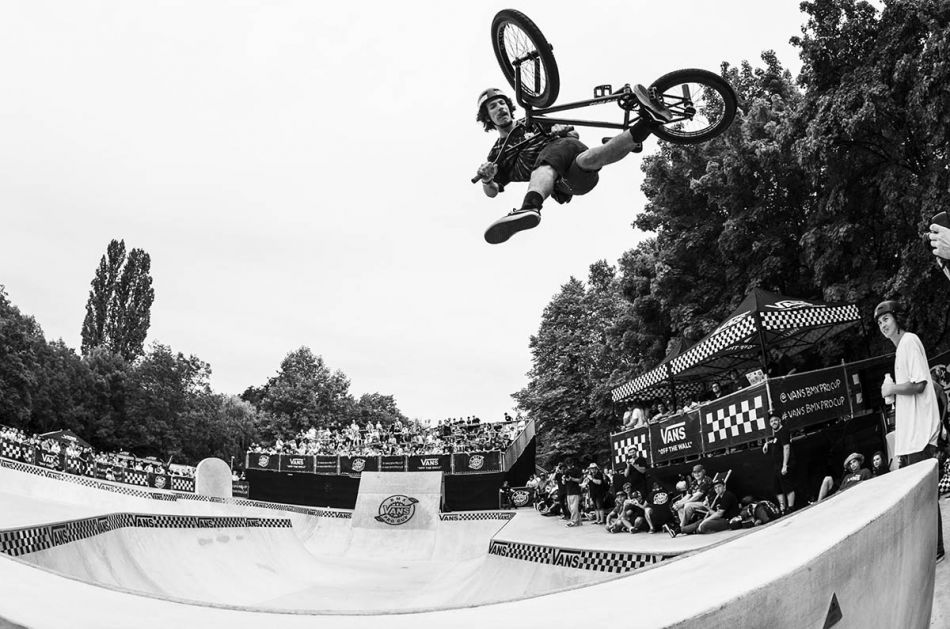 In addition to witnessing some of the best BMXing in the world, spectators are able to check out the Vans Village at Waiblingen BMX Park, which offers complimentary custom lace printing with Lovenskate, delicious Vans Waffles and an array of food and drink. The vibe over the first two days has been incredible, with an eclectic mix of attendees from BMX professionals to first time viewers of BMX coming together at the Vans Village.
The Vans Pro Cup Germany continues tomorrow, June 16, with the Men's Pro Cup Finals with a slight change to timings due to expected rain. The top 20 rankings from the Finals round will advance to Mexico City, sparking even more excitement for the 2019 Vans BMX Pro Cup world title race.
A big thanks to the City of Waiblingen, Kunstform BMX shop, the competing riders and all the fans that came to support the first two days.
2019 Vans BMX Pro Cup: German Regional Qualifier Results
Top 10 advanced to semi-finals
1. Cauan Madaon BRA
Zdenda Pesek CZE
Jay Dalton USA
Maxime Bringer FRA
Jayden Mucha USA
Paulo Eduardo Sacchelli Saçaki BRA
Alessio Tonoli CHE
Parker Heath USA
Jose Cedano CHL
Greg Illingworth ZAF
2019 Vans BMX Pro Cup: German Finals Results
Women's Division

1. Perris Benegas USA
2. Macarena Perez CHL
Teresa Azcoaga ESP
Natalya Diehm AUS
Angie Marino USA
Jennifer Wohlrab GER
Lotta Gruber GER
High Air Winner: Teresa Azcoaga
2019 Vans BMX Pro Cup: German Semi-Finals Results
Men's Division
Top 14 advance to finals
Larry Edgar USA
Corey Walsh CAN
Sergio Layos ESP
Kevin Peraza USA
Dennis Enarson USA
Alex Hiam AUS
Jason Watts AUS
Jose Torres Gil ARG
Josh Dove AUS
Matty Cranmer USA
High Air Winner: Alejandro Velo