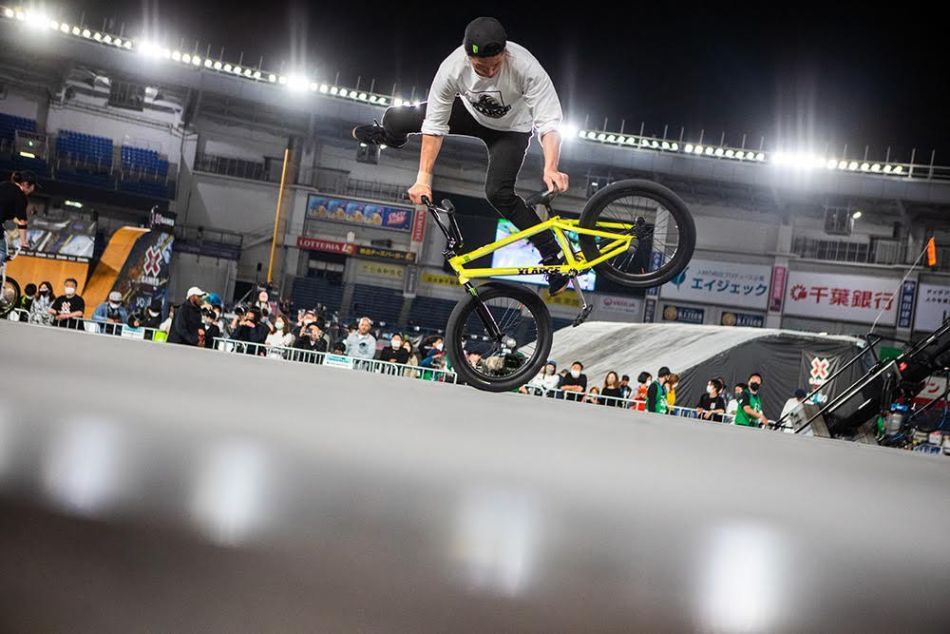 BMX Flatland was contested for the first time in 19 years, having made its last appearance at X Games Los Angeles 2003.
The competition, celebrated by a strong following in Japan, revolves around BMX athletes performing tricks on a flat surface. Without any obstacles or jumps, the focus is on fluid trick combinations, technical bar spins and one-wheeled manuals in a display of balance and grace.
Friday's BMX Flatland contest saw eight athletes face off in a head-to-head elimination format. Countries represented included France, Japan, Spain, and the United States.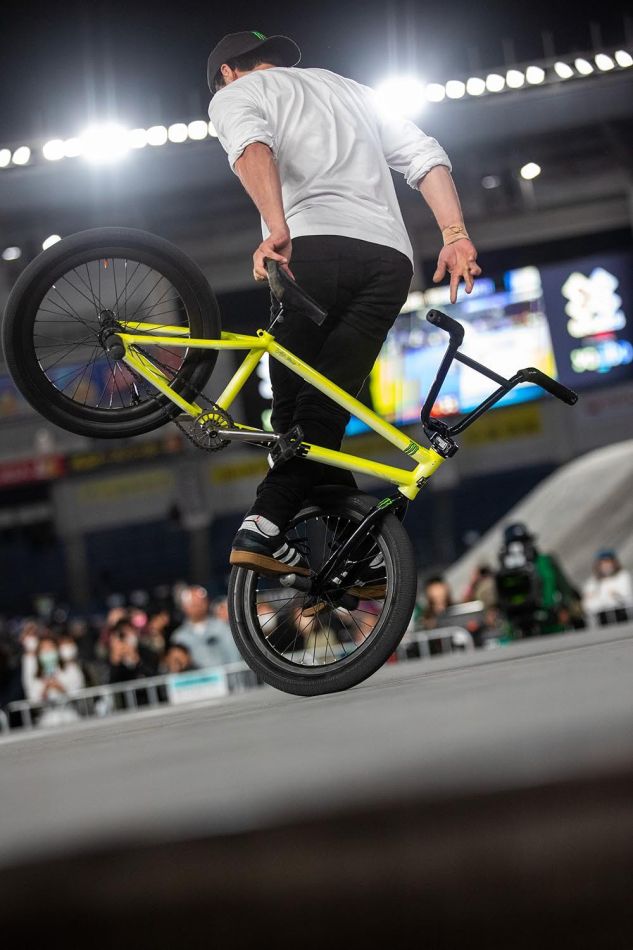 At age 36, Monster Energy's Sasaki entered the competition as a respected innovator of the sport. In his first battle, Sasaki faced Viki Gomez from Spain. As Gomez slipped on his first attempt, Sasaki found his groove with an extended nose wheelie combination, fluidly changing his stance from pedals to pegs and the saddle without losing his balance for a ticket into the semifinal.
In the semifinal, Sasaki faced a tough test in Frenchman Alex Jumelin. Again, Sasaki opened strong with a stylish nose wheelie including a technical bar flip and steamroller move. But when Sasaki lost his footing on a bar flip into a front peg landing, it left the door open for Jumelin to advance into the final.
However, Sasaki regained his composure in the battle for bronze against Mathias Dandois from France. This time, Sasaki held down a perfect cross-footed nose wheelie while varying his stance across the bike. As Dandois made mistakes early in his run, Sasaki continued stringing together technical spins, peg manuals and a difficult hitchhiker stance. A perfectly executed hang-5 pivot to x-foot crackpacker turbine into backwards spinning x-foot crackpacker sealed the deal for the bronze medal.
Friday's bronze marks the first X Games medal for Monster Energy's Sasaki. Considered an icon of flatland BMX, Sasaki recently took second place in the 2021 UCI Flatland BMX World Championship. He has won the Japanese National Championships sixteen times and was crowned the NORA Cup Number One Flatlander of The Year in 2010 and 2011. Sasaki operates a flatland BMX school for kids in his hometown, Chiba.
"This medal is very important to me because there are 100 or more athletes competing at X Games Chiba, but I am the only athlete from Chiba—that was the most important thing," said Sasaki. "Today's riding was my best riding in my life and I'm so happy. I'm looking forward to doing better next year."
Stay tuned for more action from X Games Chiba 2022! The spectacle will continue Saturday with Skateboard Vert Best Trick, Women's Skateboard Park, BMX Park, Moto X Best Whip, and BMX Street. Don't miss it!