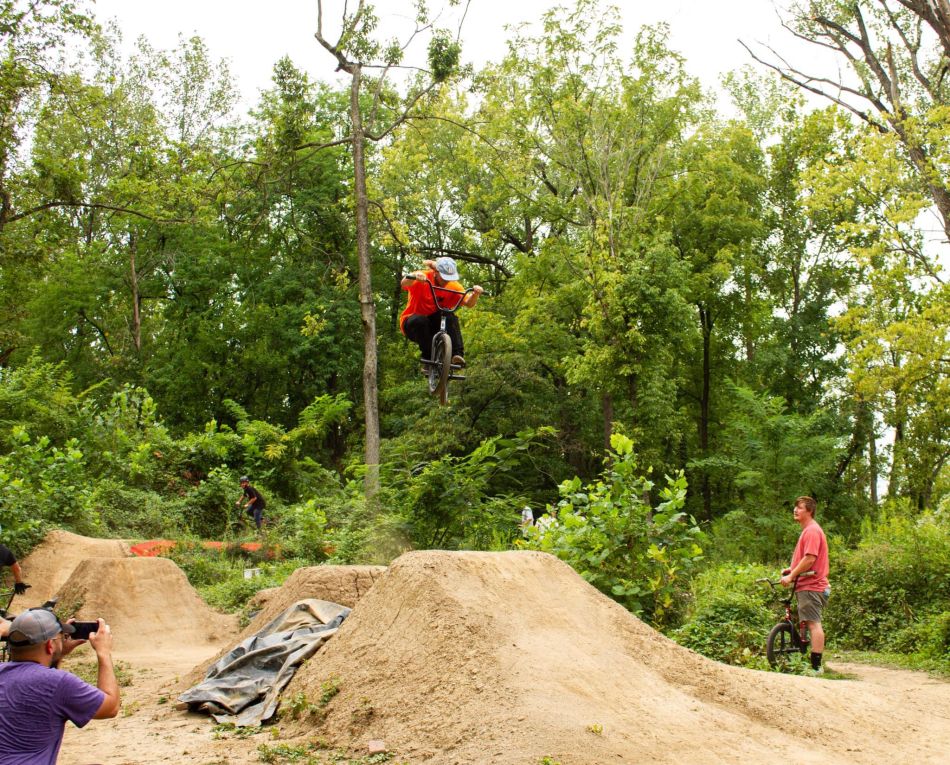 just based on what I want to ride! So I'll give you a few. We have a really sick pool spot here in Indy with three steep enclosed banks. That are like three feet tall, you can really boost them! There's an out ledge in my hometown (Bloomington) that is great for new learns. It's about 12 feet long, Starts at about a foot and a half and ends at about 4 feet tall! Any good up rail and last but not least is the indoor skatepark in my hometown! (The warehouse)
-BMX video: Best BMX video hands down is the Deadline video! Plus the Road Fools 12-15 videos are what got me into BMX.
-Website: Favorite website is the BMX movie database! (Bmxmdb.com) they have all the good BMX movies on there from new to old and everything in between!
Web video: I gotta go to the hHmegrown sections! Dan Lacey's part in that was insane!
-Food: Chinese food all day! Could eat it every meal every day!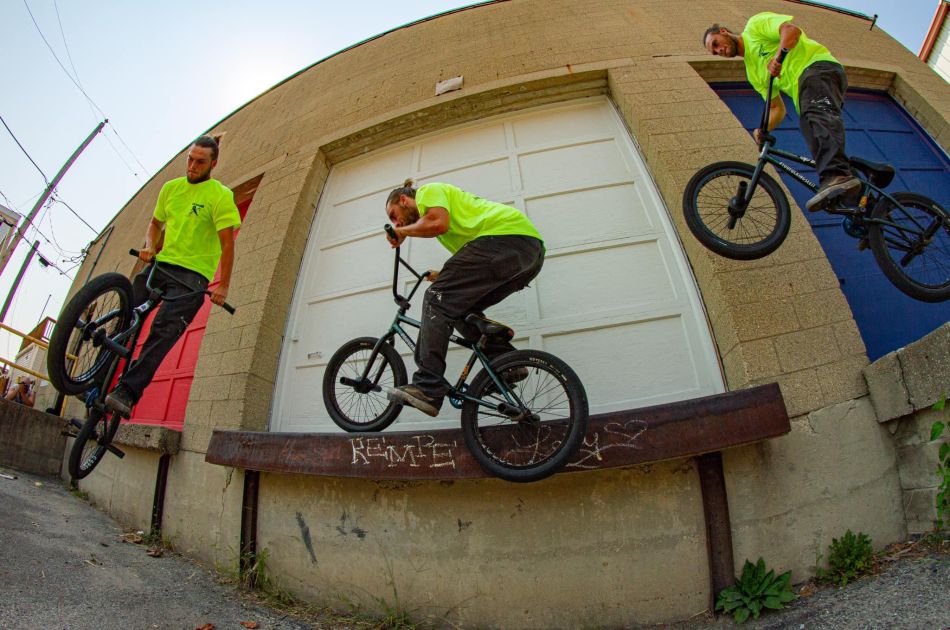 -Person on Instagram: Murray Loubser ( mr.moo__) and Boyd Hilder (boyhilder). Aaron Ross (thearronross) just because he posts some very good golf clips! Casey Smith (@shitsonian) always posting super clicked turndowns!
-Travel destination: Anywhere I can take my bike, because walking sucks!
-Riders to ride with: Haha this I'm gonna be a long list but I'll try to shorten it up! First off is our little crew here in Indiana WKNDRS BMX (Coop, Dave, Bhair, Jake, Steezy Zack, Hannah and the Evansville boys) then I gotta go with Noah McBride, you interviewed him a few months ago, super awesome dude! All the Ft Wayne boys, they're some shredders! These three young bucks out of Broad ripple. That just started a year or so ago, already do flip, double bars, switch bars and whips! The Dailygrind dude for letting me be a part of the crew and pushing me to be better person on and off my bike! They're some of the nicest dudes I've met! Casey Smith riding with him is always fun! Last but not least The boys that got me started back in my ho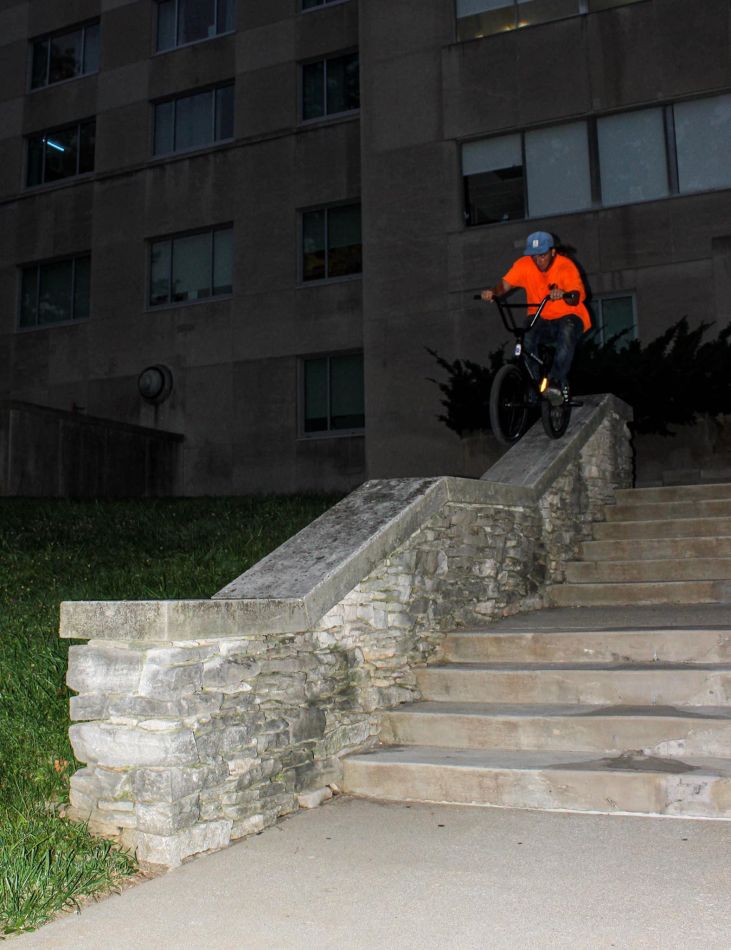 metown (Roserio and the Red Baron) wouldn't be where I am today if it wasn't for these two! Teaching me what's what and to always have fun riding your bike!
-Car: Not a car guy so I'm gonna go with my Transit. Bought it last August and I've already put about 30k on it! Love to go camping and travel, so it's nice to have something you can set up easy to rest in.
-Movie: Super Troopers and Grandmas Boy
-Colour: Black and purple
-Shoes: Fade footwear, Vans
-Bike company: Dailygrind or course! Love those guys! Then I'd have to say Fiend, and Cult!
-BMX contest: Never been a contest guy! Our love dude here Casey Smith has been putting on brakeless races that have been outrageous! I also love a good jam!
-Bike shop: Pengin Cycle Werks in Gosport Indiana! The owner Mike is an amazing dude! Always helping the kids and people out in his community and Circle City (rip). Been out of business for a year or two now but they were some really cool guys that always helped me and the boys out!

-Restaurant chain: I think I have to say McDonald's. Because my friends would call me a liar if I said anything else!
-Clothing company: Not big on clothing! So I'll say anything that lasts more then 10 sessions.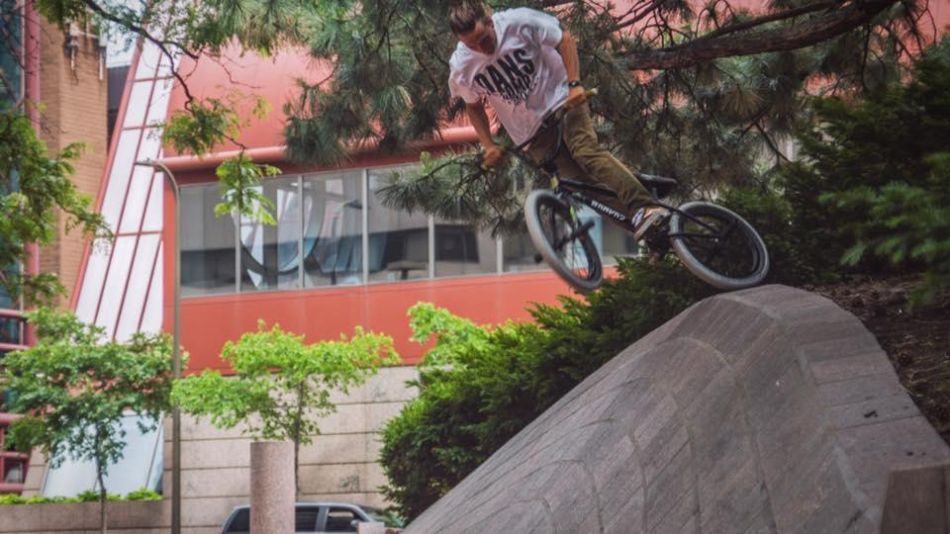 -Phone: IPhones all the way!
-Music: Big fan of A day to remember, Lamb of god, and Amon Amarth!
-Ramp rider: Not really a ramp rider but I'm big a fan of watching Justin Spriet and Dennis Enarson shred some transition!
-Street rider: Has to go to Dan Lacey and Colin Varanyak. These two kinda set in stone what I wouldn't to do when I rode! To Dan's massive three's to Colin's tire rides!

-Dirt rider: The Night wolf himself Mike Aitken for having the steeziest look back 360's!
-Flatland rider: Not really into flatland so I can't say I have a favorite. I really enjoy watching Matthias Dandois though because he mixes freestyle and flatland. Also Bill Nitschke, the local legend and the man that invented the Whopper! I've seen him do some crazy flatland tricks
-Old school rider: Wouldn't call them old school, more mid school. But Josh Harrington or Brian Vowell.
-Drink: A nice cold Coca-cola
-Trick: Honestly I'd have to say three look backs! Mike Aitken made them look so good! Second I'd have to say ground chucks. If they're super dipped and slow!
-BMX Magazine: I've spent many hours looking through Transworld's mag in high school. But my favorite is by far The Scenes Not Dead video 'zine that Noah McBride runs. He goes to all the jams and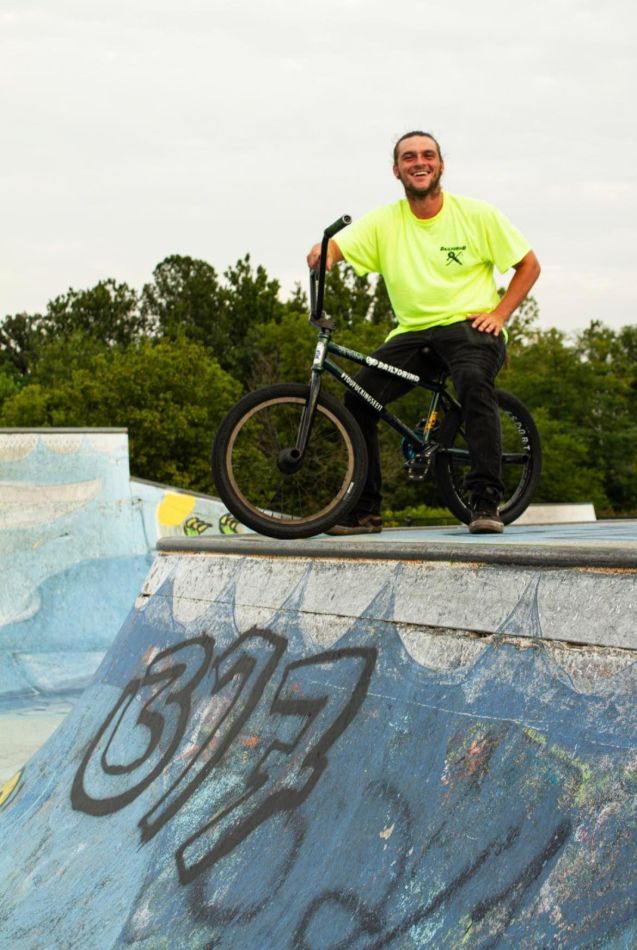 is really good at showing the riding that's going on around the Midwest!
-BMX MC: I gotta go with Rick Thorne. That dude is wild and a very good entertainer!
-Video game: I will forever be a Gears 3 fan, but I've probably spent most of my time on Skate 3 and the Guitar Hero games.
-BMX photographer: I have two; Casey Smith (@shitsonian) and Hannah Stevens (@hannahjeanebmx) They always got them angles!
-BMX Filmer: I'd say Tony Ennis for all the bad ass Fiend videos and I was a big fan of Miles Rogoish but I don't think I've seen anything from him lately.
-Girl: Perris Benegas and Nina Buitrago, these two chicks are absolute shredders!
-Sport besides BMX: My favorite sport besides BMX is golfing. It's kinda like BMX, it makes you work for what you want. Definitely not an easy sport to be good at! To be as consistent as Justin Rose or be able to shape your shot like Bubba Watson take dedication and patience just like BMX.
-Party: Any Indy sesh is a party! Nothing but good times, beer and bikes over here!