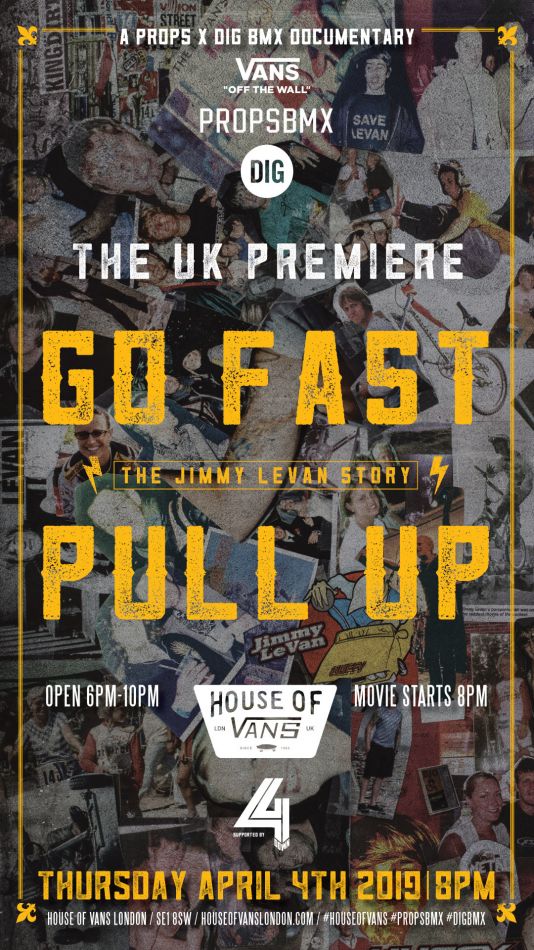 Join Us For A Very Special Screening Of Go Fast Pull Up "The Jimmy Levan Story"- A Feature Lenght Bmx Documentary, At The House Of Vans - London! Presented By Props And Dig With Support From Vans. Directed And Edited By Chris Rye, "Go Fast Pull Up" Takes A Look At The Amazing Story Of Jimmy Levan While Stepping Through Important Moments In Bmx's Colourful History Along The Way.
The Screening, Hosted In The 100-Seat Cinema Room, Comes Complemented By The Bmx Support Group With A Cash For Tricks Bmx Jam On The Street Course And Bowl, Finished Off By Free, Ice-Cold Beers & Tasty Burgers.
Come Kick It!


Go Fast Pull Up 'The Jimmy Levan Story'
2019, 105 Min.
Screening Starts At: 20:00
Bmx Support Group: 18:00 - 22:00
Free | No Booking Required
#Houseofvans

See You There!