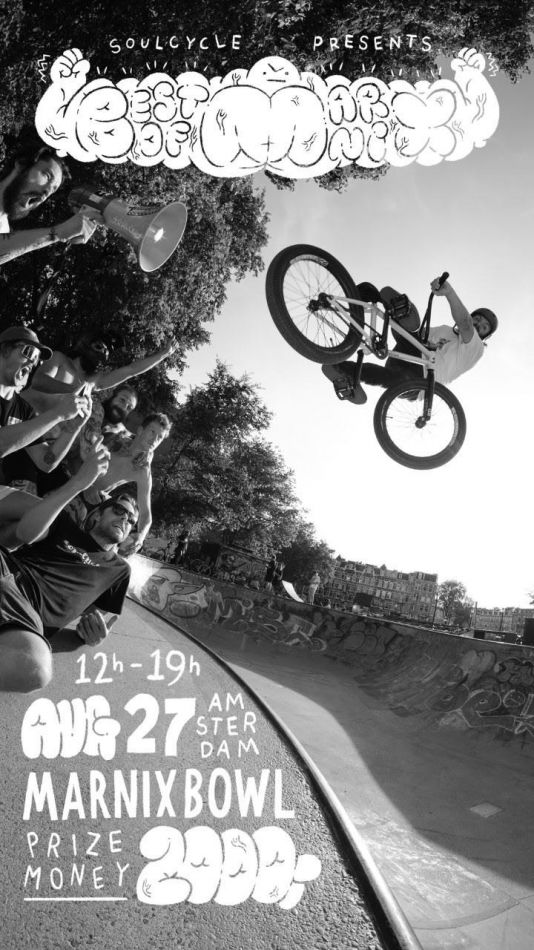 Soulcycle proudly presents the "Best of MarniX". Best of MarniX will take place at the Marnix Bowl in Amsterdam on Saturday August 27 from 12h till 19h. The contests is open for registry for AM riders under the age of 16, AM riders 16 years and older, women and pro's. The Marnix Bowl is 1 of the best bowls in Amsterdam and because of this it had been been riden by countless BMX riders over the last decade. We will organize an invite only contest, next to the regular contest, for those riders: the legends. Come by and hang out with us to enjoy this BMX Freestyle contest.
The Best of MarniX is part of the Urban Sports Week Amsterdam also known as USWA, supported by de Gemeente of Amsterdam. Soulcycle is THE BMX store downtown Amsterdam and proud organizer of this event and the 4 previous editions that took place at the USWA in 2016, 2017, 2019 and 2021.
Attending the contest? Attend for free. Full = full. BMX bike and helmet mandatory.

Sign up HERE to enter 1 of the competitions AM 16-, AM 16+, women and pro contest. The legends jam is invite only.
When: Saturday August 27, 2022 from 12h till 19h

What: BMX Freestyle Bowl contest, AM 16- , AM 16+, women, pro and the invite only legends contest CLICK HERE TO REGISTER

Where: Manix Bowl Amsterdam CLICK HERE FOR LOCATION