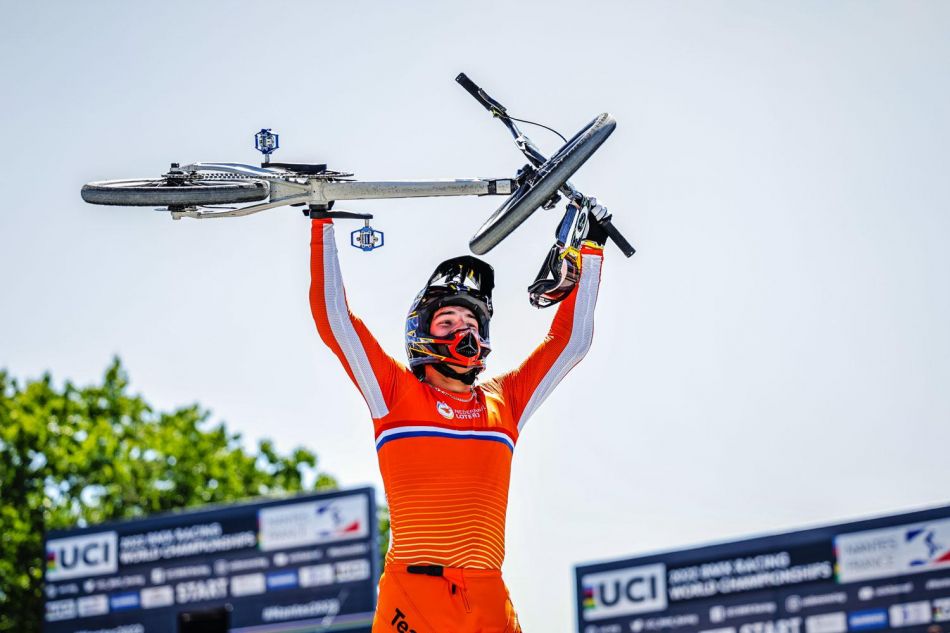 Dutch dominance for the Men Junior
Next up were the eight fastest Junior Men in the world. The Belgian Wannes Magdelijns took the holeshot but was then passed by Julian Bijsterbos (NED) and Jaymio Brink (NED) to end up on third place.
Winner Julian Bijsterbos said: "The crowd here is insane, I got to the first corner and got out in second position, but I was on the outside so I had a lot more speed and I could go to the inside over Wannes. Then I kept the focus, kept it clean and brought it home."


All red and white on the Women U23 podium
Without any French participation in the Women U23 category, the new class crowned its first champion with Malene Sørensen from Denmark who beat Switzerland's Nadine Aeberhard and Molly Simpson (CAN) to the finish line.
Malene Sørensen was ecstatic: "Winning the Worlds feels completely different from winning the Europeans. I think it's going to hit me later because right now the adrenaline is pumping and my legs are hurting but I think later I will cry and celebrate. It's so big."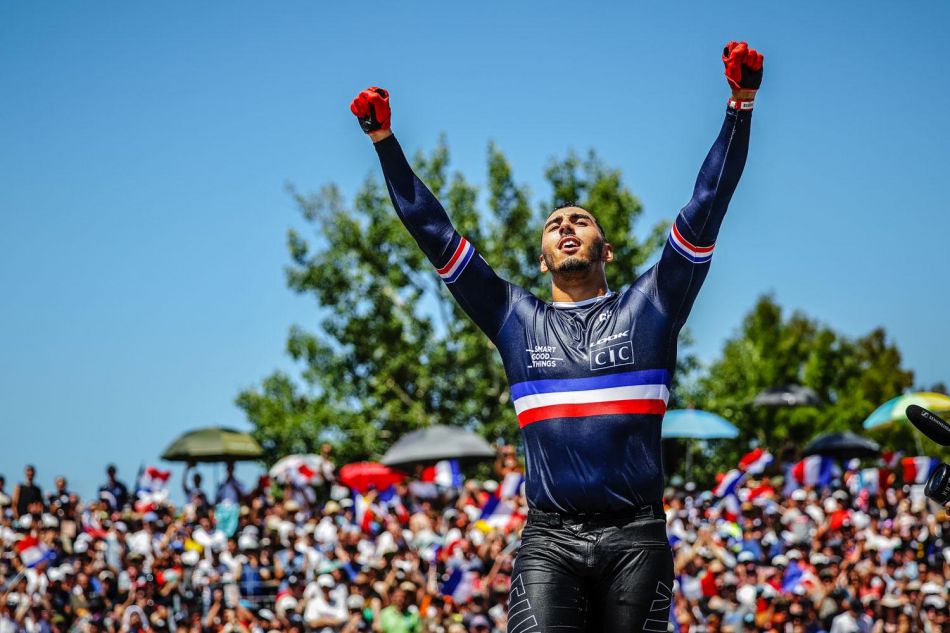 Garoyan strongest in the Men U23
The honour of becoming the first UCI BMX Racing World Champion in the Men U23 category looked to be going to Chile until Leo Garoyan from France cut off Chilean Mauricio Molina Vergara to take over the lead. Second place was not an option for Garoyan with the 2022 UCI BMX Racing World Championships taking place in his home country and he raced first over the finish line. Asuma Nakai (JPN) finished third.
Leo Garoyan commented: "It's just amazing to win in my home country. In 2018 I won the World Championships in Baku and now I have won the Worlds in my home country, it's just amazing."

Very tight in the Women Elite

Last but not least it was time for the Elite finals and they were nothing short of amazing. In the Women Elite, it was almost impossible to distinguish the winner as American Felicia Stancil beat Zoe Claessens (SUI) with just a tenth of a second. Merel Smulders (NED) celebrated her third place.
Felicia Stancil was over the moon: "Oh my, I am still taking it all in. Growing up at the UCI BMX Racing World Championships meant so much to me. I won my second World Championship when I was 10 years old in France so this place is already special to me. At the beginning of the year at my first race I had my worst injury and I've only been cleared for three months now. This is my first Elite title, I'm in shock right now."


Swiss Marquart crushed the Men Elite final
With four French riders lining up for the Men Elite final, the expectations for a home rider success were high. Joris Daudet (FRA) hit the gate but found himself in the back. Sylvain André (FRA) lost control on the inside and took fellow countryman Arthur Pilard (FRA) with him. Izaac Kennedy's (AUS) podium chances also ended there as he went to the ground. From lane eight the French crowd could see Eddy Clerté (FRA) take the lead, closely followed by Kye Whyte (G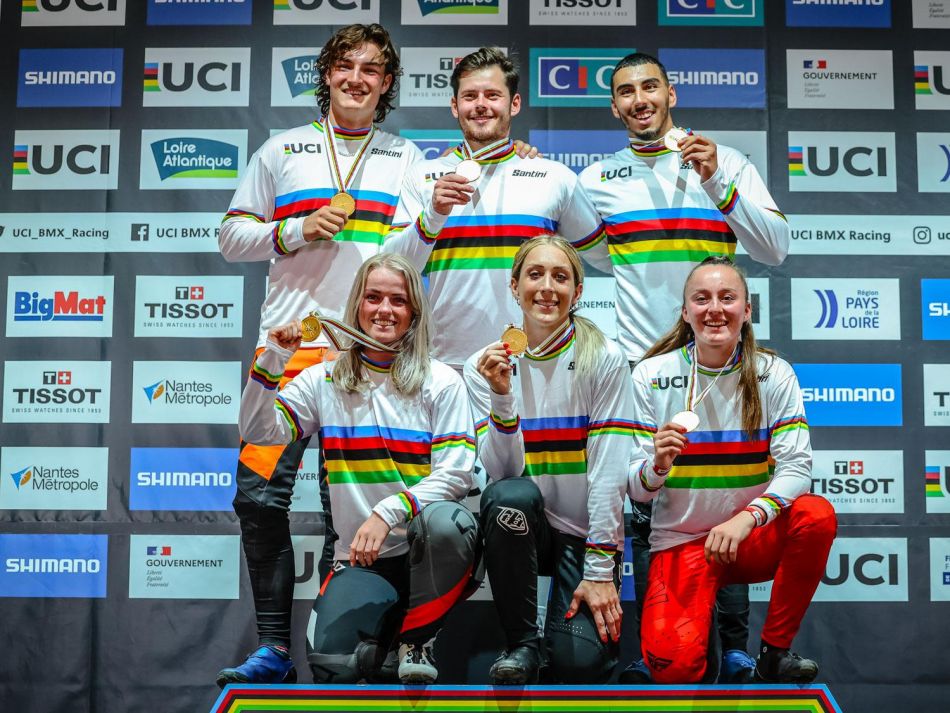 BR) and Simon Marquart (SUI). The three came side by side with Marquart getting an edge over Kye and Eddy as they went into the last turn, where Daudet managed to advance to third. Marquart finally secured the victory before Whyte on second place and Daudet on third.
A happy Simon Marquart said: "I knew that there was going to be carnage in the final so I was pretty happy about starting from lane six. I thought it was the perfect lane to stay out of trouble but I had to get a good gate. I got second or third into the first turn and I think Eddy cased the first jump and someone was on the outside of him and I thought, 'yes, sweet, I got this' and finished an unreal lap. It feels amazing, it's a childhood dream."