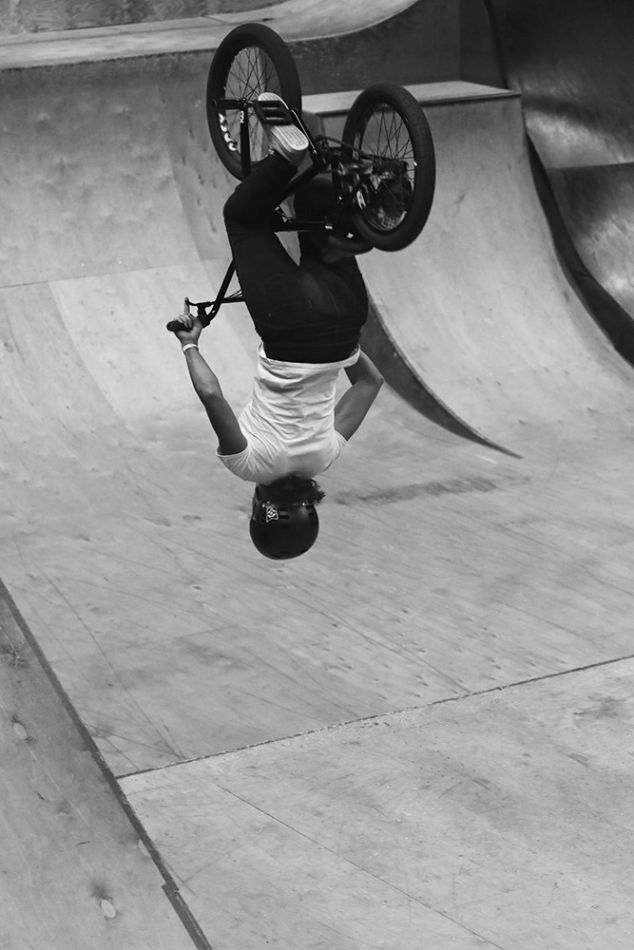 Sem Kok has his own style and flowed around the course doing lines that no one else did. Even a broken hand (no time for plaster) could not keep Sem sidelined. Always a pleasure to watch him ride. Niels van Maren had the support from the Onwies Knallen/Genieten corner and was just sending it. We wonder how long it will take for Niels to move to Eindhoven as well. Milan Tenbult surprised many with his park skills. Milan is learning tricks on the daily and that's what a park like this does. For those wondering, the new name of the park is now Area 51 after the merger bringing the two parks together. It's big now and some interesting plans are in the works for the future. Just be patient. The young Jari Roggeveen decided to step it up and compete with the big boys. No Fear, literally. Jari's riding keeps progressing and he's got the sessions in Eindhoven to thank for it. The show he brings every time is priceless, including the bonus at the end of his runs. Fun to watch.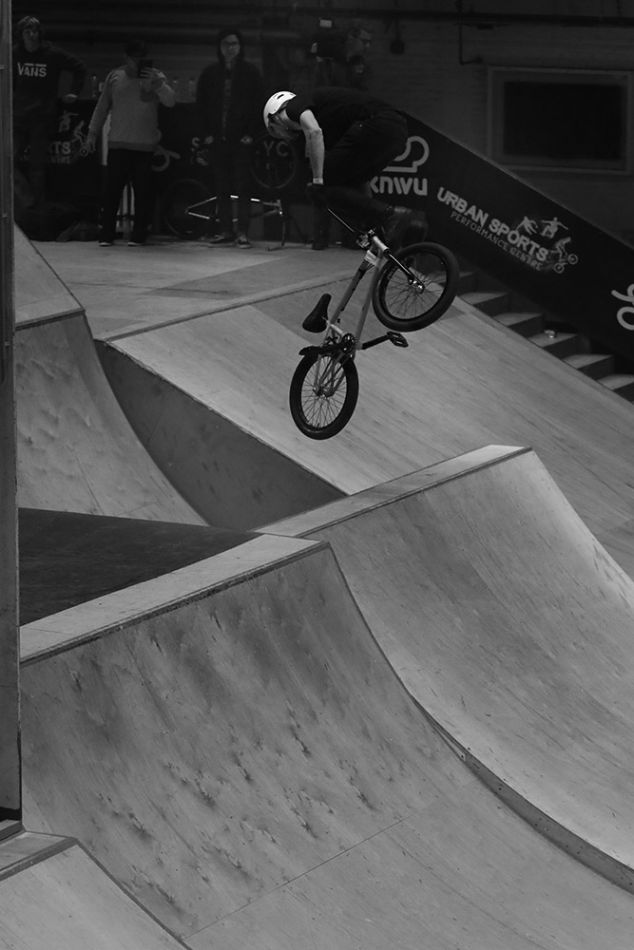 When you do three tricks in your final runs that you've never pulled before during competition you are one stoked man. Best trick winner Levi Weidmann (720-bar-bar) pulled a 1080 on the big step-up, a tailwhip over the wall-gap and a serious 360 bar to downwhip but a few little mistakes left and right kept him on spot 3 for this year. Going all-in is needed to land on the top step and Levi is not afraid to throw all big tricks he has in one run. Respect. Pim Scheers is another fun rider to watch. Pim's move to Eindhoven to study has worked out for his riding as well. He's gotten so good over the last few years which now resulted in a second place at the Dutch Park Championships and another 160 points for the UCI individual ranking. Onwies Knallen was stoked.
First place was for, you guessed it, Tom van den Bogaard. If you've seen Tom ride in Eindhoven you know this doesn't come as a surprise. The battle with Daniel Wedemeijer would have been a good one if Daniel would not have crashed in his first run to skip run number two. But Tom is on such a level that after run one it was pretty much clear that he had the title in the pocket. The amplitude, the speed, the flow, the execution, the style, the lines, the man from Aarle-Rixtel showed it all. The red-white-blue was his and no one complained about that one.
Elite Men:
1 VAN DEN BOGAARD Tom NED 22 92.66 200
2 SCHEERS Pim NED 22 86.00 160
3 WEIDMANN Levi NED 18 82.66 130
4 TENBULT Milan NED 18 78.00 110
5 VAN MAREN Niels NED 19 77.00 90
6 KOK Sem NED 22 69.66 70
7 ROGGEVEEN Jari NED 15 60.66 50
8 WEDEMEIJER Daniel NED 28 53.66 30
9 SELBECK Tom NED 23 20
10 VAN DE WARDT Erik NED 20 10
Elite Women:
1 SILVA CRUZ Shanice NED 26 67.00 200
2 MURADOVA Jana NED 20 55.00 160
Pics by Bart de Jong/FATBMX