Dew Tour, Baltimore 2007
'Qualifying was good. I get 4th and I'm dialled. Now I'm in the fi nal – feeling amazing. The place is packed (av. attendance of Dew Tour is 60,000 people) – TV cameras, lasers, noise, adrenaline! All lit up, ready for the night-time final. So many people, the crowd going nuts. I can feel the atmosphere, taste it. The double backflip is my big trump card. I made that trick mine. Performed it first in Philadelphia in 2001, when I won the X-Games for the first time. No
one else has ever landed that trick in a dirt competition. I'm ready. I'm on top of the roll-in.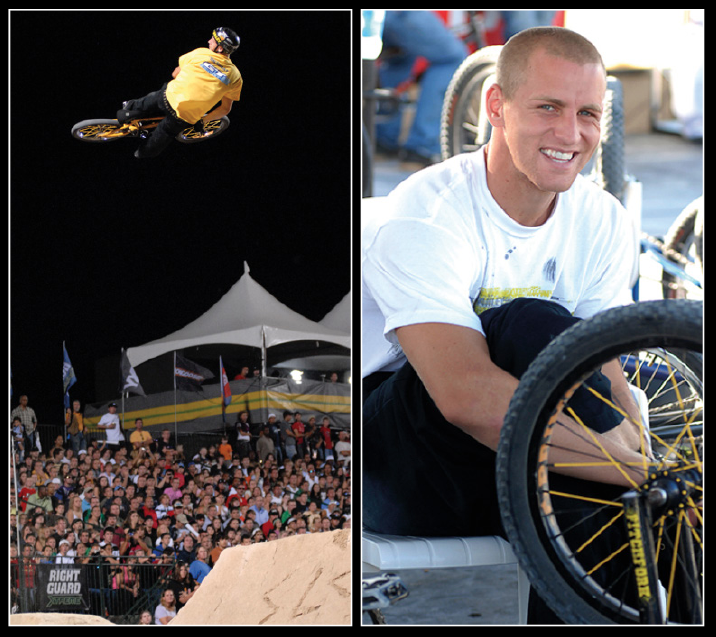 The announcer shouts my name to the crowd, my music's kicking in... I see the cheering fans, hear the noise. I cross my heart. I don't actually remember doing that, crossing my heart, but I see it on playback later after I come out of the black. I take off it's good! I'm trying to get the rotation to spin for the double by pulling hard on the handlebars and throwing my head back.

Then my left foot comes off the bike – it's a pure fucking nightmare! I get shot thirty-five feet in the air and fifteen feet past the landing. I'm not spinning. I should be spinning! Instead, I'm stuck hanging upside down in the pike position. Normally I'm like a cat and can land on my feet but I don't know my left from right or my up from down. Everything's eerily fucking silent, like time has stood still or something.

The first thing to hit the ground's my neck, and it shatters on impact!' The above extract is taken from Stephen Murray's forthcoming book Staying Strong which details his life and rise to fame as a professional BMX athlete, moving to California to pursue and live the action sports dream until his life-changing accident in 2007 where he was paralysed from the neck down.

Stephens's story is a rollercoaster of emotions – his story doesn't have the ultimate happy ending whereby he is now able to walk, he is still paralysed but what it does detail is how to keep positive in the face of adversity, the power of staying mentally strong, living for your children and ultimately hope – he may walk again.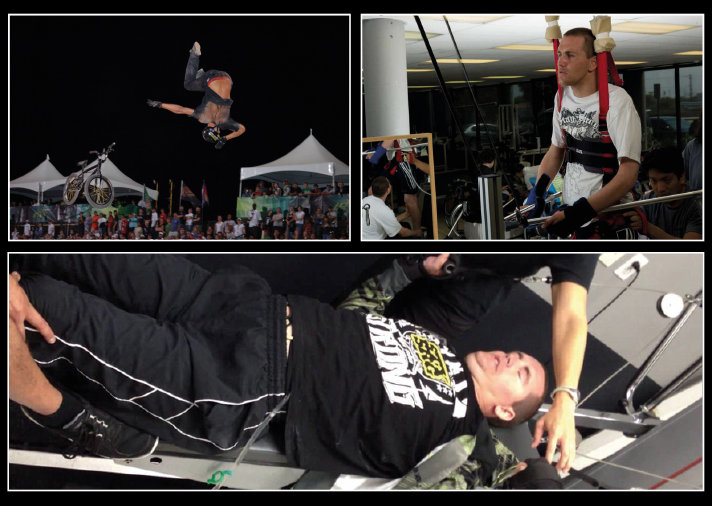 This book deals with some very dark moments, the challenges faced every day as a father going through a divorce, a custody battle and whether he will ever ride a bike again – Stephen may have lost the use of his body but he has never lost his love or passion for BMX. It's this passion that pushes him through every day. His determination teaches us all that you are more than your disability and that although he has been taken to some dark places since his accident they are also mixed with some of the best days of his life.

Stephen has lived a completely crazy life, which includes rubbing shoulders with some famous faces from David Beckham to Pharrell Williams to Richard Branson and more – all of which have touched Stephen's life along the way and he now wants to share his highly inspiring 'no stone unturned' autobiography with the world.

The book begins with Stephen's last jump at the Dew Tour - an action sports competition developed as a joint venture between Live Nation & NBC sponsored by Mountain Dew back in 2005 - which was taking place in Baltimore in 2007 where he had his life changing accident. The story flashes back to
his early life at home, growing up in Newcastle and pin points the moment he fell in love with BMX. With a nostalgic look back at the late 80's BMX racing scene and the influence it had on his riding, it then moves on to a change of scenery and life in Stratford, leaving racing behind and his evolution
in becoming a dirt jumper. It documents his big move to California leaving behind his family at 18 and during his first year in competition achieving what some would say the impossible by winning gold at both the X-Games and Gravity Games. Stephen was focused on riding every day and taking
him to the very top of the game – the determination to achieve and the drive to show his peers he was the real deal, to be on top and stay there. Then came the sex, drugs and rock 'n' roll lifestyle that Stephen got caught up in, hitting rock bottom – losing everything. Stephen was beginning to turn his
life around through the positivity of riding his bike again when on the 22nd June 2007 that terrible accident happened and everything changed. Stephen's life takes another huge U-turn with a custody battle, divorce proceedings and living life with a severe injury becoming a reality. Stephen split from his wife and after many years battling the California courts, was finally able to move back to Britain with his two sons at the middle of last year. At the moment, his focus is on being a role-model, not only for action sports athletes throughout the world, but also for hundreds of thousands of quadriplegics and paraplegics and anyone who has felt that when they have hit rock bottom there is no way back – Stephen is here to let people know not to give up.

Off the back of his accident Stephen launched his own brand under the inspirational name of Stay Strong with the specific aim of delivering a positive message. The brand is now recognised globally due to Stephens's already strong legacy left from his days as the No.1 ranked BMXer in the world.

LAUNCH EVENT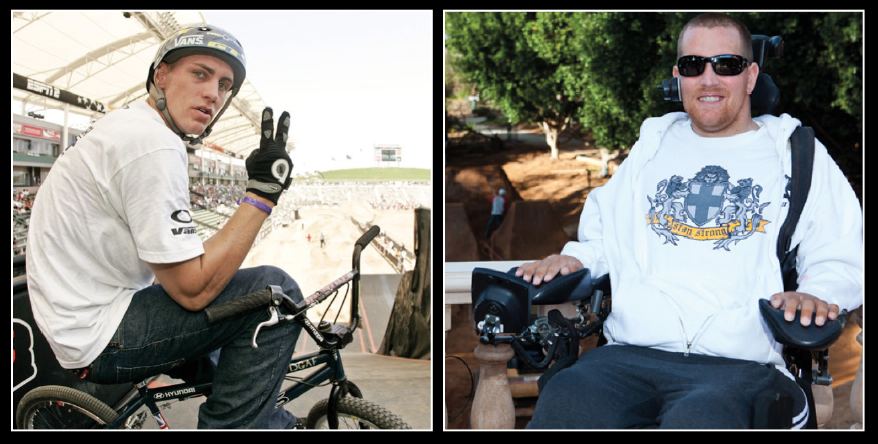 House of Vans – June 24th (TBC)
Arches, 228-232 Station Approach Rd, Lambeth, London, SE1 8SW

Evening will include:
Q&A with Stephen – exclusive to Press only
• Stay Strong Team BMX Demo
• Gallery of BMX memorabilia & exclusive photos
• Screening of riding videos in the cinema
• DJ Set

Quotes:

Mat Hoffman
BMX Sporting Pioneer, Professional BMXer, legend in action sports
'Stephen Murray has been driven from the day he was born to not accept any limits and challenge everything that has been put in the way of his dream. We should use Stephen's heart for inspiration, as detailed in this book, to face all odds that get in the way of our dreams.'

TJ Lavin
Professional BMXer, MTV presenter
'Stephen Murray has always set out to break all the rules. He's united the action sports world, he changed the face of everything we do & his biggest achievements are still ahead of him. Stephens's story of Staying Strong is as moving and tragic as it is refreshing.'

Travis Pastrana
Freestyle Moto X Legend, Founder of Nitro Circus
'We've all been fortunate to relish in his accomplishments and the progression he has contributed to action sports. A must-read for anyone who wants to understand the power of determination and never giving up. Ruthless in its honesty, Stephens's story is thought-provoking and timely.'

Cory Nastazio
Professional BMXer
'Stephens accident was probably the worst thing I've had to deal with in my life. Superman had fallen and didn't get back up. His story is for all those interested in understanding the power of never giving up on yourself and Staying Strong - outsiders and insiders from the world of action
sports - should read it.'