published and edited Bicycle Motocross Action, later BMX Action, magazine 1976 through 1988. He also is one of the most celebrated BMX photographers of the era.

"The companies I've been with have always supported Steve's shows. But this is the first time I've been with a company that has products that appeal to his crowd. But the reason we wanted to be part of the event as title sponsor is because Bob Osborn will be there to receive the lifetime achievement award," said Toby Henderson, ABC's co-founder.
"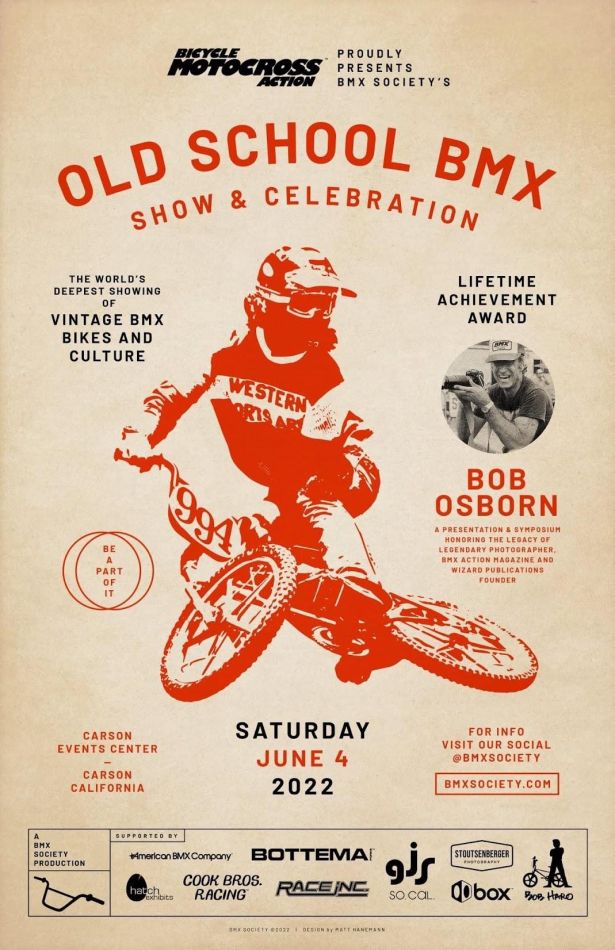 If it wasn't for Oz, BMX may not have been what it was in the 1970s and 1980s. Myself and a lot of others wouldn't have had the careers we had without him. We owe a lot to Bob. I wanted to make sure Bicycle Motocross Action was the event's lead sponsor," Henderson added.

ABC acquired the trademark for Bicycle Motocross Action last year, creating a nonprofit with the goal of preserving and promoting all things BMX. Before
announcing its ownership and plans, however, Henderson reached out to Osborn, visiting him at his gallery in Livingston, Montana, to get his
blessing.

"Without Oz's blessing it wouldn't have been the same. It was extremely important he was okay with it. Now, for us to live up to what he did, will be a feat, but we will do our best to honor and cherish his contribution to BMX. If we are even half as good as he was, we will consider the endeavor a success. Oz created heroes. Can we do the same? Again, we'll work like hell to try," Henderson said.

The Old School BMX Show and Celebration takes place 9 to 3 Saturday June 4 at the Carson Events Center.
The Bob Osborn Symposium follows 5:30 to 9:30 and includes dinner.
Tickets are available online at: https://bmxsociety2022.ticketbud.com/bob-osborn-symposium.

"Coming off a two-year hiatus because of COVID, all of us, including Bob, are ready to get together, see old friends, make new ones and celebrate BMX and one of the driving forces that really shaped the sport and BMX culture, Bob Osborn. If you love BMX, you can't miss this event," Brothers said.


**************************************
About ABC, Inc.: ABC designs and sells bikes and components under the
brands Race Inc., Cook Bros. Racing and Bottema. It has licensing
agreements with Kuwahara and Tange. And it manages the non-profit
Bicycle Motocross Action. At ABC, we work to build quality BMX products.
We do this by designing and developing innovative frames, bikes and
related programs that enhance the enjoyment of riding and boost racing
performance whether it's at the local pump track, the World Cup circuit or
the Olympic Village.