Pages: 404
Copies printed: Numbered signed edition of 250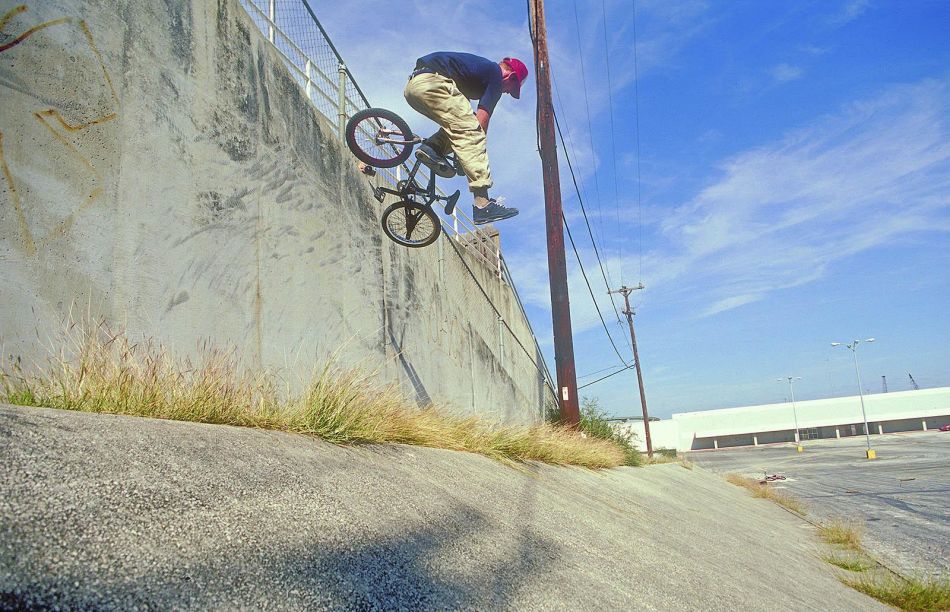 How long was the thinking process before you decided to get to work on the book?
Jared Souney: I hadn't planned on doing a book at all until I got deep into going through old work. At the beginning of 2020 I started trying to be more diligent about making archival prints of some of my past photo work, which lead me down a path of going through old film, scanning, digging through digital file folders for outtakes —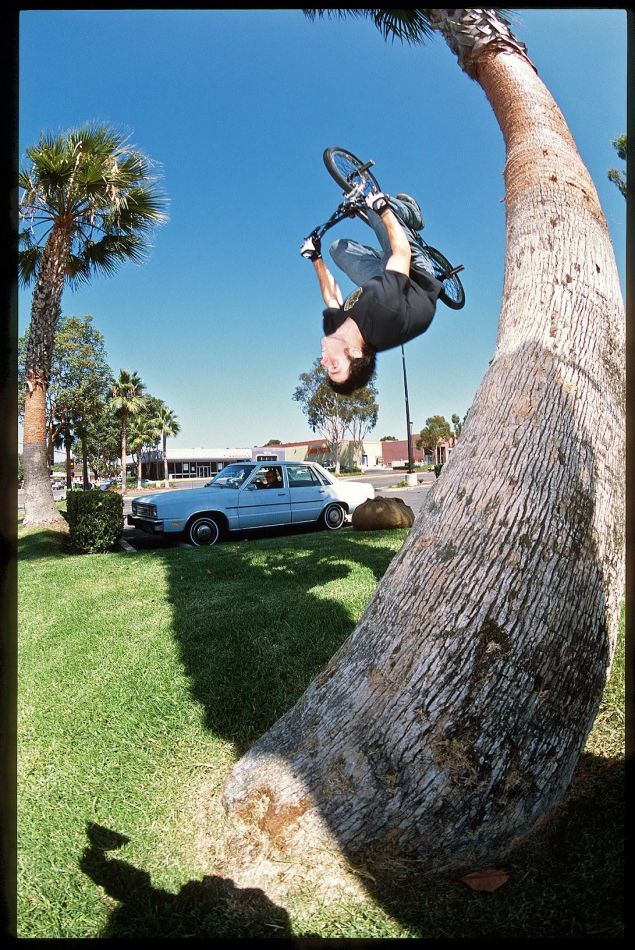 Mostly I was trying to put names and places to old photos while I could still remember all the info. As I started making some headway scanning I was casually dropping images into InDesign pages, thinking it all could become something, but at that point I was just tinkering with a little bit of everything photo subject wise, not just BMX. I didn't set out to make a book, it just evolved that way. I started the digging process in February of 2020 and finished the book in August of 2020. It was at least May or June before I realized I was making a BMX specific book.
Did you have things lined up and organized as far as photos were concerned?
Jared Souney: Not at all… that's what lead me down the path of a book — just trying to get some of that more organized. I was scanning a lot of my favorite photos, not just BMX, so it seemed like I was down a pretty endless rabbit hole for a while. Once the pandemic shut things down (early March of 2020), it became a lot easier to fully immerse myself in what eventually became the book.
How many days have you spent scanning images for the book?
Jared Souney: In the seven months I worked on the book, I was scanning bits all the way till the end, here and there. I'd say I spent a solid month or two early on in the process scanning the bulk of the film. The book focusses on a 20 year period from 1994-2014. Right around 2004 things started shifting digital with my photo work, so about half the book is film I'd guess. The rest involved digging through digital folders, looking at stuff I may have overlooked in the past.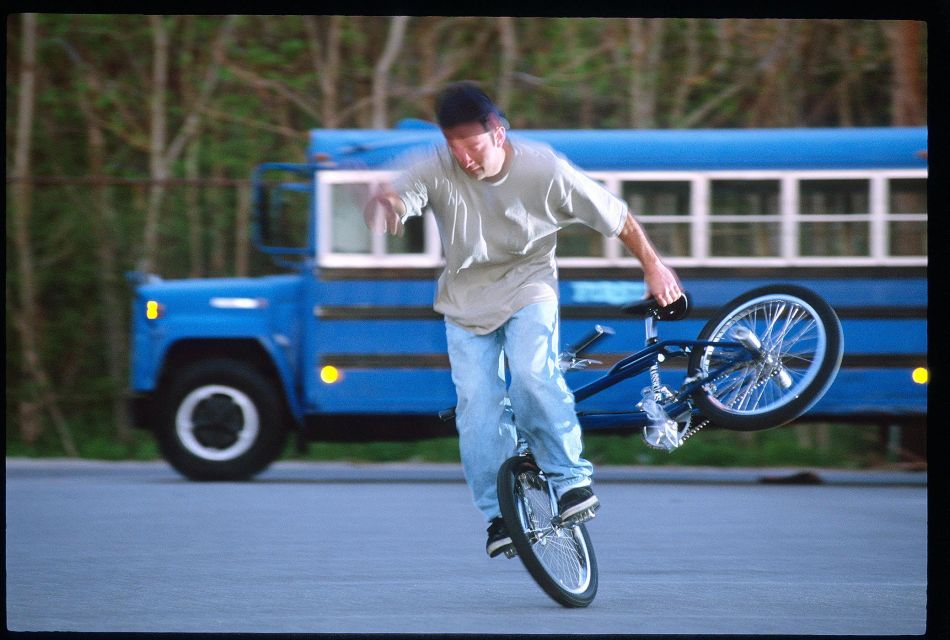 Once digitized, how did you proceed from there?
Jared Souney: I had a couple of loose working InDesign layout files with photos dropped into pages so I could move them around and create sequences of images. At some point that became literally thousands of pages between a couple different documents. It was just pages and spreads of my favorite photos that I could move around, and it was photos of everything: bikes, skateboards, snowboards, music, quirky street photography… I was toiling around like that with no real direction and just got absorbed into pairing images and moving things around. It took a couple months before I fully committed to doing some kind of book, but I didn't know what it was going to be. During that time I made a 'zine to use as a paper test, before I committed to a giant book print cost.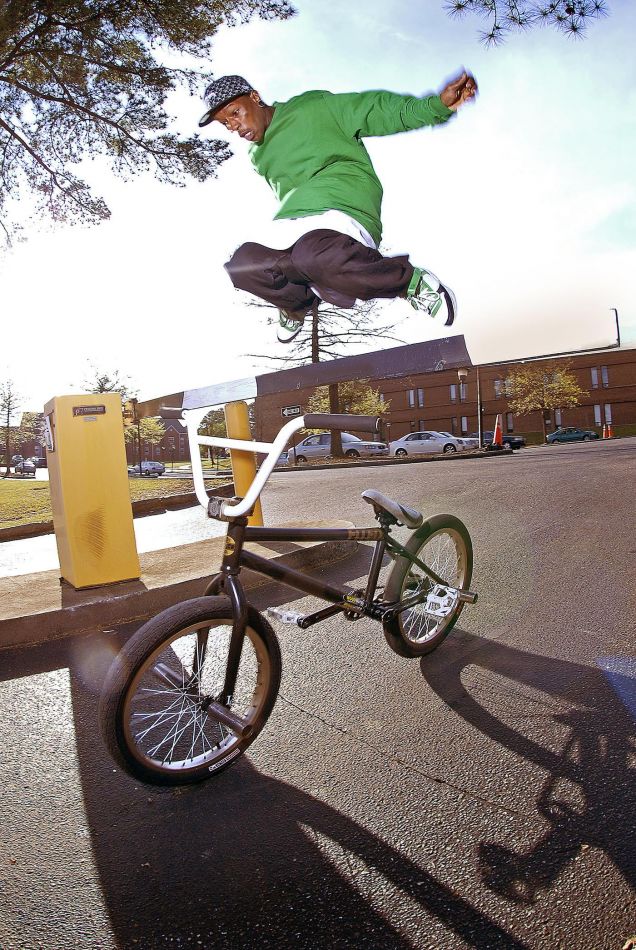 As I went on the layout files got more focussed, and eventually became all BMX, organized into four sections broken out by different scenes I've lived in for a few years at a time: New England, California, Pennsylvania, and Oregon. In the end I approached the whole thing much more like an art / photo book / monograph than a BMX book. There's very little text in the book, which was deliberate. A lot of the stories have been told in magazines or online in the past, so this I wanted to make more about the images and let people create their own overall story.
Did you get help from others?
Jared Souney: With the exception of my girlfriend (now my wife), I didn't tell anyone I was doing it at all until it was already off getting printed… I didn't want any outside influence on the decisions of what was in the book and what wasn't, or how I went about it. The pandemic made keeping the project to myself easier. There were no other eyeballs on the book until it came back from the printer. I really had no idea if there was even going to be an interest in the book because I hadn't talked to anyone about it.
Is the book your story of how you lived BMX?
Jared Souney: In a very broad sense, yes. But the book spans 20 years, and there were a lot of adventures in that time, so I guess this is a visual overview of my experiences in that time period.
How does it feel to have been part of BMX' history from beginning to where it is now?
Jared Souney: Almost everyone I know and everything I do to this day traces back to BMX for me somehow, at least in a roundabout way. I wish I had learned to use a camera earlier in life. I didn't really figure it out until college in the mid-'90s so there are a lot of earlier experiences I wish I'd captured. I think you see a lot of evolution in the book, both in my use of the camera and BMX as a sport. The book starts out in the lean years of BMX and ends in an era of big energy drink and shoe sponsors… It's neat to play a part in documenting that, and it certainly shaped everything I do.
Is the book a personal project or more a way to document BMX as it is/was?
Jared Souney: Both. I think ten different photographers could make in depth BMX books and they'd all be vastly different. There are so many scenes and facets within the subculture that the stories are en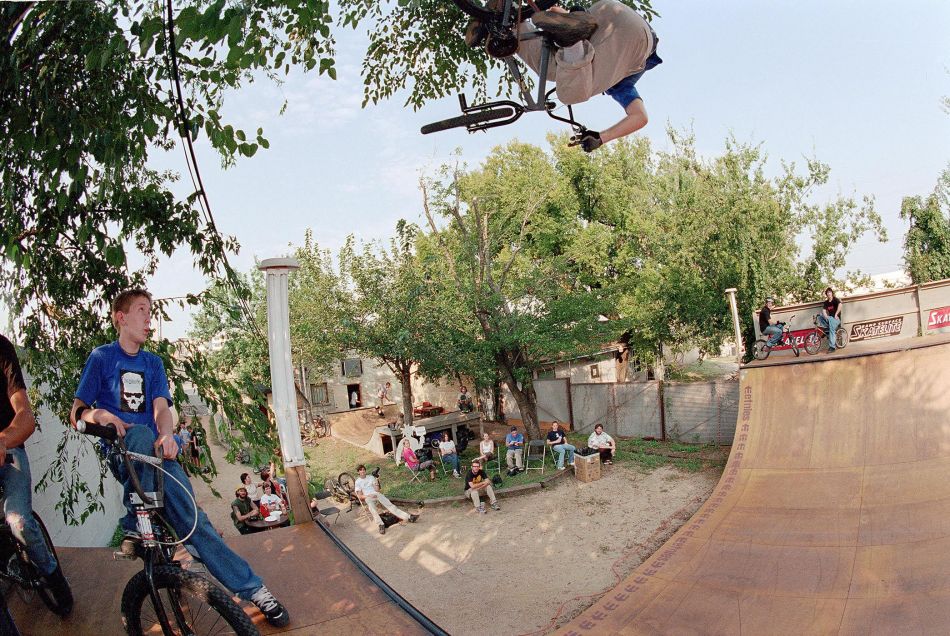 dless. So I guess this was an opportunity to show my version of that. These were the people I spent a lot of time around and some of the places I went on that journey. A lot of it was certainly shot under the premise of documenting BMX at the time it was shot, often for magazines, or web sites, or advertising… but when it came to putting all those years into a book, I guess that's when it becomes personal.
Did you come across pics that you forgot about?
Jared Souney: For sure, mostly working through the earliest stuff in the book. I found a lot of stuff I may not have liked at the time… twenty-some years later you're editing with a different eye than right when you shoot something. There are a couple photos in it that may not have been technically what I wanted at the time, but looking back, that's what I like about them now. Specifically there's a photo of Rich Slezak that I love now, because the shot is at the end of the roll and has some light leakage into the frame. At the time I'm sure I was bummed and it felt like trash, but in hindsight, I love that imperfect
ion. It's indicative of that film era… total uncertainty. On the other hand there were plenty of outtakes I'd come across that may not have made it into the book, but they're memories regardless. The whole process is a literal trip down memory lane, which is a bunch of different feelings all at once.
Did you find pics that should never be printed in a book?
Jared Souney: There were some shots that had people's ex's in them that I intentionally kept out of the book, and likely a few shots of debauchery that didn't need to be rehashed in a book. I don't think I had much that was too scandalous. But certainly there were some friends that had bad divorces or break ups, and there wasn't a need to make them relive that stuff.
Who supported the book?
Jared Souney: Everyone who bought it (thank you), but at first just my credit card. I didn't want to tie it to a sponsor or publisher because I felt like it was just too much work to associate with someone else's brand.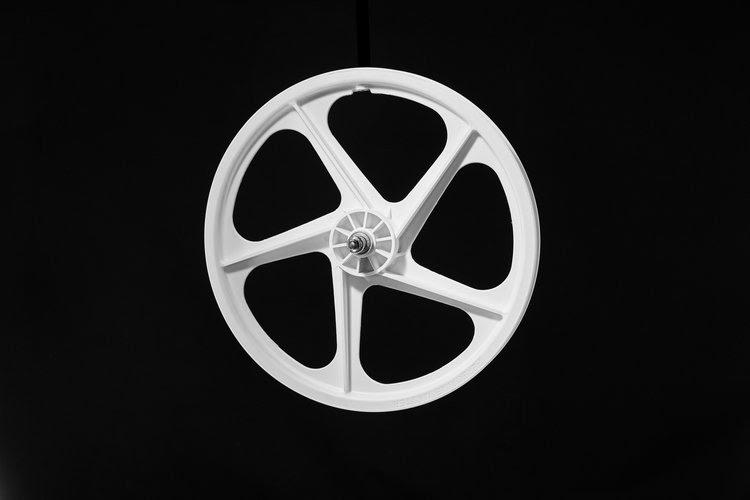 Honestly, I thought I was making an expensive mistake, but at that point the Covid pandemic had taken hold, friends were literally dying, and I figured "fuck it, at least I'll leave something behind if nothing else." People actually wanting to buy it was a pleasant surprise. I published under the name of the small brand I do out of my studio called Ransom Six. That meant I had to front the money for the printing of course. I didn't want the pressure or commitment of something like Kickstarter which might have been a more sensible solution.
How hard was it to put a fair price on it?
Jared Souney: Printing is expensive, so ultimately that was driving the overall price. On one hand you want it to be accessible, on the other you want it to be of a decent quality, so it's a balancing act. Ultimately the printing drove the pricing. Photo books are not a cheap thing to print, and that's forgetting about all the endless work that goes into them.
How was the feedback on the book from your audience?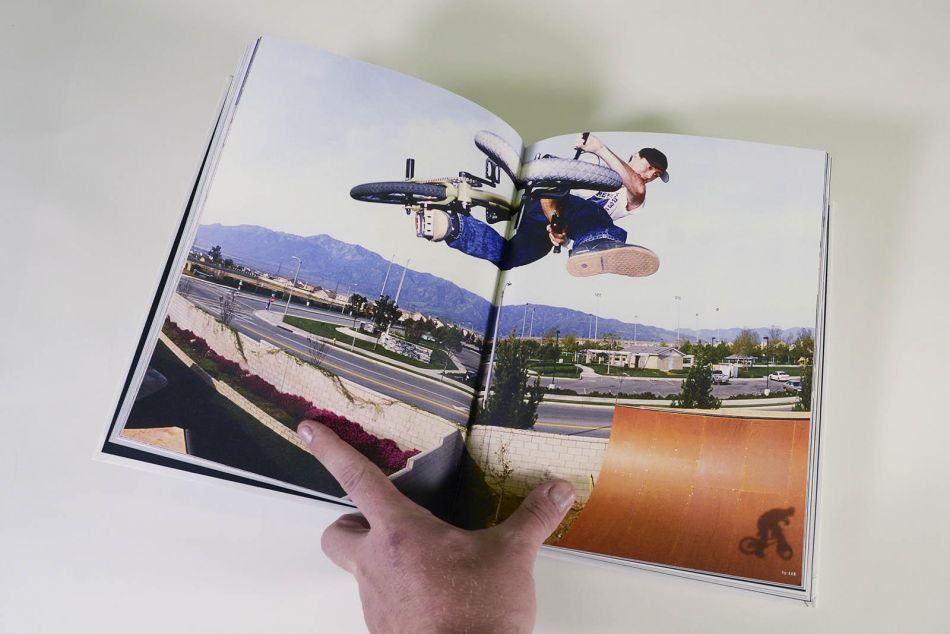 Jared Souney: It was great, especially having no expectations going in. It was awesome seeing it go all over the world. Overwhelming in a sense. Unexpected as well.
Do you think you could do another one in the future?
Jared Souney: You get to a point doing a book like that where you completely lose your mind and can't think about anything else… Then you send it off to the printer and it's a weird mix of feelings: part relief and part you can't wait to do it again. I don't doubt I'll do another photo book someday, but I have no idea what that looks like in terms of subject matter. I didn't put many competition photos in the book, but someday it might be interesting to make one about the mid 2000s arena contest era. It was such a unique time period. The riding was nuts, and you had all these sports (skateboard, inline, motocross and BMX) jammed together, ultimately for the sake of sponsorship sales and television. I have so many photos from those days it could be interesting to explore down the line.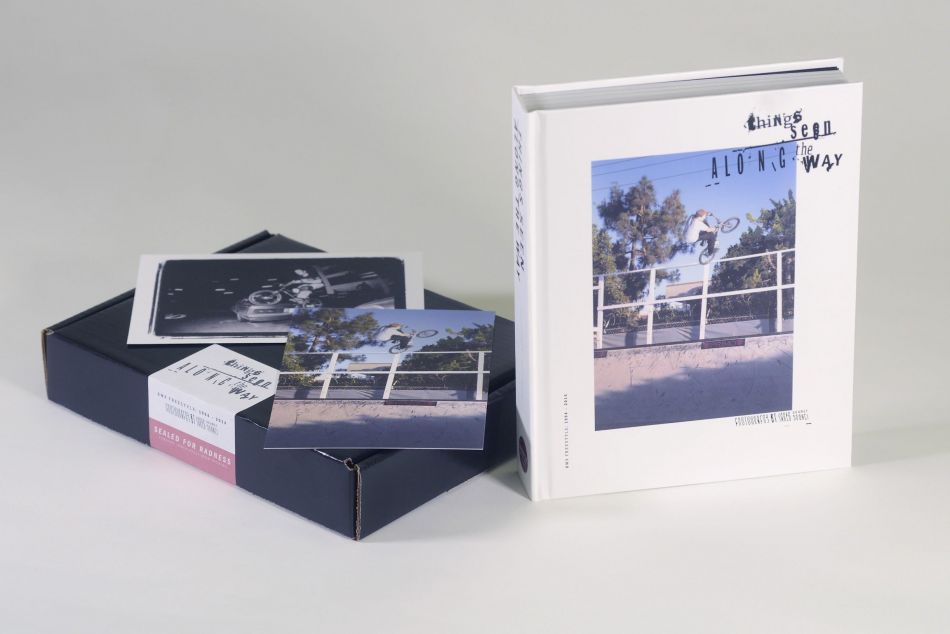 One thing I am going to do is a second edition of "Things Seen Along the Way" that isn't a limited edition: the cover will be different and it will be a slightly lighter weight paper. I'd like to keep the first edition unique for the people that bought it, so the second printing will be an open edition (not numbered) with some small differences. There are a lot of people in the book who didn't get a copy cause it went so fast, so it will be great to get them copies. Either way there will only ever be 250 of the limited edition Joe Rich cover version.
Have you run out of copies?
Jared Souney: I anticipated having a tower of books in my studio forever, but it sold out in a few days, which was very unexpected. Since I didn't talk to anyone about it, I didn't really have a sense if people would care or not. I was astounded that it sold so quickly. It will be nice to have a second edition for people who missed out the first time around.
Where can people find more information on the book?
Jared Souney: thingsseenalongtheway.com is where it will live when there's a second edition this fall.