the top spot.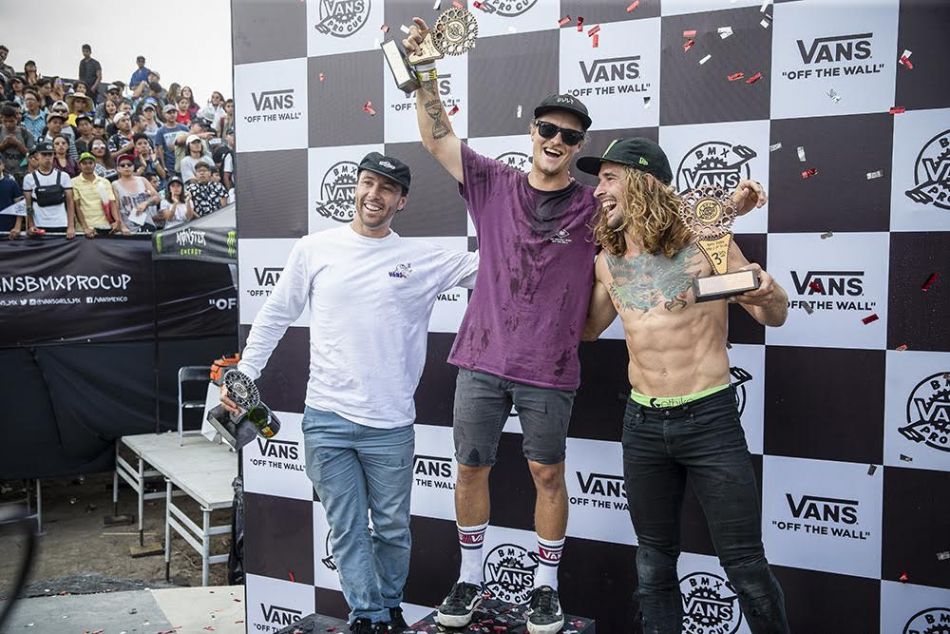 Now in its third season, the Vans BMX Pro Cup series is the world's leading platform for elite BMX park terrain competition. This year's series kicked off in April in Sydney, Australia, followed by a successful event in Stuttgart, Germany, in June. As the penultimate event on the roster, the Mexico tour stop provided a final chance to collect tour ranking points before the 2019 BMX World Championships go down in Huntington Beach, California, this September.
Edgar came to Mexico City as the defending 2018 Vans BMX Pro Cup World Champion, but with significant work to do after bumpy season start in Sydney. The newly upgraded Skatepark Metro Puebla 2 – featuring remodeled quarterpipes and new course elements – catered to Edgar's penchant for high aerials and insane turns. But the competition wasn't sleeping.
Adding to the challenge, Edgar started his weekend with a potentially debilitating injury. He suffered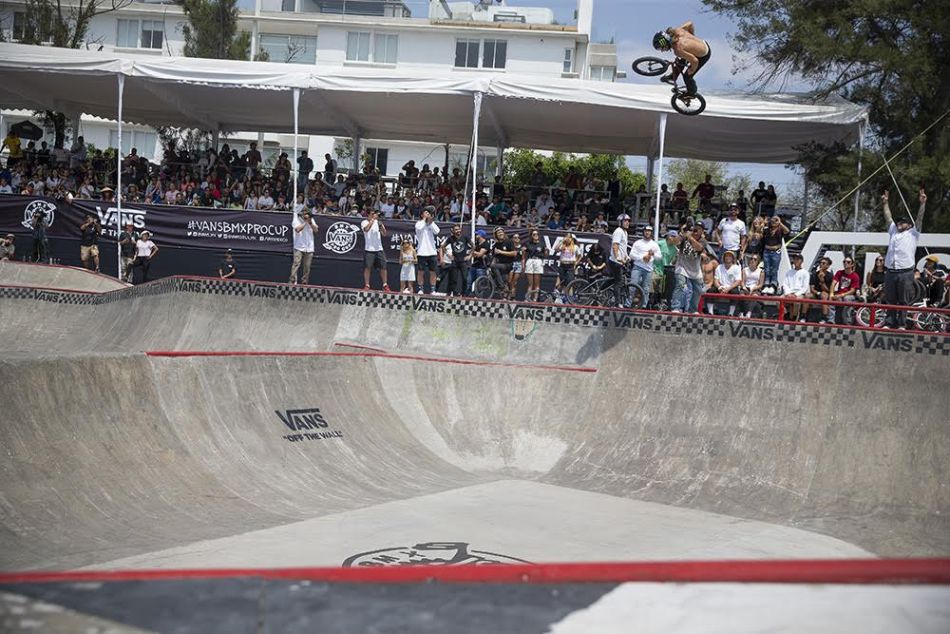 what he thinks was a knee dislocation on the first day of practice. "It was all my fault! I was just warming up and put my foot down weird," said Edgar, who continued to ride in unbroken spirit. He commenced to take off the next practice day and still cruised through the semifinals to qualify for the final in a pack of 35 semifinalists.
Despite the injury, Edgar came into the final session swinging and back to his typical self with higher-than-everyone-else airs around the vast concrete park. The overall-impression format of the Vans BMX Pro Cup favors unique approaches to the bowl and a variety of tricks, which is exactly what Edgar delivered: Highlights like huge lookback aerial in the deep end, technical 360 tailwhip to fakie, high-flying 360 no-hander over the centerpiece kicker, and big 360 air to fakie paved the way to the podium.
"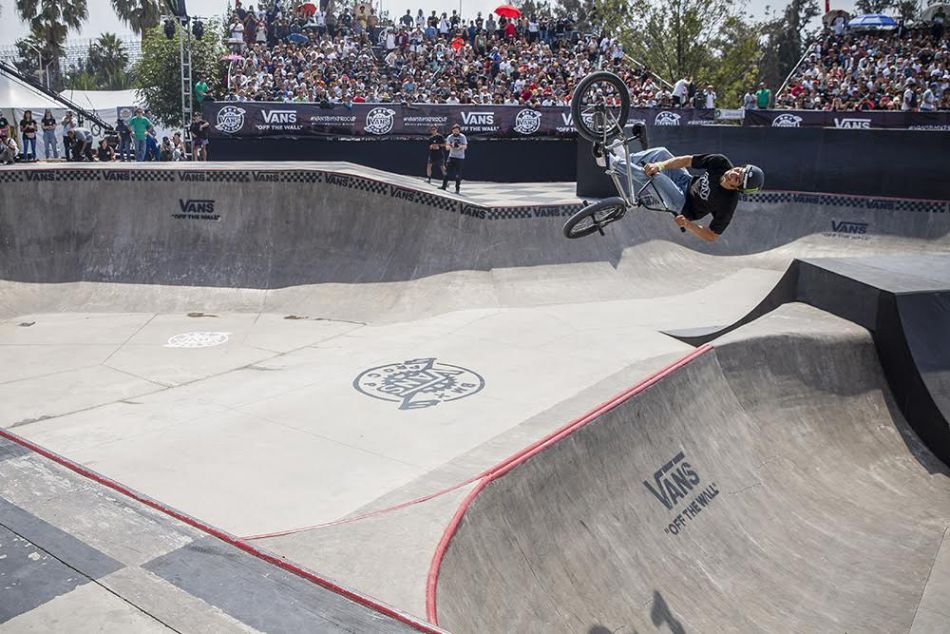 Anytime I ride my bike is a great time, but it wasn't an ideal situation. I did the best I could and had a blast, so I'm super stoked on coming away with third," said Edgar on his podium finish in Mexico City.
This weekend's third-place finish moves Edgar up in current 2019 Pro Tour rankings, but he has some work ahead of him to be a contender for the World Championship. In order to fully focus on claiming his third Vans BMX Pro Cup World Champion title, Edgar has made a difficult decision: He will be skipping the revered Battle Of Hastings event in England in early September to stay healthy for the fourth and final stop of the Vans BMX Pro Cup series from September 13-15 at Vans Off The Wall Skatepark in Huntington Beach, California.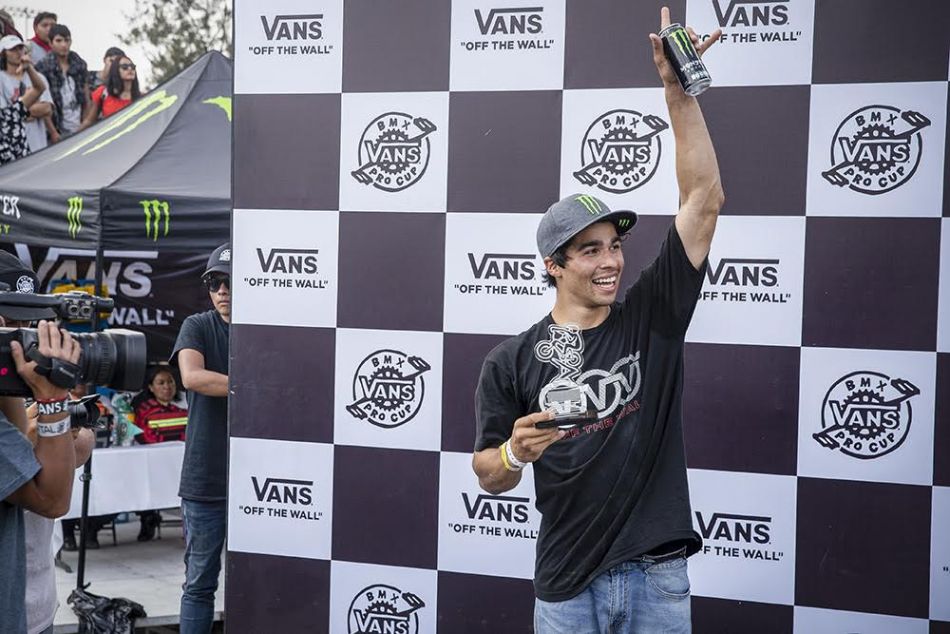 Ending an action-filled BMX weekend with a banger, Monster Energy's Kevin Peraza came into the Best Trick jam to battle a never-been-done move (also known as an 'NBD') that's in a league of its own. At the previous Vans BMX Pro Cup stop in Stuttgart, Germany, Peraza already bagged first place in Best Trick with a backflip 180 over the spine. Taking it to the next level, he threw a tailwhip into the move during the BMX Park Best Trick event at X Games Minneapolis 2019 – but couldn't ride it out before the buzzer.
Now it was on. All the stars aligned in Mexico City and Peraza pulled his Flairwhip over the spine on his first try. Unreal. History was made and the crowd lost its mind. Also adding to the stoke, Kevin's Monster teammate landed an equally insane 540 tailwhip to fakie over the 14-foot box to give judges a tough time deciding on a winner. In the end, it was Peraza who took top honors with his never-been-done trick that raised the bar for BMX progression another crucial notches.