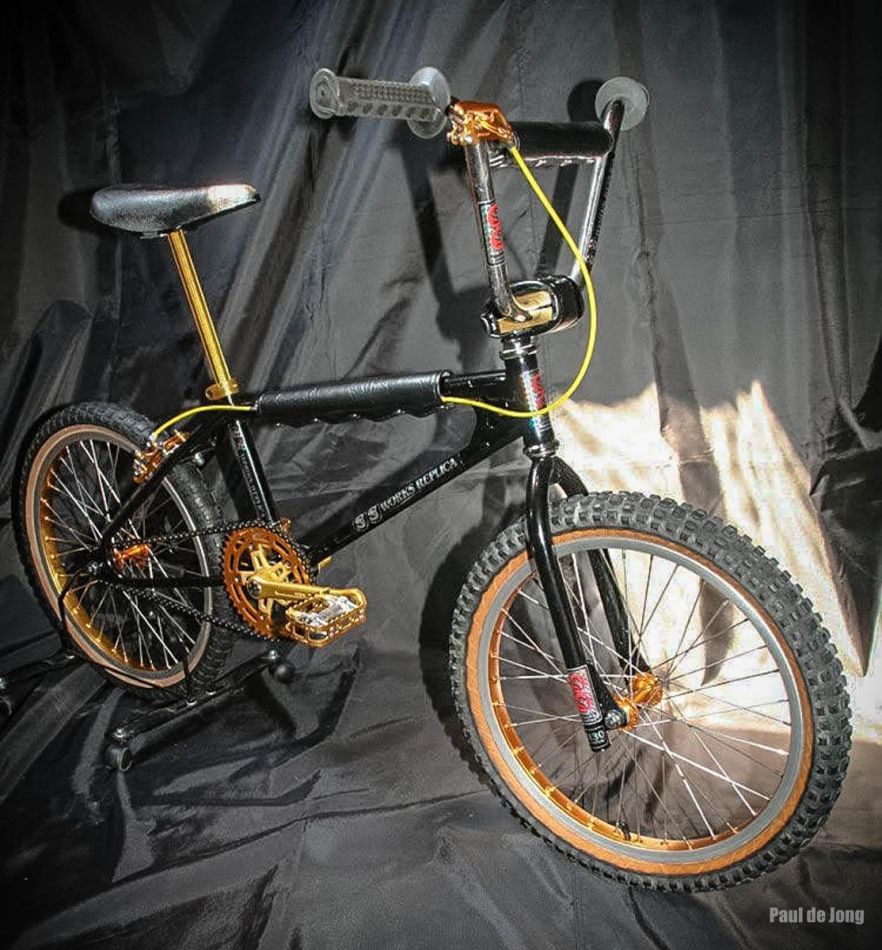 Paul de Jong: It depends, sometimes you start with a frame you have laying somewhere. I have built a lot of my own bikes, I still had all the parts from my first 1979 CPX100! I never throw away BMX Stuff so I find stuff everywhere at the house. Once I was reading a 1980 BMX PLUS! and saw a S&S Works Replica and wanted to try to built one, 1 day later I found an S&S Frame and 1 week later my friend saw 2 original S&S stickersets on ebay! It took a while to get the cranks from Brazil, Stem from Australia, Bars from the USA etc etc but this built was "impossible" but in the end the easiest one. One time I was saying to a friend: I want to build a Patterson PR200! And my friend replied: "You already have one"! I checked and he was right, took it apart and sold the F&F right away.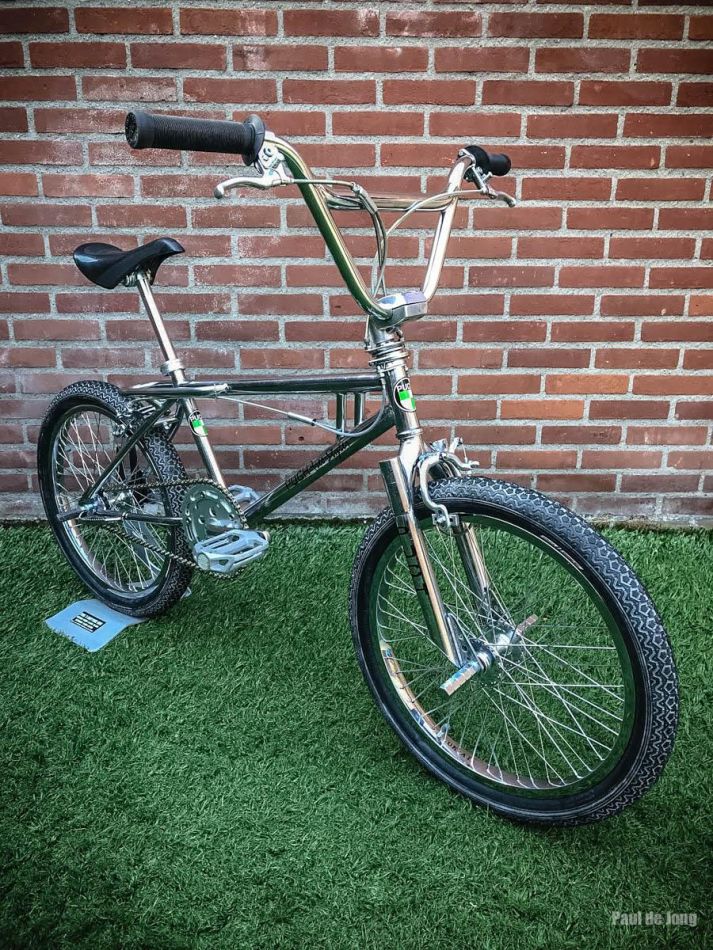 I can't remember all my bikes but here the ones I can remember:
-1979 Mongoose Motomag
-1979 Yamaha replica bike just to show where BMX is coming from: Moto X!
-1979 Hank & Frank Force 2
-1979 My own CPX100
-1980 CPX100 in my raceversion
-1980 S&S Works Replica
-1981 Torker LP in my Race version
-1981 Torker in my Freestyle version
-1981 Mongoose Moosegoose
-1982 Redline Pro line
-1982 SE PK Ripper
-1983 Haro Freestyler "BMX PLUS!" cover bike
-1983 SE Quadangle
-1983 Skyway TA Andy Patterson replica bike (he stayed at our home in 1982)
-1984 Torker Freestylist with forks
-1986 Puch Freestyler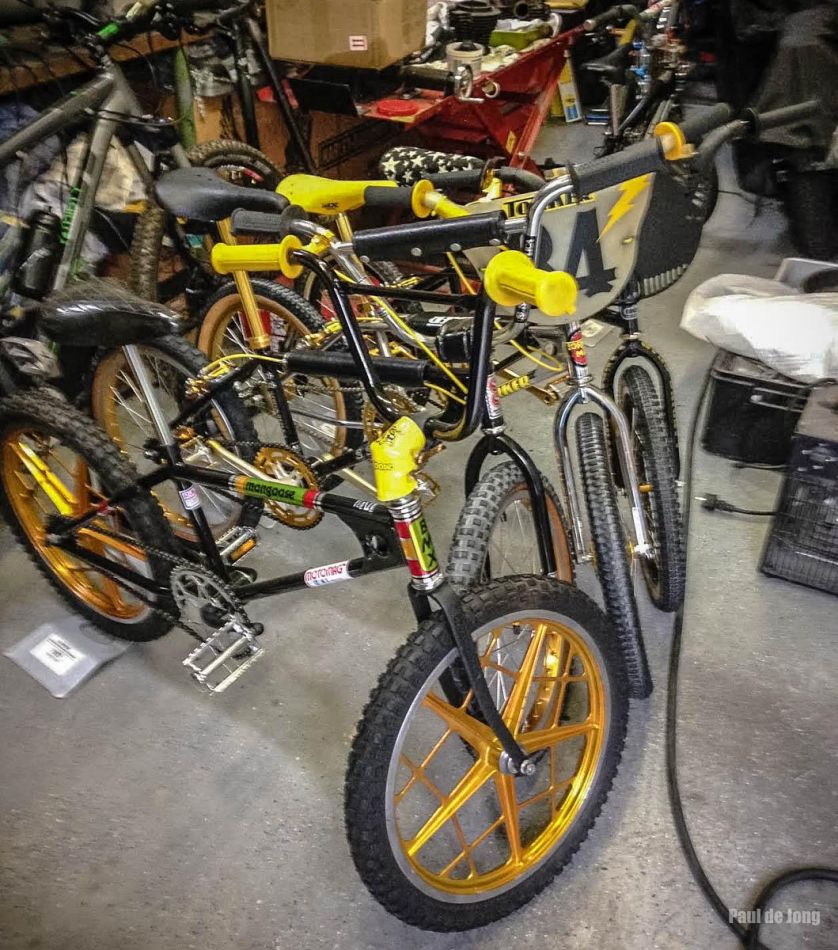 -1987 Vincent Mini Cruiser
-1987 General RL Pro.

With all the bikes you have already built, have you used up your old bike parts stock?
Paul de Jong: No not yet, as I said, I don't throw BMX stuff in the garbage can but I found a Torker Freestyler fork (only 5 known in the World) in my scrap metal bin and built a nice bike after buying the frame in the UK. (I used to ride one, and my first USA frame was a Torker as well). I still have plenty of parts NOS and Used but not planning any projects lately. I can make at least 5 bikes out of stuff I have in stock.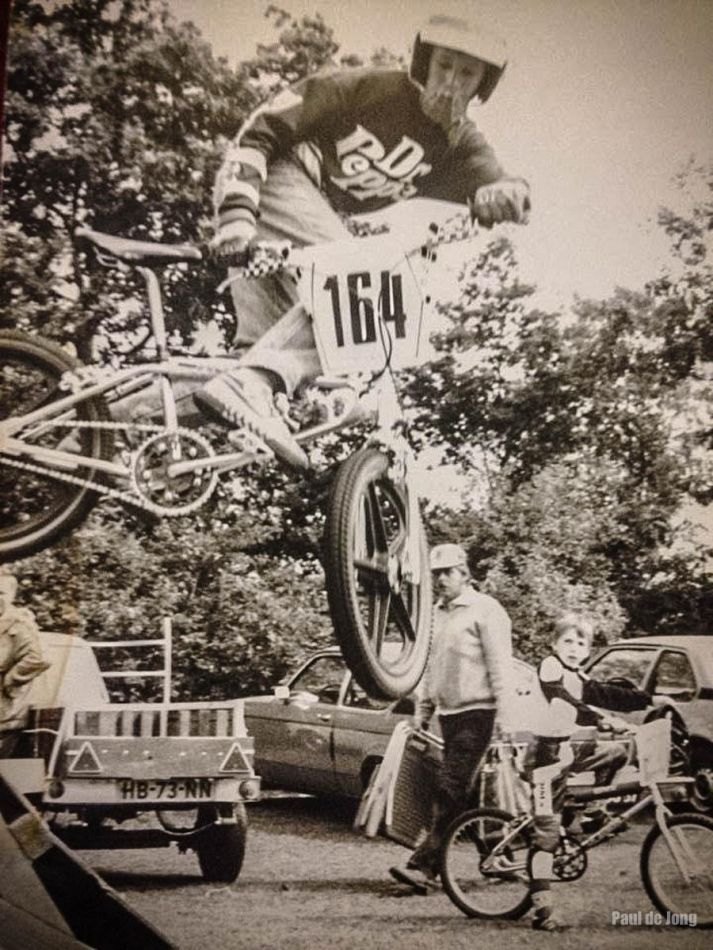 I have been building bikes for lakejumping out of stuff laying around, this was a NOS Mongoose Motomag frame and fork just for jumping in the water! And I think I sold it afterwards for under $100 to a kid to cruise around…Worth 10x more in current times.
When you do not have the time specific part(s) for a certain build, what do you do?
a) I don't start building until I have everything I need.
Paul: YES! Thats the way I do it most of the time.
b) I put some fake stuff on it.
Paul: NO! I have done that but not doing that anymore, sometimes you have to go with "fake" like an innertube and tires but never with the rest! Well sometime repro stickersets.
c) I use a part from a different time.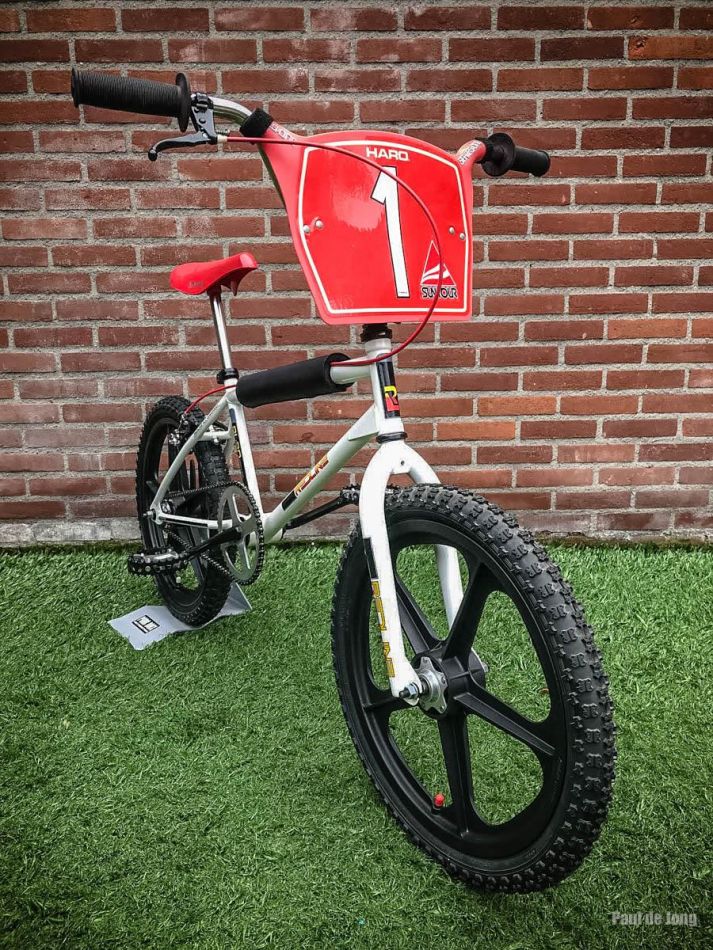 Paul: NO! That's 100% a NO!
d) I build the part myself.
Paul: YES! I have been welding some brackets/brakemounts on frames, and making handlebars wider again. Building all my wheels of course, bending brake levers etc etc.
In order to build BMX bikes do you believe you had to live in the era when the bikes were in action?
Paul de Jong: Of course! I collect bikes from 1979 till 1987 when my "active" BMX riding career was in racing and freestyle, I don't have older bikes and the bikes after 1987 are my own bikes or don't mean much to me so I don't have any mid school complete bikes in my collection.
Name three BMX collectors that you think do a good job?
1) Everyone keeping it real and not doing it just to "collect".
2) Real bike builders, not buyers.
3) Collectors with genuine knowledge and not "google wizzards".
What's the best bike you have ever seen?
Paul de Jong: Woody's golden Hutch Trickstar. I was in Las Vegas when he got his bike back and I even touched it hahahaha. Hutch has never been my brand but that bike is really nice and iconic.
Who has helped you with parts you needed over the years?
Paul de Jong: Well I bought a bikeshop in 1995 called LAGEJA with all their Old School stuff but wasn't really collecting by then and sold MX Kashimax seats for 3 Euro and Oakley grips for 5 euro. That stuff should have been over 100k these days but that's the way it goes. In 2010 I bought pallets of stuff on USA Ebay and spent a lot of money but after that year I slowed down.
What bike is on your wish list to build some time in the future?
Paul de Jong: VINCENT Air Zone in Orange. In 1986 we were sponsored by Vincent Frames from the UK and I rode an Orange VF Air Zone frame and fork with a Paul Hudson MK2 Pro bar with square crossbar. GT Mallet stem in white and those are the parts I still need. I have the rest already in my collection so Stem, frame and fork are on my search list. I have a Vincent frames NOS Fork in chrome and NOS Vincent MK1 Rock bars in chrome to swap, I also willing to trade a Vincent Frames Mini Cruiser F&F in white (only 3 ever made) for a Vincent Air Zone and Hudson bars in any color.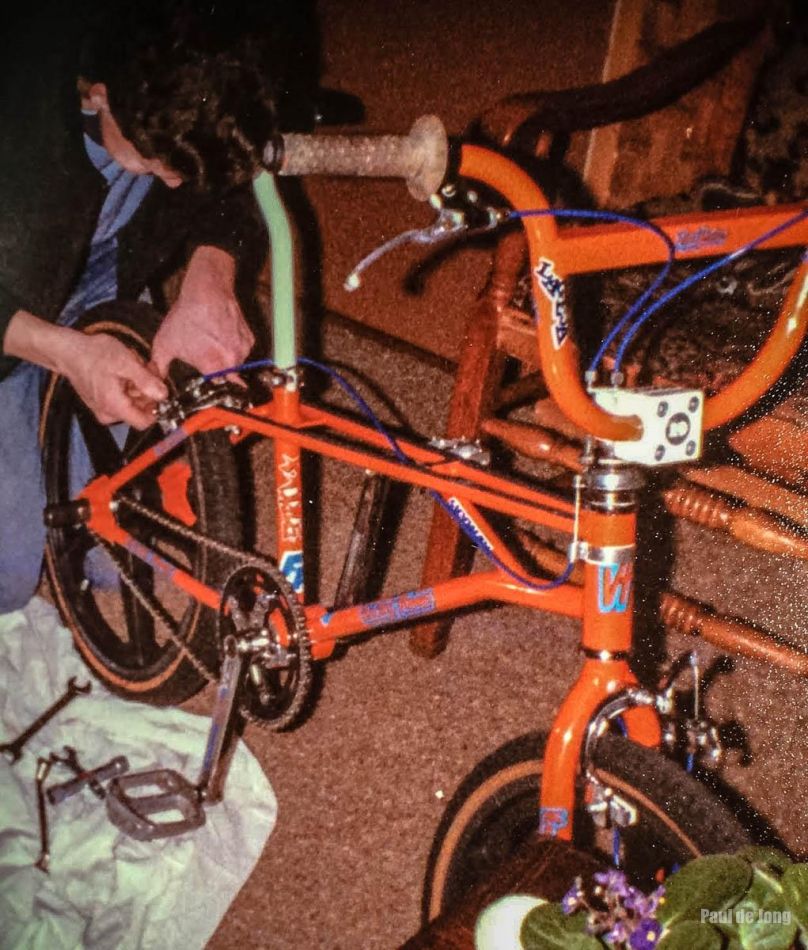 Previous Episodes on FATBMX:
Episode 1: Christophe Detandt (BEL)
Episode 2: James White (GBR)
Episode 3: JT Freestyle (USA)
Episode 4: Ben Murphy (IRL)
Episode 5: Rainer Schadowski (GER)
Episode 6: GAry Sansom (USA)
Episode 7: Michael Gamstetter (USA)
Episode 8: Grant Stone (GBR)
Episode 9: Steve Blackey (USA)
Episode 10: Shannon Gillette (USA)
Episode 11: Woody Itson (USA)
Episode 12: Oliver Kienzle (GER)
Episode 13: Kelly Swanson (USA)
Episode 14: Pat A Lar (GBR)
Episode 15: Billy Mills (GBR)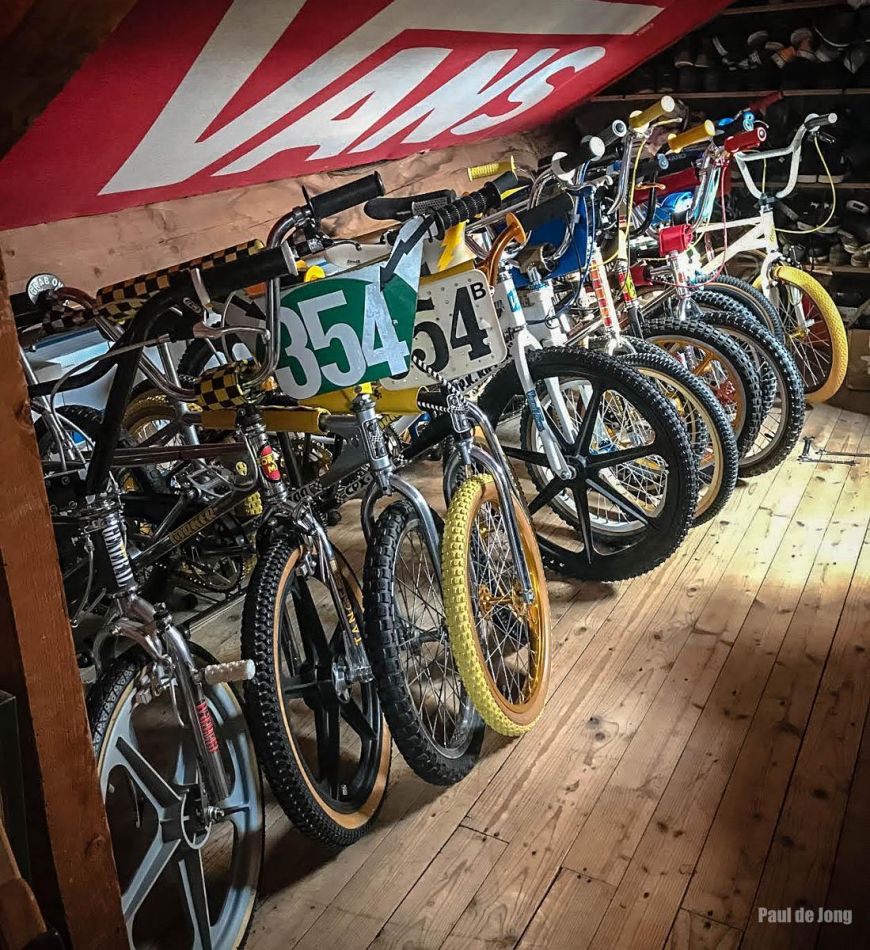 Episode 16: Steve Brothers (USA)
Episode 17: Aykut Hilmi (GBR)
Episode 18: Alex Leech (GBR)
Episode 19: Mike Janssen (NED)
Episode 20: Brian Gutierrez (USA)
Episode 21: Chad Powers (USA)
Episode 22: Alessandro Barbero (ITA)
Episode 23: Chris Daly (GBR)
Episode 24: Ian MacArthur (GBR)
Episode 25: Steve Strong (GBR)
Episode 26: Stephen Joseph (GBR)
Episode 27: Paul de Jong (NED)

Pics by Paul de Jong