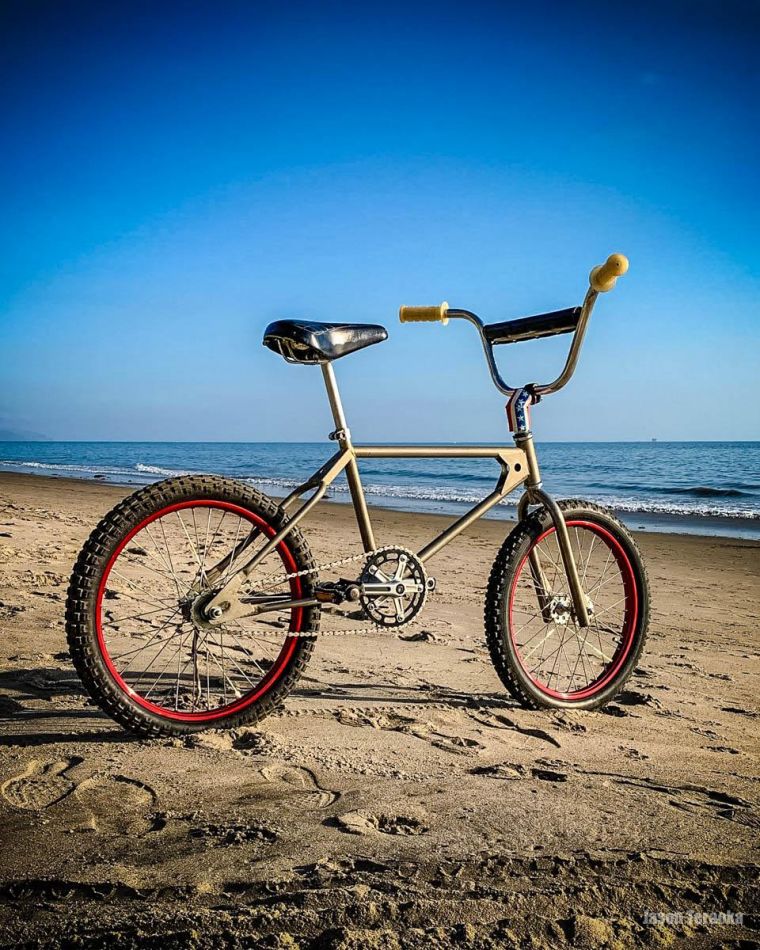 crew. Not at all for the hoarding aspect, but more for the access to really rare, unique and quality oddball pieces that were being discovered and shuffled around at the time. It just sounds like a really fun time with a core group of people sharing their excitement with each other. I'm a relative 'Newb' to the hobby.
Do you feel there is a need for BMX products to survive for history's sake?
Jason Teraoka: Absolutely. I'm an artist that has worked in art and antiquities museums for many years. My background in handling and preserving objects for the museum has been a strong influence on how I approach the BMX hobby. It's my natural inclination to honor and respect any piece that I come across that's in its original condition, even when it's a little beat and rusty. To me it's just the scars of life it has acquired before landing in my hands. I'm just its custodian.
The birth of BMX is true Americana. It's roots along with all the other amazing subculture genesis of the early 1970's such as Skateboarding, Punk and New Wave music stand as a testament to the explosion of creativity and exuberance of that time. I don't think we've seen anything quite like it since. The bikes and parts that retain their original finishes represent that period and vibe and should be preserved. We've all heard it before, it's only OG once!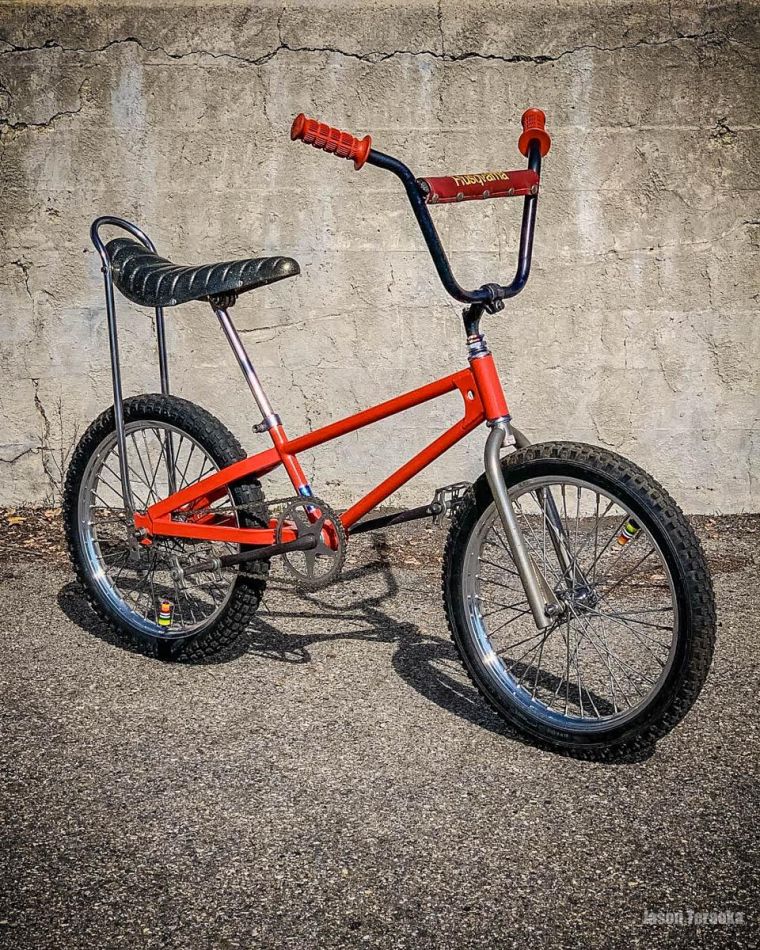 What's one of your oldest BMX products in your collection?
Jason Teraoka: 1974 M&L (Murphy-Littlejohn) frame.
When you started riding what bike was the dream bike for you?
Jason Teraoka: 1977 red anodized FMF with gold anodized 7B rims! Just like the one Jeff Utterback is kicking out in Boys Life magazine from the same year.
Do you have that bike in your collection today?
Jason Teraoka: No, I never got one back then and haven't yet!
Name three BMX collectors that you respect?
Jason Teraoka: Only three?! The following are all friends with deep knowledge, decades of experience collecting and a fierce loyalty to an original finish! In order of appearance:
1-William Laroque
2-Donnie Baird
3-Dan Goins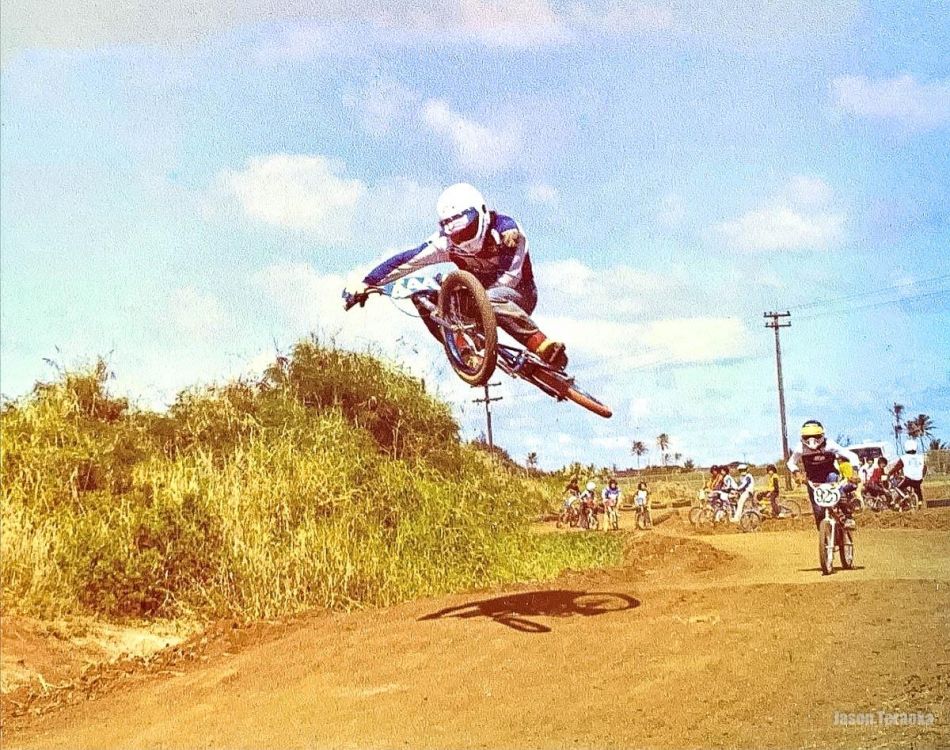 Do you have decent mechanical skills?
Jason Teraoka: Decent. I was a bike mechanic at shops for several years and enjoy working on my car, a 1965 Mercury Comet Station Wagon. Tinkering on my bikes and fussing over details is a favorite pastime almost to the point of being obsessive, but it somehow keeps me sane and focused.
What products are a great help when you find an old rusty historical piece of shit bike that needs to shine again?
Jason Teraoka: I love an old rusty/crusty POS so not much really...maybe some carnauba wax to preserve the original finish and decals if it has it. Of course sometimes paint and restoration is called for when a piece is too far gone or all that's left on it are layers of spray paint.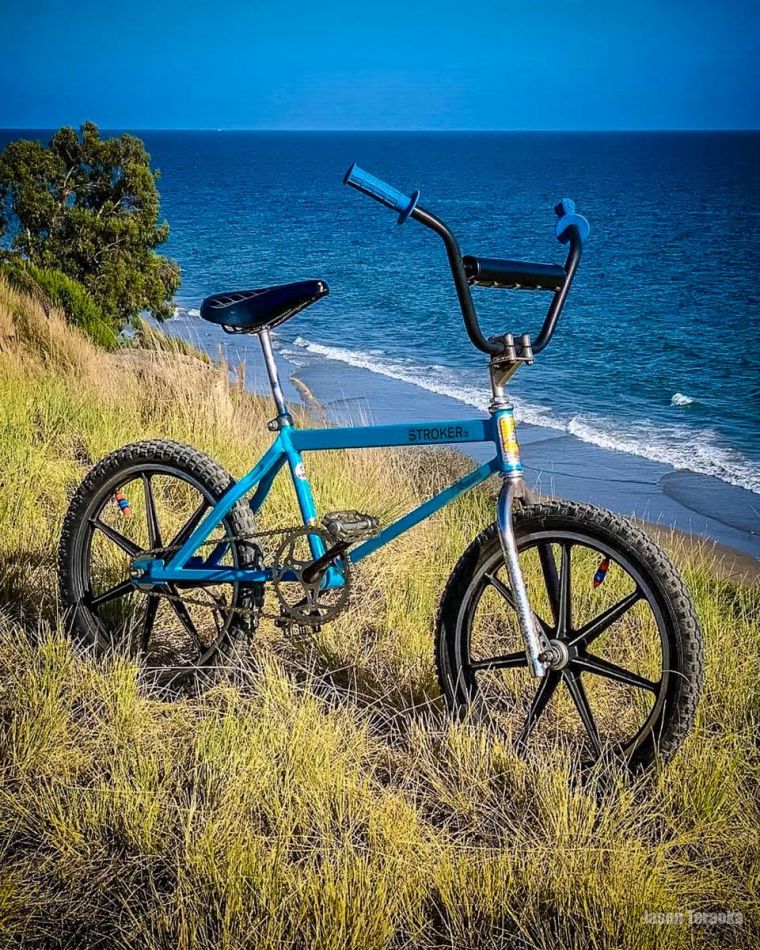 For example, this is how far I'll go sometimes...there are still some mummified vines wrapped around the spokes on my 1978 survivor Team Mongoose that I can't get myself to break off because that's how I found it! They've been there for years and never fell off even when I was riding that bike to and from work.
How often do you look on eBay/Craigslist/BMX Museum to shop for old BMX stuff?
Jason Teraoka: I browse almost every day.
What's the most ridiculous amount you have paid for a bike part that you needed to own?
Jason Teraoka: Not to sound like a total douche, but I refuse to pay ridiculous prices for BMX stuff. I have bid on Ebay up to what I've thought was verging on a ridiculous price for me, only to be outbid by an even more ridiculous amount. The current trend in prices can be a bummer. It can really take the fun out of it for someone like me with limited funds and unlimited enthusiasm. With that said, I've been extremely blessed and lucky as hell acquiring great pieces from friends and collectors that share the same love and respect for preservation and not just after the mighty dollar. You know who you are and your generosity is forever appreciated!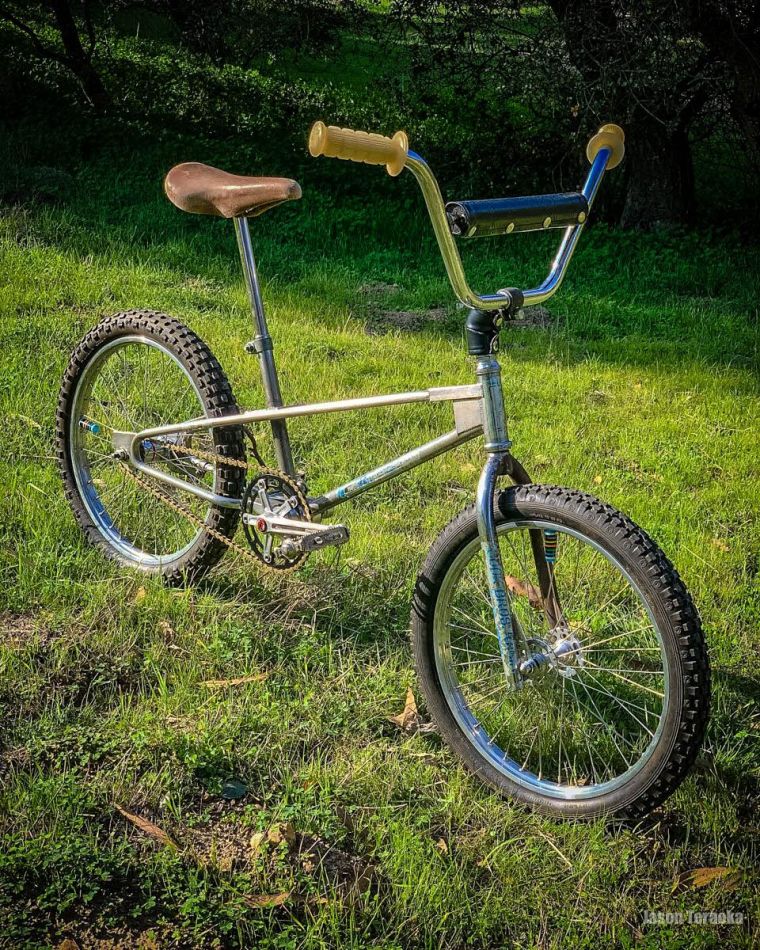 Do you have a man-cave where your bikes are displayed?
Jason Teraoka: They are all riders so are leaning against a wall in my garage, ready to get pulled out for a zip down to the market or out to the beach.
Do you always have room for "one more bike"?
Jason Teraoka: Honestly, I don't! Haha! Limited physical space so I focus on quality and unusual pieces and will normally have to sell something off to make room for something else.
What's a bike (part) you have been looking for but haven't been able to locate?
Jason Teraoka: A 1975 LJM (Littlejohn-Murphy) frame and/or a set of Webco mags would be sweet!
Where can people reach you when they have that part available?
Jason Teraoka: Email: This email address is being protected from spambots. You need JavaScript enabled to view it. or messaging via FB or Instagram: @44tooth.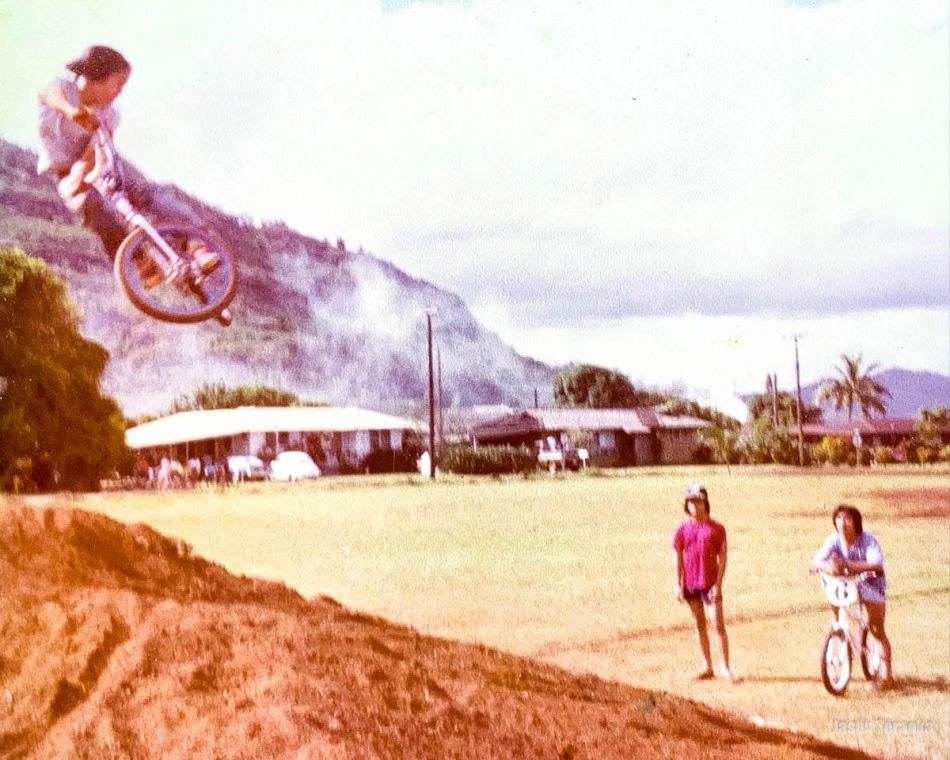 Thanks to: First off, thanks to you Bart for including me in on this great series of interviews! I've enjoyed them all.
My wife Tracy gets special props for "getting it" and seeing how much my vintage BMX obsession adds to my life.
Aside from the aforementioned William Laroque, Donnie Baird and Dan Goins the following are all people that have inspired me, egged me on, focused the vision, helped with information and history, hooked me up with righteous parts, heckled my ass or have been sounding boards for my sometimes stupid ideas and endless ramblings on.
NOS Okazaki
Chuck Yuen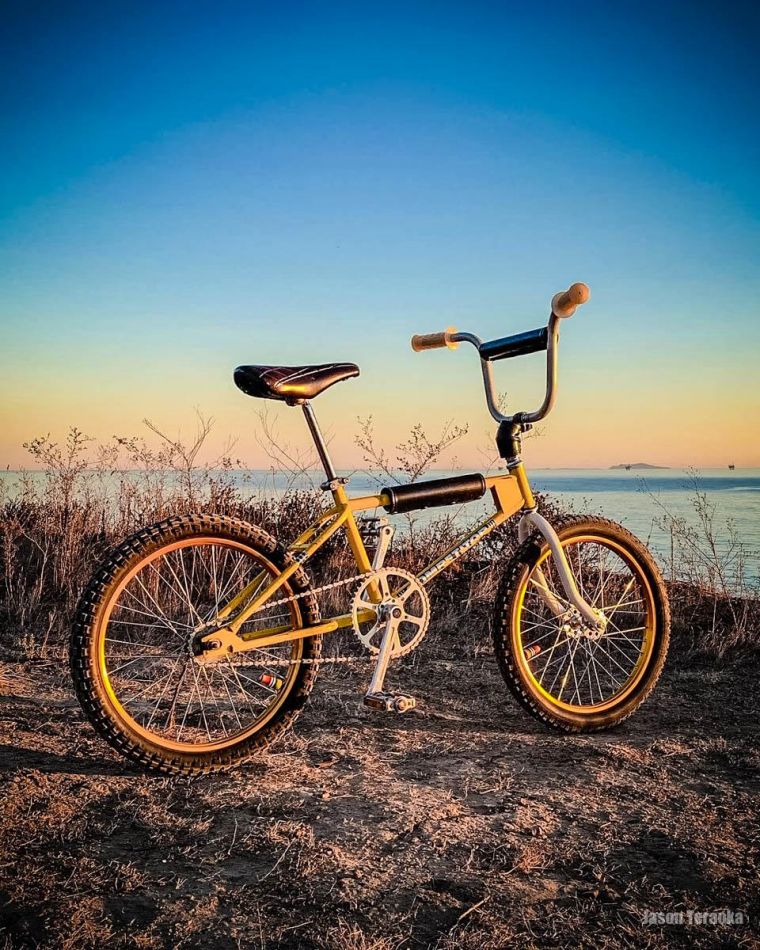 Chris Halsall
Kevin Nishioka
Steve Dukich
Jeremy Kam
Darren Gibson
Tommy Gelinas
D Angelo Turiace
Ernest Salinas
Steve Brothers
Barry Lomibao
Joe Buffardi
Robert Escobedo
Henry Sarria
Glen Isobe
Eric Nakamura
Boogie Breiz



Previous Episodes on FATBMX:
Episode 1: Christophe Detandt (BEL)
Episode 2: James White (GBR)
Episode 3: JT Freestyle (USA)
Episode 4: Ben Murphy (IRL)
Episode 5: Rainer Schadowski (GER)
Episode 6: GAry Sansom (USA)
Episode 7: Michael Gamstetter (USA)
Episode 8: Grant Stone (GBR)
Episode 9: Steve Blackey (USA)
Episode 10: Shannon Gillette (USA)
Episode 11: Woody Itson (USA)
Episode 12: Oliver Kienzle (GER)
Episode 13: Kelly Swanson (USA)
Episode 14: Pat A Lar (GBR)
Episode 15: Billy Mills (GBR)
Episode 16: Steve Brothers (USA)
Episode 17: Aykut Hilmi (GBR)
Episode 18: Alex Leech (GBR)
Episode 19: Mike Janssen (NED)
Episode 20: Brian Gutierrez (USA)
Episode 21: Chad Powers (USA)
Episode 22: Alessandro Barbero (ITA)
Episode 23: Chris Daly (GBR)
Episode 24: Ian MacArthur (GBR)
Episode 25: Steve Strong (GBR)
Episode 26: Stephen Joseph (GBR)
Episode 27: Paul de Jong (NED)
Episode 28: Jon Western (GBR)
Episode 29: William "LaRock" LaRoque (USA)
Episode 30: Johan Janssens (BEL)
Episode 31: Darren Chan (USA)
Episode 32: Frank Lukas (GER)