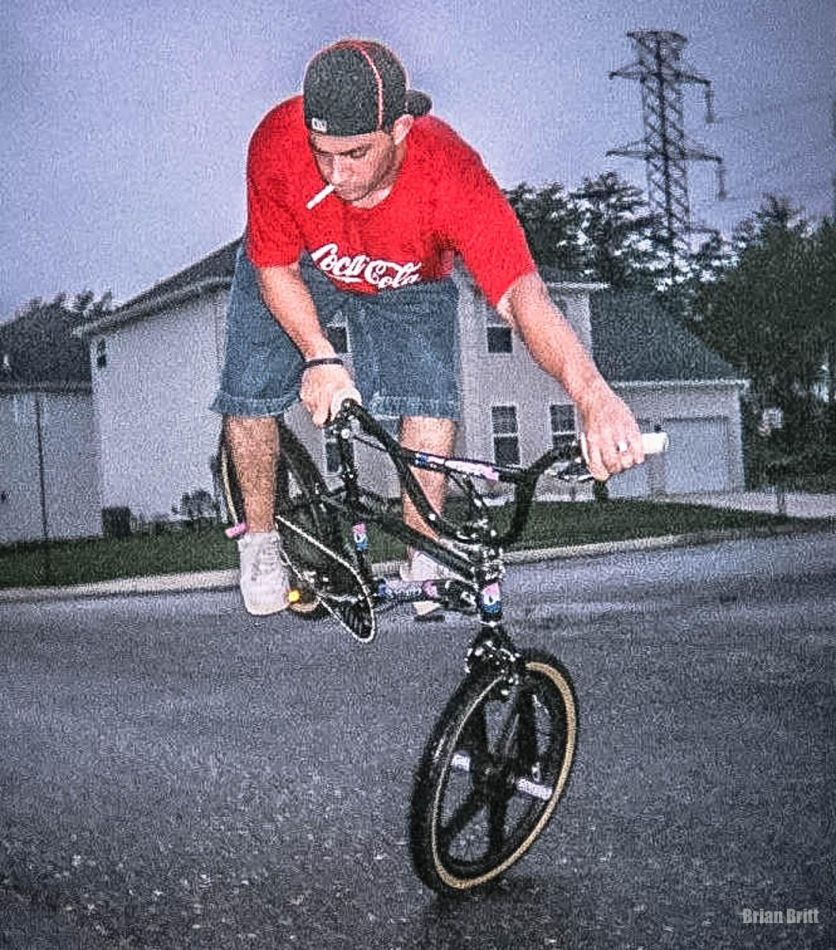 Transformers and MASK. I also dabble in HO slots mainly TYCO. Vintage high end Speed Skates and I have a massive collection of early '80s Ghetto Blasters (Boomboxes) anything cool from my Childhood really. I've also been Lowriding since the mid '90s and currently own five 1962 Impalas so I guess that's a bit of a collection at this point as well.
Do you remember the moment that you decided to start collecting BMX memorabilia?
Brian Britt: I do. It was the year 2000 and I wanted to get in shape so I decided to get a bike. I bought a DK SixPack and tried riding it but it felt awkward and unnatural. I told a few local car guys that I wanted an old BMX bike and to let me know if they turned anything up. A few weeks later my buddy Mike's son came to me with an original green 1986 Performer F&F. It was tattered but not disgraceful, I had no idea what to do with it so it sat in my basement amongst a bunch of old Impala parts for about three years. One day a customer and old friend came by for a visit.
During our visit I brought him downstairs to look at some old car junk when he noticed the F&F. He explained that he was also into bikes as a kid and that parts were actually on eBay. The next day we planned to get together and thumb through some old 'zines to compare original retail to current market and reminisce. I was excited and decided to hit the local Flea Market before we got together. Good thing I did because I found a midschool Redline 340 that morning with some Hutch Beartraps and an all original 1987 Haro Master. Not bad for $45...I was completely HOOKED!
At this moment, do you wish you had started collecting earlier?
Brian Britt: Not sure but I will say that I feel extremely lucky to have gotten started when I did. In 2003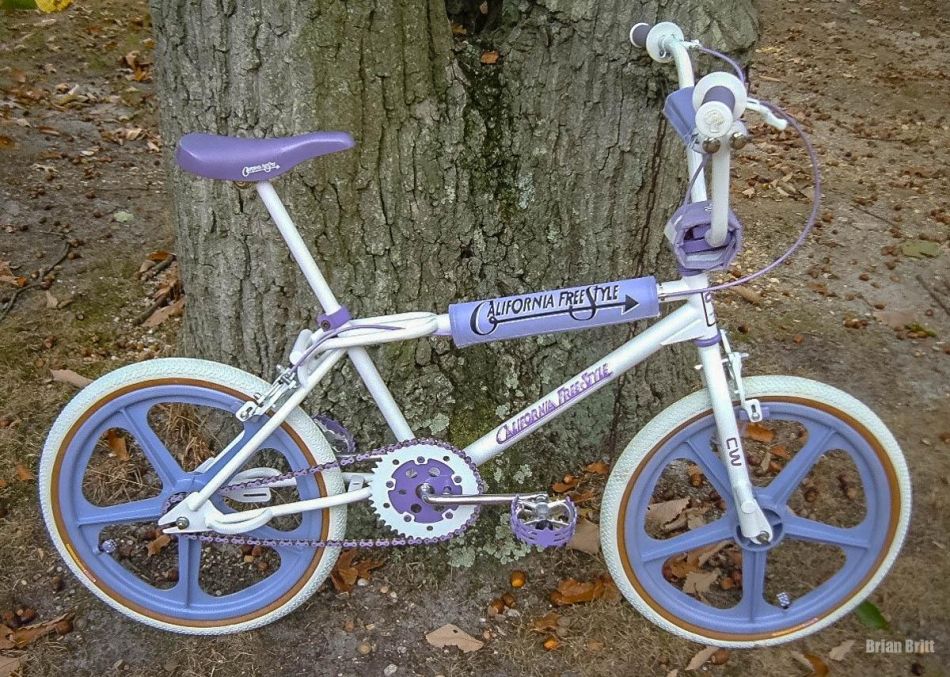 there were still a ton of old LBS's around with more parts than I could afford. There were plenty of occasions where I would find a honey hole and make several trips spending hundreds of dollars and not even come close to cleaning them out. There was enough stuff that I could share it with friends and fellow collectors without fear of a shortage. The thing that made my timing optimal was that the collectors who came before me had little or no interest in Freestyle bikes and parts. The getting was good. I was hauling home car loads of parts so big that driving home was uncomfortable and I didn't have room to bring along a friend.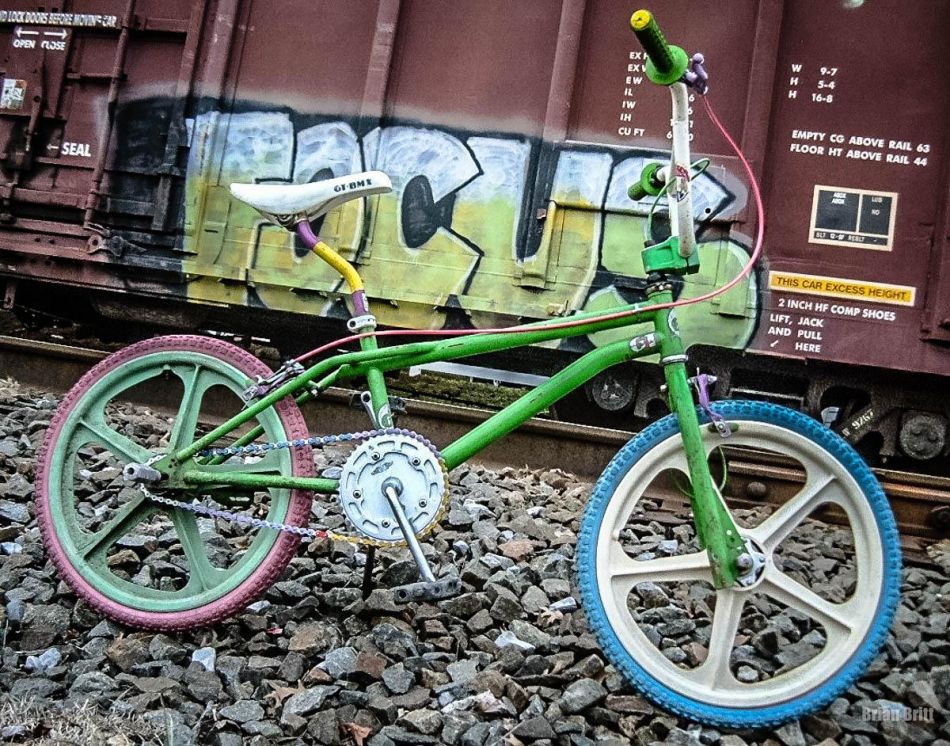 Do you feel there is a need for BMX products to survive for history's sake?
Brian Britt: Oh absolutely. Like anything else in life, nothing is as pure and unadulterated as the humble beginnings. It brings me great satisfaction to see kids today gathered on brands that have an attachment to my youth and the beginning of it all. When I see them I usually ask how long they've been riding and if they know anything about the history of the brand that they are so proudly representing. History is the bridge that brings generational gaps together, it's all relative.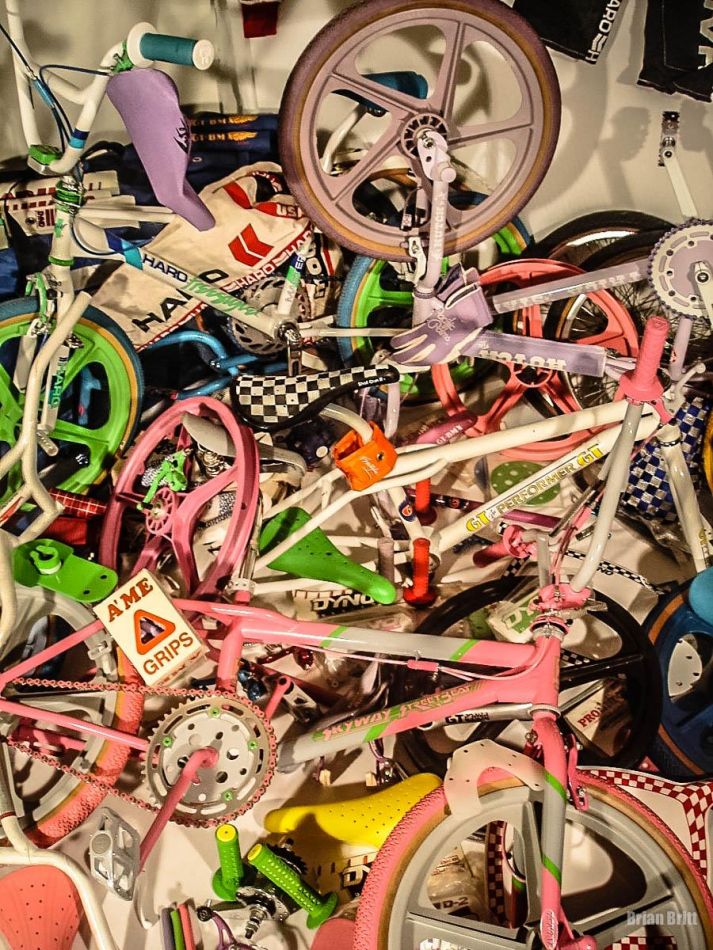 What's your take on companies reproducing bikes in the oldskool style?
Brian Britt: I like the styling and it definitely keeps people spending time and money on a hobby that I hold so close to my heart. However I feel that it is highly unnecessary and devious to make blatant copies of parts from the past. It also creates a false sense of accomplishment when you complete a build using fake parts. The whole thing is bad and to be honest it has had a negative impact on the hobby. It's one of the many reasons a lot of true collectors who have been around a long time either keep to themselves or have walked away all together.
What's one of your oldest BMX products in your collection?
Brian Britt: Oldest? Probably an '84 GT Pro or an '84 CW Phase One. I was born in '76 so I have a tendency to stick with bikes from the mid to late '80s.
When you started riding what bike was the dream bike for you?
Brian Britt: Growing up I had one bike and it was an '84 Silver Streak that my parents got as a bike shop left over. I literally fantasized that I would one day get a freestyle rig and learn all the RAD tricks that I would read about and see at the shows. Close friends of mine had Freestyle bikes but very few of them could bust out. My one best friend had an '87 Master and if you even looked at it sideways he'd spaz. Probably made me want one even worse. Haha.
Do you have that bike in your collection today?

Brian Britt: I have an '88 in pretty much the same colorway built up as a Team Model. It goes without saying he's not allowed to ride it. LOL
Name three BMX collectors that you respect?
Brian Britt: Just three huh? Can't do it boss. Gotta give you four.
1) Kerry O'Neil
2) Jon Hoffman
3) Marcos Suarez
4) Matt Hanemann
These guys are all East Coasters like myself, all likeminded individuals and all contributed greatly to my second chance at life on two wheels.
Do you have decent mechanical skills?
Brian Britt: I do. I work on everything, always have. One time Mark Eaton and Large Ray took me up to Woodward East for a gathering of the greats where I met a lot of the biggest names in Freestyle old and young. I brought along the Master that we spoke about earlier and was highly honored when Dennis McCoy himself commented on how dialed my bike was.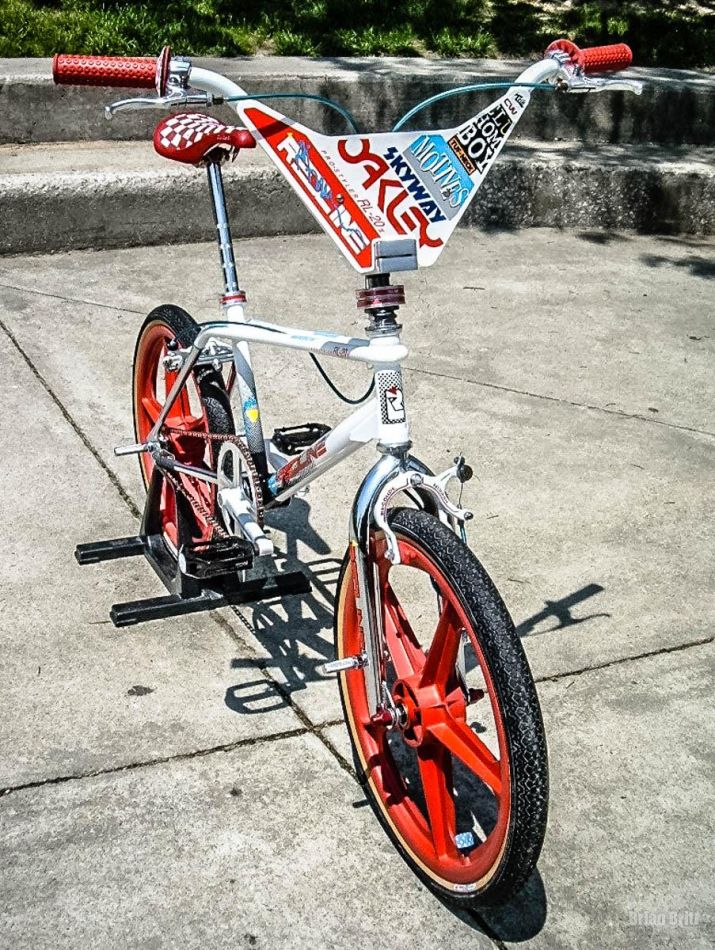 What products are a great help when you find an old rusty historical piece of shit bike that needs to shine again?
Brian Britt: Ya know...there are a million ways to skin this cat and it really varies due to the severity of neglect. Sometimes it's as simple as a soap and water bath with maybe some light Brillo rub or it could require an Oxalic Acid bath but almost always Mother's Polish and carnauba wax.
How often do you look on eBay/Craigslist/BMX Museum to shop for old BMX stuff?
Brian Britt: Pretty regularly but the days of trolling the internet looking for parts well into the AM hours are in my rear view.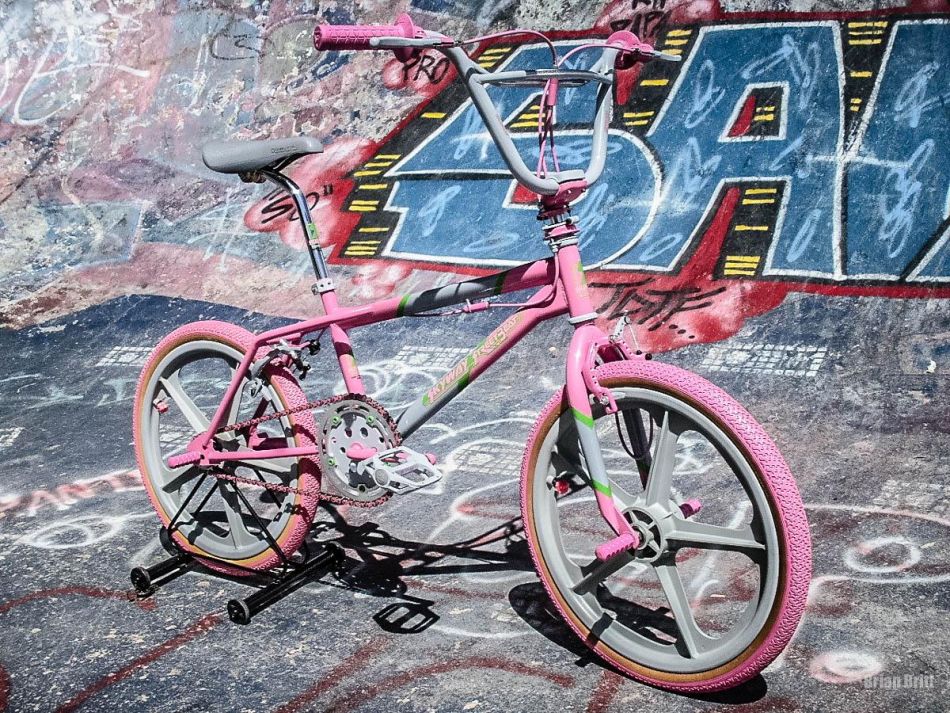 What's the most ridiculous amount you have paid for a bike part that you needed to own?
Brian Britt: Not sure. I've been pretty fortunate in this regard. That's not to say I haven't spent gobs of cash on this stuff but I had great success in finding what I needed at reasonable prices. I do recall a time when a set of CW freestyle pads came up on ePay that I had been searching to find for nearly five years, my max offer to end the auction was $500 (in 2007) and the seller declined. Musta been madder than a MF'er when the auction ended at like $120.
Do you have a man-cave where your bikes are displayed?

Brian Britt: I do. Before my divorce in my old place where my hay days of collecting took place I painted all the concrete walls in BMX and other interesting brand logos. My new place will get a similar wall treatment but I haven't started. That being said there are bikes and tubs of parts amidst the boomboxes and other hobby trinkets.
What music is blasting out of the speakers when you are working on your bikes?
Brian Britt: Given my roller skating and breakdancing roots I tend to gravitate towards early '80s Electro Rap as well as Funk but when I think back to BMXin it almost always makes me wanna hear some RUN DMC or Beastie Boys...Public Enemy or NWA.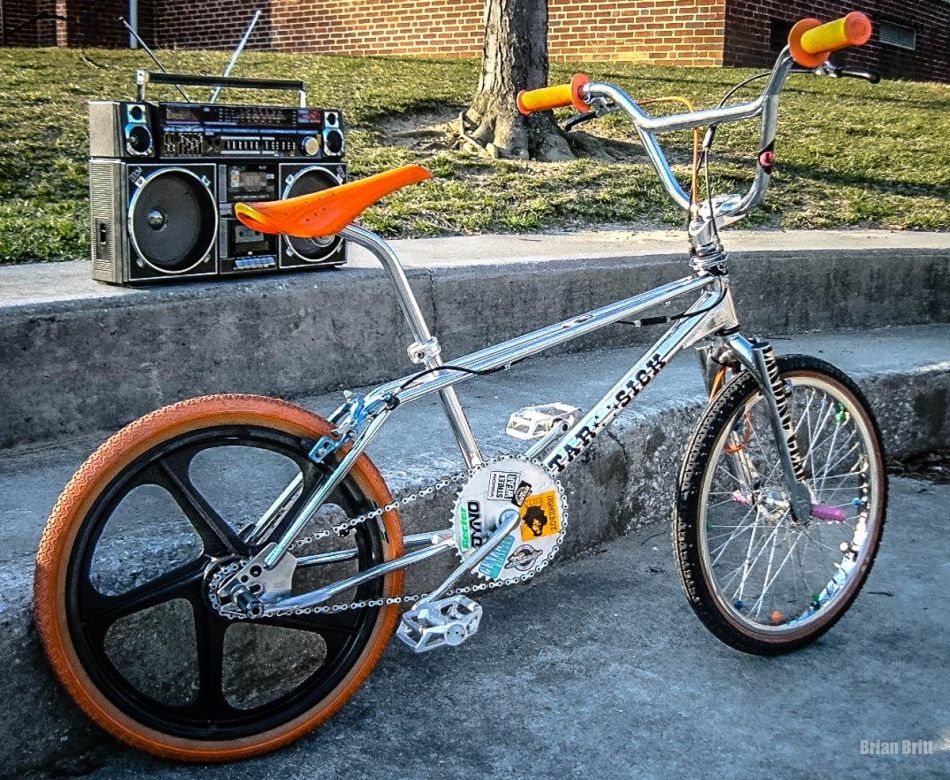 Do you always have room for "one more bike"?
Brian Britt: Yes as well as all of the other junk listed above. LOL. Why? What did my girlfriend say? I kid. She totally supports me and has been a driving force in helping me throughout our relationship.
What's a bike (part) you have been looking for but haven't been able to locate?
Brian Britt: I'm not sure but I can say with complete confidence and sincerity that I absolutely cannot live without it. HAHA. Seriously? Never had a VDC freestyler or a Free Agent Free Flite. Never had a GHP Trix either but although they are cool I can probably go without. Now the VDC and Free Agent I NEED! The sooner the better... on second thought I'll take the GHP also.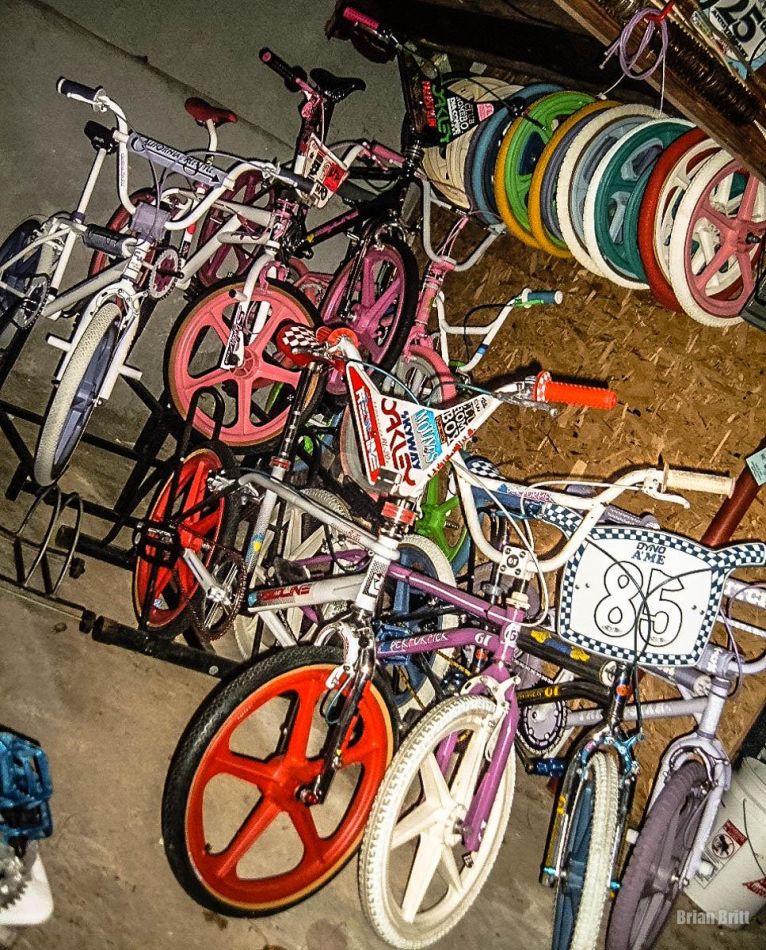 Where can people reach you when they have that part available?
Brian Britt: Dial 1.900.MIXaLOT and kick them nasty thoughts. No seriously I'm everywhere as Brian Britt or SmokinEndo but here's my email just in case. This email address is being protected from spambots. You need JavaScript enabled to view it.
Extra Special Thanks to: All the guys over at BMX Society who have been with me and helped me along the way. Jeff Norton for giving us a place to call home as well as air out real issues on an open forum instead of sweeping shit under the rug.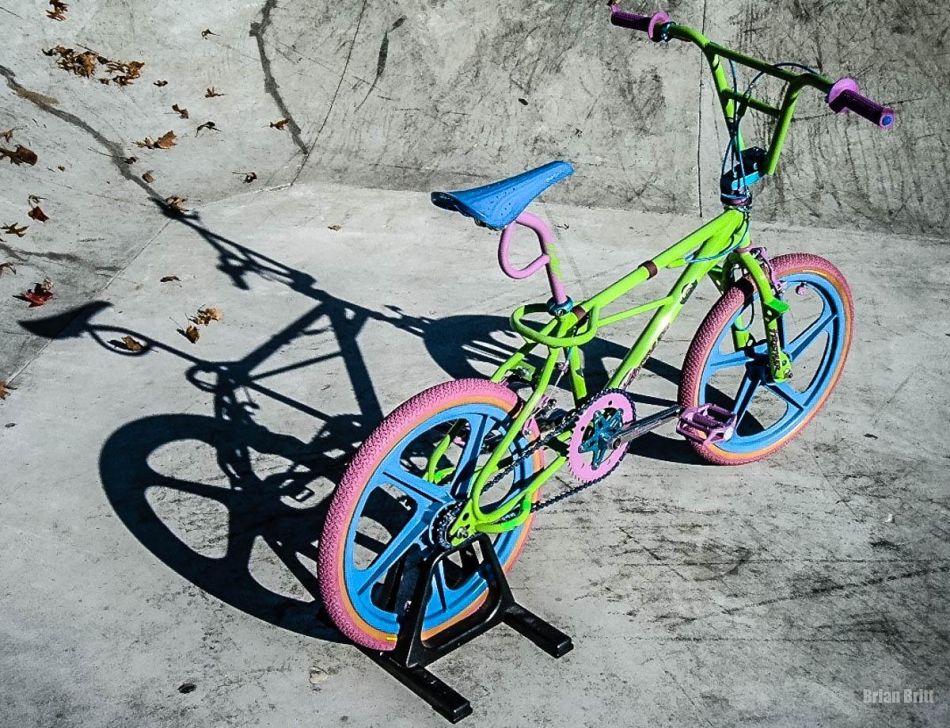 Steve Brothers for keeping the dream alive and making me an intrigue part of the site when I had more time to dedicate to the hobby. And all you fiends out there who couldn't live without the parts I was unearthing that laced my pockets with cash for many years. Good Times! Stay Broke gals and gents.



Previous Episodes on FATBMX:
Episode 1: Christophe Detandt (BEL)
Episode 2: James White (GBR)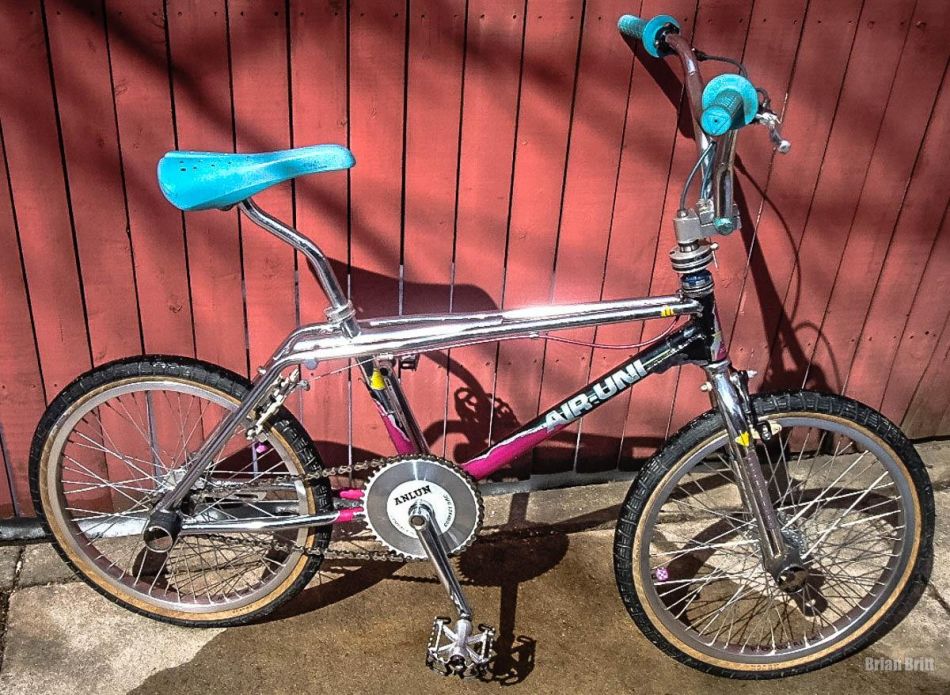 Episode 3: JT Freestyle (USA)
Episode 4: Ben Murphy (IRL)
Episode 5: Rainer Schadowski (GER)
Episode 6: GAry Sansom (USA)
Episode 7: Michael Gamstetter (USA)
Episode 8: Grant Stone (GBR)
Episode 9: Steve Blackey (USA)
Episode 10: Shannon Gillette (USA)
Episode 11: Woody Itson (USA)
Episode 12: Oliver Kienzle (GER)
Episode 13: Kelly Swanson (USA)
Episode 14: Pat A Lar (GBR)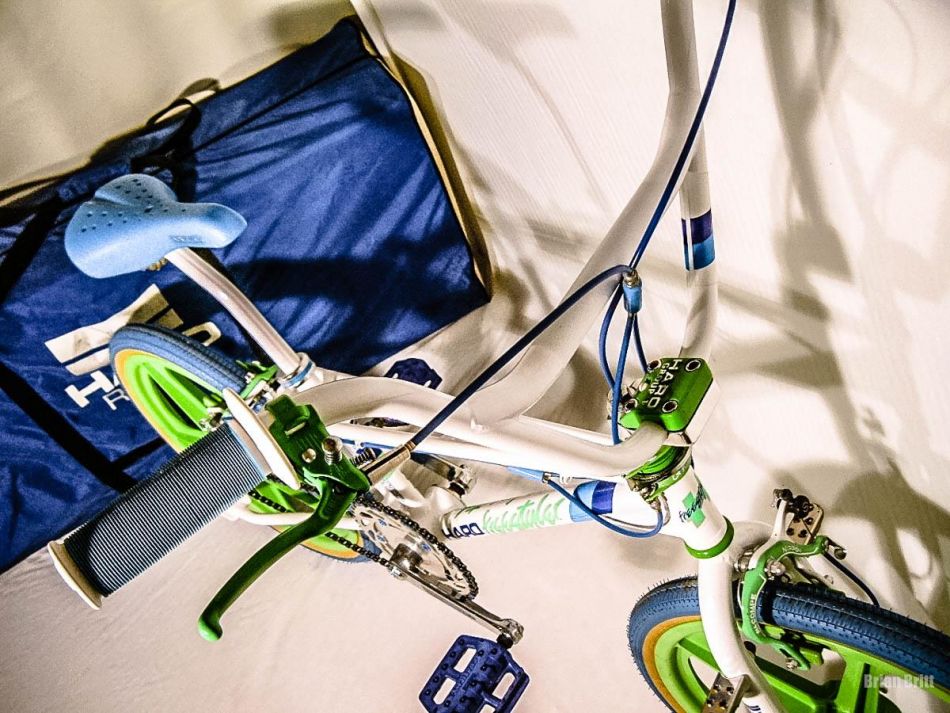 Episode 15: Billy Mills (GBR)
Episode 16: Steve Brothers (USA)
Episode 17: Aykut Hilmi (GBR)
Episode 18: Alex Leech (GBR)
Episode 19: Mike Janssen (NED)
Episode 20: Brian Gutierrez (USA)
Episode 21: Chad Powers (USA)
Episode 22: Alessandro Barbero (ITA)
Episode 23: Chris Daly (GBR)
Episode 24: Ian MacArthur (GBR)
Episode 25: Steve Strong (GBR)
Episode 26: Stephen Joseph (GBR)
Episode 27: Paul de Jong (NED)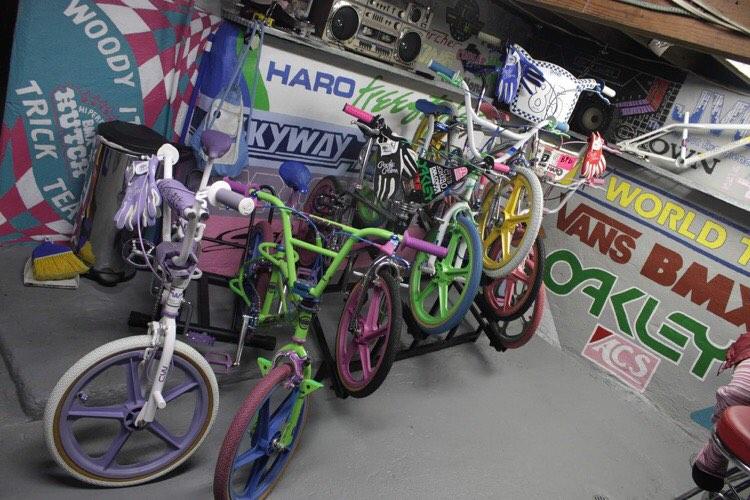 Episode 28: Jon Western (GBR)
Episode 29: William "LaRock" LaRoque (USA)
Episode 30: Johan Janssens (BEL)
Episode 31: Darren Chan (USA)
Episode 32: Frank Lukas (GER)
Episode 33: Jason Teraoka (USA)
Episode 34: Shad Johnson (USA)
Episode 35: PJ McKenna (USA)
Episode 36: Henry Sarria (USA)
Episode 37: Jonathan Sherwood (SAF)
Episode 38: Trevor Henry (GBR)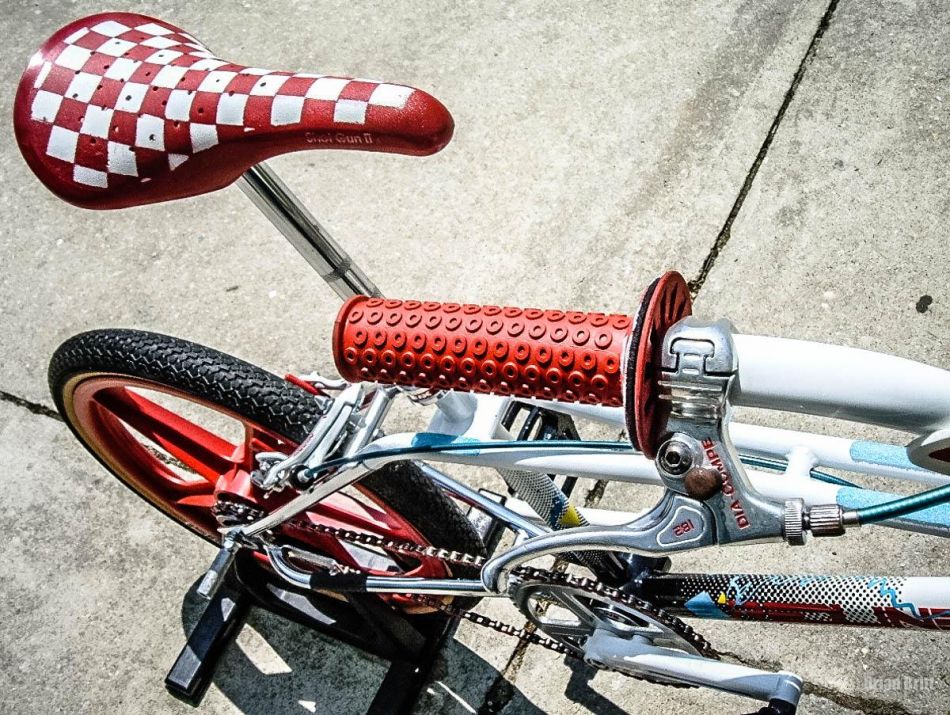 Episode 39: Daniel Purcell (GBR)
Episode 40: Mark McCorkle (USA)
Episode 41: Tom Sustarich (USA)
Episode 42: Adam Cox (USA)
Episode 43: Perry Wills (USA)
Episode 44: John Buultjens (SCO)
Episode 45: Jay Eley (GBR)
Episode 46: Alvin Mullins (USA)
Episode 47: Scott Barrette (USA)
Episode 48: Ashley Little (GBR)
Episode 49: Bill Batchelor (USA)
Episode 50: Steve Firestein (USA)

Episode 51: Jon Hoffman (USA)
Episode 52: Peter Ashby (AUS)
Episode 53: Patrick Freitas (USA)
Episode 54: Mel Stoutsenberger (USA)
Episode 55: Martin Primentel (AUS)
Episode 56: Chino (USA)
Episode 57: Ely D. Thomas (USA)
Episode 58: Mickael Clerté (FRA)
Episode 59: Toby Henderson (USA)
Episode 60: Eddy King (USA)
Episode 61: Byron Friday (USA)
Episode 62: Lionel Eden (USA)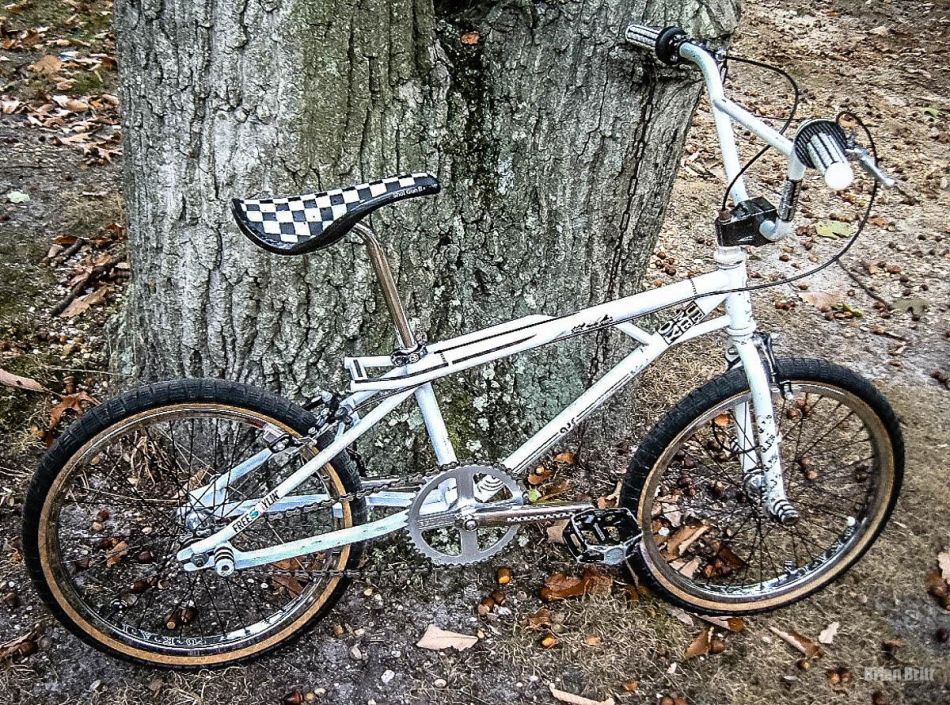 Episode 63: Donnie Platt (USA)
Episode 64: Brad Nash (USA)
Episode 65: Mohamad Al Amin (MAL)
Episode 66: Christopher Wesley (USA)
Episode 67: Sean Stiddard (GBR)
Episode 68: Tyler Collins (USA)
Episode 69: Rod Miles (USA)
Episode 70: Brian Britt (USA)