I mowed some lawns and my parents supported my interest in having a nice bike..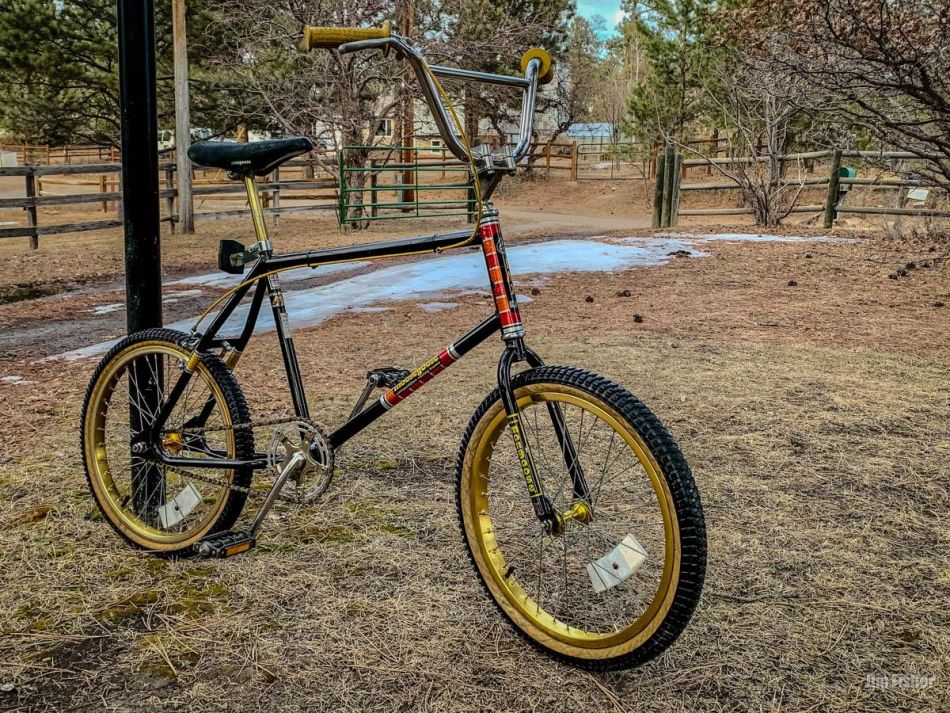 What were some of the bikes that you raced on?
Jim Fisher: Mongoose, Redline, JMC Racing, GT.
Do you have some of those bikes in your collection today?
Jim Fisher: I do...I started out thinking I would just recreate an old GT I built in '82/'83 then the bug bit and I pursued JMC Racing and some SE's. My collection represents a lot of different manufacturers now, I've just tried to hold on to the rare stuff I've found..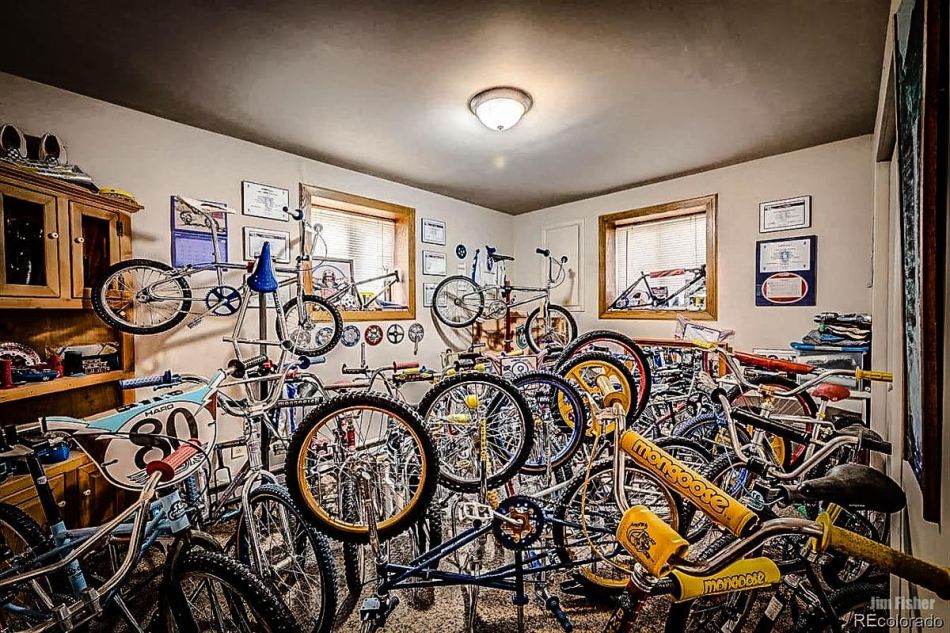 Do you feel that you had to race, or be part of BMX, to better understand how bikes should look like?
Jim Fisher: I would imagine it helps.. I really enjoyed building these bicycles as a kid... I bought sold and traded parts back then to better my bikes. Learned how to turn a wrench, paint stuff etc... Skills I've utilized my whole life..
Do you feel there is a need for BMX products to survive for history's sake?
Jim Fisher: I think it's great if they do... I would think as my generation gets older there will be less demand for old school but I'm sure there will be some followers as long as people are riding BMX... I can tell you I've made some good friends around the globe collecting these bikes and some of my childhood idols are Facebook friends. I really enjoy that part of this hobby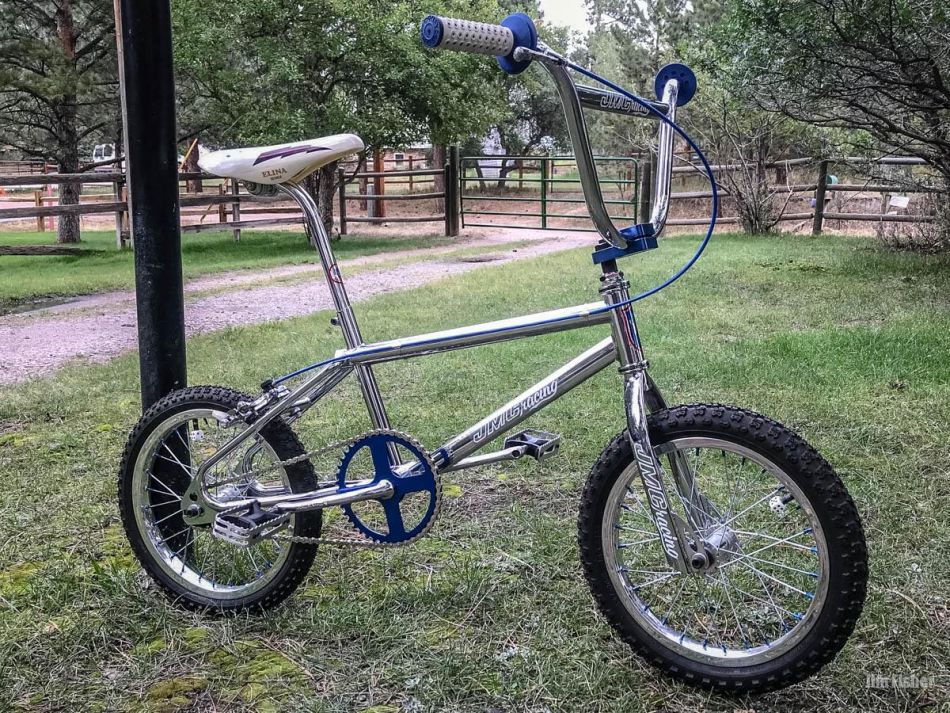 What's one of your oldest BMX products in your collection?
Jim Fisher: I have a 1975 Matthew's I refreshed, found it in pretty rough shape but complete.. very heavy rude BMX.
Any special love for pit bikes from your side?
Jim Fisher: I do like pit bikes.. they take less space and had very low production numbers... My 1982 JMC 16 was my first pit build. One of, I think, 110 made. Has some history in the JMC group and was featured in the BMX Museum Calendar in 2019
When you started riding what bike was the dream bike for you?
Jim Fisher: Dream bike back then? A fully chromed and loaded Redline Proline with just a few red accents.
Name three BMX collectors that you respect?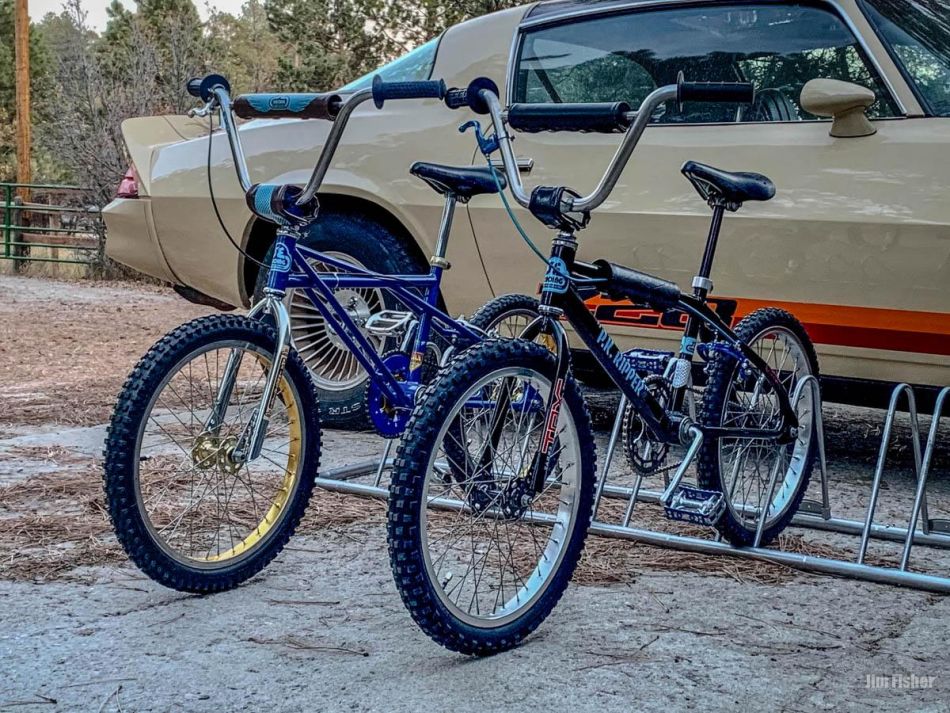 1) Jason Van Buskirk, his bikes are phenomenal.
2) Paul Bennett, his Cruiser builds are top notch.
3) Mike Iliff, JMC Racing Master.
Do you have any BMX Freestyle bikes/products in your collection or is that not where your interest is?
Jim Fisher: I don't... I did some abandoned skate park and pool riding in the early '80s and appreciate freestyle bikes but my knowledge is limited. I was on to mountain bikes, fast cars and girls with boobs when freestyle took off. I do collect some Vintage MTB's, Yeti, Fat City, Fisher, Ritchey, ETC.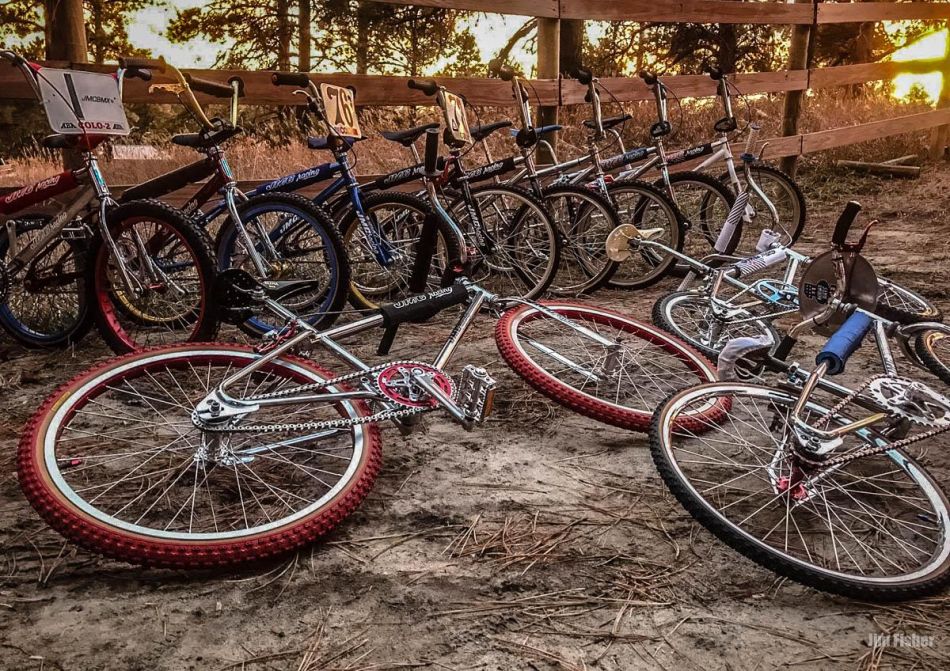 What products are a great help when you find an old rusty historical piece of shit bike that needs to shine again?
Jim Fisher: Depends on how bad but for basics, Gunk engine degreaser, Kroil oil, WD 40, Citric acid, Never Dull wading polish, Meguiars Cleaner wax and Armor All tire foam.
How often do you look on eBay/Craigslist/BMX Museum to shop for old BMX stuff?
Jim Fisher: I'm pretty full now but there was a time I was a daily user.. I pay attention though. A large part of my collection I've found local but my JMC's are from all over. I like to buy complete bikes as opposed to individual parts if I can.
When you need to have one of your frames repainted, who do you go to?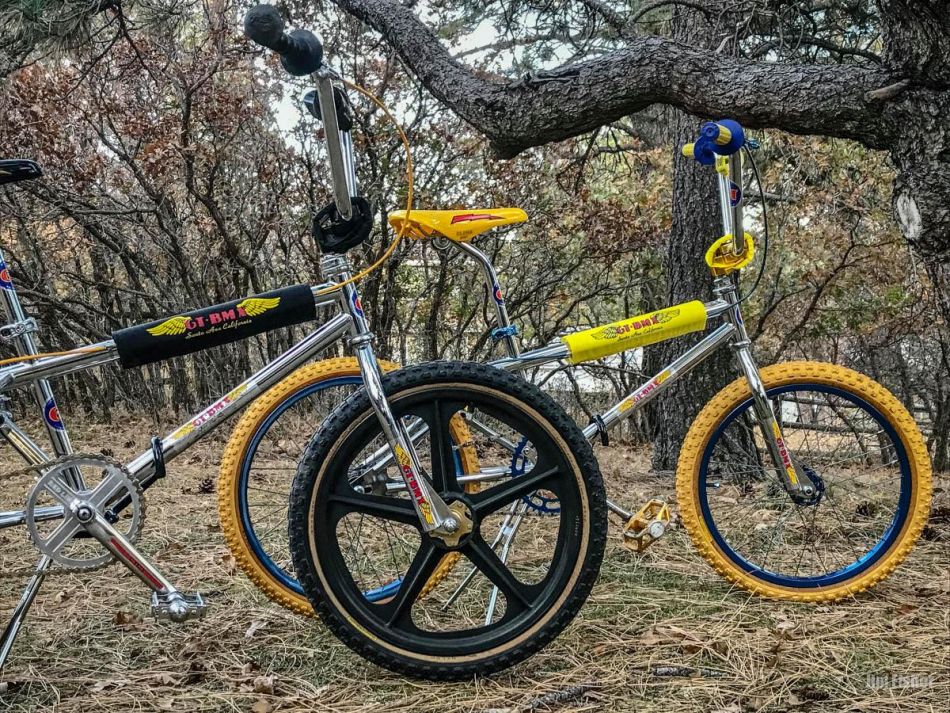 Jim Fisher: I've done my own but I have a local friend Kenny Jones if I need perfection...
Do you have a man-cave where your bikes are displayed?
Jim Fisher: I'm fortunate to have a room to use and a cool wife. Not really a man cave but has a bunch of bikes, parts and paraphernalia. I'll sometimes grab a whiskey and go sit in the middle of it.. lol. I hope to have a bigger space and workshop for the bikes someday..
What are the Bike Shows that you must attend?
Jim Fisher: Crown Point and I want to head up to WA, I think they have a couple big ones and I want to see that part of the country..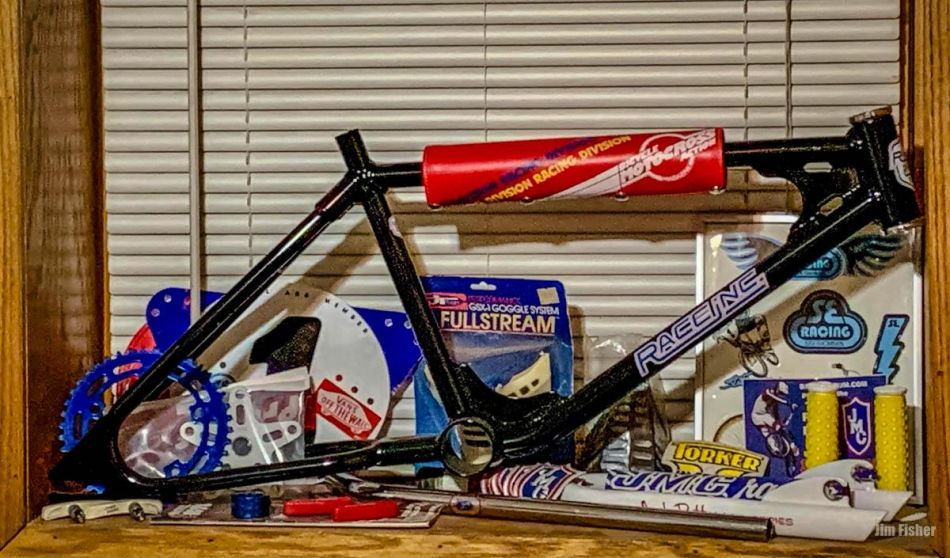 At swap meets or yard sales, are you always looking to see if there is some interesting BMX stuff in there?
Jim Fisher: Yes... it's an addiction. I've found some cool stuff just milling around. I have some friends that know I buy this stuff so I get some phone calls about things from time to time these days..
What's a bike (part) you have been looking for but haven't been able to locate?
Jim Fisher: Yellow Zap Pads Velcro 82-83, Yellow decal Haro Series one plate, Yellow Oakley F1 grips.
Where can people reach you when they have that part available?
Jim Fisher: This email address is being protected from spambots. You need JavaScript enabled to view it.


Episode 1: Christophe Detandt (BEL)
Episode 2: James White (GBR)
Episode 3: JT Freestyle (USA)
Episode 4: Ben Murphy (IRL)
Episode 5: Rainer Schadowski (GER)
Episode 6: GAry Sansom (USA)
Episode 7: Michael Gamstetter (USA)
Episode 8: Grant Stone (GBR)
Episode 9: Steve Blackey (USA)
Episode 10: Shannon Gillette (USA)
Episode 11: Woody Itson (USA)
Episode 12: Oliver Kienzle (GER)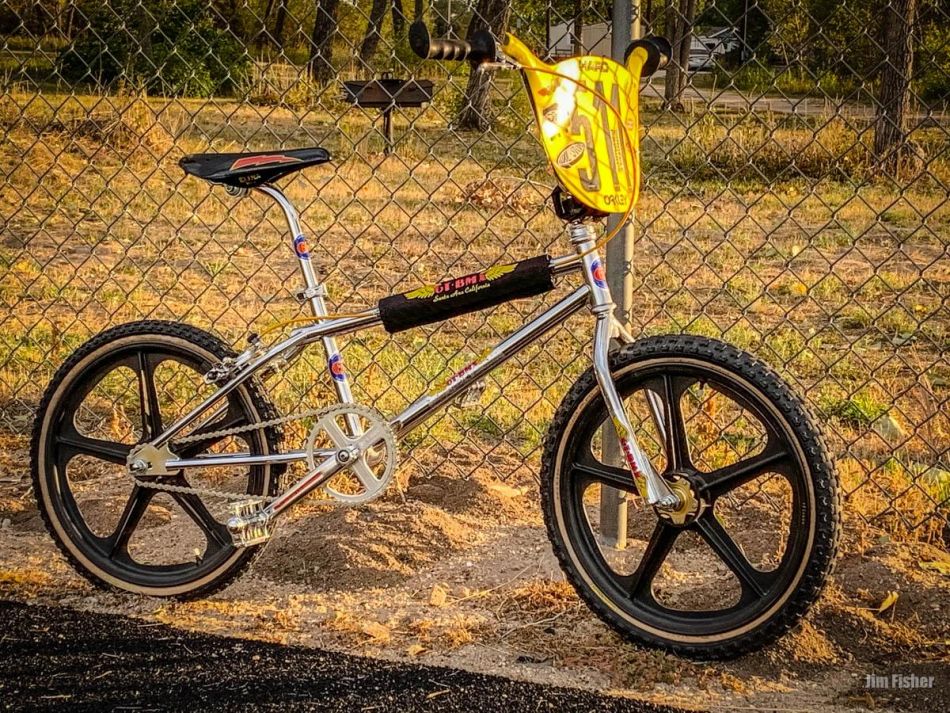 Episode 13: Kelly Swanson (USA)
Episode 14: Pat A Lar (GBR)
Episode 15: Billy Mills (GBR)
Episode 16: Steve Brothers (USA)
Episode 17: Aykut Hilmi (GBR)
Episode 18: Alex Leech (GBR)
Episode 19: Mike Janssen (NED)
Episode 20: Brian Gutierrez (USA)
Episode 21: Chad Powers (USA)
Episode 22: Alessandro Barbero (ITA)
Episode 23: Chris Daly (GBR)
Episode 24: Ian MacArthur (GBR)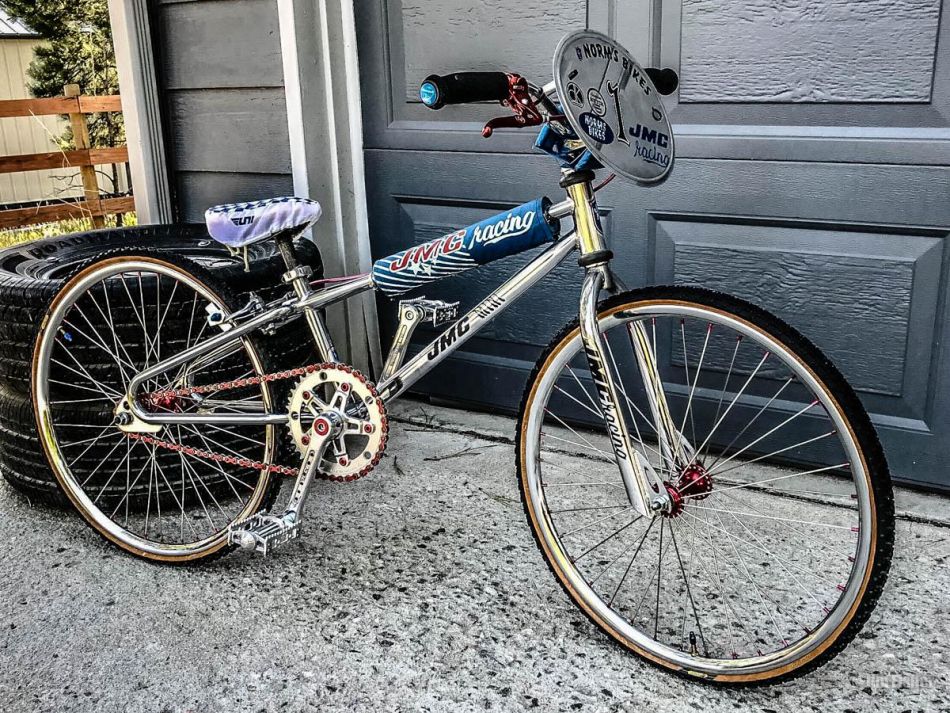 Episode 25: Steve Strong (GBR)
Episode 26: Stephen Joseph (GBR)
Episode 27: Paul de Jong (NED)
Episode 28: Jon Western (GBR)
Episode 29: William "LaRock" LaRoque (USA)
Episode 30: Johan Janssens (BEL)
Episode 31: Darren Chan (USA)
Episode 32: Frank Lukas (GER)
Episode 33: Jason Teraoka (USA)
Episode 34: Shad Johnson (USA)
Episode 35: PJ McKenna (USA)
Episode 36: Henry Sarria (USA)
Episode 37: Jonathan Sherwood (SAF)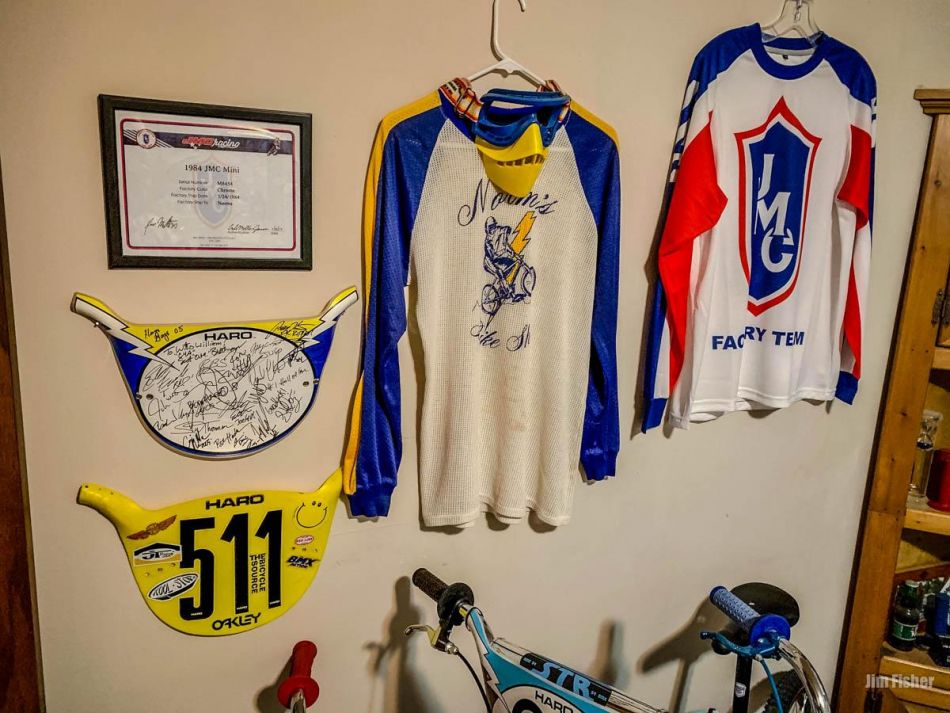 Episode 38: Trevor Henry (GBR)
Episode 39: Daniel Purcell (GBR)
Episode 40: Mark McCorkle (USA)
Episode 41: Tom Sustarich (USA)
Episode 42: Adam Cox (USA)
Episode 43: Perry Wills (USA)
Episode 44: John Buultjens (SCO)
Episode 45: Jay Eley (GBR)
Episode 46: Alvin Mullins (USA)
Episode 47: Scott Barrette (USA)
Episode 48: Ashley Little (GBR)
Episode 49: Bill Batchelor (USA)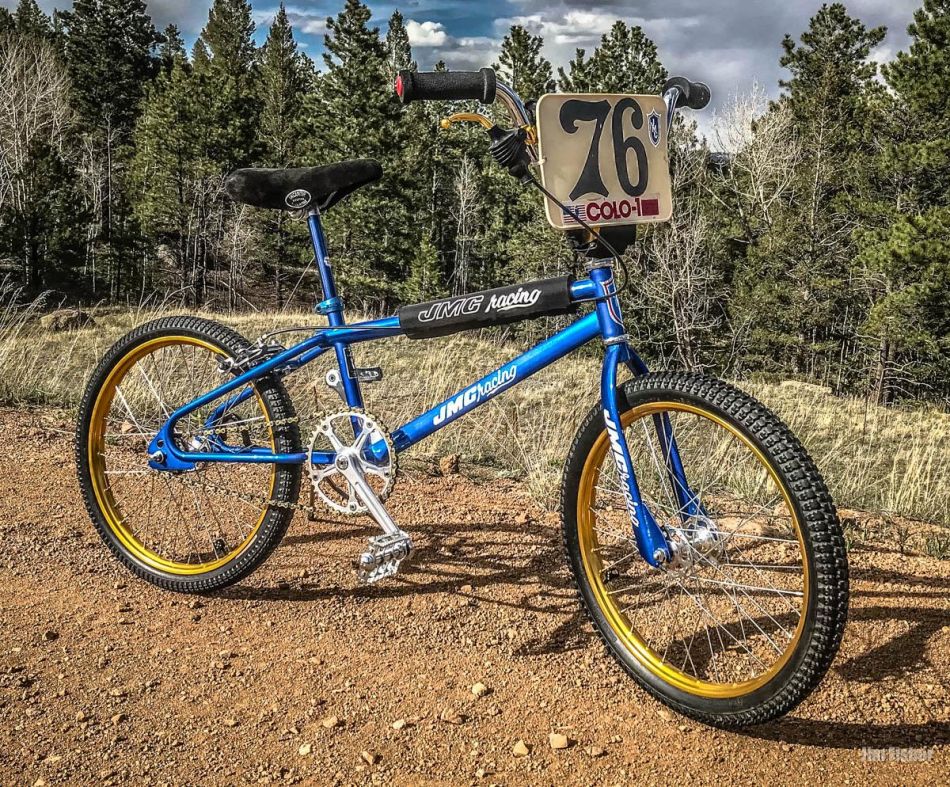 Episode 50: Steve Firestein (USA)
Episode 51: Jon Hoffman (USA)
Episode 52: Peter Ashby (AUS)
Episode 53: Patrick Freitas (USA)
Episode 54: Mel Stoutsenberger (USA)
Episode 55: Martin Primentel (AUS)
Episode 56: Chino (USA)
Episode 57: Ely D. Thomas (USA)
Episode 58: Mickael Clerté (FRA)
Episode 59: Toby Henderson (USA)
Episode 60: Eddy King (USA)
Episode 61: Byron Friday (USA)
Episode 62: Lionel Eden (USA)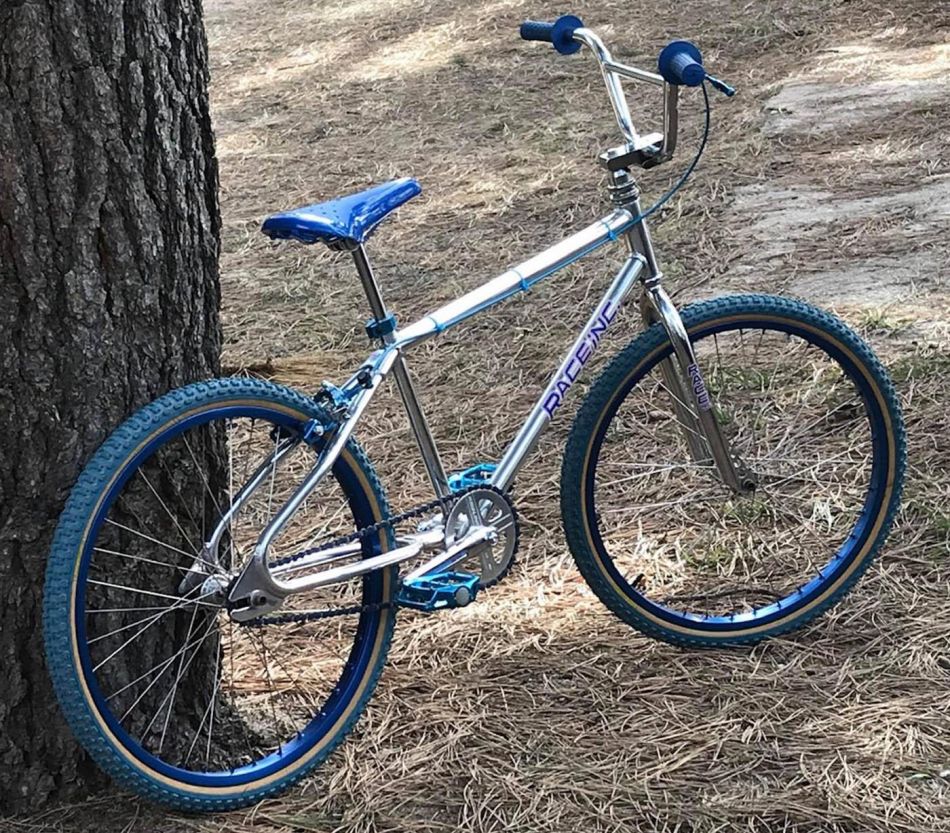 Episode 63: Donnie Platt (USA)
Episode 64: Brad Nash (USA)
Episode 65: Mohamad Al Amin (MAL)
Episode 66: Christopher Wesley (USA)
Episode 67: Sean Stiddard (GBR)
Episode 68: Tyler Collins (USA)
Episode 69: Rod Miles (USA)
Episode 70: Brian Britt (USA) (USA)
Episode 71: Sean Ewing (USA)
Episode 72: Jim Fisher