a Mongoose for Christmas. I got it, and now wanted to race it. I went one day with my dad and saw the many different bikes these guys had. I learned from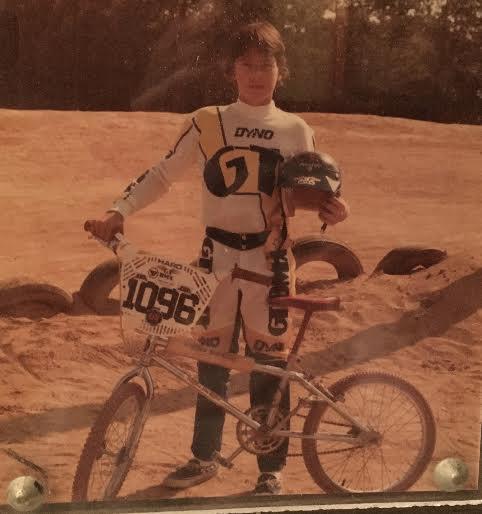 them that the bike had to be lighter, so I didn't want my Mongoose anymore. I guess looking back at it, it had mag rims that were pretty heavy. I did see someone with a GT and I was hooked. Loved the wing logo, and how light the bike actually was, so I saved my money from my paper route to get a 1983 GT Pro. Absolutely loved that bike. I would clean, and grease it every damn day. I signed up at the track and got my ABA card. I raced in the 12 year old Novice. I became pretty good and found out the lower your number gets with the more points you get, plus I get to be in ABA Action newspaper! I was now on a mission! I then bought BMX Plus mags and my idol was Greg Hill. Soon I was asked by a local bike shop named Beacon to join their team. I thought I was big time now! Raced expert at some tracks if they didn't have enough novice riders. I did race in a National in EHT, and placed 3rd out of 18 riders.
The trophy was bigger than me! Eventually I got my number down to #174 in the NJ-3 region. Unfortunately one day, I had my friend over and he needed to get home for dinner, so I let him ride my bike home. He left his garage door open and someone stole my bike, with number plate and all! I was devastated. Years went by and I was out of BMX, I discovered girls, played football, I got my drivers license. It wasn't until I got older when I saw the site BMXmuseum and eBay. Saw someone with a bike like I used to have! I wanted to rebuild it. I actually found the exact parts I originally had on my bike. A lot more expensive than I remember, but that was the first build. I was now in love again with BMX and addicted. I miss going to the races with my dad because he recently passed away, but my dad was part of my love for BMX as well.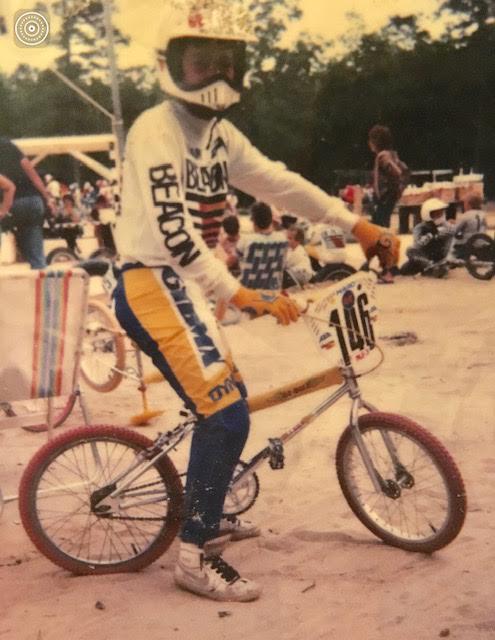 Were you part of the BMX scene in the '70s?
Timmy Williams: Not really '70s, but more early '80s. I do love now the 1970s BMX bikes and would love to build more of that decade.
Does your interest in the bikes from the '70s come from trying to preserve the early days of BMX?
Timmy Williams: I think it had died down in the late '80s (racing anyway to me), because freestyle blew up. Then racing came back, but the geometry of the frames changed drastically. I'm not a big fan of the newer bikes personally. Love Old School. I now love to keep the era around by cruising on my builds around my town, and on bike show rides.
Do you like patina or do you like to build/restore bikes in their new state?
Timmy Williams: I like the patina on old school frame/forks. If the decals are still visible, I keep it. I do believe in "It's only original once" philosophy. It just shows the history, the wear and tear that the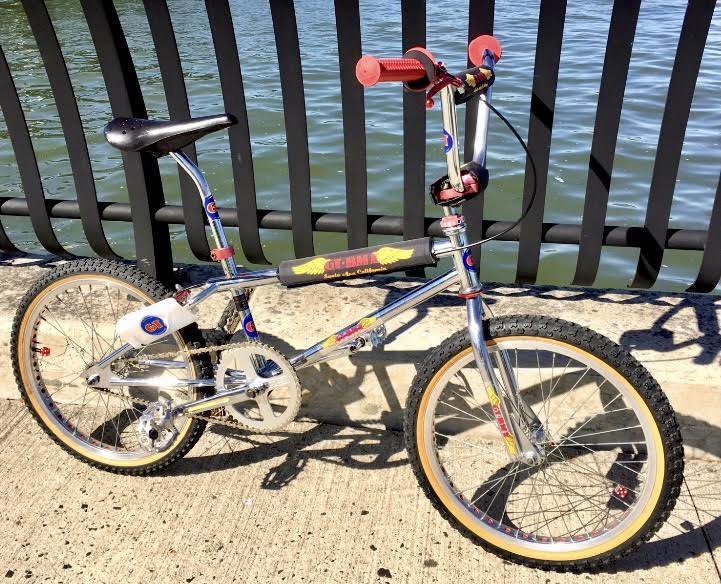 previous owner(s) had with it without learning the history with that bike. I think I've only gotten a frame/fork powdered once, but that was because it didn't have decals and it was rusted in certain spots. I sent it to Chip at C4 and he worked his magic with it. It was my Slingshot. The bikes I have in my collection have the original decals and paint/chrome. I do polish the chrome, but don't go overboard like some of these overpolished bike parts out there.
Do you feel that you had to race, or be part of BMX, to better understand how bikes should look like?
Timmy Williams: Racing in the '80s definitely helped me by now looking back at what the other riders had. Now that I'm older, I guess you can call me a "purist." I stay within a year or two before of the year of the bike I'm building. I believe in "era correct". It just makes it more realistic and nostalgic to what we had back in the day.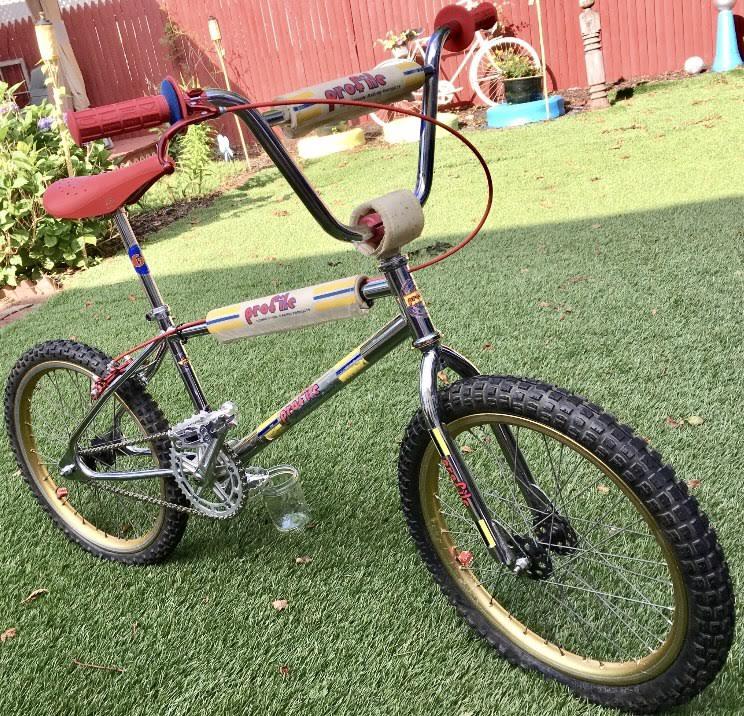 Makes me really happy when I can find the right part for that build. And since I ride all my bikes, I like using newer tires, but with the treads that were used back in the '80s. I think it's crazy to spend all that money for the vintage tires since it could be dangerous to ride now. If you just have a carpet queen, then that's ok to spend the extra to make it look great. I do have one pet peeve, and it's the people who enter a show and try to pass off repop parts as original.
That Phase-1 does that get some attention when you cruise around on it?
Timmy Williams: Yes, definitely. Although more so from the older crowd that remembers the Z frame and the individual vintage parts on it. Sometimes I'll get looks from younger people, but the positive comments are from the old guys, lol.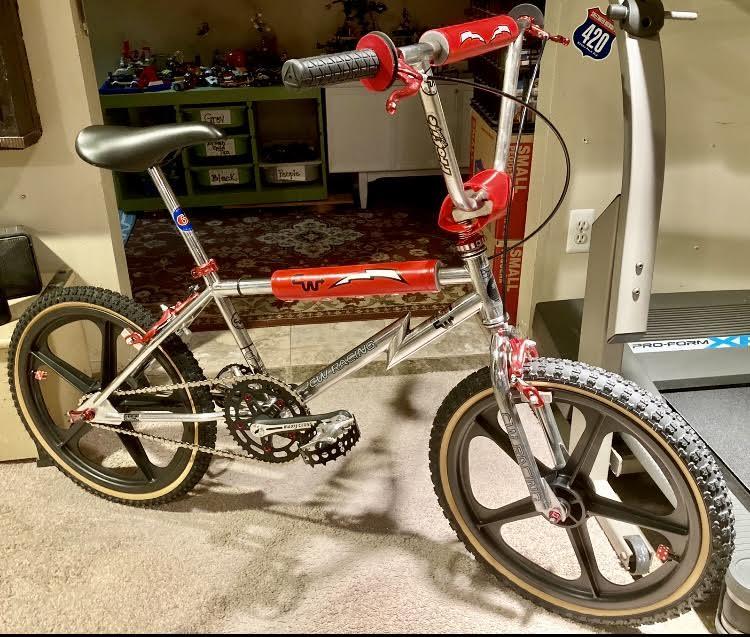 Turning heads in general is cool, but it does make me feel good about the era and love to stop and talk to those who appreciate the nostalgia.
What's one of your oldest BMX products in your collection?
Timmy Williams: I have a 1973 Sears Free Spirit Spyder. It was my very first bike at age 6. Ever since my parents divorced when I was 8, I wasn't able to locate that bike anymore. About 8 years ago, I found an identical one on CL and I HAD to have it. I know it's not "BMX" per say, but it was to me before there was a BMX. I also have a 1976 R&R CR-1, and a 1976 Redline Squareback.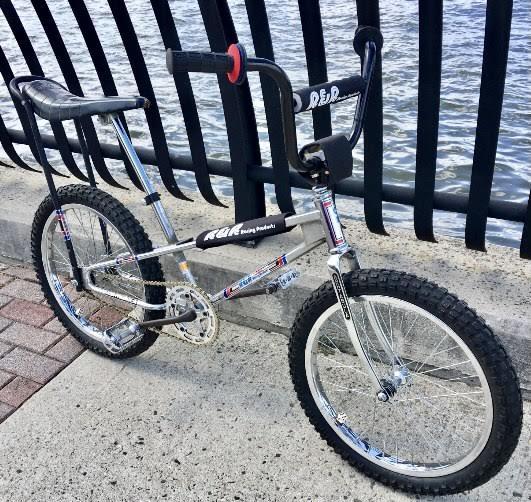 Do you buy and sell, trade, fix and sell, or what's your way of participation in the BMX collecting world?
Timmy Williams: I usually buy, but according to what I tell my wife, I only sell (she's not reading this right?, lol). Once in a while I do some thinning so I'll sell. I really only trade with the group I'm in (D€4L). "Keep in the family" they say. Also, I do fix, but I'll fix bikes for my two sons (which I've built all of theirs from the ground up), and for neighbor kids in town.
Name three BMX collectors that you respect?
Timmy Williams: Jeez, there are so many cool dudes out there, but I'd have to say
1) Jeff Haney (would like to meet one day).
2) Jonathan Hoffman (SE racing, plus a good dude).
3) Larock (his name on the BMX Museum). Haven't met the guy, but heard he's top notch.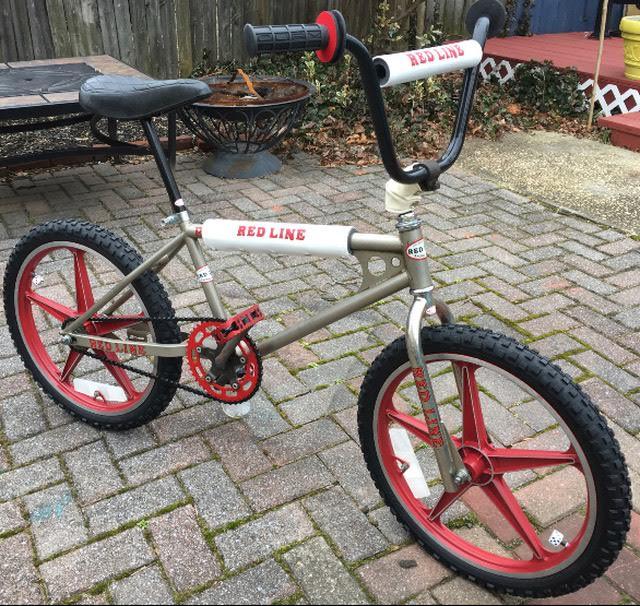 How much do you think the Redline squareback is worth these days?
Timmy Williams: I would think these days it would be worth close to $1,500-$2,000 the way it is. But that could change any day, week, month. It's funny that those who go off "eBay prices" don't realize those prices fluctuate very often because of what time the auctions end. They could end during the week, or weekends. Even depends on the season too. Summertime more people aren't around their devices as much, compared to wintertime where people are indoors more and are hanging onto the site bored and watching. Hey, even Covid has made the prices skyrocket.
Do you have any BMX Freestyle bikes/products in your collection or is that not where your interest is?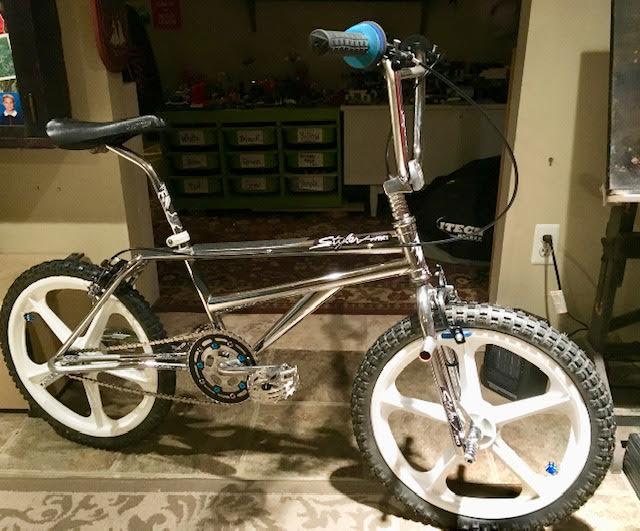 Timmy Williams: I am a racer, but I do have only one Freestyle bike in my collection. It's a 1985 first generation MCS Styler. I love this. It's heavy, but it's an odd bike and I'm into that.
What products are a great help when you find an old rusty historical piece of shit bike that needs to shine again?
Timmy Williams: Love, love LOVE citric acid to get rid of rust. I get it by the 20lb bags through eBay of all places. Usually about $20. 8 oz per gallon of HOT water and let it soak. You need to keep an eye on it though, because it will turn chrome cloudy and decals, which are safe with CA, could also turn cloudy if left in too long. Also, to shine the chrome to a mirror like shine is Blue Magic Chrome Polish. I swear by it. I use a paper towel (well, many pieces) and the paper towel will turn black. I then rinse with cold water and buff with a soft cloth. Stuff is friggin' amazing!
How often do you look on eBay/Craigslist/BMX Museum to shop for old BMX stuff?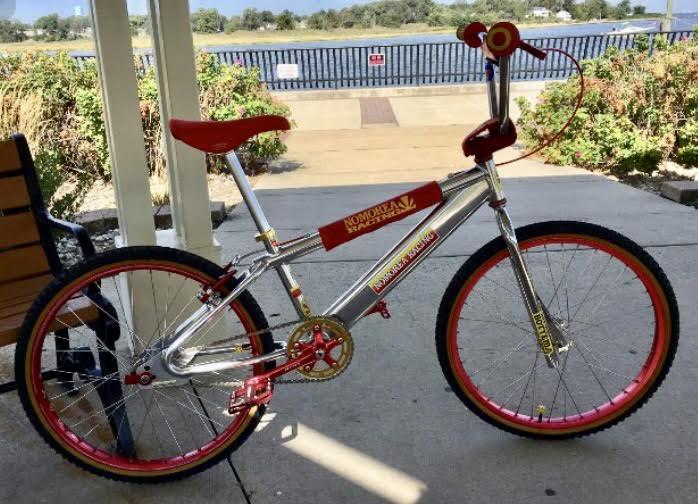 Timmy Williams: eBay and BMXMuseum every day. CL not so often. There are so many on CL now that they basically have the region covered. Although, there are rare times where you can find something that slips out of these guys hands and catch them sleeping! LOL.
Do you take your bikes out for a cruise from time to time?
Timmy Williams: I do, very often. I rotate which ones I'm bringing out to ride. I do this to not only cruise around, but to also listen to little noises (if any) so I can fine tune a part, grease it, etc. I do ride all of my bikes except one. That one is strictly for show. My 1985 ABM Race Tech. Uber rare. Used to have 6 NOS frames with the headsets and decal sheets for that one.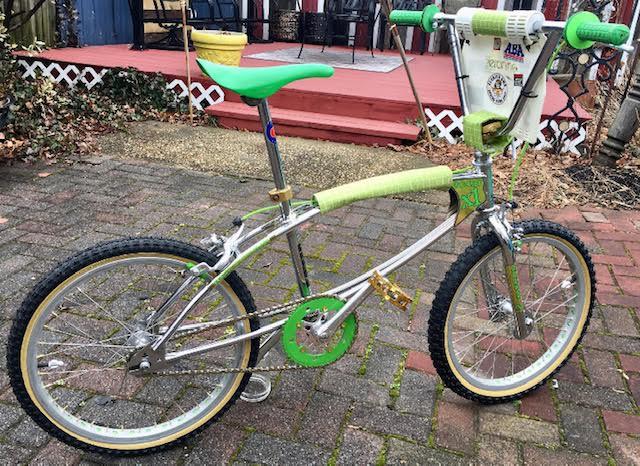 What are the Bike Shows that you must attend?
Timmy Williams: I usually stay fairly local in NJ, with the shows in Jersey City, Asbury Park, Roselle Park, EHT, Warren, Keyport. But I've been entered the big, amazing ones in Crown Point Indiana, Florida, upstate NJ, New York, and Philadelphia. I love the bigger ones because they are judged by the people that know their shit about the hobby. They are very picky and detailed in their decisions as they should be.
What's a bike (part) you have been looking for but haven't been able to locate?
Timmy Williams: I'm still trying to locate 3 of my Grails. One is an RRS (either a 20" or 24" cruiser), a Bandito (20" or 24"), and a 1981 26" GT.
Where can people reach you when they have that part available?

Timmy Williams: I'm here to answer questions about a part that you may have available, or questions about certain items in my collection too. I'm also on many BMX pages on Facebook as myself: Timmy Williams. I'm also on BMXmuseum.com and my name on there is: Tim1218
Thanks to: -My dad in heaven that brought me to all my races as a kid.
-Gary Sansom for creating such an amazing site for all of us that love BMX.
-My D€4L family that I'm honored to know and love as my BMX brothers and sisters.
-Beacon bikes in Northfield, NJ for trusting me, and hopefully making them proud that I was part of their bike team.
-Gary Turner, for creating GT, which I'll always be a lifetime lover of GT.

Previous Episodes on FATBMX:

Episode 1: Christophe Detandt (BEL)

Episode 2: James White (GBR)
Episode 3: JT Freestyle (USA)
Episode 4: Ben Murphy (IRL)
Episode 5: Rainer Schadowski (GER)
Episode 6: GAry Sansom (USA)
Episode 7: Michael Gamstetter (USA)
Episode 8: Grant Stone (GBR)
Episode 9: Steve Blackey (USA)
Episode 10: Shannon Gillette (USA)
Episode 11: Woody Itson (USA)
Episode 12: Oliver Kienzle (GER)
Episode 13: Kelly Swanson (USA)
Episode 14: Pat A Lar (GBR)
Episode 15: Billy Mills (GBR)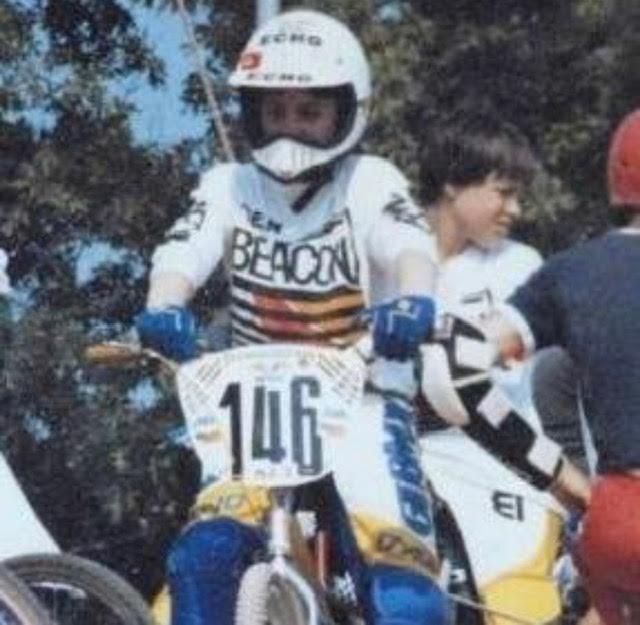 Episode 16: Steve Brothers (USA)
Episode 17: Aykut Hilmi (GBR)
Episode 18: Alex Leech (GBR)
Episode 19: Mike Janssen (NED)
Episode 20: Brian Gutierrez (USA)
Episode 21: Chad Powers (USA)
Episode 22: Alessandro Barbero (ITA)
Episode 23: Chris Daly (GBR)
Episode 24: Ian MacArthur (GBR)
Episode 25: Steve Strong (GBR)
Episode 26: Stephen Joseph (GBR)
Episode 27: Paul de Jong (NED)
Episode 28: Jon Western (GBR)
Episode 29: William "LaRock" LaRoque (USA)
Episode 30: Johan Janssens (BEL)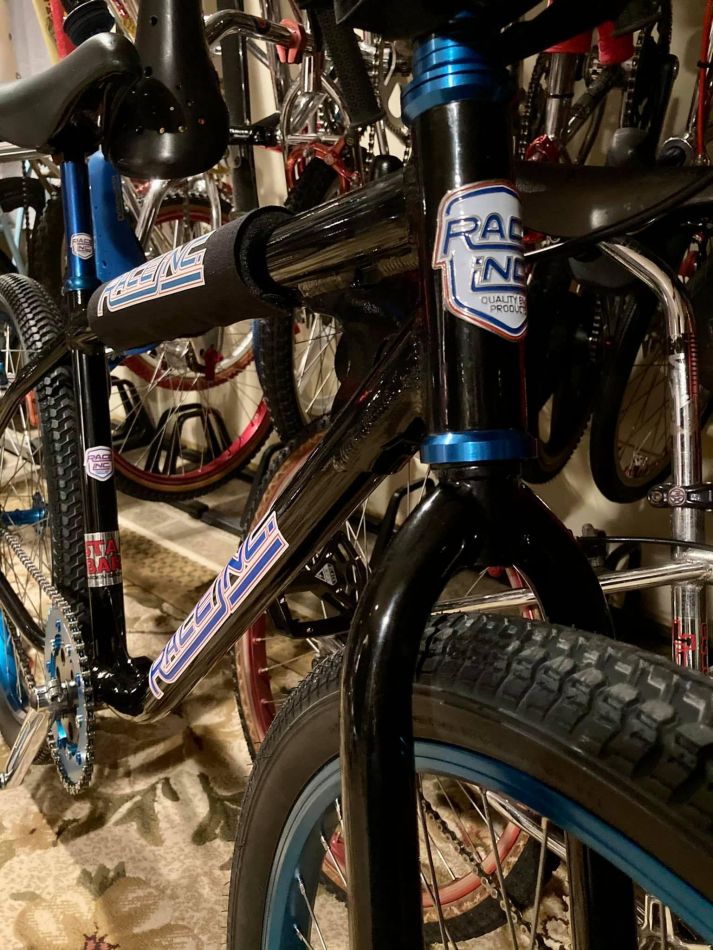 Episode 31: Darren Chan (USA)
Episode 32: Frank Lukas (GER)
Episode 33: Jason Teraoka (USA)
Episode 34: Shad Johnson (USA)
Episode 35: PJ McKenna (USA)
Episode 36: Henry Sarria (USA)
Episode 37: Jonathan Sherwood (SAF)
Episode 38: Trevor Henry (GBR)
Episode 39: Daniel Purcell (GBR)
Episode 40: Mark McCorkle (USA)
Episode 41: Tom Sustarich (USA)
Episode 42: Adam Cox (USA)
Episode 43: Perry Wills (USA)
Episode 44: John Buultjens (SCO)
Episode 45: Jay Eley (GBR)
Episode 46: Alvin Mullins (USA)
Episode 47: Scott Barrette (USA)
Episode 48: Ashley Little (GBR)
Episode 49: Bill Batchelor (USA)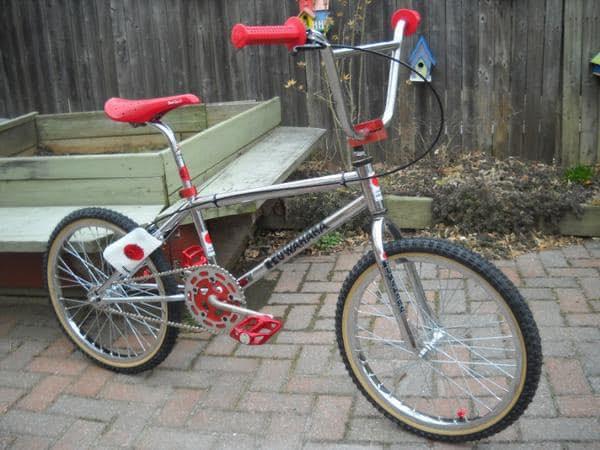 Episode 50: Steve Firestein (USA)
Episode 51: Jon Hoffman (USA)
Episode 52: Peter Ashby (AUS)
Episode 53: Patrick Freitas (USA)
Episode 54: Mel Stoutsenberger (USA)
Episode 55: Martin Primentel (AUS)
Episode 56: Chino (USA)
Episode 57: Ely D. Thomas (USA)
Episode 58: Mickael Clerté (FRA)
Episode 59: Toby Henderson (USA)
Episode 60: Eddy King (USA)
Episode 61: Byron Friday (USA)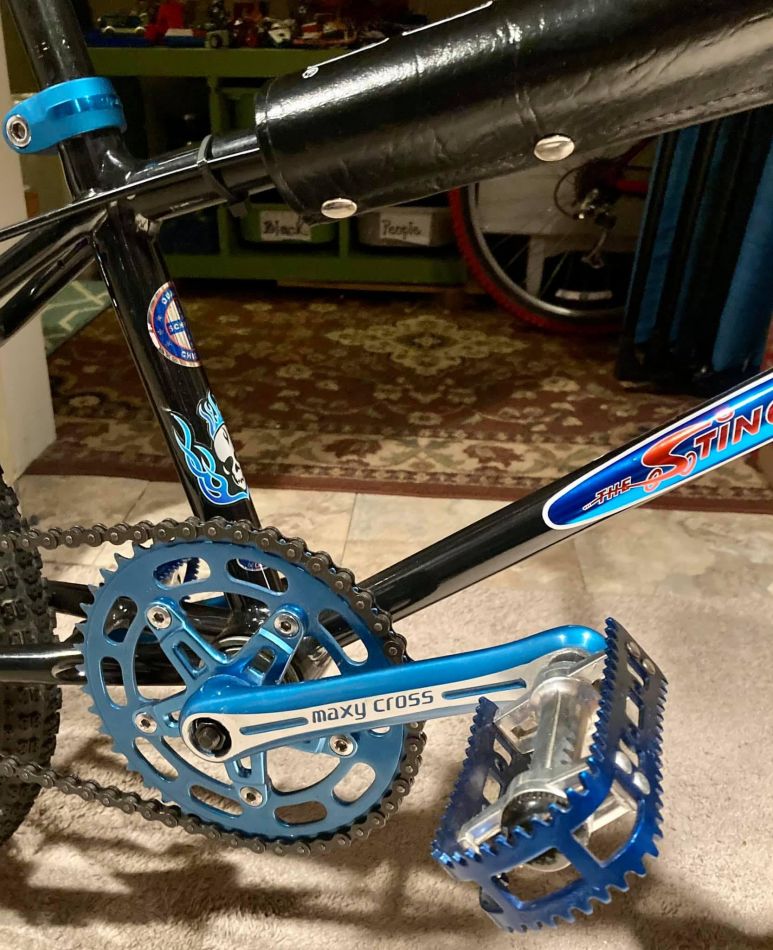 Episode 62: Lionel Eden (USA)
Episode 63: Donnie Platt (USA)
Episode 64: Brad Nash (USA)
Episode 65: Mohamad Al Amin (MAL)
Episode 66: Christopher Wesley (USA)
Episode 67: Sean Stiddard (GBR)
Episode 68: Tyler Collins (USA)
Episode 69: Rod Miles (USA)
Episode 70: Brian Britt (USA)
Episode 71: Sean Ewing (USA)
Episode 72: Jim Fisher (USA)
Episode 73: Òscar Pallarès (ESP)
Episode 74: Jeff Utterback (USA)
Episode 75: Timmy Williams (USA)