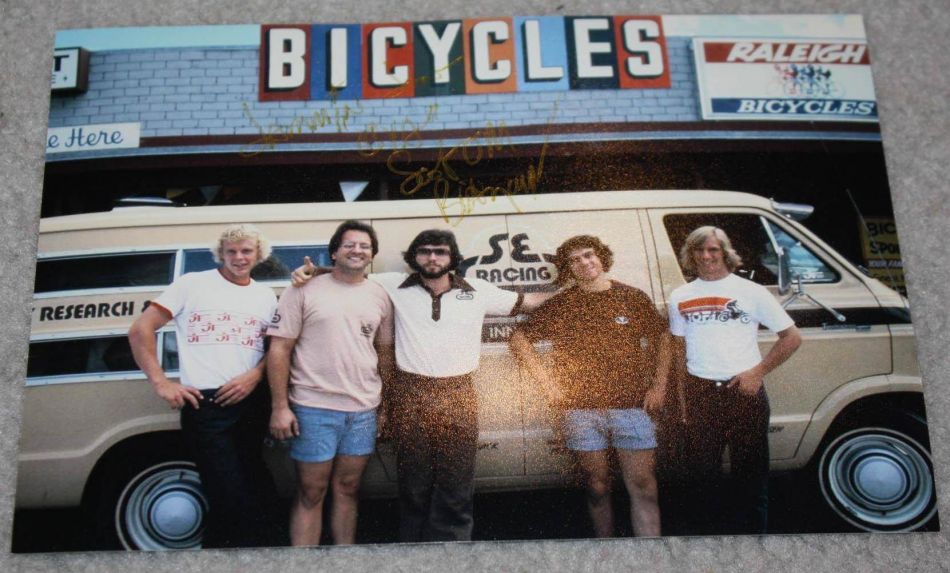 track. I mainly used it for jumping and stuff around the neighborhood. All my full suspension bike riding came after BMX while racing mountain bikes. For MTB early on it was Ventana and currently on Trek.
In the Dirtmaster, Webco, DG, and FMF a lot changed for the better. What was it like going through the development process and did you have a big influence giving product feedback?
Stu Thomsen: I hope to believe I did. Most feedback related to geometry and handling. A lot of times I just rode the bike given to me to the best of my ability. Our first Webcos were rough. For me super short.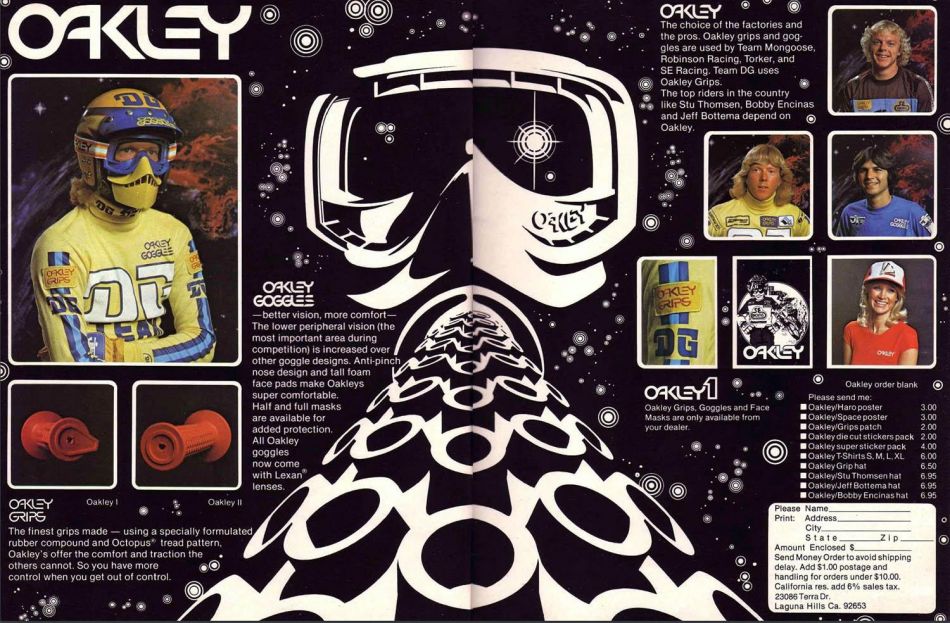 As you must have been on many prototype bikes, were you ever scared a bike part would snap on big jumps?
Stu Thomsen: If you have ever ridden a Schwinn Stingray that was modified in your garage or at your high school metal shop, you learned to ride with finesse. I came to trust the factory built bikes my sponsors built as they had the best (for the time) equipment and materials.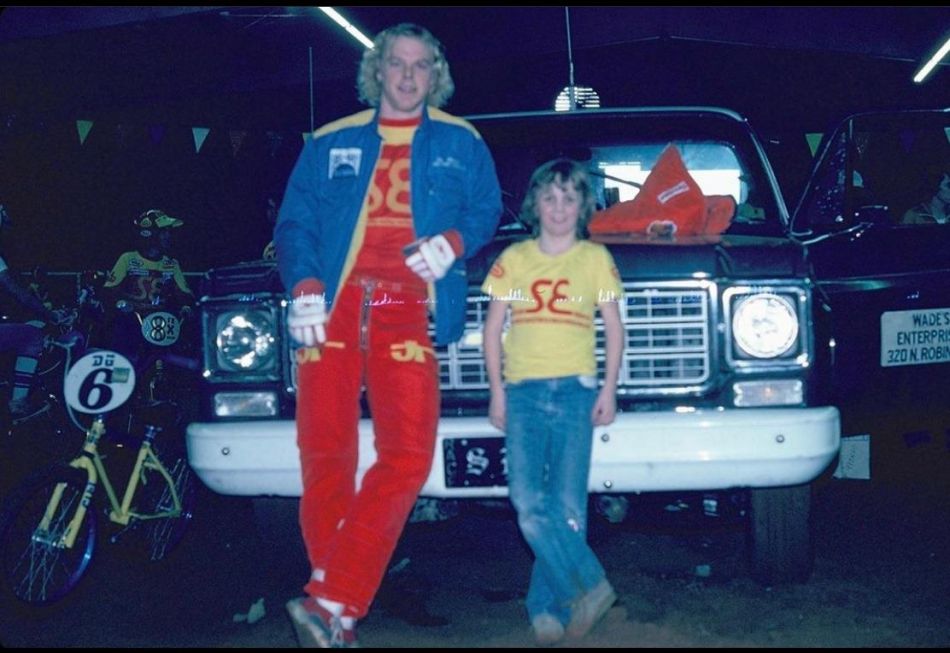 With the difference in bikes, did you ever feel you were in a disadvantage racing a certain bike on a certain track?
Stu Thomsen: Changing from one sponsors bike to the other wasn't hard. There were a lot of similarities in all brands including lengths, seat and head tube angles. For the most part I adapted easily and didn't have many issues that weren't work out.
What changes were made to the product because of your feedback?
Stu Thomsen: Well, in the early stages it was maybe handle bar sizes (height/width) fork rake and maybe frame length.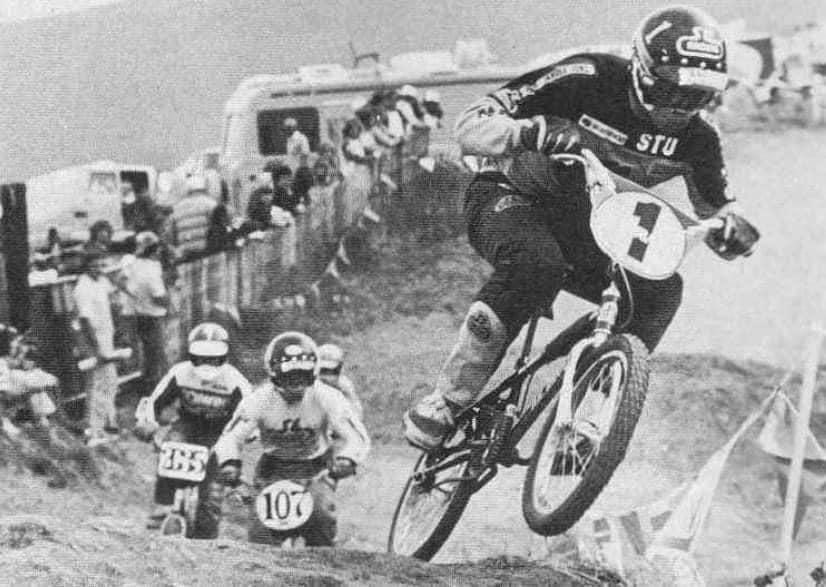 When the move was made to SE were you promised a signature bike?
Stu Thomsen: Man it's hard to believe, but that's about 44 years ago. I don't think the collaboration with Scot and my bike, STR-1 Guadangle, happened until after my first year on SE. While riding for SE Racing or even Scot Enterprise (SE) you can see that I rode at least three other brands other than the PK Ripper, including Mongoose, GJS and a Redline Proline. I rode all those before the STR-1 came into production.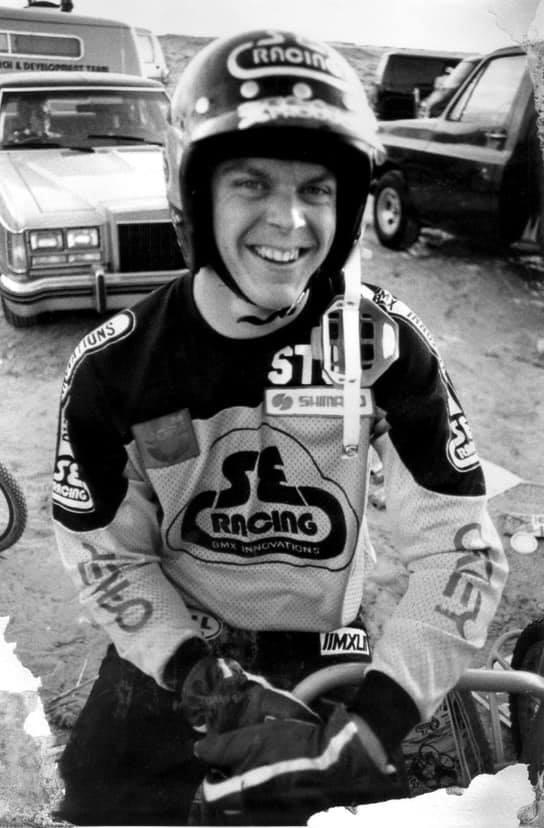 Was the time with SE at that point the best time you had in BMX?
Stu Thomsen: Every minute of racing was the best times. Each sponsor had its give and takes. Memories and good times were made with all.
By the time you raced for Redline, did the bikes finally feel like you could race them properly?
Stu Thomsen: I liked to think I rode all my sponsors bikes properly and to the best of their abilities for the time frame they were made. We were all still learning.
Being a strong man, did you break bikes often?
Stu Thomsen: I was gifted as a rider, very smooth and agile. I can recall maybe two or three bikes failing. Maybe only one and that was due to a very hard landing after basically launching off a jump. Nothing broke often.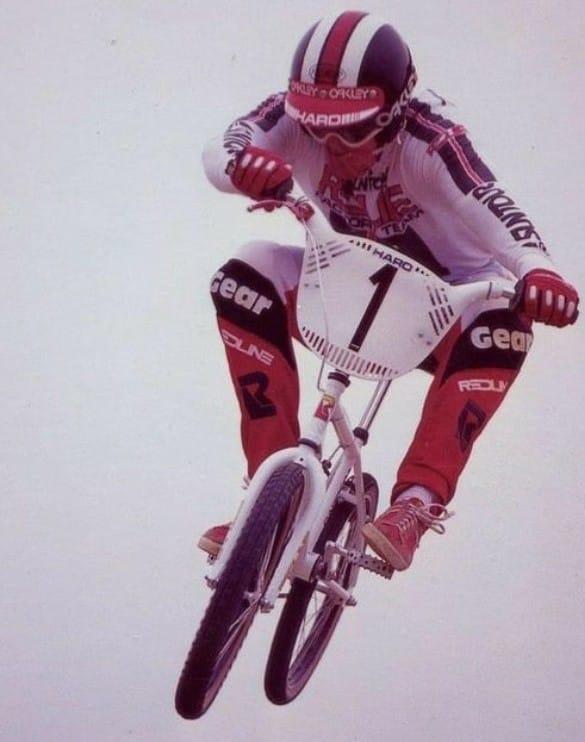 How many seconds a lap do you think you would have been faster back in the day if you would have had access to a bike of today's quality?
Stu Thomsen: That's a hypothetical question and nearly impossible to answer. Bikes today aren't the same geometry as the ones we rode. Today's bike would handle differently on tracks of yesteryear. Apples and Oranges.
When you signed with Huffy, were you actually racing a Huffy?
Stu Thomsen: On my 20" yes. At first they were built by the engineers/frame builders at the Huffy factory. We had design ideas and changes but the long turn around to get the changes made weren't productive. We were also dealing with the fact Huffy was contracted to make the bikes for the 1984 US Olympic Cycling team and their builders were tied up with that. We were given the green light to locate a local frame builder in our area to make those changes.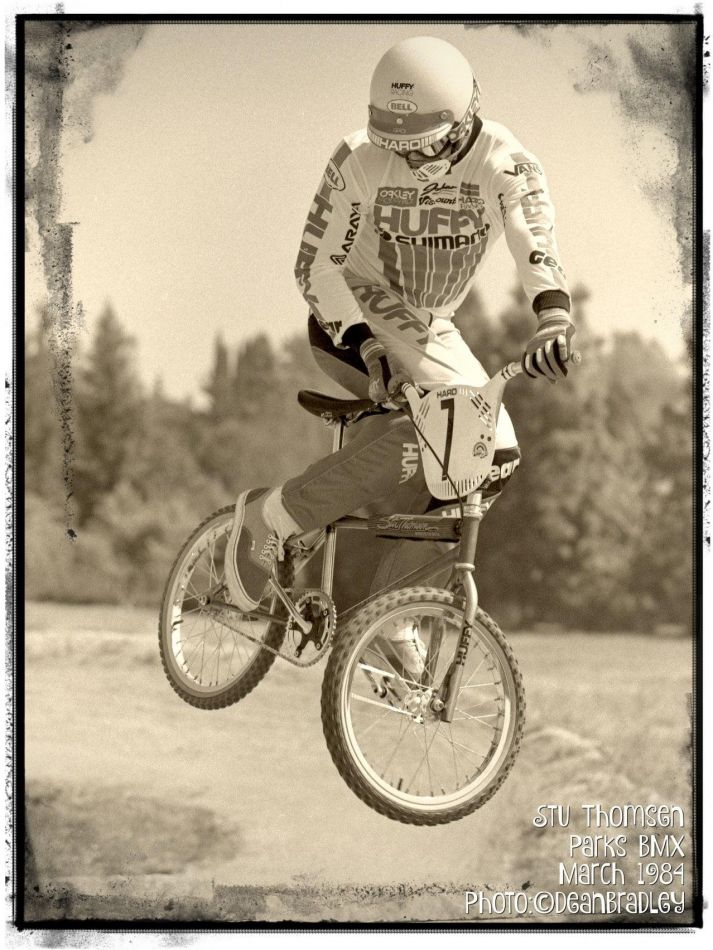 At the time GT Bicycles were making bikes for other companies so we paid them to make my bike to my specifications. Now with that said, Huffy didn't make a 24" cruiser and since I liked racing pro cruiser for some extra cash and track time, they let me ride anything I wanted. Since I just left Redline I was comfortable with my PL24 and just stickered it up and raced that. Never claimed to be riding a 24" Huffy and was open as to what it was.
Did MBK have a decent bike to offer you to race on when you signed for them to race in Paris?
Stu Thomsen: From what I recall they didn't offer me a bike to ride. I just brought over one of my Huffy's and raced it. It was a quick deal and don't even remember all the details.
What's your opinion on people collecting BMX bikes to preserve the history of the sport?
Stu Thomsen: I don't have a strong opinion either way. I am just glad there are those out there that are doing it.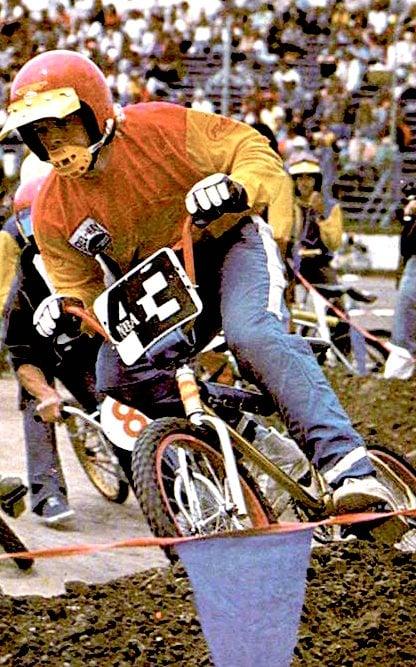 Thanks to: A big thanks to all the fans out there who have supported and cheered me on. You gave me a reason to go out and be the best I could be. It was an honor to be a person who was followed, admired and a role model to many.

Previous Episodes on FATBMX:

Episode 1: Christophe Detandt (BEL)
Episode 2: James White (GBR)
Episode 3: JT Freestyle (USA)
Episode 4: Ben Murphy (IRL)
Episode 5: Rainer Schadowski (GER)
Episode 6: GAry Sansom (USA)
Episode 7: Michael Gamstetter (USA)
Episode 8: Grant Stone (GBR)
Episode 9: Steve Blackey (USA)
Episode 10: Shannon Gillette (USA)
Episode 11: Woody Itson (USA)
Episode 12: Oliver Kienzle (GER)
Episode 13: Kelly Swanson (USA)
Episode 14: Pat A Lar (GBR)
Episode 15: Billy Mills (GBR)
Episode 16: Steve Brothers (USA)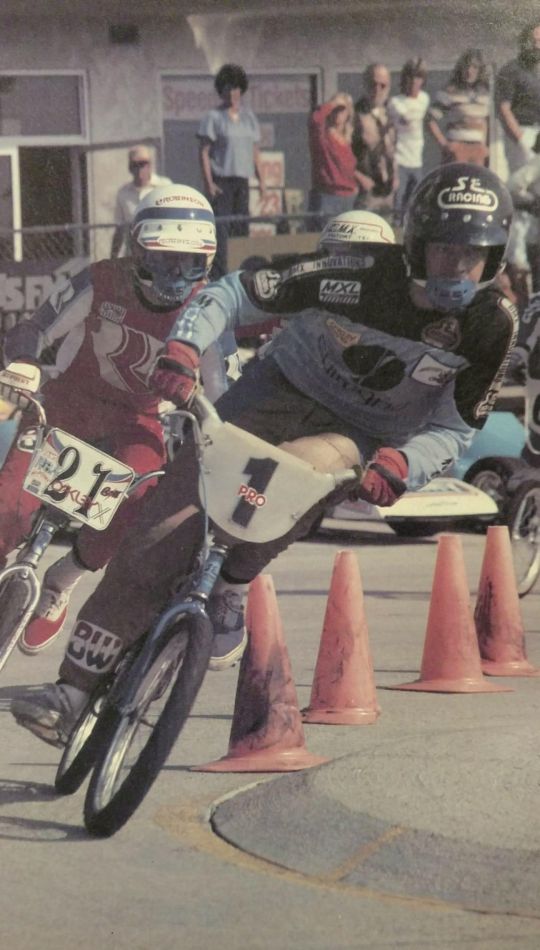 Episode 17: Aykut Hilmi (GBR)
Episode 18: Alex Leech (GBR)
Episode 19: Mike Janssen (NED)
Episode 20: Brian Gutierrez (USA)
Episode 21: Chad Powers (USA)
Episode 22: Alessandro Barbero (ITA)
Episode 23: Chris Daly (GBR)
Episode 24: Ian MacArthur (GBR)
Episode 25: Steve Strong (GBR)
Episode 26: Stephen Joseph (GBR)
Episode 27: Paul de Jong (NED)
Episode 28: Jon Western (GBR)
Episode 29: William "LaRock" LaRoque (USA)
Episode 30: Johan Janssens (BEL)
Episode 31: Darren Chan (USA)
Episode 32: Frank Lukas (GER)
Episode 33: Jason Teraoka (USA)
Episode 34: Shad Johnson (USA)
Episode 35: PJ McKenna (USA)
Episode 36: Henry Sarria (USA)
Episode 37: Jonathan Sherwood (SAF)
Episode 38: Trevor Henry (GBR)
Episode 39: Daniel Purcell (GBR)
Episode 40: Mark McCorkle (USA)

Episode 41: Tom Sustarich (USA)
Episode 42: Adam Cox (USA)
Episode 43: Perry Wills (USA)
Episode 44: John Buultjens (SCO)
Episode 45: Jay Eley (GBR)
Episode 46: Alvin Mullins (USA)
Episode 47: Scott Barrette (USA)
Episode 48: Ashley Little (GBR)
Episode 49: Bill Batchelor (USA)
Episode 50: Steve Firestein (USA)
Episode 51: Jon Hoffman (USA)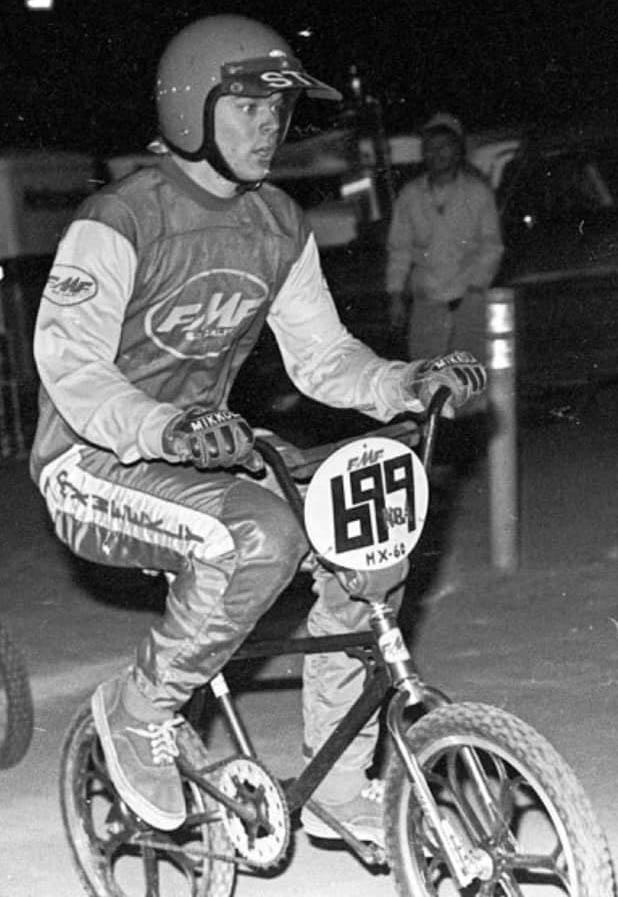 Episode 52: Peter Ashby (AUS)
Episode 53: Patrick Freitas (USA)
Episode 54: Mel Stoutsenberger (USA)
Episode 55: Martin Primentel (AUS)
Episode 56: Chino (USA)
Episode 57: Ely D. Thomas (USA)
Episode 58: Mickael Clerté (FRA)
Episode 59: Toby Henderson (USA)
Episode 60: Eddy King (USA)
Episode 61: Byron Friday (USA)
Episode 62: Lionel Eden (USA)
Episode 63: Donnie Platt (USA)
Episode 64: Brad Nash (USA)
Episode 65: Mohamad Al Amin (MAL)
Episode 66: Christopher Wesley (USA)
Episode 67: Sean Stiddard (GBR)
Episode 68: Tyler Collins (USA)
Episode 69: Rod Miles (USA)
Episode 70: Brian Britt (USA)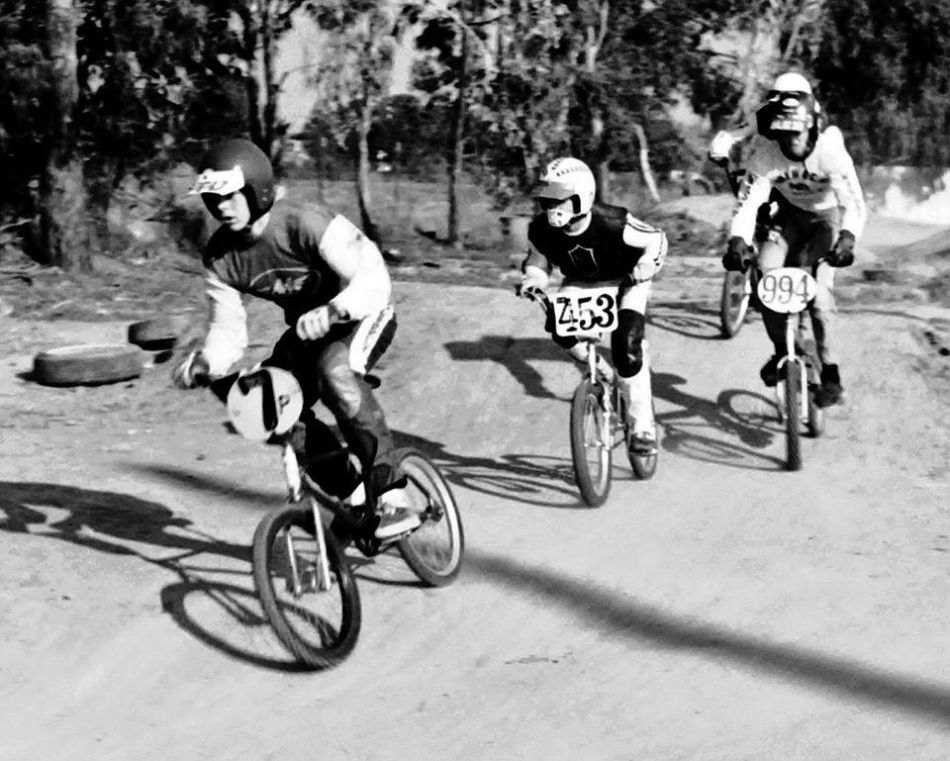 Episode 71: Sean Ewing (USA)
Episode 72: Jim Fisher (USA)
Episode 73: Òscar Pallarès (ESP)
Episode 74: Jeff Utterback (USA)
Episode 75: Timmy Williams (USA)
Episode 76: Tommy Yaley (USA)
Episode 77: Jason van Buskirk (USA)
Episode 78: Stu Thomsen (USA)
Episode 79: Scott Towne (USA)

Pics by Dean Bradley and more