Bill Ryan: I used to save a TON! And I was always moving it with me from apartment to apartment, and then house to house, and finally in about 1999, my wife was after me to clean up the garage, and my Dad told me about this thing called Ebay where people would buy your trash…. I started selling a ton of it. If I would of held on to all of that now, I could have probably retired, but I sold so much along the way that paid for a lot of cool things for the family. And there is a lot of stuff that was such garbage that no one wanted it, that I really wish I held on to as people really want it now. And so much of it is true and genuine history.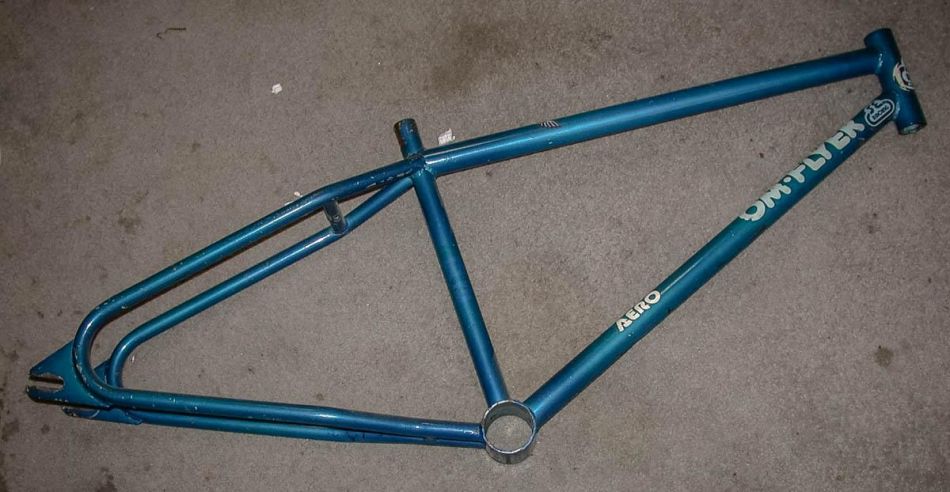 Over the years, have you just held on to products that now appear to be valuable?
Bill Ryan: Like I mentioned above, I used to hold on to everything, and a lot of it was considered Trash for so long.. I really am glad to see that people are starting to appreciate the value, the history and the groundwork laid by the early pioneers of the sport.
Are you a hoarder when it comes to BMX stuff?

Bill Ryan: That would be a big yes, but I have gone to a 10 step program for it. I have gotten better. But my goal is to preserve the History of the sport, and the technology that came along with it.
The items that you've saved, do they mostly have a personal memory for you?
Bill Ryan: Of course, I seem to have an affliction for the things that have a memory attached. I think most collectors do.
Does that make it more difficult to ever part ways with them?
Bill Ryan: Some, for some items it is easy to let them go. Others you hold on to them as it is a physical embodyment of the event.
Running your own company with Supercross, you've done some 'retro style' frames. Can you explain a few of them?
Bill Ryan: Yes, we have. And it really wasn't planned, it just happened. Seems like we do a lot of that. We get an idea and run with it. So when SE was on Hold, or changing owners or whatever was going on, I had reached out to Scot and had mentioned that I wanted to build a replica of his old 26/24 Quad, and he gave me his blessing.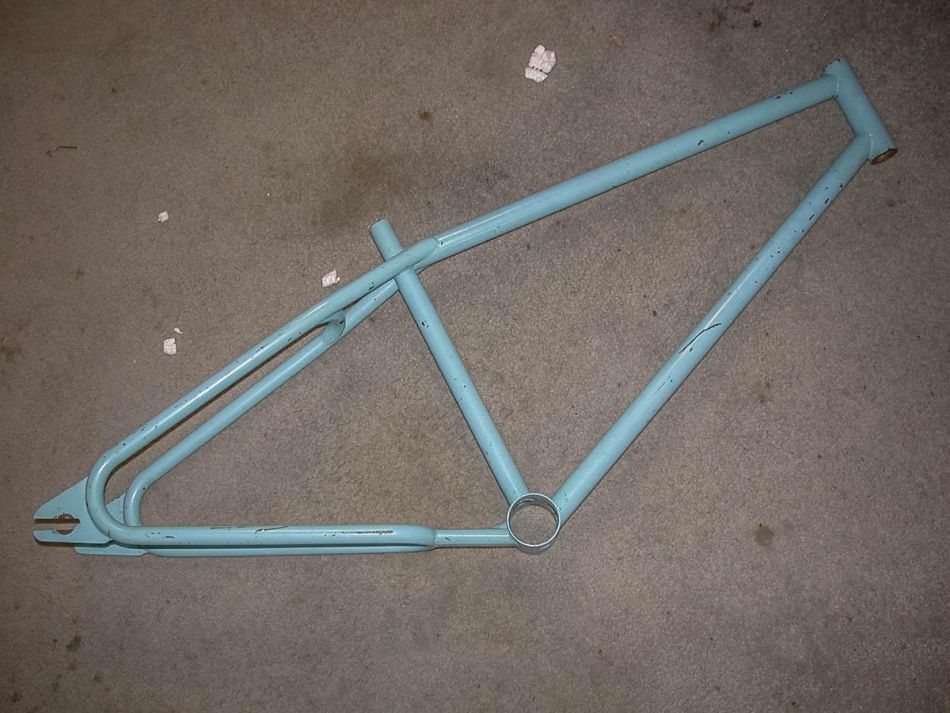 That turned into building a short run of 26" Quad Cruisers as SE was not in business at the time and there never was a 26" Quad, at the time, and Scot was like OK cool, that turned into working with Jeff Utterback and building a short run of 26" GJS A Frames for Jeff, and this was in 2001/2002, long before anyone was riding 26" bikes but I wanted to do it as BIG BMX were cool. About that time Todd Britton had approached us to build the Azusa frames as he had been having some issues with the guy that was supposed to build them, so we built the Azusa frames…. And that turned into a bloodbath financially so we built the No More A frames to cover the costs left over. Basically Aluminum Azusa frames. It was real cool when in 2010 when we won our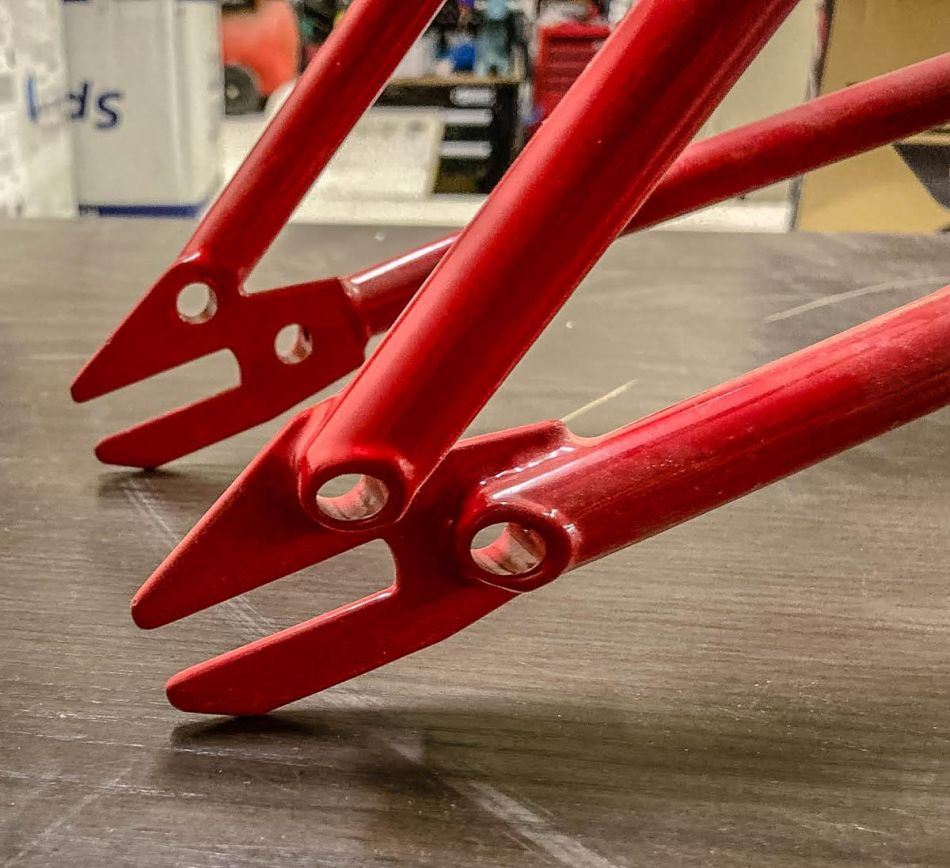 First Golden Crank for Bike fo the Year, Jim Melton ( Owner of JMC Racing ) came up to our pit at the Grands to congratulate me and told me he thought we were doing an amazing job and to keep doing what we were doing!! That was as exciting as winning the award….. Well kinda… :)
So we have done quite a few, and we have done the Former Pro frames for Eddie Fiola with our Sister Company Legend Bike Co ( legendbikeco.com ) and also we have done our SX250 frames, etc…. I love trying to keep the roots of this big BMX tree alive.
You have several 26" cruiser frames in your collection, which one is the most special to you?
Bill Ryan: The one that was the most special is the one I let get away…. I had Scot's personal OM Flyer,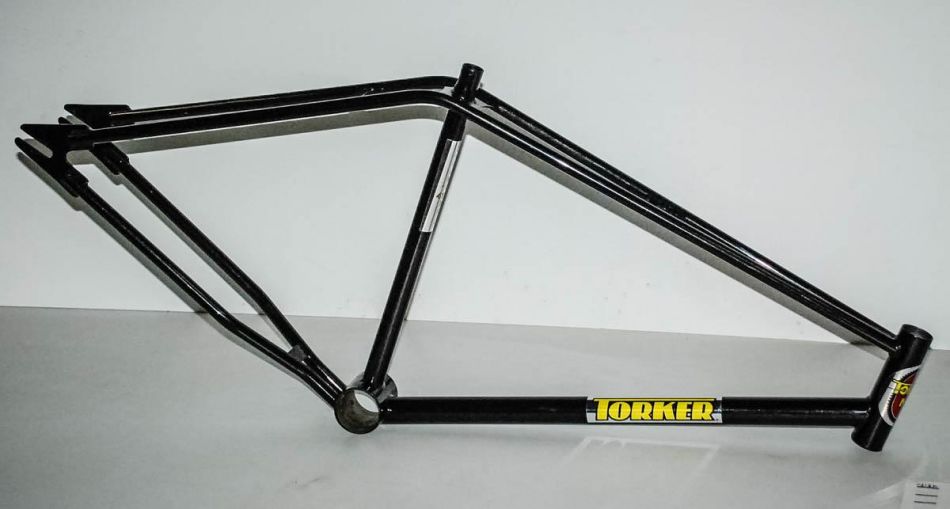 that was built with the Reynolds 531 Tubing and had his Initials welded into the BB shell. Stupidly, I sold it to Tim Cook, a collector in Tarzana, I had some medical bills come up for my kids, and lets face it, my family and my kids always come up before pieces of steel. And Tim had been after me for that frameset for a long time. So when it came time to pay the bill. I sold it to him. Honestly I never looked back. But that one was the most special. And that frame is the one that ALL of the RETRO 26" bikes we built have the geometry of. So no one ever knew it until now I guess, but if you bought one of our old Retro 26" frames, the GJS, the 26" Loop Quad, the 26" No More A, etc… they all had Scot's personal OM Flyer Geometry. So I guess we are keeping that legacy and DNA alive still.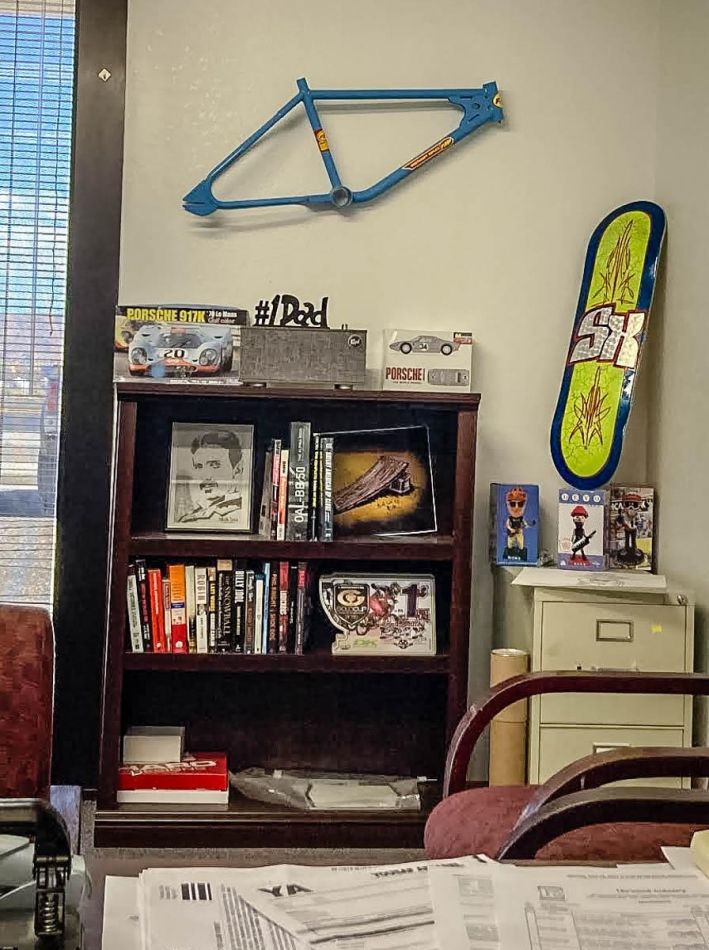 Have you ever bought frames/products for Research & Development?
Bill Ryan: No, never for R&D. You have to remember I was truly blessed with the way I got to grow up in BMX. Scot gave me a job at SE when I was real young, stickering Bikes, sweeping floors, and I would always watch the welders and listen to the old school ways, Gilbert Axt and Bill Bastian at Race Inc. would always talk about the welding, Ray Elliot was a neighbor of mine and he owned Certified Metal Products and made the Spun Aluminum Disc Wheels, but also welded up the Laguna Frames, I got to go hang out at Voris's show when we did my first frame there and I learned so much. I watched and learned and saw, and those old school ways are cool, but they are not really research projects, unless you know what you are looking for.
Do you visit the swap meets/Oldskool BMX meetings on a regular basis?
Bill Ryan: Not at all, Mike Redman and I have discussed this, and neither of us go… I don't know, I love the old school stuff, I love preserving the history and the roots of it all. But I, up until COVID I should say, would go to 15 National Weekends a year for the new schooll racing. And watching the progression of the new BMX racing, and the new components, and moving things forward. That leaves little time for the Old School events.
A Pistol Pete CW frame with extra sticker set. How did you get your hands on that one?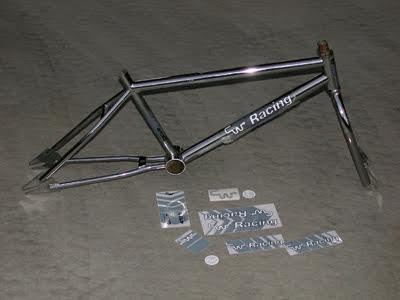 Bill Ryan: I honestly don't remember… But Pete is a great friend, and I had to have a Pistol Pete in the collection. I had one that I sold to a guy in France years ago when I needed some $$$ for something, and he burned me. He bought it on Ebay, and then filed a claim for Not as Described to try to get it for a lower price. Said that he knew the way Paypal worked and that I could either give him a refund for 50% or he would take all of his money back. I basicly told him F you. And he did, he filed the claim, and got 100% of his money back, got to keep the frame and the fork. I was pissed. I spoke with Paypal and Ebay and they said they were sorry but since it is International there is nothing they can do.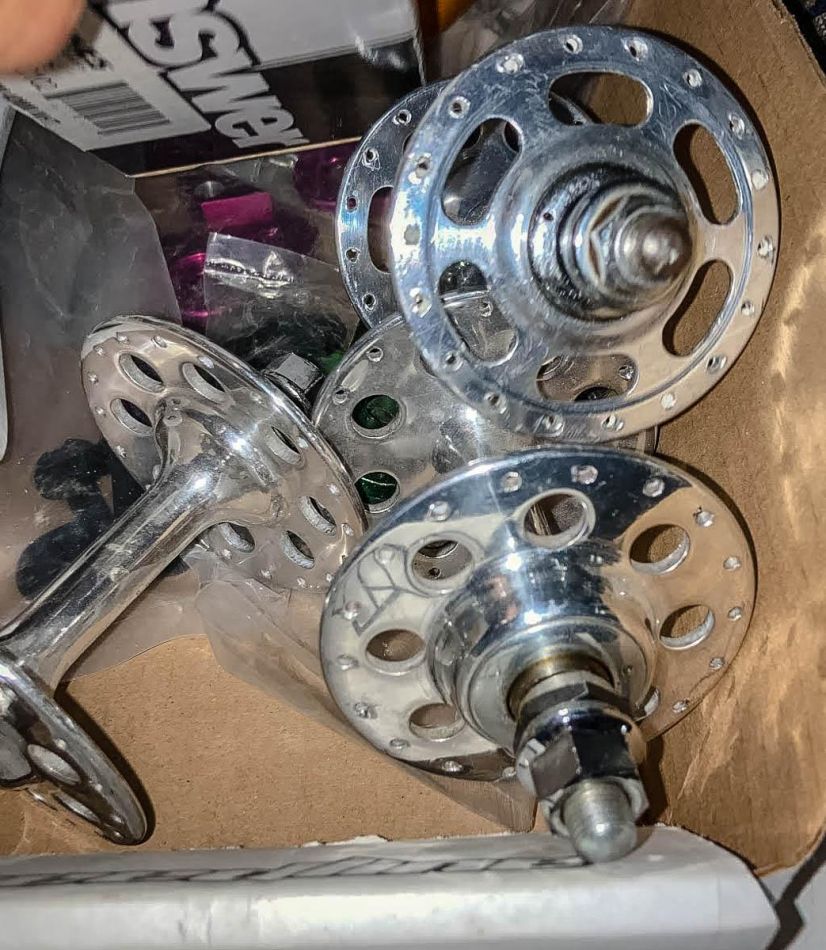 Do people contact you for Oldskool BMX products?
Bill Ryan: Every once in a while , but not that often. Most of the time I will have someone contact me who wants me to build them a replica of something for a one off for them. And not tell. And I refuse to do that.
What are the Best 3 BMX Product inventions of all time in your book?
Bill Ryan: There are the go to's on this Redline Flight Cranks of course, but the Aheadset, that changed the industry. No more having to reach down and tighten your headset before each lap, The new kids today will never know that pain. And V Brakes, simple, light, effective.
1 more bike, is that okay?
Bill Ryan: 1 more bike is always ok….
Thanks to: My wife Yvonne, my kids Lincoln, Faith, Sierra, and Tucker always …. They have dealt with all my craziness forever, they get no breaks from it, they don't get to choose when to come and go from this wacky BMX world, they are a part of it and I love them forever. All of our customers world wide over the last 30 plus years, our team riders, the shop crew, Chad, Steve, Melissa, and of course all of my BMX buddies. Without them we don't have the fun. Randy Roberts, Mike Redman, Pete Loncaravich, Eddie Fiola, Perry Kramer, Byron Friday, Shane Jenkins, Lar Massey, Ray Hudson, the list goes on, David Catching, Alain Johannes…..

Previous Episodes on FATBMX:
Episode 1: Christophe Detandt (BEL)
Episode 2: James White (GBR)
Episode 3: JT Freestyle (USA)
Episode 4: Ben Murphy (IRL)
Episode 5: Rainer Schadowski (GER)
Episode 6: GAry Sansom (USA)
Episode 7: Michael Gamstetter (USA)
Episode 8: Grant Stone (GBR)
Episode 9: Steve Blackey (USA)
Episode 10: Shannon Gillette (USA)
Episode 11: Woody Itson (USA)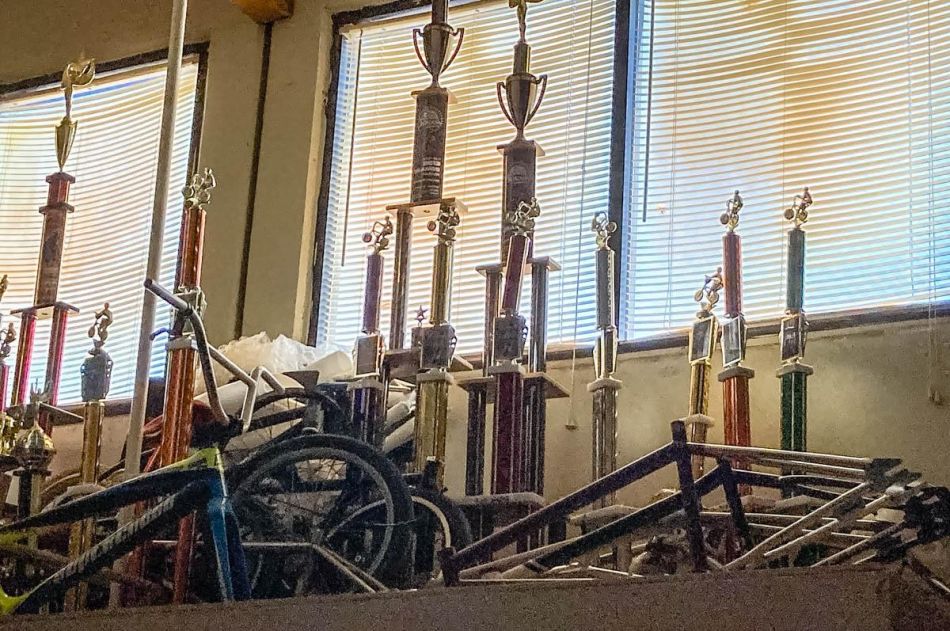 Episode 12: Oliver Kienzle (GER)
Episode 13: Kelly Swanson (USA)
Episode 14: Pat A Lar (GBR)
Episode 15: Billy Mills (GBR)
Episode 16: Steve Brothers (USA)
Episode 17: Aykut Hilmi (GBR)
Episode 18: Alex Leech (GBR)
Episode 19: Mike Janssen (NED)
Episode 20: Brian Gutierrez (USA)
Episode 21: Chad Powers (USA)
Episode 22: Alessandro Barbero (ITA)
Episode 23: Chris Daly (GBR)

Episode 24: Ian MacArthur (GBR)
Episode 25: Steve Strong (GBR)
Episode 26: Stephen Joseph (GBR)
Episode 27: Paul de Jong (NED)
Episode 28: Jon Western (GBR)
Episode 29: William "LaRock" LaRoque (USA)
Episode 30: Johan Janssens (BEL)
Episode 31: Darren Chan (USA)
Episode 32: Frank Lukas (GER)
Episode 33: Jason Teraoka (USA)
Episode 34: Shad Johnson (USA)
Episode 35: PJ McKenna (USA)
Episode 36: Henry Sarria (USA)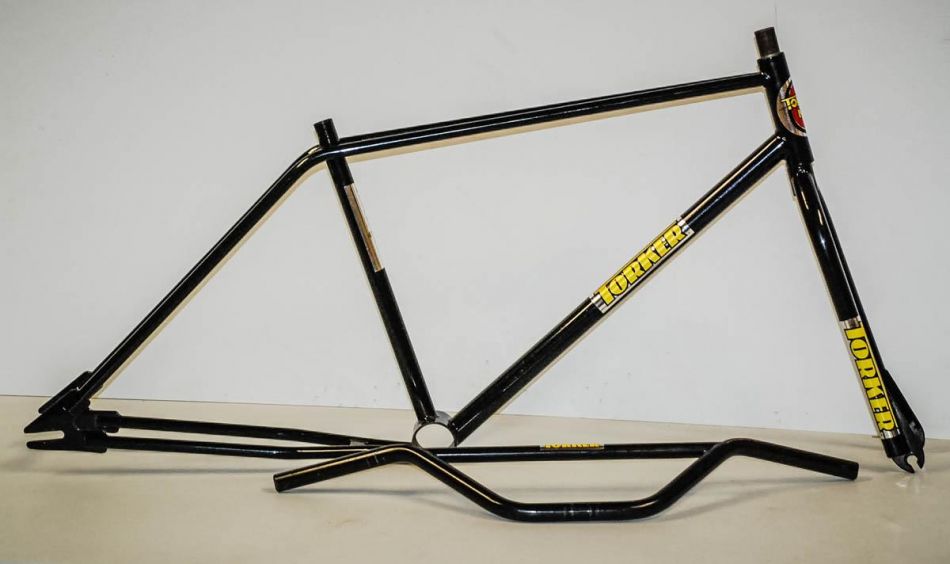 Episode 37: Jonathan Sherwood (SAF)
Episode 38: Trevor Henry (GBR)
Episode 39: Daniel Purcell (GBR)
Episode 40: Mark McCorkle (USA)
Episode 41: Tom Sustarich (USA)
Episode 42: Adam Cox (USA)
Episode 43: Perry Wills (USA)
Episode 44: John Buultjens (SCO)
Episode 45: Jay Eley (GBR)
Episode 46: Alvin Mullins (USA)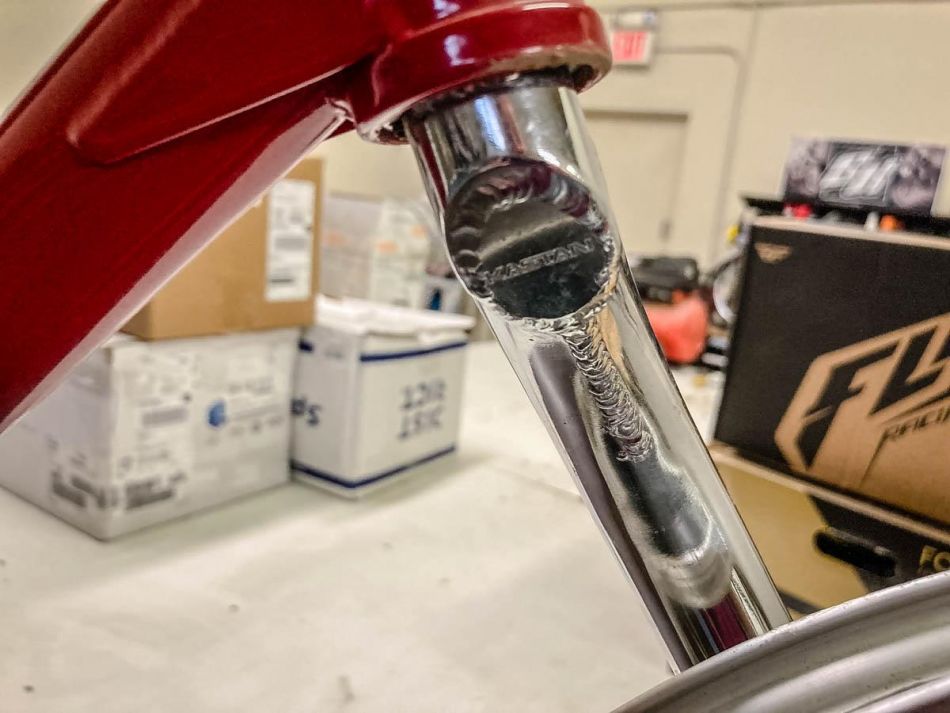 Episode 47: Scott Barrette (USA)
Episode 48: Ashley Little (GBR)
Episode 49: Bill Batchelor (USA)
Episode 50: Steve Firestein (USA)
Episode 51: Jon Hoffman (USA)
Episode 52: Peter Ashby (AUS)
Episode 53: Patrick Freitas (USA)
Episode 54: Mel Stoutsenberger (USA)
Episode 55: Martin Primentel (AUS)
Episode 56: Chino (USA)
Episode 57: Ely D. Thomas (USA)
Episode 58: Mickael Clerté (FRA)
Episode 59: Toby Henderson (USA)
Episode 60: Eddy King (USA)

Episode 61: Byron Friday (USA)
Episode 62: Lionel Eden (USA)
Episode 63: Donnie Platt (USA)
Episode 64: Brad Nash (USA)
Episode 65: Mohamad Al Amin (MAL)
Episode 66: Christopher Wesley (USA)
Episode 67: Sean Stiddard (GBR)
Episode 68: Tyler Collins (USA)
Episode 69: Rod Miles (USA)
Episode 70: Brian Britt (USA)
Episode 71: Sean Ewing (USA)
Episode 72: Jim Fisher (USA)
Episode 73: Òscar Pallarès (ESP)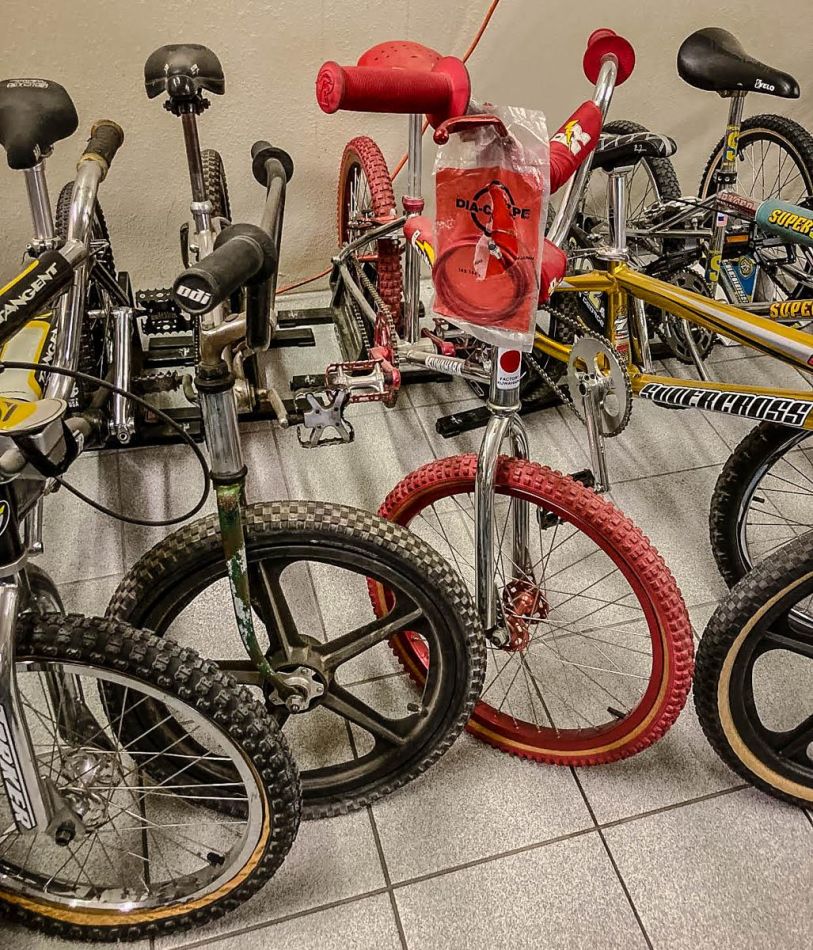 Episode 74: Jeff Utterback (USA)
Episode 75: Timmy Williams (USA)
Episode 76: Tommy Yaley (USA)
Episode 77: Jason van Buskirk (USA)
Episode 78: Stu Thomsen (USA)
Episode 79: Scott Towne (USA)
Episode 80: Raphael Lawson (AUS)
Episode 81: Cash Matthews (USA)
Episode 82: Arthur Kourtis (AUS)
Episode 83: Maurice Meyer (USA)
Episode 84: Jeremiah Grimes (USA)
Episode 85: Karl Chalk (GBR)
Episode 86: Bill Ryan (USA)