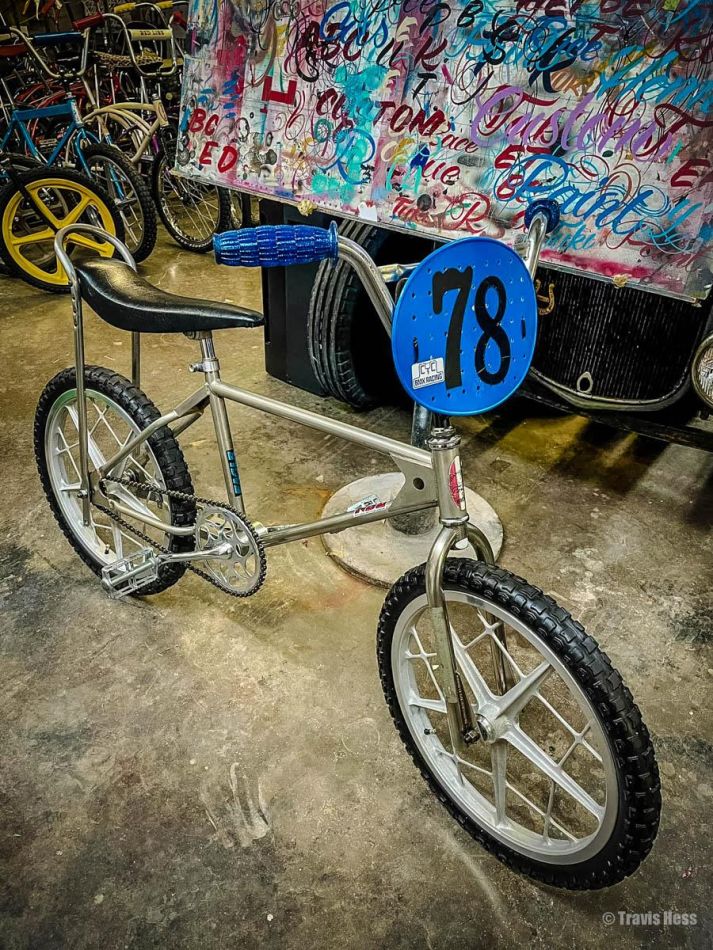 stuff..so covid comes and we can't race so I go to my moms to get bikes out after sitting 20 years and start messing with bikes again..somehow I came across motomags and how Skip Hess had Cragar cast them and all and I had to have a set..I drove 3 hours to buy a beat Mathews mono shock to get the motomag 1s off it and I put them on my one Stingray and that's what led me down this rabbit hole..
The bikes you have are from the early days of BMX. Bikes that are hard to find. Do you think it's important to preserve these bikes?
Travis Hess: Yea I do. Just like most stuff I collect is from another time. I think for most collectors it's fun to look back at another era or with BMX, a lot of guys are reliving it. I really have no reason to collect the early stuff, I was born when it was taking off, ha.
Patina or a layer of fresh paint?
Travis Hess: 100% patina. I don't want any restored bikes.. To me that's my favorite part of builds. Putting together era correct parts with matching patina.
Would a good metal flake paint job be better for a helmet or for a BMX bike?
Travis Hess: Either would work great. I metalflaked that Mathews frame I got for the motomags. It was junk so it was fun to flake it.
At this moment, do you wish you had started collecting BMX earlier?
Travis Hess: I do actually.... one reason I missed a lot of stuff that is now in locked up collections. Plus the money the stuff brings now is crazy. I got in right when it seemed to go nuts.
What websites/people do you use for reference to obtain more info on BMX bikes from a certain era? Is there anywhere in particular that you go to?
Travis Hess: I search a lot of orig ads. And of course the Museum and the Facebook groups are the only reason I keep my Facebook. The groups are a huge aspect of this hobby in my opinion..one guy in particular I'd like to mention is Jason Teraoka..I found him on Instagram and he's been my go to for questions etc. and always real helpful and not an elitist if you know what I mean.
Do you see any connection between the car and bike scenes?
Travis Hess: I think so. If you look back. A lot of these guys were drag racers. Fab guys etc. So that's kinda what got me excited about early Mongoose and how Skip was friends with McEwen etc..so neat..and most guys have cars or hotrods that collect bikes.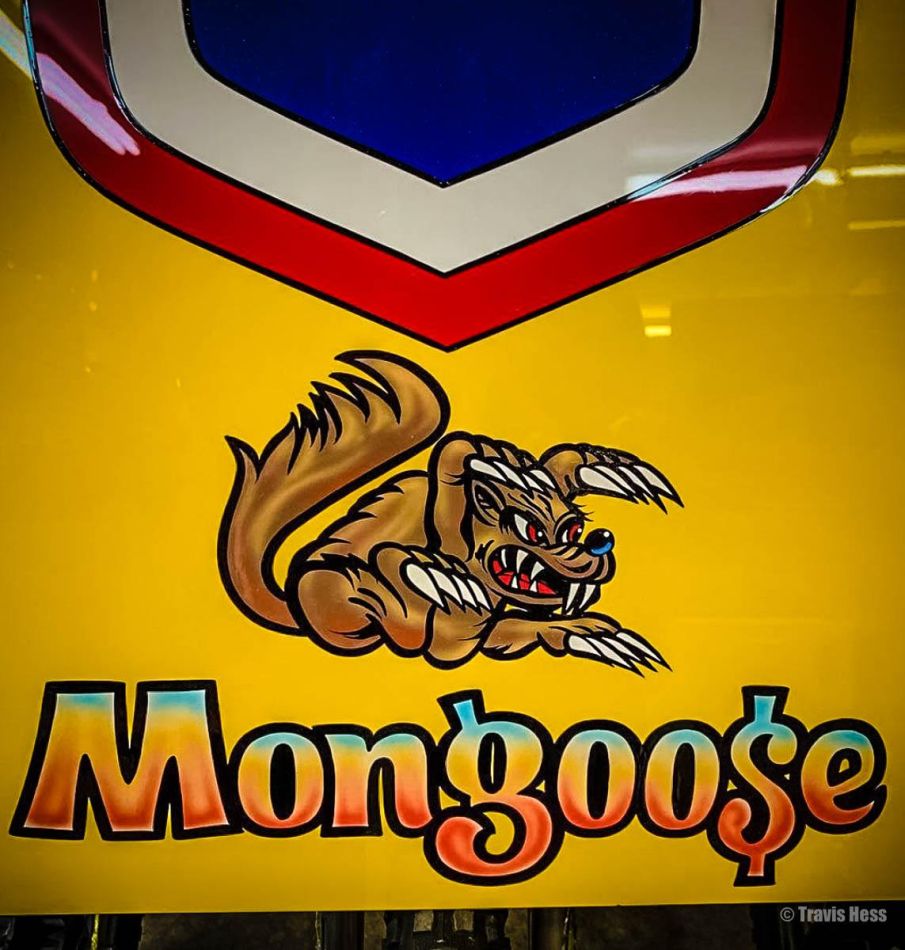 What's the best dumpster dive you've ever done?
Travis Hess: I've actually never been that lucky..I do know a guy by me that pulled a mint Motomag bike out of the dumpster.
When you started riding BMX, what bike was the dream bike for you?
Travis Hess: Honestly I only had one BMX. A 1986 GT Pro Performer I got for Christmas that year. Funny thing, my parents just got me almost the exact bike this year for Christmas 35 years later. So I was 10-11 and also riding dirt bikes so that was my only real BMX.
Name three BMX collectors that you respect?
1) Jason Teraoka
2) Kelly Swanson
3) Kurt Stark
How often do you look on eBay/Craigslist/BMX Museum to shop for old BMX stuff?
Travis Hess: Everyday. Multiple times? I guess I'm a bit obsessive with stuff.
Do you go to swap meets often?
Travis Hess: A few. There's really nothing by me local. One in Maryland coming up and I'll drive 4 hours to NJ in the summer again I hope.
Do you have a BMX hero from the past?
Travis Hess: I think ever since I watched Joe Kid; Scot Breithaupt Is like someone that was way ahead of his time..and I still get bummed when I see or someone mentions his tragic death. So sad.
Is there any bike or bike part in particular that you are searching for?
Travis Hess: I think I'm out of room now ha. But I'd love to have a Scherma or first gen Webco. A Kenny Roberts is up there too..Also an early Redline stem is on the list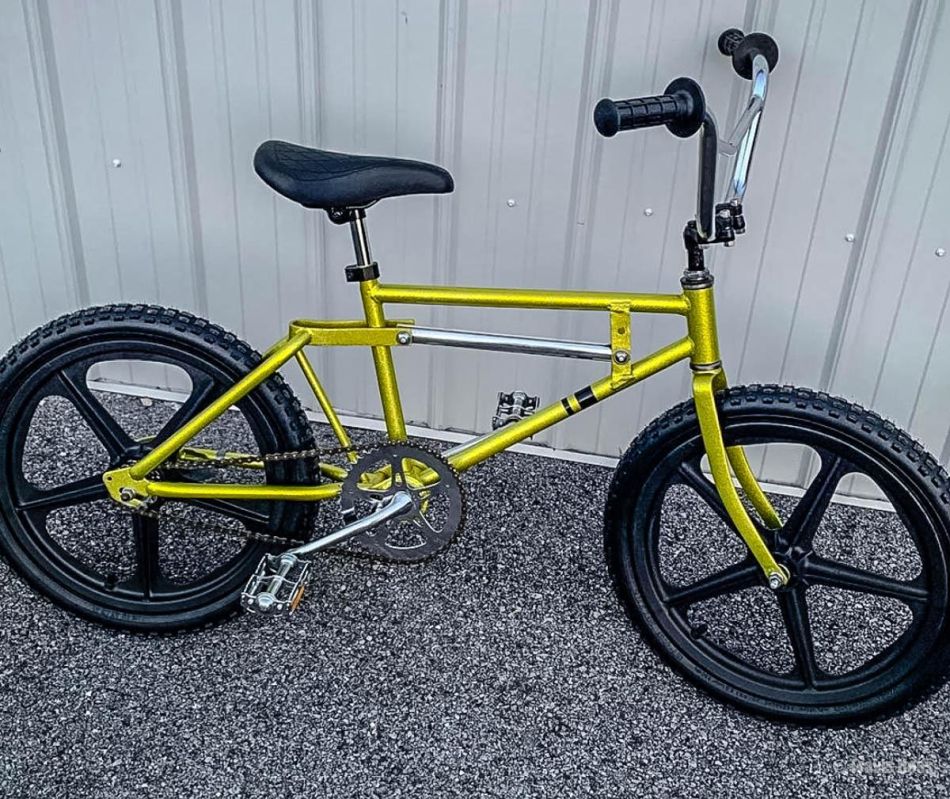 Where can people contact you if they have one that they want to part ways with?
Travis Hess: My Instagram is one I'm always on posting my paint and bikes @tukipaintsit
Thanks to: My wife for letting me mess with kids bikes.

Previous Episodes on FATBMX:

Episode 1: Christophe Detandt (BEL)
Episode 2: James White (GBR)
Episode 3: JT Freestyle (USA)
Episode 4: Ben Murphy (IRL)
Episode 5: Rainer Schadowski (GER)
Episode 6: GAry Sansom (USA)
Episode 7: Michael Gamstetter (USA)
Episode 8: Grant Stone (GBR)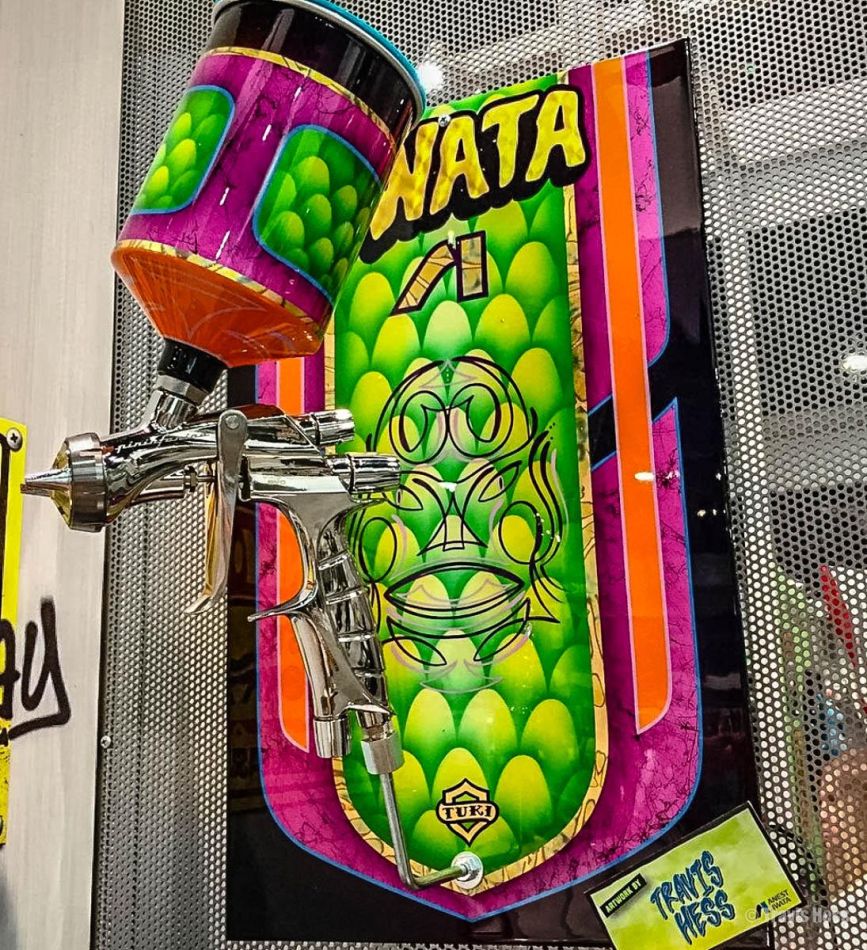 Episode 9: Steve Blackey (USA)
Episode 10: Shannon Gillette (USA)
Episode 11: Woody Itson (USA)
Episode 12: Oliver Kienzle (GER)
Episode 13: Kelly Swanson (USA)
Episode 14: Pat A Lar (GBR)
Episode 15: Billy Mills (GBR)
Episode 16: Steve Brothers (USA)
Episode 17: Aykut Hilmi (GBR)
Episode 18: Alex Leech (GBR)
Episode 19: Mike Janssen (NED)
Episode 20: Brian Gutierrez (USA)
Episode 21: Chad Powers (USA)
Episode 22: Alessandro Barbero (ITA)
Episode 23: Chris Daly (GBR)
Episode 24: Ian MacArthur (GBR)
Episode 25: Steve Strong (GBR)

Episode 26: Stephen Joseph (GBR)
Episode 27: Paul de Jong (NED)
Episode 28: Jon Western (GBR)
Episode 29: William "LaRock" LaRoque (USA)
Episode 30: Johan Janssens (BEL)
Episode 31: Darren Chan (USA)
Episode 32: Frank Lukas (GER)
Episode 33: Jason Teraoka (USA)
Episode 34: Shad Johnson (USA)
Episode 35: PJ McKenna (USA)
Episode 36: Henry Sarria (USA)
Episode 37: Jonathan Sherwood (SAF)
Episode 38: Trevor Henry (GBR)
Episode 39: Daniel Purcell (GBR)
Episode 40: Mark McCorkle (USA)
Episode 41: Tom Sustarich (USA)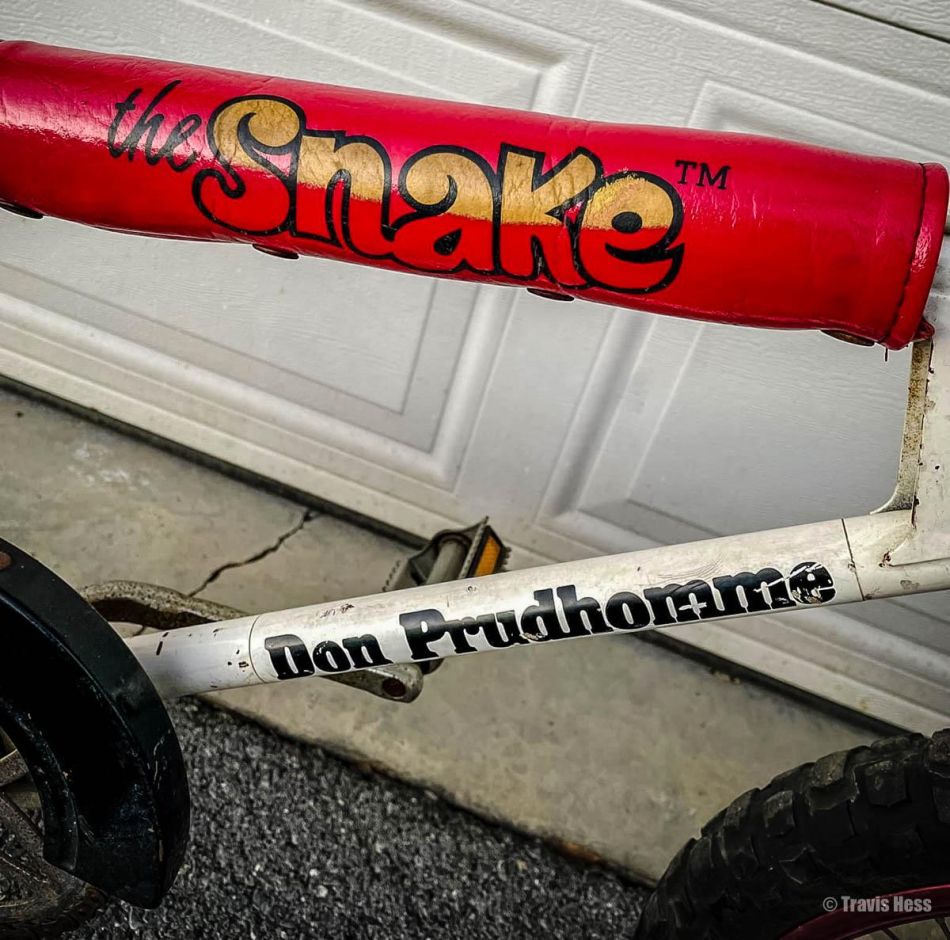 Episode 42: Adam Cox (USA)
Episode 43: Perry Wills (USA)
Episode 44: John Buultjens (SCO)
Episode 45: Jay Eley (GBR)
Episode 46: Alvin Mullins (USA)
Episode 47: Scott Barrette (USA)
Episode 48: Ashley Little (GBR)
Episode 49: Bill Batchelor (USA)
Episode 50: Steve Firestein (USA)
Episode 51: Jon Hoffman (USA)
Episode 52: Peter Ashby (AUS)
Episode 53: Patrick Freitas (USA)
Episode 54: Mel Stoutsenberger (USA)
Episode 55: Martin Primentel (AUS)
Episode 56: Chino (USA)
Episode 57: Ely D. Thomas (USA)
Episode 58: Mickael Clerté (FRA)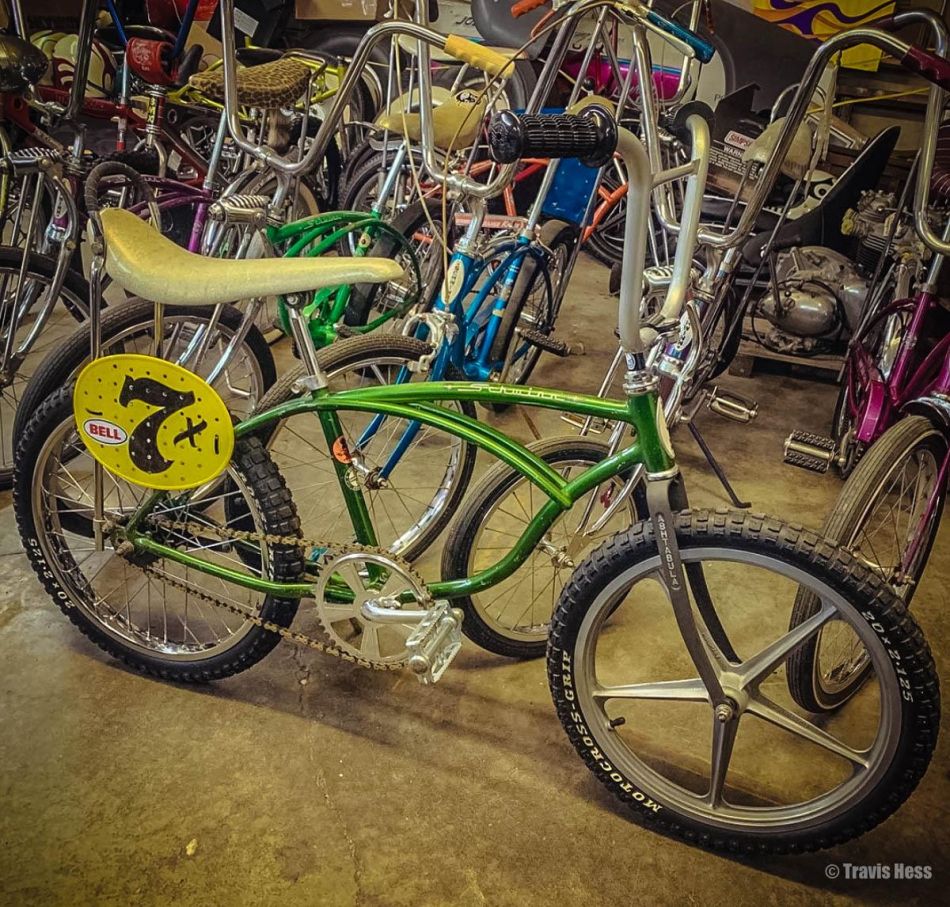 Episode 59: Toby Henderson (USA)
Episode 60: Eddy King (USA)
Episode 61: Byron Friday (USA)
Episode 62: Lionel Eden (USA)
Episode 63: Donnie Platt (USA)
Episode 64: Brad Nash (USA)
Episode 65: Mohamad Al Amin (MAL)
Episode 66: Christopher Wesley (USA)
Episode 67: Sean Stiddard (GBR)
Episode 68: Tyler Collins (USA)
Episode 69: Rod Miles (USA)
Episode 70: Brian Britt (USA)
Episode 71: Sean Ewing (USA)
Episode 72: Jim Fisher (USA)
Episode 73: Òscar Pallarès (ESP)

Episode 74: Jeff Utterback (USA)
Episode 75: Timmy Williams (USA)
Episode 76: Tommy Yaley (USA)
Episode 77: Jason van Buskirk (USA)
Episode 78: Stu Thomsen (USA)
Episode 79: Scott Towne (USA)
Episode 80: Raphael Lawson (AUS)
Episode 81: Cash Matthews (USA)
Episode 82: Arthur Kourtis (AUS)
Episode 83: Maurice Meyer (USA)
Episode 84: Jeremiah Grimes (USA)
Episode 85: Karl Chalk (GBR)
Episode 86: Bill Ryan (USA)
Episode 87: Luke Haralambous (GBR)
Episode 88: FJ Weeks (USA)
Episode 89: Bob Lipsett Jr. (USA)
Episode 90: Brett Jackson (USA)

Episode 91: Six Pack To Go (USA)
Episode 92: Michael James (USA)
Episode 93: Ediz Tensi (TUR)
Episode 94: Mike Allred (USA)
Episode 95: Kurt Stark (USA)
Episode 96: Jeremy Golden (USA)
Episode 97: Brian Malmquist (USA)
Episode 98: Travis Hess (USA)